Pittsburgh Penguins 2010-2011: A Remarkable Season Cut Short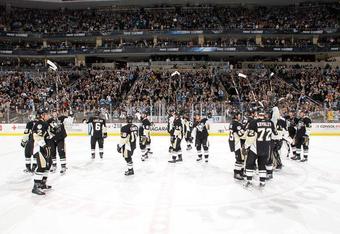 Now that the Penguins season's end is setting in, most writers, fans and critics are coming out in droves to talk about mistakes that were made in the past or what needs to be fixed moving forward.
To those people, I have one answer: nothing.
The Penguins, outside of signing a few pending UFAs and RFAs and possibly a veteran defenseman, do not need to do anything else to help the team.
What the ownership, led by Mario Lemieux, and the management, led by Ray Shero, have done over the past few years has been remarkable. They took a struggling team and turned it into a perennial Stanley Cup-contending team through draft picks, smart free agent signings and key trades.
It's not easy putting a solid team together in the cap-era days of the NHL. Balancing the salaries of the players and how they fit into the team is something that is not done easily, but Shero has done it and done it well.
Most likely, what will be remembered most from this Penguins season are the injuries. Injuries abruptly ended what could have been one of the Penguins' most successful seasons ever.
People need to clear their heads and remember the first half of the season. The Penguins were rolling through the league, at one point winning 12 games in a row.
Where will the Penguins finish next season?
The Penguins at one point reached first place in the Eastern Conference and were on the heels of the first-place team in the league.
Oh, and by the way, they were doing this without the services of Jordan Staal. Staal was prevented from playing until the Winter Classic on January 1, 2011 due to recovery from foot surgery and a subsequent hand fracture.
Meanwhile, Sidney Crosby was on a record-setting pace, tallying 32 goals and 34 assists for 66 points in just 41 games.
Unfortunately, Crosby was knocked out of commission due to hits to the head in the Winter Classic and in his next game against the Lightning, sustaining a concussion.
Crosby's concussion sidelined him for the rest of the season and dashed the Penguins' hopes and chances moving forward.
Everyone is aware of those injuries and the eventual injury of star center Evgeni Malkin a month later. The injury bug snuck up on the Pens and bit hard.
Fortunately, this is something of a rarity. Not too often does a team sustain as many injuries as the Penguins did, with 303 man games lost, good enough for eighth in the NHL.
Making that stat more prominent are the players that make up that number, with the likes of Crosby, Malkin and Staal headlining the list.
Next season, fingers crossed, will not hold the same fate in terms of injuries. Crosby, Malkin and Staal should all be back in top form by the time training camp rolls around in September.
With the new addition of winger James Neal upfront, the Penguins should quickly get back to the success they had found midway through this season.
Additionally, newcomers Paul Martin and Zbynek Michalek, now having a full season under their belts, will get a chance to flourish with a fully healthy Penguins squad.
So next season, there isn't much for the Penguins to fix or add to. The team was rolling strong before injuries cut them down.
Outside of adding a veteran defenseman for the bottom pairing to teach Ben Lovejoy and Deryk Engelland, no outside help should be necessary.
The Penguins know how to win and, when fully healthy, have proven they can win and win a lot. Hell, even with icing a squad where half of the players were AHL call-ups, the Penguins still managed to stay afloat in the East and make it to the playoffs.
Imagine what they could have done fully healthy.
So that is where I will leave you—with hope. With hunger. With knowledge that this team is hungry and is fully aware that it has a lot of unfinished business.
Unfinished business that it intends to take care of when the puck drops at Consol next season.
Remember, for as good as Crosby, Malkin, Staal and Marc-Andre Fleury already are, they are getting better.
Now that is scary.
This article is
What is the duplicate article?
Why is this article offensive?
Where is this article plagiarized from?
Why is this article poorly edited?

Pittsburgh Penguins: Like this team?