Kareem Abdul-Jabbar: Why the Lakers Need to Honor Kareem with a Statue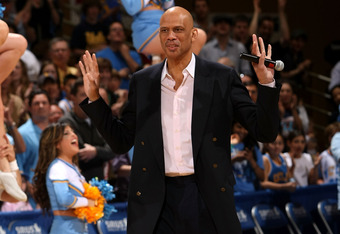 Kareem Abdul-Jabbar Believes the Lakers Should Give Him a Statue
In an interview with Sporting News Kareem Abdul-Jabbar told them he is a little upset that the Los Angeles Lakers have not honored him with a statue yet. Kareem is the NBA's all time leading scorer and has every right to think he deserves a statue outside Staples Center.
I don't understand (it). It's either an oversight or they're taking me for granted. I'm not going to try to read people's minds, but it doesn't make me happy. It's definitely a slight. I feel slighted.

I am highly offended by the total lack of acknowledgement of my contribution to Laker success. I guess being the lynchpin for five world championships is not considered significant enough in terms of being part of Laker history.
There are six statues outside Staples Center and only two are former Lakers. Magic Johnson and Jerry West are the only two Lakers to be honored with a statue.
MUST READ: Top Performances of the 2011 NBA Playoffs
As a six time NBA MVP, and five time Laker champion it's time the Lakers build him his statue. It better be a good one, and it better be of the sky hook.
Kareem is a 19 time NBA All-Star, 10 time NBA All First Team, and two time NBA Finals MVP. One of if not the most dominant centers of all time, he was a tremendous player in the NBA and is very well deserving of a statue.
However, one thing he needs to be aware of is that calling the Lakers out like this won't get you a statue. It may take some time for them to build it and put it on display because of how selfish Kareem sounded in the interview.
Lakers spokesman John Black told reporters that Kareem will be the next Laker to get a statue.
Whenever we do the next statue of the third Los Angeles Lakers player, it (will be) Kareem---and he has been told that. Again, we didn't say when that was going to be. It could be next year, the year after or several years from now.
I understand that he was ticked off, but he certainly could have kept it short and sweet. Kareem should have simply just said "yes, I think I deserve a statue", and leave it at that.
Don't expect one soon Kareem, because your comments were pretty childish, and the Lakers will make a note of that. LA isn't going to snub one of the best players of their franchise, but they may just wait another year or two before honoring Kareem.
Most recent updates:
This article is
What is the duplicate article?
Why is this article offensive?
Where is this article plagiarized from?
Why is this article poorly edited?