2011 NBA Mock Draft: With Draft Order Set, Who Will Go Where?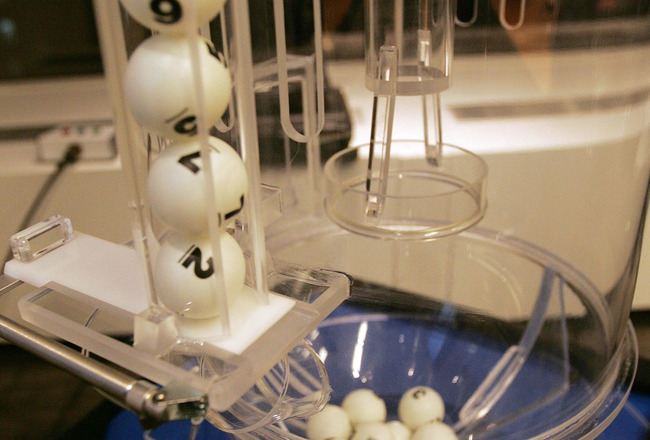 Bruce Bennett/Getty Images
With the draft order in place, who do you think will take whom? I published my pre-lottery mock draft yesterday evening, and overall, I have a decent amount of changes in this version.
I have a couple of bold predictions, but I really feel the Cleveland Cavaliers have the ability to add a lot of talent to their team despite the level of talent available in this draft.
Without further ado..
1. Cleveland Cavaliers: Derrick Williams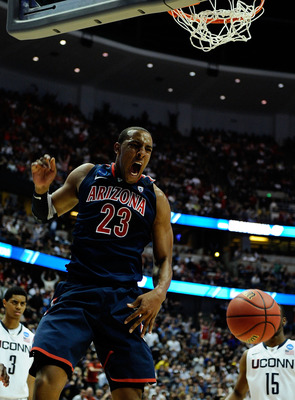 Kevork Djansezian/Getty Images
I think Derrick Williams' abilities are really being overlooked by the media because of where he played in college.
Granted, the Pac-10 was a weak conference, but he single-handedly led Arizona to the Elite Eight. I think he instantly adds to this Cavaliers team, and is an instant front-runner for Rookie of the Year.
I know many think that Kyrie Irving is the no-brainer No. 1 pick, but I think with the other point guards available (namely Brandon Knight), you have to take Williams.
2. Minnesota Timberwolves: Kyrie Irving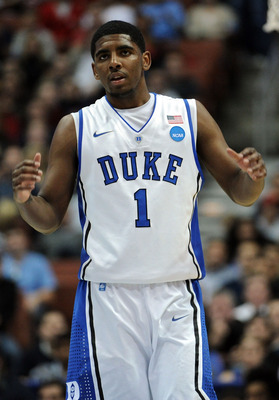 Harry How/Getty Images
Nothing has really changed here since my first mock draft yesterday.
The Timberwolves need a point guard to run this team. As the years go on, it becomes more apparent that Ricky Rubio won't be joining this team.
Irving possesses the potential to become an All-Star in this league, and with Jonny Flynn's disappointing sophomore campaign, Irving would more than likely step right into a starter's role.
3. Utah Jazz: Enes Kanter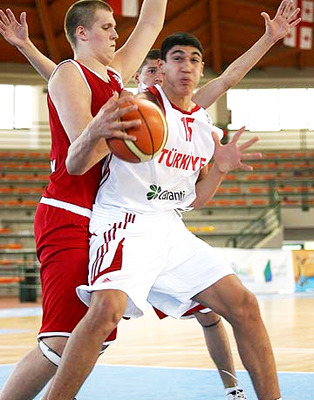 The Utah Jazz came away from the draft lottery beaming, and well they should be.
They are one of the better teams in the lottery, so to come away holding the third overall pick, as well as the No. 12, they have to be happy.
Utah has two glaring needs, a SF and a C. Though Kanter is only 6-10, he possesses the size and strength to play the center position.
His game is kind of a mystery at this point in time, but his showing at last years Nike Hoops Summit has been enough to keep GMs intrigued.
Utah is a favorable destination for him, as he wouldn't be leaned on as a primary option from the start, allowing him to grow at his pace.
4. Cleveland Cavaliers: Brandon Knight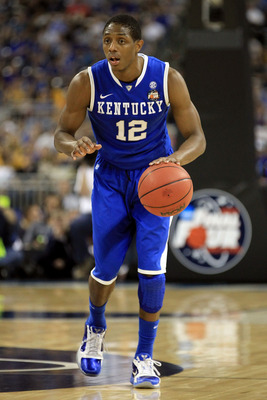 Streeter Lecka/Getty Images
This pick is where I make up for Cleveland not taking Kyrie Irving with the first overall pick.
I'm not saying that Knight is going to be the same caliber player that Irving is going to be, but I think the combination of Williams/Knight is better than that of Irving/Kanter(or Valanciunas).
These two players, along with JJ Hickson, could provide a solid young core for the Cavaliers moving forward.
5. Toronto Raptors: Jonas Valanciunas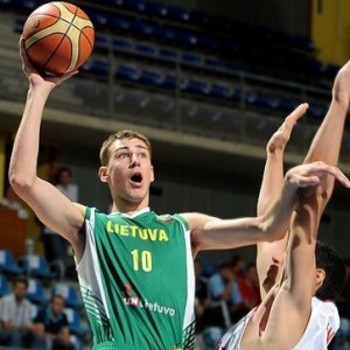 I have Valanciunas moving from the eighth pick in my pre-lottery mock draft, to the fifth pick now.
The Raptors need a center, and many scouts think that Valanciunas is the best international player in the draft.
His 6-11 height and wide frame will allow him to bulk up and gain the strength necessary to play center in the NBA.
6. Washington Wizards: Kawhi Leonard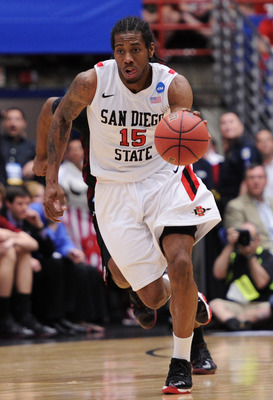 Harry How/Getty Images
Though the Wizards fell two spots, to the No. 6 pick, they still will be able to get their man.
With John Wall and JaVale McGee, the Wizards have a future point guard and center. What they need is a good wing.
Nick Young can score and Al Thornton was good at times this past season, but Kawhi Leonard would give the Wizards a versatile wing who can guard multiple positions.
His offensive game would evolve over time, and with a guy like Wall feeding him on the break, he would score often in transition.
7. Sacramento Kings: Kemba Walker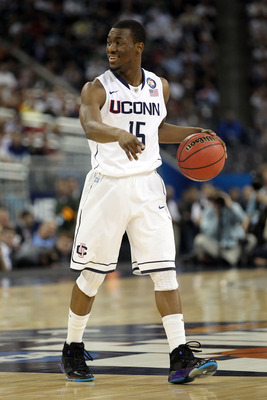 Ronald Martinez/Getty Images
Just like Washington, Sacramento fell two spots to the No. 7 pick. Fortunately, they will still have the ability to take who I think they should with Kemba Walker.
What I like about Kemba Walker is that he is mature, he's a winner and he has heart. These are all things that the Kings desperately could use on their team.
We saw what the addition of DeMarcus Cousins did to this team, they were on the brink of breaking out as the Western Conference's new young thing. Now, they have fallen right back down to the bottom of the barrel.
The Kings have finally realized that Tyreke Evans can't play point guard, and though Kemba may not be your prototypical point, he can play the position.
8. Detroit Pistons: Jan Vesely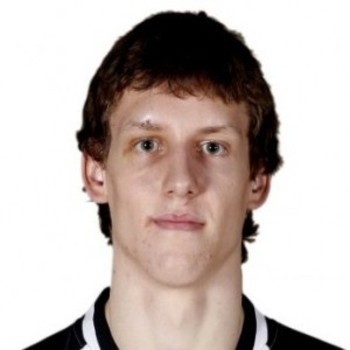 At this point, I'm starting to sound like a broken record, but most of the changes I foresee.
Detroit just needs talent. Their roster has so many different pieces and nothing makes sense. They have two different eras, both ineffective.
With Hamilton and Prince, they are holding onto the past. With Gordon and Villanueva, they possess two players they overpaid and put too much hope into.
There aren't many "can't miss" players in this draft, but I would have the Pistons take Jan Vesely. He draws comparisons to Andrei Kirilenko, and in his prime, Kirilenko was one of the most well-rounded players in the game.
9. Charlotte Bobcats: Bismack Biyombo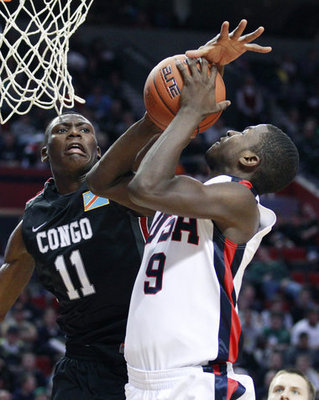 After reading some more mock drafts, and looking into Biyombo more, I can't have him fall lower than this.
Charlotte desperately needs a defensive stopper in the paint, and Biyombo would present this from the start.
His offensive game needs attention, but he will have time to develop that.
10. Milwaukee Bucks: Alec Burks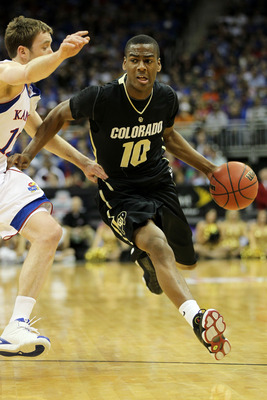 Jamie Squire/Getty Images
Nothing has changed for me with Milwaukee, I think Burks fits their roster well.
Milwaukee was 30th in the league this past season in scoring offense, with only 91.9 points per game on average. Though they did hold their opponents to 92.7 points per game, their field goal percentage was also 30th in the league at 43.0 percent.
In comes Alec Burks, a great scorer who would help bolster the Bucks' anemic offense with his ability to get to the hole.
They already have a slasher in Corey Maggette, but adding another player to the roster who can get to the line can't hurt this team.
Not to mention, Burks isn't nearly the ball-stop that Maggette is on offense.
11. Golden State Warriors: Donatas Motiejunas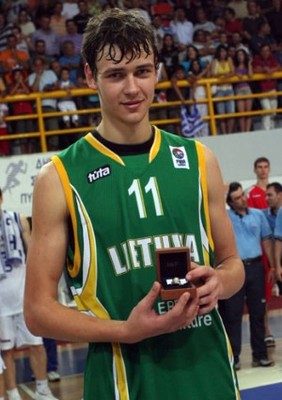 If the Pistons don't take Vesely at the eighth pick, and Vesely were to fall this far, I think the Warriors would be a great fit for him. If he is gone, though, I think Motiejunas would also be a good pick for the Warriors.
They virtually have no one behind Andris Biedrins and David Lee, and I've seen Motiejunas go as high as fifth or sixth in some earlier mock drafts.
He, like many other international players, has a lot of potential, and being able to back up Biedrins and Lee would allow him to grow as a player without any pressure.
12. Utah Jazz: Jordan Hamilton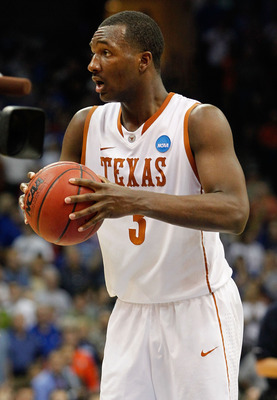 Tom Pennington/Getty Images
With Andrei Kirilenko more than likely walking this offseason, that leaves a hole at the three.
Though Gordon Hayward played pretty well down the stretch, I don't know if he's the forward of the future for Utah.
Hamilton is a great scorer and he would fit on the wing at the three, some scouts have even said he could flex over to the two.
13. Phoenix Suns: Jimmer Fredette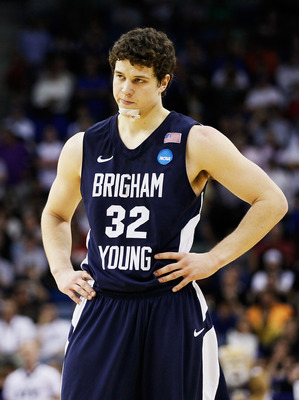 Kevin C. Cox/Getty Images
Nothing has changed here for me and the Suns' pick.
I think Jimmer fits in very well with the Suns' run-n-gun game, and could take over the reins whenever Steve Nash leaves.
I think the Suns wait until mid-season to trade Nash, allowing Jimmer to learn a bit from the veteran point guard.
I don't think Jimmer will ever be a 25-point-per-game scorer in this league, but I think he could develop into a nice option at the point-guard position.
14. Houston Rockets: Marcus Morris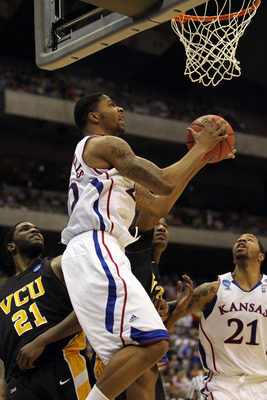 Ronald Martinez/Getty Images
Once again, I don't see anything changing here with the Rockets.
Marcus Morris could step right in and contribute off the bench for the Rockets behind Luis Scola. Many analysts say he is the most NBA-ready prospect in the draft, but his limited ceiling hurts his draft stock.
He could definitely be gone by this point in the draft, but the way I see it unfolding, he will be available for the Rockets at 14.
Unfortunately, as I've said, he doesn't have a tremendous amount of upside, as he isn't' a game-changer defensively and doesn't rebound as well as he could.
Keep Reading