Quinton Jackson, Randy Couture and the Top 10 MMA Fighters Turned Actors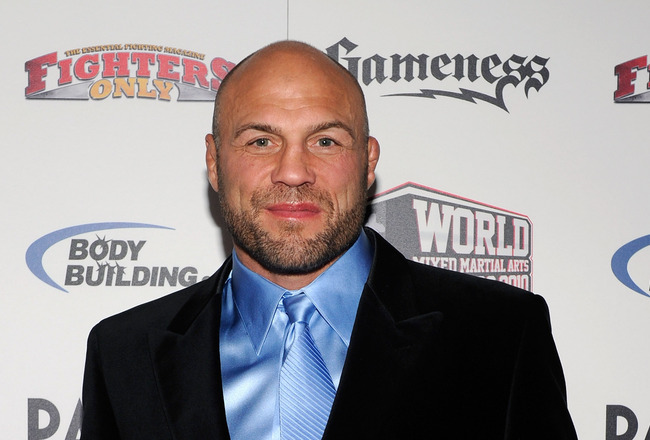 Ethan Miller/Getty Images
While some MMA fans are always quick to look down upon people who try to enter MMA from boxing, pro-wrestling and other such tangentially related activities, some MMA fans have also been quick to become cheerleaders for the crossover successes of MMA fighters as they try to pursue fame and fortune outside of the cage.
Always looking to broaden the appeal of the sport, Dana White himself has occasionally been quite supportive of fighters endeavoring to parlay their MMA credibility into the world of B-movie stardom.
To date, there have been plenty of fighters who have tested their "acting" skills.
Here is a list of only the most successful attempts of fighters trying their hand at acting.
Honorable Mention 1. Jason Chambers
Casual MMA fans might not even know who Jason Chambers is, but he's had an interesting career in mixed martial arts.
He owns a professional record of 18-5-2, and among his notable opponents are Michihiro Omigawa and Thiago Alves.
Chambers is also one of the very few fighters to ever finish a professional fight via twister.
Aside from fighting, he's also had work as a commentator for Bellator, as host of the martial arts show Human Weapon and once was working as part of the promotional team for Shine Fights.
Yet despite the fact that he's got his fingerprints all over the MMA map, he lacks the notable in-cage achievements of the rest of the fighters on this list.
Above is a scene from CSI: New York. It's a short appearance, but I think he still has more lines in it than Randy Couture does in the whole movie "The Expendables."
Honorable Mention 2. Pro Wrestlers/Fighters
They might never get nominated for Oscars, SAGs or Tonys, but professional wrestlers are live performance actors.
Yes, what they do is athletic and physically demanding, but without the ability to sell the action and the drama, there wouldn't be nearly as many wrestling fans as there are.
As such, it's worth mentioning the crossovers between MMA and pro-wrestling, most prominently Josh Barnett and Ken Shamrock, but also many others who have entered either the WWE or Japan Pro Wrestling.
Actually, Brock Lesnar is without question the MMA fighter with the most financial success as a result of acting, considering his wildly successful career in the WWE.
However, this list isn't about pro-wrestling theatrics, so we move on.
Honorable Mention 3. Chuck Liddell
Chuck Liddell hasn't had much acting experience, but he was credible in Entourage.
That said, he was playing a fictionalized version of himself, so that makes the job a bit easier.
As such, he doesn't qualify for the list.
Dishonorable Mention: Hector Echavarria Cameos
Actor/producer Hector Echavarria loves making movies, and who can blame him?
As far as I can tell, Echavarria films share a bunch of common elements:
1. Cameos of top level mixed martial artists.
2. Good looking women, often scantily clad or naked, occasionally depicted in soft-core sex scenes with Echavarria's character.
3. Echavarria's character beating up or killing some of the characters played by top mixed martial artists including Anderson Silva and Georges St-Pierre.
Given these common elements, and the apparent lack of any real acting presence, these films seem like nothing more than elaborate ego-stroking adventures on the part of Echavarria.
To this point, Anderson Silva, Quinton Jackson, BJ Penn, Georges St-Pierre and others have all had roles in Hector Echavarria films.
Echavarria films don't count on my list.
Another actor/director, Michael Jai White, who has worked with Lyoto Machida, Todd Duffeee and Keith Jardine, is also on notice for his hijacking of Never Back Down and Undisputed film sequels.
10. Keith Jardine
According to IMDB, Jardine has had appearances in films by the previously mentioned Echavarria. In one film he played "Stone," and in another, he played "Crab."
What separates Jardine from the pack of Echavarria recruits is that Jardine also has cameos in Crank: High Voltage and Gamer, two mainstream films.
Although he appears to be playing a version of himself in the Crank sequel, I'll give him a pass because he's credited not as "Keith," but rather as an "Ingelwood Pedestrian."
9. Heath Herring
Heath Herring's IMDB credits are almost exclusively Hector Echavarria films, but he's done so many of them to this point, that he's become almost a transcendent character.
Most memorable was his role as "Stone" in the Echavarria vehicle Never Surrender.
Never Surrender is kind of like a poor-man's version of Bloodsport, and Stone (no relation to the Stone character played by Keith Jardine in another Echavarria film) is kind of like a poor-man's version of the Ray Jackson character from Bloodsport.
Stone takes a beating from the big bad guy, setting up the drama for when Echavarria can get his revenge.
Herring also apparently makes an uncredited appearance in the Angelina Jolie film Salt.
I've watched Salt twice now and haven't spotted Herring once.
8. Stephan Bonnar
Unlike all of the fighters mentioned thus far, Stephan Bonnar has a starring role in this film.
I've never bothered sitting through the whole thing, but I have a pretty good idea of how the film goes.
Rent at your own risk.
7. Rich Franklin
Actors without experience often come across on camera as emotionally impaired robots.
Some brainiac movie maker figured that if you can't make an actor less robotic, just write the character in as a robot himself.
This seems to be the basis for Cyborg Soldier, which targets the market of those who loved Universal Soldier but didn't like the high production values or were intimidated by the pompous acting of Jean Claude Van Damme and Dolph Lundgren.
6: Andrei Arlovski
Universal Soldier: Regeneration features both Andrei Arlovski and Mike Pyle. Pyle plays the more human role of Capt. Kevin Burke, while Arlovski plays the super-soldier, NGU.
While Pyle comes across as the more legitimate actor of the two, the star power in this film was clearly that of Arlovski, as the MMA community seemed to hardly notice Pyle was also involved.
The depth of emotion exhibited by Pyle in this film is obviously limited by his role as a hard-nosed soldier, so it's difficult to tell whether he has any actual acting talent. Even so, it's still one of the best all-time acting performances by an MMA fighter.
Arlovski also steps out of character for this role as NGU, displaying a penchant for grappling and a durable chin, two characteristics not seen in the real-life version of Arlovski.
5. Roger Huerta
There was a time when Roger Huerta was considered one of the brightest prospects in the sport.
People talked about him as if he might one day be a UFC title challenger, and possibly even a champion.
Huerta's entertaining fights with Leonard Garcia and Clay Guida, along with his good looks, helped put him in the spotlight, as he became the first MMA fighter to grace the cover of Sports Illustrated.
Yet Huerta's eyes wandered away from the sport of MMA and towards the bright lights of Hollywood.
So far, Huerta has not yet found the success in acting that he probably imagined. His one moment in the spotlight came as a short appearance in the movie version of Tekken where he essentially plays the video game equivalent of Roger Huerta, Miguel Rojo. He even got to show of his own real-life tattoos.
Tekken is considered a commercial failure and never received a wide theater release in the United States, although it will soon be released in the United States on BluRay and DVD.
4. Cung Le
Cung Le has had more film roles than any person on this list.
Still, he's had very few speaking lines, although many nice fight scenes.
His credits include appearances in Pandorum, Tekken, Fighting, among many others.
Yet I find it hard to put him higher on this list because of his lack of speaking roles and the fact that he always seems to lose his movie fights to the protagonist.
Win a few more fake fights, and I'll have to consider revising his placement. Until then, he comes in on my list at No.4.
3. Quinton Jackson
Quinton Jackson's B.A. Baracus plays like a parody on the Mr. T version.
Still, it's a pretty big and essential role in a film, and Jackson lent star power to the role that the rest of the people below him on this list can't match.
2. Gina Carano
I haven't seen Gina Carano's acting debut film Haywire, but I nevertheless feel confident that it'll be better than all previous acting attempts by MMA stars.
How can I be so sure?
1. So far, MMA stars have been terrible actors.
2. Steven Soderbergh.
Haywire's director, Steven Soderbergh has a history of finding talent in unusual places and more than that, using it appropriately.
Soderbergh, director of Traffic, Ocean's Eleven, and Erin Brockovich, once cast now-retired pornstar Sasha Grey in the starring role of The Girlfriend Experience. While one reviewer commented on the problem of identifying "the difference between an unskilled actor's flat performance and a skilled actor's realistic performance of an utterly flat character," Grey's performance was largely deemed a successful one.
Regardless of Carano's acting ability or lack thereof, Soderbergh should be able to find out what she does well and mold her role around those abilities.
1. Randy Couture
Randy Couture isn't a good actor.
That said, he's going to keep on getting acting roles because he brings star power and action movie star credibility to the table.
To date, Couture's biggest roles have been in The Scorpion King 2 and The Expendables.
Neither were particularly good roles, but that's not completely Couture's fault.
In the sequel to The Scorpion King, Couture was forced to speak in some ridiculous voice because apparently the director felt that Couture's real old man voice wasn't scary enough. Additionally, the costumes in that film look like they were stolen off the set of Xena: Warrior Princess.
Now I don't know why the costume designer felt that Couture needed to wear a sports bra, but it is what it is.
Couture's role in The Expendables was a much smaller one, and like just about every other starring role in the film, it was just large enough to exist and draw in to sell tickets so that Sylvester Stallone can run another restaurant franchise into the ground.
I also felt the film lacks realism because although the Nogueira brothers appear in the film, the film misses the part where Minotauro's character beats up Couture's character for three rounds.
Randy Couture once compared his acting career to that of Dwayne Johnson, saying that nobody took Johnson seriously until his off-beat role in Be Cool.
Couture might be right about Johnson, but what he might be forgetting is that pro wrestlers are career actors and Johnson was the best of them.
This is the official end of the list, but none of the actors featured to this point have displayed the raw acting talent of the MMA fighter featured on the next slide.
And the Oscar goes to...
Keep Reading