NBA Mock Draft 2011: Kyrie Irving, Derrick Williams Will Not Be First 2 Drafted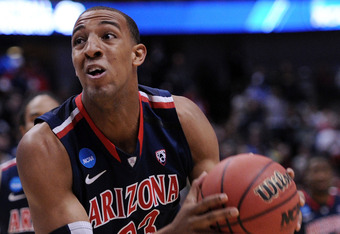 The 2011 NBA Draft Lottery solidified the final draft order for the league. The bounce of the ping pong ball determined whether your team gets a sure thing or will have to roll the dice on someone less certain in this NBA Draft. Will they trade up, down, or take their chances where they're at? Bleacher Report gives you the latest scoop on all things draft-related, reactions from around the league, and speculation on what things mean for your team.
It's being assumed by everyone and their mother that the first two picks of the 2011 NBA Draft are already determined. Kyrie Irving will go No. 1 to the Cavs and Derrick Williams will go No. 2 to the Timberwolves.
That's not how it's going to go down.
Think about this draft. It's the weakest in at least a decade. Owning a lottery pick doesn't mean you're going to get an all-star. Hell, you might not even get a starter past the first few picks. You know what that says to me?
This is not the year to play it safe.
I do believe that Kyrie Irving will be the first pick, but I don't think it's necessarily the right call. He'll be solid, but unspectacular. Let me put it this way, if you roll the dice on a Darko, you're not missing out on Dwyane Wade and Carmelo Anthony.
Cleveland and Minnesota will look heavily at the foreign talent in this draft. It will be tantalizing. Enes Kanter is going to intrigue them heavily. He scored 34 points at the 2010 Nike Hoops Summit. A record. And it was on Jared Sullinger, the guy who just might be the No. 1 pick next year. Dominated him.
Yes, Kyrie and D-Will are the safe picks, but not so good that a GM won't try to go big or go home. You miss with Kanter, Biyombo, or another foreign player, at least you didn't pass on a sure thing.
And must I remind you who is piloting the ship over in Minnesota? Yeah, don't expect them to do the thing everyone is ready for them to do. Who the hell knows what is in David Kahn's head.
Stay tuned to Bleacher Report to follow all NBA Draft Lottery news, including updated 2011 NBA Mock Drafts and immediate reaction and analysis to the updated NBA Draft Order.
Most recent updates:
This article is
What is the duplicate article?
Why is this article offensive?
Where is this article plagiarized from?
Why is this article poorly edited?