College Football 2011: Predicting the Winner of 50 Revenge Games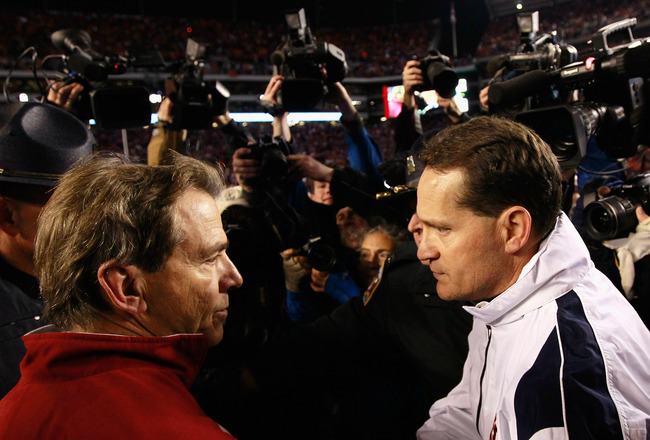 Kevin C. Cox/Getty Images
There are many reasons why people anxiously await the upcoming football season.
People just love the game, or they might be excited about how their team might do.
But many want college football to come so that they can have one thing:
Revenge.
Losses hurt, particularly when they come at the hands of a bitter rival. It can be sweet indeed when you team can deliver payback.
So, what are the best revenge games of 2011? Read on.
Texas at Baylor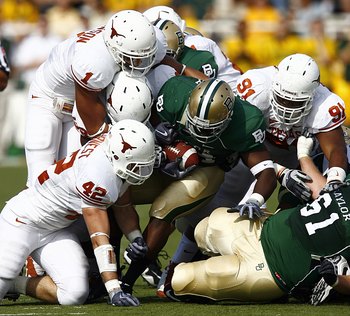 Tom Pennington/Getty Images
One of the low points in Texas' disasterous season last year was when they fell to Baylor 30-22.
Texas won't be back to its 2009 heights in 2011, but they will have enough to extract sweet revenge on Baylor.
Pick: Texas
Nevada at Boise State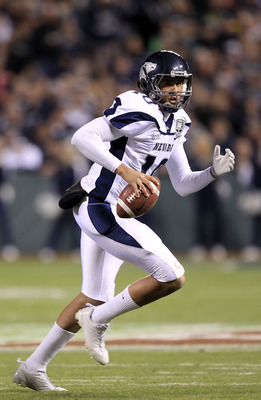 Ezra Shaw/Getty Images
Boise State came within two missed field goals of going to the Rose Bowl last year.
Nevada must be dreading the return trip to the "Smurf Turf". After all, they've lost the greatest rushing duo (Colin Kaepernick and Vai Taua) in FBS history.
Don't expect Kellen Moore and the Broncos to show any mercy.
Pick: Boise State
LSU at Alabama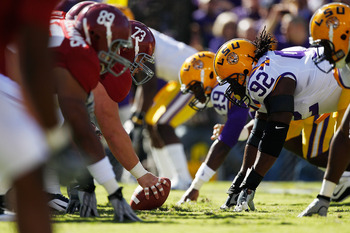 Chris Graythen/Getty Images
South Carolina had already knocked the Crimson Tide out of the top spot, but Alabama had risen back to No. 5 and was still well in contention for the No. 2 spot before traveling to LSU last year.
Losing to LSU pretty much knocked Alabama out of the title race.Had Alabama won this game, the Tide still might have gone to the Sugar Bowl instead of Arkansas.
Alabama won't get a chance for revenge against South Carolina this year unless both teams win their respective divisions.
Whether or not Alabama will be able to get revenge is too close to call at this point. But one thing is for sure:
It'll be a great game.
Pick: Too Close to Call
Wisconsin at Ohio State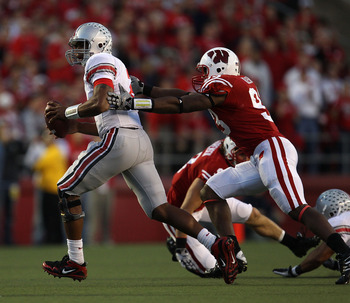 Jonathan Daniel/Getty Images
Had Ohio State not lost to Wisconsin, last year's BCS National Championship Game would have been Auburn vs. Ohio State.
Ohio State definitely has issues this year, but Wisconsin has a serious issue at QB.
Unless Wisconsin can get a good QB to step up, the Buckeyes will have their revenge.
Pick: Ohio State
Oregon at Stanford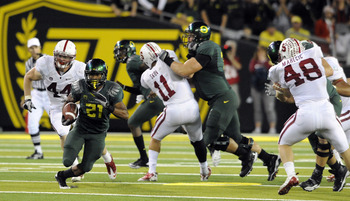 Steve Dykes/Getty Images
Stanford had a phenomenal year. They won their first BCS Bowl and finished with its first top five ranking since 1940.
The one fly in the Cardinal's ointment was the 52-31 loss to Oregon.
A lot of the key players on both teams are back, including LaMichael James for Oregon and Andrew Luck for Stanford.
Stanford will have home field advantage this time, though.
Another great game that is too tough to call in the preseason.
Pick: Too Close to Call
Washington at Nebraska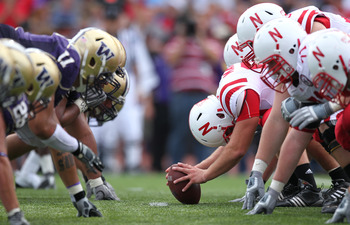 Otto Greule Jr/Getty Images
Washington got the rare opportunity to get revenge in the same season as the loss.
Nebraska routed Washington 56-21 during the regular season, but it was Washington that went away with the Holiday Bowl win 19-7
But revenge by one team leads to the desire for more revenge by the other team.
The Cornhuskers might shoot for 60 this time.
Pick: Nebraska
Missouri at Oklahoma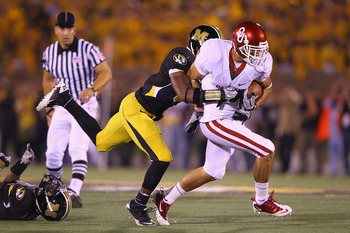 Dilip Vishwanat/Getty Images
Missouri was one of only two teams that took down Oklahoma last year.
If the Sooners want to make it to the BCS National Championship Game, they will want to take down the Tigers this year.
Pick: Oklahoma
Oklahoma at Oklahoma State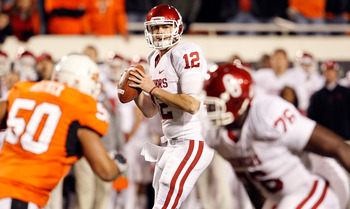 Tom Pennington/Getty Images
Last year's Bedlam Game is was just that:
Bedlam.
Oklahoma was able to hang on last year 47-41 to make it eight years in a row.
Oklahoma State would love nothing more than to take Oklahoma out of their likely No. 1 spot and take their place.
Pick: Too Close to Call
USC at Arizona State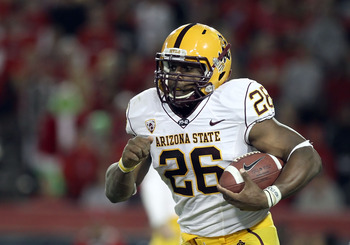 Christian Petersen/Getty Images
A blocked extra point was the difference as USC took down Arizona State last year 34-33.
Now, the hype out of Tempe is that the Sun Devils could be a favorite in the Pac-12 South.
But even if Arizona State can live up to expectations, it won't be complete unless they take down the Trojans.
Since this game will be at Arizona State, the Sun Devils will get the preseason nod.
Pick: Arizona State
Air Force at Navy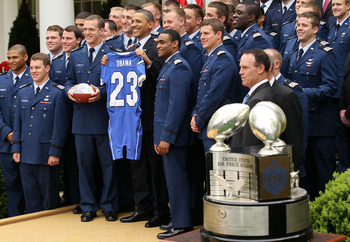 Alex Wong/Getty Images
Going into 2010, the Commander-in-Chief's Trophy had been nice and safe in Navy's hands for the last seven years.
Then, the Air Force Falcons had to swoop in and take it all away.
With Ricky Dobbs gone, can the Navy ground the Air Force and make their way back to the White House?
For right now, Air Force is the run...errrr...fly away pick.
Pick: Air Force
South Carolina at Georgia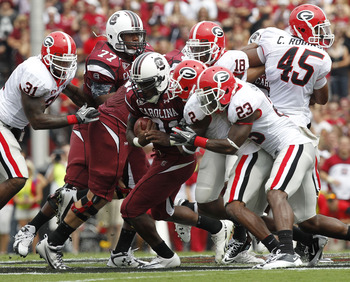 Mike Zarrilli/Getty Images
After beating Louisiana-Lafayette and rising to No. 22 in the polls, things looked good for Georgia.
Then, the Bulldogs went to Columbia.
And it pretty much went all downhill from there.
If Georgia wants to win the SEC East (and Mark Richt wants to keep his job...), the Bulldogs better get revenge on the Gamecocks.
So, in this case, revenge isn't just a sweet wish. It's a necessity.
Pick: Too Close to Call
Ole Miss at Mississippi State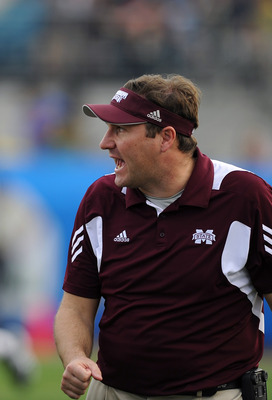 Rick Dole/Getty Images
Mississippi State Head Coach Dan Mullen declared after beating Ole Miss in the Egg Bowl that his team would never lose to Ole Miss ever again.
Revenge would be sweet for the Rebels, but making Dan Mullen eat crow would even be sweeter.
However, Ole Miss currently has too many holes to make Mullen eat his words just yet.
Pick: Mississippi State
Arkansas at LSU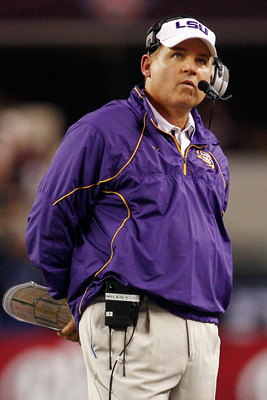 Chris Graythen/Getty Images
LSU's loss to Arkansas kept Les Miles from sampling the grass in the Louisiana Superdome during the Sugar Bowl.
While the rest of the Tigers may not share in their coach's taste for grass, they all will certainly share in the desire for sweet revenge.
Pick: LSU
Utah at BYU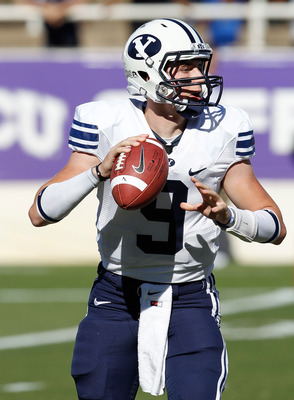 Tom Pennington/Getty Images
In the last decade or so, Utah has been the one to feel the sting of a last second loss to their hated rival. Such games include the "Answered Prayer" (2006), "Fourth and 18" (2007) and "George is Still Open" (2009).
Last year, it was the Cougars turn. BYU had ample opportunity to win that game, but it was the Utes who stepped up to block BYU's last second field goal.
Needless to say, BYU won't have any lack of motivation to beat the Utes this year.
Pick: BYU
UConn at West Virginia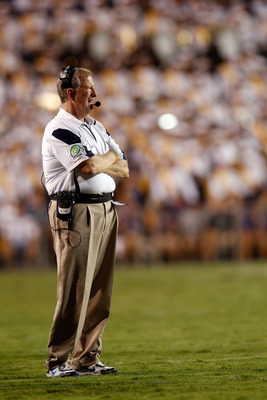 Chris Graythen/Getty Images
UConn kept Bill Stewart and the Mountaineers from getting to ten wins and a BCS berth.
Since this is Stewart's last season as head coach at West Virginia, Geno Smith and co. would love to get revenge for last year and send out their coach in style.
Pick: West Virginia
Appalachian State at Virginia Tech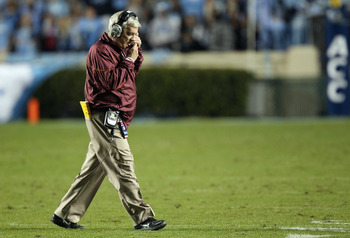 Streeter Lecka/Getty Images
OK, OK, Virginia Tech didn't play Appalachian State last year, but they did manage to lose to fellow FCS James Madison last year.
And that loss was one of the most embarrassing losses ever in Hokie history.
So, even though they won't get a crack at the FCS team that beat them last year, a good win over a FCS powerhouse will be unusually sweet for the Hokies.
Pick: Virginia Tech
Miami (OH) at Temple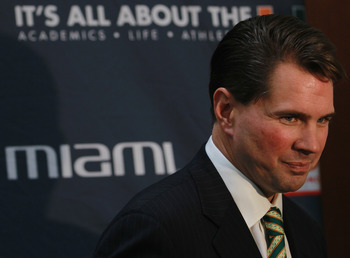 Joe Raedle/Getty Images
Temple's loss to Miami of Ohio kept the Owls out of the bowl season (despite winning eight games...) and probably aided Al Golden's decision to leave for Miami.
Miami of Florida, that is.
So don't blame Temple if they take things out on the RedHawks.
But don't expect the Miami of Ohio to just roll over, either.
Pick: Too Close to Call
Missouri at Texas Tech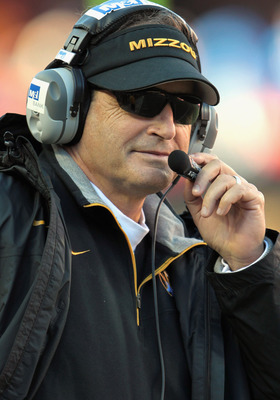 Jamie Squire/Getty Images
Gary Pinkel and Missouri had a good thing going, a loss against Nebraska notwithstanding.
But Texas Tech just had to come along and spoil everything (at least, as much as things can get spoiled when you win ten games...).
And since Nebraska's not around in the Big 12 anymore, the Tigers will focus on getting sweet revenge on the Red Raiders.
Pick: Missouri
North Carolina State at Florida State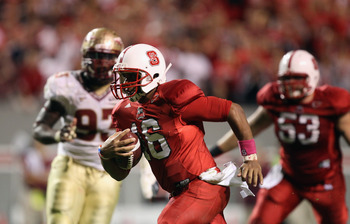 Streeter Lecka/Getty Images
Florida State suffered two hard luck losses against teams from North Carolina one right after the other.
And since the Seminoles don't play North Carolina during the regular season this year, they'll have to take out double the wrath on NC State.
Pick: Florida State
UAB at Troy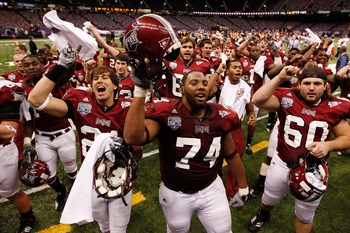 Chris Graythen/Getty Images
One point losses are always hard to take.
These kind of losses are even harder when it is an instate school that beats you.
Troy will certainly want revenge for that loss.
Pick: Troy
Alabama at Florida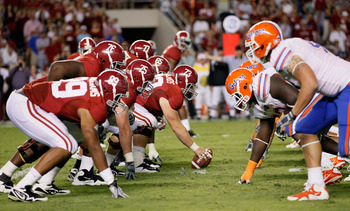 Kevin C. Cox/Getty Images
If Florida's new head coach Will Muschamp really wants to impress the Gators, the ideal way would be to get revenge on the Alabama Crimson Tide.
That's going to be a tall order, however.
Pick: Alabama
UCLA at Houston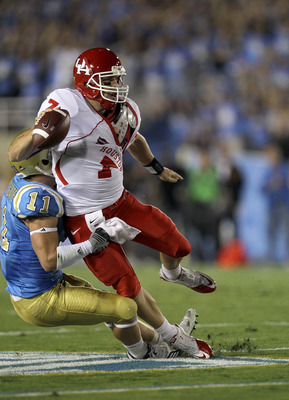 Stephen Dunn/Getty Images
Houston not only suffered a loss to the Bruins, but lost both its starting QB Case Keenum and backup QB Cotton Turner to injury.
Needless to say, this loss may have ruined the whole season for the Cougars.
Case Keenum is back on his feet and has an extra year of eligibility. And there would be no better way for the Cougars to start this year than to extract a little revenge from UCLA game one.
Pick: Houston
Virginia Tech vs. Florida State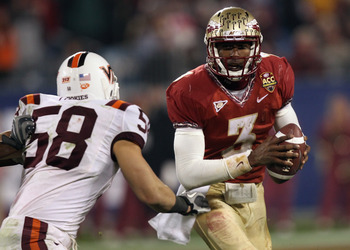 Streeter Lecka/Getty Images
Yes, the only way that Florida State could get revenge on Virginia Tech is if both teams win their respective ACC Divisions.
But if Florida State really wants to complete their return to glory, a win over the Hokies would be a cherry on the top.
Pick: Florida State (if this happens...)
Michigan State at Iowa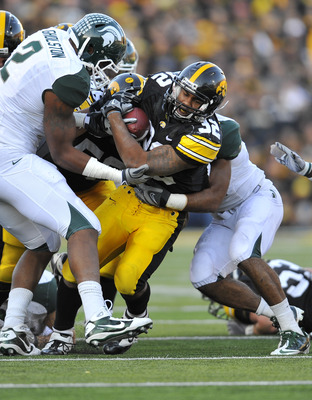 David Purdy/Getty Images
Had Michigan State not lost to Iowa, they just might have gone to their first Rose Bowl since 1988.
The Spartans may or may not be able repeat last year's success, but a win over Iowa would be satisfying, nonetheless.
Pick: Too Close to Call
Ole Miss at Fresno State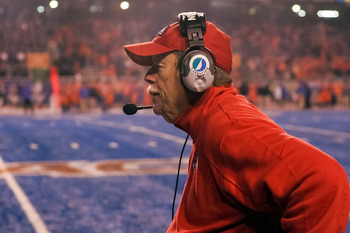 Otto Kitsinger III/Getty Images
Pat Hill and Fresno State's anywhere, anytime, anyplace policy sometimes leads to difficult losses.
The Bulldogs' 55-38 loss at Ole Miss is one such example.
However, Fresno State will get another shot at the Rebels, this time in Fresno.
Pick: Fresno State
Navy at Notre Dame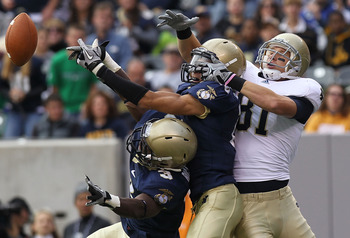 Nick Laham/Getty Images
Before 2007, Notre Dame had beaten Navy every season for the last 43 years.
Since then, Navy has won three of the last four years, including last year's game.
If Brian Kelly and Notre Dame really want to return to glory, beating the Midshipmen will be a part of that process.
Pick: Notre Dame
TCU at San Diego State
Stephen Dunn/Getty Images
San Diego State came the closest of any MWC team to taking down TCU in 2010.
And now that TCU is headed out the door for the Big East, SDSU would love to get some revenge on TCU both for beating them and leaving them in the MWC.
TCU won't make this easy, however.
Pick: TCU
Colorado at Hawaii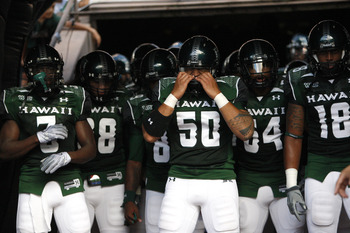 Kent Nishimura/Getty Images
The Warriors weren't able to take down Colorado up in the mountains last year, despite their high powered offense.
Colorado will get a trip to Hawaii, but the Buffaloes shouldn't expect sunshine and rainbows from the Warriors.
Pick: Hawaii
Utah State at BYU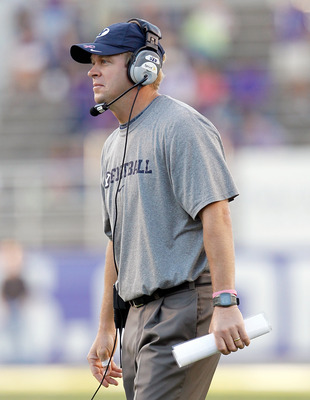 Tom Pennington/Getty Images
When Utah State routed BYU 31-16 last year, the Cougars had officially hit rock bottom.
Defensive coordinator Jaime Hill was fired right after this game.
This game also proved to be a turning point for BYU. They did much better through the rest of the season and even won a bowl game.
For years, Utah State has wanted more of BYU's attention.
As they say, be careful what you wish for.
Pick: BYU
Louisville at UConn
Elsa/Getty Images
UConn won the Big East, but perhaps didn't get the respect they deserved for doing so.
The fact that the Huskies got shut out by Louisville may have something to do with that.
Getting revenge on the Cardinals may not get UConn a whole lot of respect, but the revenge would still be sweet nonetheless.
Pick: Too Close to Call
Pitt at West Virginia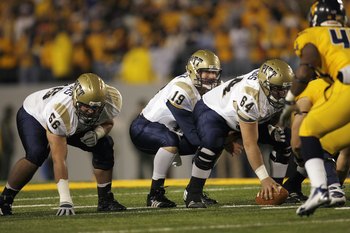 Kevin C. Cox/Getty Images
Losing to West Virginia in the Backyard Brawl was probably the final straw that got Dave Wannstedt pushed out the door.
While beating the Mountaineers won't bring Wannstedt back, it will be good revenge nonetheless.
Pitt is a hard sell at the moment, so West Virginia gets the nod.
Pick: West Virginia
South Florida at Rutgers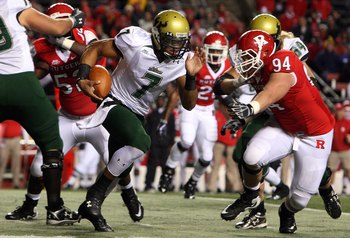 Jim McIsaac/Getty Images
South Florida Head Coach Skip Holtz used tapes of previous losses to Rutgers to motivate them.
And it worked. South Florida won 28-27.
I wonder what motivation methods Rutgers Head Coach Greg Schiano will use this time around.
Pick: South Florida
Oklahoma State at Texas A&M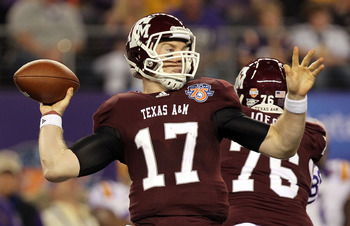 Ronald Martinez/Getty Images
The Aggies practically gave away this win last year when Jerrod Johnson threw a pick that led to the winning field goal for the Cowboys.
Now, Ryan Tannehill has taken over under center, so the Aggies are betting on a much different ending.
Pick: Too Close to Call
Texas at UCLA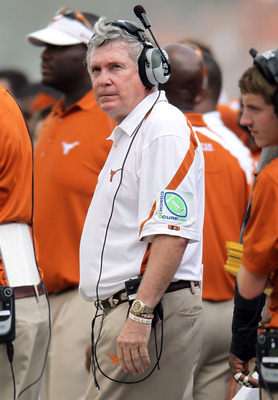 Ronald Martinez/Getty Images
It wasn't quite "Rout 66", but it wasn't pleasant for Texas.
In fact, the wheels seemed to come off after this stunning loss.
Only time will tell whether Texas is truly back this season, but at the very least they should be able to get revenge on the Bruins.
Pick: Texas
Cal at Arizona State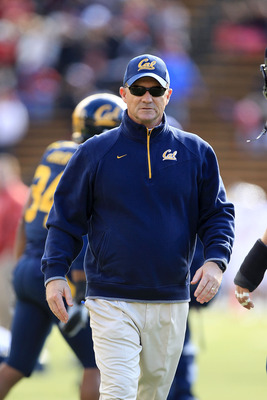 Ezra Shaw/Getty Images
Cal handed Arizona State its most lopsided loss last year.
So, what better way for Arizona State to potentially cap off a Pac-12 South winning season than to dispatch the Golden Bears in a rout just as the Cal had done to them.
Pick: Arizona State
Miami at South Florida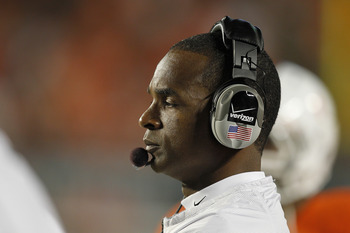 Joel Auerbach/Getty Images
Former Head Coach Randy Shannon was fired after losing to South Florida last year.
So, if Al Golden values his job he will get revenge on the Bulls.
Pick: Too Close to Call
Michigan at Illinois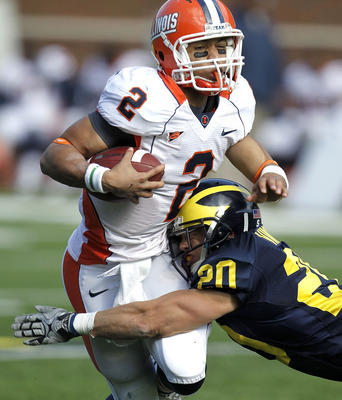 Gregory Shamus/Getty Images
As lousy as Michigan's defense was last year, it was the Wolverine defense that won the game by stopping Illinois from completing a two point conversion.
While we probably won't be treated to another three overtime game, Illinois just might be able to get revenge this year.
And for Ron Zook's sake, they better.
Pick: Michigan
Alabama at Penn State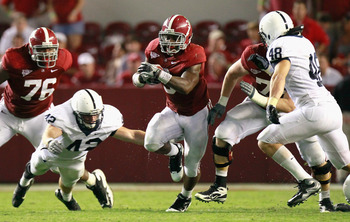 Kevin C. Cox/Getty Images
Trent Richardson had quite the coming out party against Penn State.
Of course, this party happened in Tuscaloosa.
This time, Alabama is going to Happy Valley. However, Alabama won't find it so happy if the Nittany Lions have their way.
Pick: Alabama
Iowa at Minnesota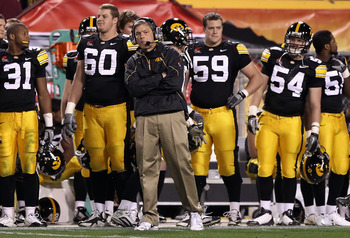 Christian Petersen/Getty Images
Kirk Ferentz and Iowa managed to stay ranked in the top 25 despite losing four times, but losing to Minnesota was what pushed them out of the polls for good.
So, it's little wonder why Iowa might seek revenge.
Pick: Iowa
Ohio State at Miami (FL)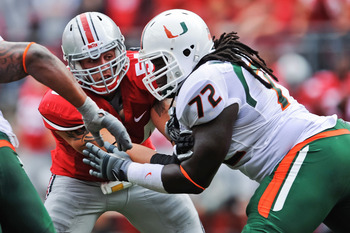 Jamie Sabau/Getty Images
Miami won't have Terrelle Pryor et al. to worry about this time around, or Jim Tressel for that matter.
I'm sure Miami would rather give the Buckeyes their payback with those players present, but the U won't be showing Ohio State any mercy.
Northwestern at Illinois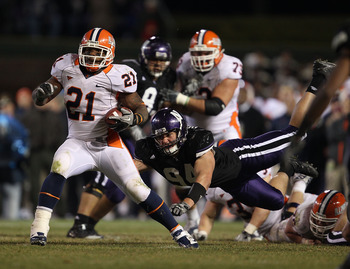 Jonathan Daniel/Getty Images
Northwestern had just risen back into the top 25 after beating Iowa before traveling to Illinois.
And Illinois gave Northwestern a good old fashioned upset, winning 48-27.
The Wildcats would love to return the favor should Illinois be ranked when the two teams meet again.
Pick: Too Close to Call
Wyoming at Colorado State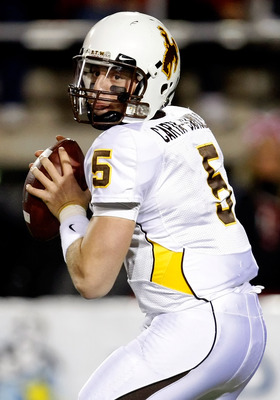 Ethan Miller/Getty Images
Wyoming may have only won three games, but they sure knew how to embarrass rival Colorado State, winning 44-0.
Colorado State would like to get some payback, as well as the Bronze Boot back.
Pick: Too Close to Call
Oklahoma at Florida State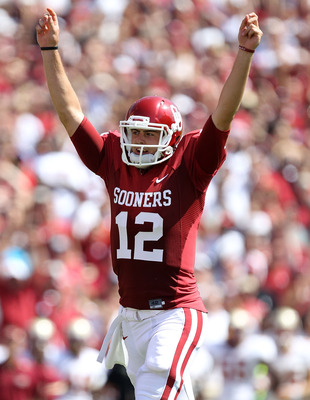 Ronald Martinez/Getty Images
Oklahoma sent Florida State straight out of the polls as the Sooners crushed the Seminoles 47-17.
This year Florida State will have the opportunity to at least knock the Sooners down a few notches.
Pick: Too Close to Call
Oregon at LSU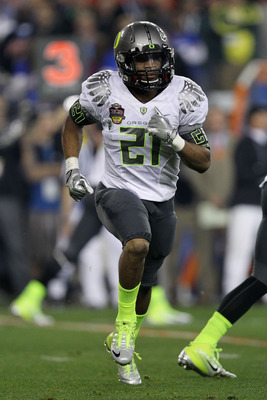 Ronald Martinez/Getty Images
Oregon didn't lose to LSU, but they did lose to a top SEC team in the BCS National Championship Game.
Beating the Tigers would be a most sweet experience indeed for the Ducks.
Pick: Too Close to Call
Notre Dame at Michigan
Jonathan Daniel/Getty Images
Over the last few years, we've heard that Notre Dame is back. But over the last five years, Michigan has gotten in the way of Notre Dame's return to glory four out of the last five years.
So if this is really Notre Dame's year, the Irish will need to push the Wolverines out of the way.
And they would enjoy it, too.
Pick: Notre Dame
Tennessee at Kentucky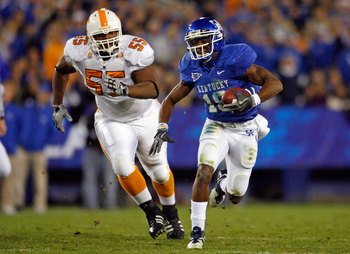 Andy Lyons/Getty Images
Kentucky did some impressive things in Joker Phillips first year.
Losing to Tennessee was less impressive.
Revenge on the Volunteers, among other SEC teams, would be both satisfying and impressive.
Florida at South Carolina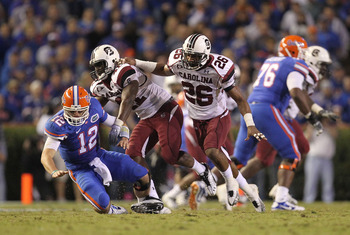 Mike Ehrmann/Getty Images
South Carolina's dominant 36-14 win broke Urban Meyer's iron grip on the SEC East.
And even though Meyer is gone, the Gators would love to put the Gamecocks back where they were before and resume their dominance.
Pick: Too Close to Call
USC at Notre Dame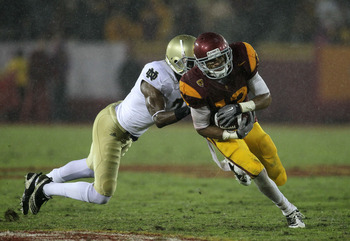 Stephen Dunn/Getty Images
USC's NCAA sanctions have been a hard pill to swallow.
Even harder for Trojan faithful to take was their first loss to Notre Dame since 2001.
USC won't have their sanctions revoked this season, but beating the Fighting Irish would be just what the doctor order.
But don't expect Notre Dame to just roll over so that the Trojans can feel better about themselves.
Pick: Notre Dame
Ohio State at Michigan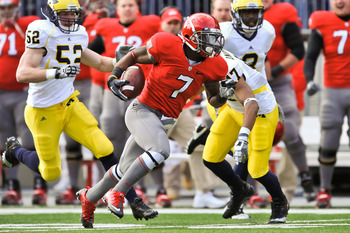 Jamie Sabau/Getty Images
There won't be much weeping in Ann Arbor if Jim Tressel is let go.
Quite the opposite, in fact.
But a common feeling among Michigan fans is that they want Tressel to stay on just long enough so that the the Wolverines can finally beat him.
That would be a most sweet revenge.
But Michigan would need to develop a defense to final win against the Sweater Vest.
Pick: Ohio State
Alabama at Auburn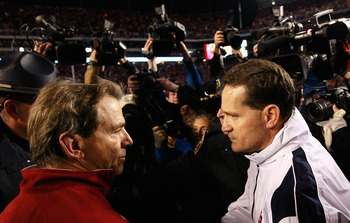 Kevin C. Cox/Getty Images
When Alabama went up 21-0 in the first quarter, it seemed that Auburn's run at the national championship would end in Tuscaloosa.
Unfortunately for the Crimson Tide, the Tigers had Cam Newton on their team. Auburn would go on to win 28-27 and ultimately the national championship.
So, if Alabama goes up 21-0 this year against Auburn, expect them to keep their foot on the gas.
Pick: Alabama
Keep Reading