2011 NBA Mock Draft: Enes Kanter Posing Same Risk as Ricky Rubio for T-Wolves?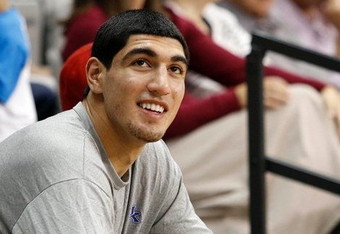 If it weren't for the Los Angeles Clippers trading a draft pick that eventually nabbed the top selection despite a miniscule 8.2 percent chance of landing it, you'd be hard pressed to find a bigger loser on lottery night than the Minnesota Timberwolves. Of course, Kevin Love and company were in a tight spot regardless of how the balls bounced.

The T-Wolves scored the second pick which would seem to make them a big winner, but what are they gonna do there?

Their safest bet would be to grab Arizona's Derrick Williams, slide the undersized power forward down to the three and then hope he could handle the defensive assignments well enough to keep afloat. But there's a good chance Williams goes to the Cavs at No. 1 (either Kemba Walker or Brandon Knight will still be around at No. 4 to mitigate the "loss" of Kyrie Irving).

That leaves Minnesota an unenviable choice—grab yet another point guard from the terrific trio (after drafting THREE point guards in 2009), or take a flyer on Turkish big man, Enes Kanter.

Kanter probably fits best with the T-Wolves current personnel if he's all that he's touted to be, but there is little guarantee of that when the kid hasn't played Stateside.

The bigger snag, however, may be the prospect of playing for a severely struggling franchise out in the cuts of Minneapolis. As Ricky Rubio has proven with his refusal to suit up for Minnesota, it's not the easiest sell to the international community.

So Minnesota could find themselves taking yet another gamble on yet another player who refuses to sign the dotted line. Not good.
Most recent updates:
This article is
What is the duplicate article?
Why is this article offensive?
Where is this article plagiarized from?
Why is this article poorly edited?