2011 NBA Mock Draft: Comprehensive Predictions for the First 14 Picks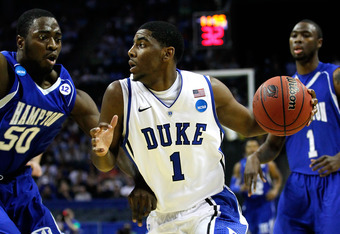 1. Cleveland Cavaliers: Derrick Williams, F, Arizona
The closest thing to a superstar in this draft, Williams can play from day one and be a clubhouse leader.
2. Minnesota Timberwolves: Kyrie Irving, PG, Duke
Of course the Wolves take a point guard. Now they can concentrate on trading Ricky Rubio for a boatload of draft picks.
3. Utah Jazz: Enes Kanter, C, Turkey
If your'e the Jazz this is a tough pick. Obviously Kanter is the best available here, but the Jazz already have Mehmet Okur and Al Jefferson on the roster. Could this pick be traded?
4. Cleveland Cavaliers: Kemba Walker, PG UConn
This pick is between Brandon Knight and Walker. I give it to Walker because he's the true point guard I believe the Cavs really need.
5. Toronto Raptors: Bismack Biyombo, F, Congo
Either Jerry Colangelo has learned his lesson on freakish athletes, or he hasn't. If not, Biyombo is the pick here.
6. Washington Wizards: Jan Vesely, PF, Czech Republic
Vesely is the No. 2 international prospect in the draft, and luck for them they get the pick they were targeting at No. 4 after falling in the draft.
7. Sacramento Kings: Brandon Wright, PG, Kentucky
The Kings can't get too upset with Wright here. They need a real point guard and get Tyreke Evans to the 2-guard spot where he belongs.
8. Detroit Pistons: Kawhi Leonard, SF, SDSU
As of right now, Leonard is seen as the draft's best player available though I don't see him with a high NBA ceiling. I'd look for a high-risk international prospect here.
9. Charlotte Bobcats: Jonas Valanciunas, PF, Lithuania
Michael Jordan was the greatest of all time, but his draft resume has been suspect. This bruiser could change that fast.
10. Milwaukee Bucks: Alec Burks, SG, Colorado
If the Bucks want to make a great decision, they'll go for Burks here. He's the No. 1 shooting guard in the draft, a position they've struggled to develop.
11. Golden State Warriors: Tristan Thompson, F, Texas
Thompson would be a great option for the Warriors. He can squeeze in at the '3' or '4' and give them another very nice scoring option along with David Lee, Monta Ellis and Stephen Curry.
12. Utah Jazz: Jimmer Fredette, PG, BYU
A match made in Utah heaven. The Jazz have Devon Harris but could use Fredette as a long-range expert off the bench. He's one of the draft's best shooters.
13. Phoenix Suns: Marcus Morris, PF, Kansas
The Suns would be one of the luckiest teams in the draft if they were able to snag the better Morris twin.
14. Houston Rockets: Jordan Hamilton, SF, Texas
The Rockets add one of the best scorers in the nation to an already volatile offense.
Most recent updates:
This article is
What is the duplicate article?
Why is this article offensive?
Where is this article plagiarized from?
Why is this article poorly edited?