NFL Trade Rumors: Latest Buzz from Around the Web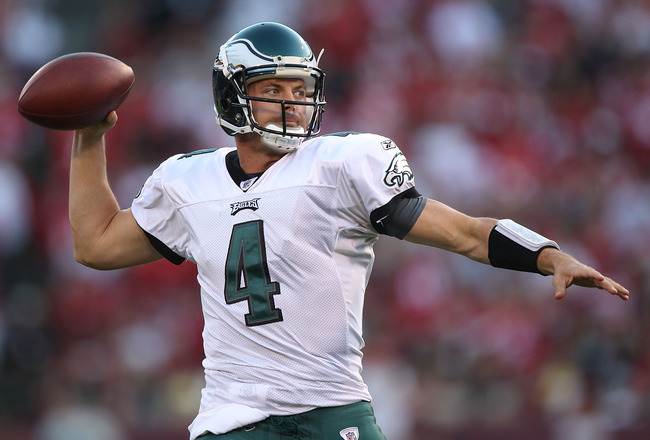 Jed Jacobsohn/Getty Images
Do you know why NFL trade rumors are running wild during a lockout?
Do you think that team general managers are sitting behind their desks for 40 hours a week becoming the greatest solitaire players of all-time?
Let's answer those questions in tandem. GMs are still getting paychecks because they are not locked out and are working. They are also not prohibited from speaking with other general managers about "stuff".
So, what are they working on?
They're working on player transactions and acquisitions and contract framework.
How do I know?
I'm a realist and I'd be foolish to assume that these front office people are sitting back in a chair in an office somewhere half asleep with their phone on "Do Not Disturb" or email with an "Out of Office" response.
In fact, it is insulting to all of us that the league would like us to think back-alley deals are not being discussed between teams. Like I said, just because the non-union members of the front office can't talk to the players doesn't mean they can't talk to each other—and they're not asking how the kids are doing.
All of the aforementioned leads to the possibility of leaks, and leaks develop then into rumors.
Randy Moss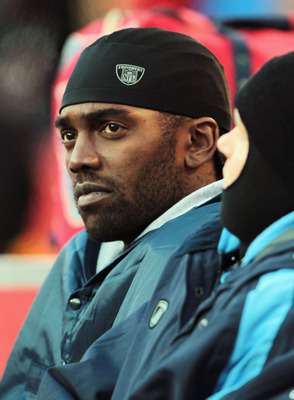 Jamie Squire/Getty Images
Yahoo! Sports is reporting that Titans WR Randy Moss could be on the trading block and that a potential partner is... wait for it... the Jets.
Yes, the J-E-T-S.
After I gagged, I started laughing—pretty hard. I can't foresee any reason this would actually happen, but hey, Moss did tour the Eastern half of the United States last season between three different teams. So, I guess anything is possible.
One thing I've learned is this: "Never Ever say Never Ever." Some of the immortal words of the mighty MacGruber, but true nonetheless.
If the Jets and Titans pull the trigger on this deal, that would probably spell the end in New York for free agent Braylon Edwards.
As far as Edwards is concerned, he missed his DWI hearing earlier this week and a trial is now scheduled for July 22. Most interestingly, Edwards may be in violation of his parole and would be "compelled to return to Ohio and face charges...stemming from an incident at a Cleveland nightclub", ESPN.com reports.
The Jets have a shortage of talent at the wide receiver position, but they must have a figurative prescription of aspirin for the headaches they seem to enjoy taking on.
Carson Palmer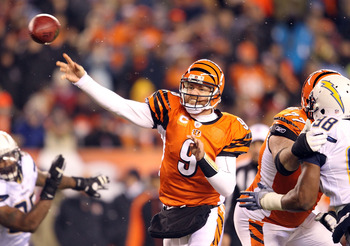 Andy Lyons/Getty Images
Could there be a reuniting of Pete Carroll and Carson Palmer in Seattle?
Mike Brown of the Cincinnati Bengals has been steadfast in his determination not to trade disgruntled players from his organization. However, with the drafting of TCU's Andy Dalton in the second round of the 2011 NFL Draft, dealing the former Pro Bowler could be a great business move for the team.
Palmer still has real value around the league, even though he has not been quite the same player since a brutal knee injury a few years back in a playoff game against the Pittsburgh Steelers. What we've already seen is a propensity by Carroll to bring in his former players for a try (Mike Williams, Lendale White).
With Matt Hasselbeck, a free agent, reportedly not coming back to the club, Palmer makes a lot of sense. Say what you want about backup Charlie Whitehurst, he is unproven.
Palmer would give Seattle a bonafide starter and the edge in a terrible NFC West.
Kyle Orton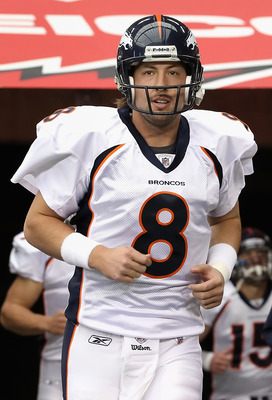 Christian Petersen/Getty Images
Do not underestimate this man.
Orton threw for 3,653 yards and 20 touchdowns last season and he didn't play a snap in the final three games. Over the past three seasons (two in Denver and one in Chicago) Orton has passed for over 10,000 yards and 59 touchdowns.
He has the arm to make all the throws, and with favor beginning to surround 2010 first round pick Tim Tebow, Orton—who is in the final year of his deal—is the odd man out.
While preliminary reports are inconclusive at this time, there is a link between the Denver Broncos and Arizona Cardinals as trade partners. Perhaps this is foreshadowing that the Cards are out of another big name backup's bidding war, or that they actually have a plan B if a deal for Kevin Kolb dose not pan out.
Orton's price tag would be cheaper on any organization attempting to get him than fellow quarterback Kolb, but Orton has the playing experience and stats to back him up as the real deal at the position.
Kevin Kolb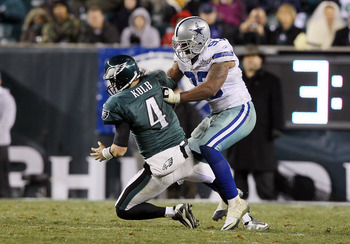 Jim McIsaac/Getty Images
He has been linked to every team in the NFC West—sans the Rams. Kevin Kolb's bidding war is well underway.
The strong-armed backup to Michael Vick in Philadelphia is dying for his opportunity to be a starter in the league.
While the smart money places him in Arizona, his cost may be more than the team is willing to pay. Another landing spot, the Miami Dolphins, may also find his trade value a bit out of their comfort zone.
Then, there are the Cleveland Browns. While most team fans will tell you that Colt McCoy is their guy and Browns brass will echo accordingly, the link between GM Tom Heckert and Coach Andy Reid is obvious. Heckert was in Philly when the Eagles drafted Kolb in the second round, although Reid called the shots.
This is not the first time a possible Cleveland-Philadelphia for Kolb deal has come up in recent years. Also, the Browns have two first-round picks heading into the 2012 draft, and an extra pick in round one is something the Eagles covet. I do not actually believe the Kolb-to-Cleveland speculation to be legitimate, but it is something to keep an eye on.
The situation with Kolb is not dissimilar from what we saw with Houston's Matt Schaub, and he seems to have worked out pretty well.
A bit of caution, however. While Donovan McNabb was the Eagles starter, he was often injured. We have seen less than valuable quarterbacks turn out successful performances in Andy Reid's offense—A.J. Feeley, Koy Detmer and Jeff Garcia.
Vince Young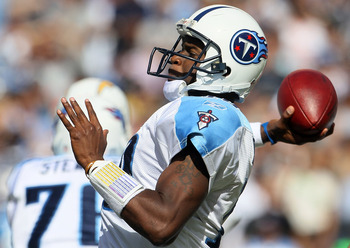 Jeff Gross/Getty Images
A 30-17 record as a starter, mobile, makes better than average football decisions.
NFL.com reported earlier this week via its NFL Total Access show that the Titans will have some options to move the often tormented quarterback. A possible landing spot—the Washington Redskins.
Tennessee has to get something for the former first-round pick; giving him his outright release would be a terrible business move. With Mike Shanahan looking for a quarterback, Young could find himself a new home in the D.C. area.
The Redskins are currently committing to John Beck, the former second-round pick out of BYU for the Miami Dolphins, but they cannot seriously be considering him a real option. Beck, in the five games he played for Miami, looked completely overwhelmed by the speed and aggressiveness of NFL defenses.
If Shanahan does decide to stick with Beck, he should be fined for sabotaging the storied franchise and should also find himself out of a job at year's end.
Young would satisfy many of the qualities Shanahan searches for in a signal-caller, and if things go well, the 27-year-old QB could land a lucrative contract for his future.
Keep Reading