Vancouver Canucks: Canada's Best Hope of Returning the Cup Home Since 1994
May 16, 2011
Rich Lam/Getty Images
I think it's pretty obvious by now who the superior team left in the playoffs is.
Not only did the 2010-11 President's Trophy recipients, the Vancouver Canucks indeed have the league's best overall record, but unlike the overrated (and over-seeded) Washington Capitals who always disappoint, these Canucks have actually lived up to their lofty billing.
2010-11 Vancouver Canucks- A season of accolades
The 2010-11 Canucks clinched the top seed in the Western Conference so long ago, many of their players have seemingly been playing on cruise control since February. Their 117 points were a dozen more than the second closest team in the league, the San Jose Sharks, whom they currently face, but also a clean ten points over the next closest competitor, that being the faded Washington team.
After a season like that, it should come to no surprise that they have the probable Hart trophy winner in Daniel Sedin, who led the league in scoring this season.
In addition to this, their statistics are littered throughout the NHL regular season leaderboard. Brother Hendrik Sedin finished fourth in scoring at 94 points, Daniel Sedin and Mr. Everything now Ryan Kesler, finished fourth and fifth in the league respectively in goals with 41.
Daniel again finished fifth in +/- with 30 which was bested by four other guys, most notably team mate and absolute playoff stud (who rises to the occasion every year unlike the unpredictable Sedin's), Kevin Bieksa, who finished fourth at +32.
Finally, no great team would be complete of course without a stellar goalie, and they certainly have one in Roberto Luongo.
Luongo was second in Goals Against Average (GAA) at 2.11 per game, and third in save percentage at .928 which was topped each time by Bruins goaltender Tim Thomas who I predict will be playing each other in the Stanley Cup Finals (at least that's the match up I'm pulling for).
If you can tolerate at least one bad game per series with Luongo getting pulled, in between letting in at least one soft goal, the rest of the series he usually displays incredible bounce-back ability.
One could argue that he is this year's Jaroslav Halak, but that would be an insult to Tampa Bay's ageless wonder, 41-year-old deadline-deal pickup, Dwayne Roloson, who clearly has top honors and will be the reason his team makes it to the Finals if indeed they advance that far.
Best chance since 1994
Canada has not won a Cup as a nation since Jacques Demers' 1993 Montreal Canadiens beat ESPN analyst, Barry Melrose's Los Angeles Kings in five games.
The very next season, the 1994 Vancouver Canucks had a chance if not for the legendary play by New York Rangers captain Mark Messier, who ended a drought lasting from 1940-a period of 54 years.
However, there are many differences from that team to this team.
First, that team was a seventh seed where no expectations were expected. Their leading scorer, Pavel Bure (aka the Russian Rocket) had a very Daniel Sedin-like 107 points.
Second, the thing that makes this 2011 team different is its depth. These Canucks second leading scorer, his brother Hendrik, had the aforementioned 94 points whereas the 1994 Canucks had just 70 from Geoff Courtnall and third was Cliff Ronning at 68. By comparison, this team's third leading scorer was Kesler with 73.
This year, after leading wire-to-wire and right out of the gate, expectations were high and so far, this team has been able to deliver. After an early round second game scare versus the defending Stanley Cup champion Chicago Blackhawks who rallied back from an 0-3 deficit, the team hasn't looked back easily.
They have beaten the over matched Nashville Predators who really didn't belong on the same sheet of ice as them, and so far, took care of business at home in Game 1 vs San Jose yesterday.
It is because of these expectations and the fact they carry the weight of an entire nation on their shoulders to get the job done, which is what makes them so intriguing.
When only two of the six Canadian teams make the playoffs this year, you are automatically behind the eight ball, at just a 12.5% chance of bringing the Cup rightfully home to Canada.
In a perfect world, the Stanley Cup Finals would be played with some combination of these six teams, say an "All Canadian final" (again reminiscent of the 1980's with Calgary vs. Montreal last seen in 1989.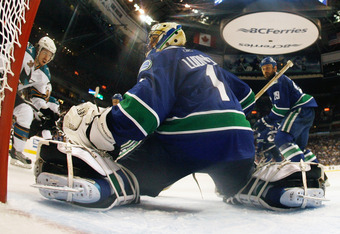 Harry How/Getty Images
Actually, in a perfect world, the Western Conference Finals would place the Winnipeg Jets vs the Edmonton Oilers while the East matched the Toronto Maple Leafs vs. the Montreal Canadiens.
The NHL will not truly be right, nor feel right until the Cup is hoisted by the Montreal Canadians again.
I'd be lying if I didn't say this is the team I place my hopes with each spring only to be disappointed, but that's only because the Jets haven't been allowed to return yet and when they do, they will be my favorite Canadian team (and 2nd overall behind my Minnesota Wild, which I say as an American).
Until that day comes, the NHL will have to settle for, and perhaps be prepared for the absolute pandemonium and euphoric nationalistic celebrations resonating from Western Canada in British Columbia as this Stanley Cup would have to suffice, but suffice it shall.
I'm not even Canadian yet I know what's best for the sport and beyond the Quebec Nordiques, Hartford Whalers, and Winnipeg Jets returning, this would be the next best thing.
Its all about righting a wrong and taking back what's yours, and there is a lot to like about the 2010-11 Vancouver Canucks from the top down. The only question is, can they sustain it and turn it into a dynasty? Time will tell but so far, they are the best hope.
Statistics and information from Wikipedia, ESPN.com, and The Hockey Reference directly contributed to the content of this article.