Pittsburgh Pirates Enter Crucial Week of the Season, Need to Be More Consistent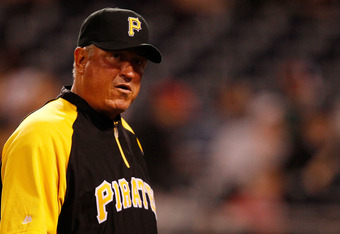 Clint Hurdle and the Pirates have lost 5 straight games
Jared Wickerham/Getty Images
There is an old adage in baseball: Treat the season as a marathon and not a sprint.
These are very wise words, but do not tell the complete story. Even the best marathon runners (maybe some of them competed in Pittsburgh Sunday) will tell you that there are small stretches in a marathon that play a vital importance in the end result.
This week could potentially be one of those stretches for the Pittsburgh Pirates.
The Pirates lost Sunday afternoon 9-6, which resulted in a sweep to the Milwaukee Brewers. That is now their second road sweep of the young season.
The Buccos have lost 30 of 33 in Milwaukee. This is a mind boggling statistic that can only be matched in Pittsburgh by their hockey counterparts when the Penguins went 0-39-3 in Philadelphia from 1974-1989.
Overall, the Pirates have lost five straight after reaching the .500 mark and igniting enthusiasm in the city of Pittsburgh a week ago.
Inconsistency has plagued the 2011 Pittsburgh Pirates, and they have an opportunity to flip their fortune as they travel to Washington to play the 19-21 Nationals.
Monday, Paul Maholm and his deceptive 1-5 record (3.60 ERA) take on soft throwing lefthander John Lannan.
Doug Pensinger/Getty Images
This is a perfect opportunity for the bats to get in-sync and develop momentum as they begin a fresh, short series. The second game of this two game set features Charlie Morton and his effective new motion against Jordan Zimmerman and his plump career ERA of 4.63.
With Ryan Zimmerman still on the disabled list for a few more weeks, the Pirates will look to get their lineup and pitching on the same wavelength in the nation's capital.
Then the Pirates will then make the short trip to Cincinnati to play in their second consecutive two-game set. The lineup will be challenged against the Reds as they face Bronson Arroyo and Johnny Cueto; the latter has yet to give up an earned run in two starts this season.
Cueto has pitched 13.2 innings, striking out nine and stands at 2-0. The Pirates did win the first season series between the two teams when they took three of four from the Reds at Great American Ballpark in the middle of April.
Cincinnati stands alone atop of the Central division after sweeping the Cardinals this past weekend. The importance of divisional games, especially against teams that currently stand a few ladder rings higher, cannot be stressed enough.
These two brief series' lead the Pirates into interleague play. The Detroit Tigers and a familiar face in Jim Leyland travel to PNC Park. The only relationship more one-sided than Pittsburgh and interleague play has to be Charles Barkley battling the game of golf.
Doug Pensinger/Getty Images
The Buccos have the worst interleague win percentage in all of baseball. They currently stand 73-123 all time, which equals a .372 win percentage. As Manager Clint Hurdle has reiterated time and time again, the past cannot be ignored, but has no affect on the current team.
A strong start to cross league play can boost this team heading into June.
Understandably, it is tough to be optimistic after the poor, weird and unsuccessful week the Pirates just completed. That does not erase the fact that nearly every facet of the team has shined at times this year, unfortunately usually not at the same time.
If the young hitters start building off each other the way the starting pitching did to start the season, the scorecard might finally start to fill up. The starters have cooled off some after collectively beginning the season on a scorching run.
Pitching Coach Ray Saearage has imprinted the staff with a lot of positive feedback and hopefully that will help the crew as a whole find consistency game in and game out. The bullpen has hit a rough patch, filling up the disabled list, but the organization believes there is a lot of depth in the pen.
At worst, there is still a legitimate closer to seal potential victories in Joel Hannrahan.
Reasonable expectations still might not be high for this team, but the Pirate's locker room is singing a different tune. They are not playing the game to be .500, and they are not playing the game to be "respectable." They are playing to win a division title right now.
Five games out of first place right now is not a huge deficit. It becomes a serious problem when a team gets close to 10 games back. When a team is 10 games back, no matter what point of the season, even a string of wins tends to not put much a dent into division lead.
Hypothetically, a team could win four of six or five of seven and only gain a game or two. And that is with the division leader playing only .500 baseball during that stretch. That is why it is imperative for the Buccos to put the past week behind him and be prepared for the challenge in front of him.
Clint Hurdle has generated a buzz by wearing his emotions on his sleeve and willingness to change everything up if the team is not winning. Granted, it is easy to generate a buzz when the previous skipper had the emotional range of a vacuum cleaner, except quieter.
The team will continue to play hard for Hurdle and if they do not, then consequences will be enforced, just ask Andrew McCutchen.
Justifiably, many fans have jumped off the bandwagon after a short ride for a couple days a few series back, but this week might pick those people right back up. The week contains three important series for different reasons but all quite crucial.
The Pittsburgh Pirates are not winning the marathon right now and probably will falter completely eventually, but do not be surprised if they re-tie their shoes and catch up a bit this week.
This article is
What is the duplicate article?
Why is this article offensive?
Where is this article plagiarized from?
Why is this article poorly edited?

Pittsburgh Pirates: Like this team?