NBA Playoffs 2011: Miami Heat vs. Chicago Bulls Game 1 Live Blog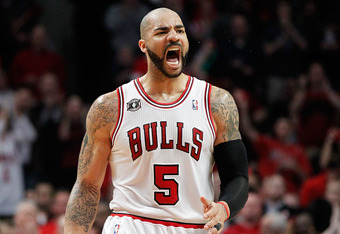 Gregory Shamus/Getty Images
Game 1 of what promises to be a great series. Sit back and enjoy the coverage.
I said it all along. If you want to beat the Bulls, the Big three will have to put up 80. They put up 63 points.This was a one point game with seven minutes to go in the third. It all changed with defense. Bulls adapted a very strong, effective defensive rotation.
The Bulls played like a cohesive unit. LeBron James was not a factor. Dwyane Wade had a solid game and Bosh had a sensational 30 and 9. Miami couldn't force anything. They didn't get to the line in the second half.
When playing an elite team like the Bulls, you have to bring your game for 48 minutes, the Heat brought it for 24. Bulls made 10 three pointers, were simply outstanding collecting 19 offensive rebounds and that was the difference.
The Heat were decimated, lost 103-82 and will want to get out there for game two as soon as possible. They need to erase this nightmare. Chicago brought it and all the media will be talking about is the fact that Miami failed to show up for the second half.
Hope you enjoyed the coverage, I'm Aaron M and its been a pleasure having your company this evening.
Heat fans please don't do anything irrational, it's only one game!
Take care.
103-82, stay tuned for my second half analysis.
Tajjjjjjjjjjjjjjjjjjjjjjj Gibson you monster.
Ferocious putback. That one has me on my feet. The energy he has brought to this game has been insurmountable.
The Heat must be embarrassed here.
Spoelstra has to take some of the blame, James didn't show up but Wade was visibly tired after ted then and the third and the game changed then and there.
Chicago up by 21 now 101-80.
Three minutes to go, lead still 17 for the Bulls and the crowd is loving every minute of it.
Deng sinks another. I bet most of Cleveland is loving this one as well.
2:32 to go before the nightmare ends for the Miami Heat and their fans.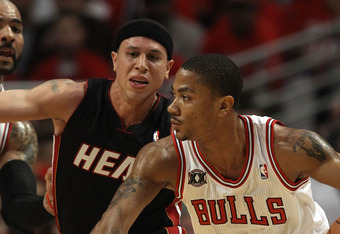 Korver with a nice three point shot. They call that one "Sauce" in the streets.
95-80, Bulls lead and this one is about as finished as my Sunday dinner.
4 minutes to go, Rose with another. Bulls lead now up to 17 and the crowd is on their feet.
Story of the second half: Miami Meltdown.
Bosh throws it up and gets fouled.
The Big Three with 61 points combined. They've gotten nothing from their bench this game.
90-78 Bulls lead.
Where is LeBron? Has been missing most of this game.
5:24 left in the game.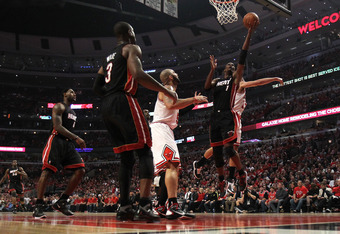 Rose with a jumper sweeter than kool-aid.
He has 26 points and the Bulls lead 90-76.
Timeout on the floor, I can't see the Bulls letting the Heat back into this one. Bulls have simply played outstanding basketball and the Heat have not challenged them offensively.
Bosh with 26 points, the lone bright spot for the Heat thus far.
88-76, Bulls lead with six minutes to go.
Crowd chants "MVP"
Rose hits two free throws.
88-72 Bulls lead.
Deng his the three, got a lucky roll. He has four from three point land.
Mario Chalmers responds with a three of his own.
85-72, Bulls lead with just under 7 minutes to go here.
James misses another jumper.
Haha. Watson makes a 23-ft three pointer with the clock winding down.
Bosh answers. He was tripled teamed, throws it up and gets an "And-1."
Bulls still can do no wrong.
83-68, Bulls lead with 7:49 to go.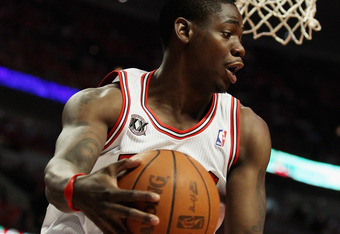 Brewer, that's just disgusting. Dunk and that was too easy.
Miami Heat are lifeless here.
80-66 with just under nine minutes to go. Miami have lost the plot.
Refs determine it was a clear path foul.
Bulls in full command here. Lead 78-66 and have the ball, nine minutes to go in the game.
Referees reviewing a play, Brewer stole the ball and was fouled. Refs checking to see if it was a clear path foul.
LeBron James knocks down a three. He desperately needed that. He has a quiet 15 points.
Deng follows up his shot and gets an easy put back.
Lead is at 10 for the Bulls, they have 17 offensive rebounds.
Asik with an easy slam. He was also fouled by James Jones. "And-1"
Bulls lead 74-63 here and the Miami Heat appear to have the life sucked out of them.
No points scored by either team a minute into the fourth quarter.
Telling note: Heat have gone over 16 minutes without a free throw. They have not had a fast break point since the first quarter.
Bulls held the Heat to just 15 points in the third quarter.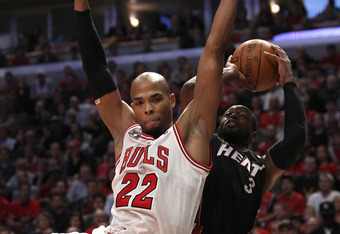 James just 4-12 from the floor.
No rest for Wade or James this quarter and they look tired. The tempo has been very quick this quarter.
Standing ovation from the crowd. 72-63, Bulls lead going into the fourth quarter.
Taj Gibson has come up big this quarter.
Gibson saves the play with an offensive rebound. Deng gets a three point shot off where he had 24 hours to let go. He nails it.
Lead back up to nine. Gibson is everywhere here. Chicago is making the difference defensively.
Taj Gibson who is troubling James, gets rewarded as James misses. Gibson was strong on that one.
Rose with the runner.
Wade gets a quick rebound, that play lasted two seconds.
Bulls lead 69-63.
James Jones stops the bleeding with a three point shot. Ends a 10-0 run for the Bulls.
67-61 Bulls lead with under three minutes to go in the third.
Now there is a bit of shoving in the paint by both teams. Miami Heat starting to get frustrated.
67-58, Heat lead with four minutes to go in the third. James has been a non-factor.
This article is
What is the duplicate article?
Why is this article offensive?
Where is this article plagiarized from?
Why is this article poorly edited?