2011 Fantasy Football: The Dynasty League Buy List
May 15, 2011
Otto Greule Jr/Getty Images
The NFL draft has come and gone and many fantasy league owners are shopping for bargains, especially those in dynasty leagues.  Today we take a look at some potential "buy" candidates—players you can likely get for below market price who still have a chance to help your team either in the short or long term.  
For more detailed strategic advice, make sure you check out our new Dynasty Essentials Guide, which we're offering a free sneak preview to for our loyal readers here on Bleacher Report.
1. Jimmy Clausen, QB CAR
Is it Clausen's fault he looked like a rookie?  He's in a difficult situation with a new head coach, departing free agents and a team that just drafted a new face of the franchise.  After losing his spot as the starter to Cam Newton, Clausen's value won't get much lower.  You can get him for next to nothing in a dynasty league, and his career is far from over.
2. Randy Moss, WR, FA
Let's not go crazy here, but Moss may have next to no value in many leagues or on many teams.  If you're a competing dynasty team, a rebuilding team would likely consider a second-round rookie pick (or less) for the aging Moss.  While it could turn out to be a wasted trade, if Moss ends up with a contender, he may add the depth you need.  We still think he has two to three years left
3. Jahvid Best, RB DET
Your value of Best likely revolves around your ownership status of him.  If you own him, you're disappointed, frustrated and likely willing to cut bait if you can get a decent package for him.  If you're on the outside looking in, Best is an intriguing bounce-back player in 2011.  
As long as he can stay healthy, he's a a great buy low.  We'd go as far as saying that we'd consider trading a high rookie draft pick for Best, 1.03-plus for certain, even with Leshoure in the fold.  Best is still the most talented back the Lions have.
4. C.J. Spiller, RB, BUF
Talk about disappointing.  Spiller was nearly invisible all year in Buffalo, which is where most fantasy players go to die (similar to Detroit running backs).  Spiller has yet to be showcased and Fred Jackson has reached the magical 30 mark.  Add Spiller purely as a high-risk/high-reward player if you can get him on the cheap.
5. Marshawn Lynch, RB SEA
Except for a single playoff run that may be the best of all time, Lynch underperformed greatly in 2010. Offensive line blocking was less than average and joining a team nearly midseason is a difficult task for any player.  
He now has nearly a full year in Seattle under his belt and is only 25 years of age. As long as you can sell Lynch's poor statistical performance of 2010, he should be available for a song in a dynasty league.  He's worth the risk and is a good bet for 1,000-plus yards and eight touchdowns in 2011.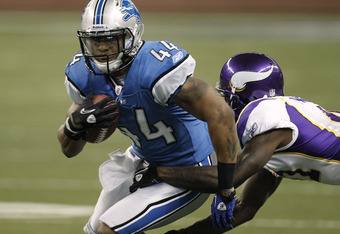 Gregory Shamus/Getty Images
6. Ryan Mathews, RB SD
Injury, rookie inexperience and the emergence of Mike Tolbert all factored into Mathews' disappointing rookie campaign.  He still managed a respectable 4.3 yards per carry average with seven touchdowns. Despite Tolbert's 11 rushing scores last year, the opportunity exists for Mathews to make good on his high first round selection status in 2011.  Look for the second-year Mathews to eat into Tolbert's production in both carries and touchdowns.
7. Kevin Smith, RB DET
Detroit has been a miserable situation for fantasy running backs.  The Matt Millen era ushered in an era that saw the Lions disregard their offensive line and concentrate, instead, on the offensive skill positions.  
Millen is now out, but the Lions woes continue in the running game.  Kevin Smith, only 24, has good size and will get a new start with a chance for meaningful touches.  He should be available for next to nothing as well.
8. Jerome Simpson, WR CIN
With all the unrest and aging veterans in Cincinnati, Simpson is one name whose value is rising. He finished the last two weeks of the regular season with 18 catches, 247 yards and three touchdowns.
Being that his Week 17 effort came after many leagues had already finished for the year, many coaches may have missed his performance.  Unless AJ Green develops quicker than expected, Simpson is a near lock to start the season as the number one receiver in Cincinnati.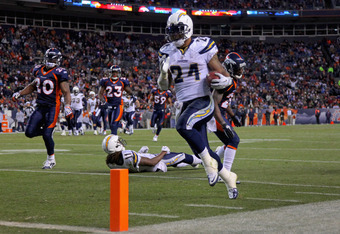 Doug Pensinger/Getty Images
9. David Gettis, WR CAR
The 2010 sixth-round receiver out of Baylor was pressed into duty early by the Panthers.  With good size (6'3"/216), Gettis gives the Panthers exactly what they need—a big target with more than enough speed for the big play.
The opportunity for Gettis is more about lack of experience around him than superior skill set, but in the NFL the opportunity must be the first step.  Look for Gettis to retain the starting role and to expand on his 2010 campaign.
10. Jared Cook, TE TEN
Cook finally looks to be the starter in Tennessee.  The 24-year -ld tight end finished the 2010 season with 15 receptions, 196 yards and a score.  The Titans are a team in transition but Cook should be seen as a stable presence at tight end going forward.
Looking for more advice on how to win your league? Searching for the tool which will help to separate you from the rest of your league mates.
Well, look no further!
The Dynasty Essentials Guide offers a complete fantasy recap of the 2011 NFL draft and is also a primer for the 2011 fantasy football season and beyond.
There is simply nothing else like it, and we're offering a free glimpse for our readers here at Bleacher Report.
With its intense analysis of all the pivotal rookies in this year's NFL draft, as well as its in-depth examination of the veterans, this guide will provide you with all of the tools you will need to make informed, insightful decisions.
With both a focus on long-term value as well as short-term impact, this guide is ideal for the dynasty, redraft or keeper league coach who wants a complete, big-picture view of the fantasy football landscape!
We've put in countless hours creating this downloadable magazine. It contains over 200 pages of information including all the following:
Draft Essentials
Positional Dynasty Rankings
Redraft or Competing Team Rankings
D/ST Rankings
IDP Rankings
Post-Draft Rookie Rankings with commentary
Organized Cheat Sheets
Printable Draft Sheet for New or Existing Leagues
Dynasty Mock Draft with new rookies included
Player Essentials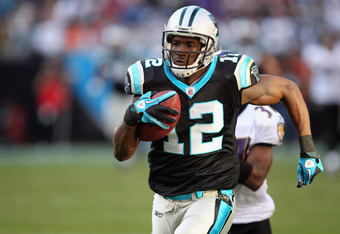 Streeter Lecka/Getty Images
Teams Capsules for all 32 NFL Teams
Categorization with commentary (rising, falling, in their prime) for over 250 NFL Players
Training Camp Battles
In-Depth Dynasty Debates
Buy and Sell Candidates
2011 Predictions from the DLF Staff
Strategy Essentials
Trading and Building Tips
Commissioner Advice Column
Words of Advice from the DLF Staff
Additionally, you'll also get free access to updated cheat sheets and addendums to the guide all the way up to the beginning of the season.
This full-color downloadable magazine is the first of its kind. People new to dynasty leagues will find it to be a huge resource for gaining an edge on your competition, while veteran owners are sure to find it a valuable tool for re-evaluating their own teams. We named it the Dynasty Essentials Guide because we feel it's going to be a yearly essential for every fantasy football owner intent on building their dynasty or winning their league this season!
Click here to learn more or to check out a free trial copy, offered exclusively for readers of Bleacher Report.