MLB Power Rankings: The 25 Most Untouchable Prospects in Baseball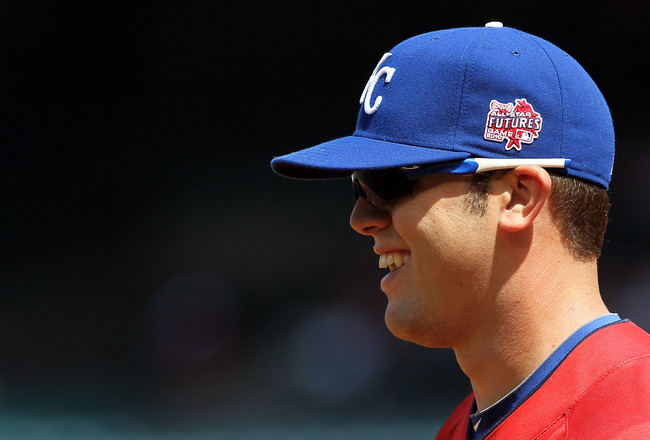 Stephen Dunn/Getty Images
Baseball, just as any other sport, is cyclical in terms of player development and decline. This year, we are seeing the deterioration of greats such as Derek Jeter and Manny Ramirez, among others. But at this same time, it is an exciting time for baseball.
A crop of extremely talented young men is about to break into the major leagues, showing as much promise as ever. From Washington's sensational Bryce Harper to the strong arm of Seattle's Michael Pineda, baseball is about to be hit by a wave of great talent.
Some of this talent, especially on high-payroll teams, is movable (Jesus Montero, Jose Iglesias) for the right price. But some are simply untouchable.
There is a general hierarchy here, but not a specific order. It is very hard to judge if one prospects is more untouchable than the next. But here are the top 25 most untouchable prospects in baseball.
Lonnie Chisenhall, Indians Third Baseman
The Indians finally have something to be excited about given their exceptional start to the season.
But almost as exciting is the presence of Lonnie Chisenhall in their farm system. Though Chisenhall has not quite destroyed minor-league pitching, one look at his swing and you will know why he is going to be so valuable to the Indians.
He is a cornerstone to build an offense around, something the Indians will need going forward. The sweet-swinging Lonnie Chisenhall is the future of that offense.
Billy Hamilton, Reds Shorstop
It is clear that the Reds love athletic middle infielders.
Between Barry Larkin and Brandon Phillips, the Reds have a rich history of developing slick-fielding, fast infielders.
The latest and perhaps most exciting of the bunch is Billy Hamilton, a pure athlete who happened to choose pro baseball. He is a gifted fielder with excellent speed. Most scouts question his hitting ability, but he is still very young and has room for improvement.
By the time Hamilton is ready, Phillips will be nearing the end of his prime and will be a great teacher for him. He projects to be in the same mold as Dee Gordon, but perhaps with more athleticism. He should be fun to watch.
Kyle Gibson, Twins Pitcher
This season has been an absolute nightmare for the Twins. But there is reason to hope for a number of reasons.
The biggest, however, is the emergence of Kyle Gibson, perhaps the best pitcher to come through this system since Francisco Liriano. Unlike many other pitchers on this list, Gibson is not a power pitcher. He relies on precision, command, and deception, but he does all of that very well.
He is very adept at creating ground balls, and his slider and changeup are both very well developed. He has had arm issues in the past, but at this rate, he will become a valuable member of the Twins' rotation.
Manny Machado, Orioles Shortstop
Most everyone knows about the Orioles' great young pitching prospects. Between Zack Britton, Jake Arrieta, Chris Tillman and Brian Matusz, the Orioles are set in that department.
But perhaps the most exciting player in the O's organization is young Manny Machado. Just 18, Machado shows tremendous potential at shortstop.
He is a sparkling fielder with a great bat, and has a perfect baseball body at 6'3", 185 pounds. He's got a big frame for a shortstop, but it gives him tremendous arm strength and a very quick bat. The Orioles would be just silly to let him go.
Think Edgar Renteria with more pop.
Brandon Belt, Giants First Baseman
San Francisco gave the country a preview of Brandon Belt for a while earlier this season, but it was largely unimpressive. But when he is playing to his potential, Belt is a great prospect, a definite All-Star first baseman who will have a stranglehold on the position in San Francisco for years to come.
Though improvements to his swing have made Belt a more impressive offensive prospect, the best part of his game is his excellent defense.
Many scouts have compared him to a young Derrek Lee, a comparison that no one in the Giants organization would mind. He'll be there a long time.
Shelby Miller, Cardinals Pitcher
No matter what happens in the Albert Pujols saga this offseason, the Cardinals are in great shape for the future. One of the main reasons is right-handed pitching prospect Shelby Miller.
He is the top prospect in the organization, and with good reason. He has been compared to a Matt Cain-type pitcher, with a solid mid-90s fastball and developing secondary pitches.
Though his command can be off at times, Miller is still only 20 and has a few years to become a more crisp and precise pitcher. Once that happens, he will join Jaime Garcia and Kyle McClellan to headline a great Redbirds rotation.
Chris Sale, White Sox Pitcher
The White Sox lone representative on this list is a dandy, an excellent lefty pitcher named Chris Sale. Sale is very valuable for the White Sox in the short and long term.
He can adjust his pitching style based on his role. Out of the bullpen, he can throw a high-90s fastball with two above-average breaking pitches. As a starter, he works primarily off a two-seam fastball that is still very effective.
Either way, Sale is a pure strikeout pitcher who projects to be a great pitcher no matter if he pitches in the rotation or the bullpen, almost like a Neftali Feliz. He's not quite the prospect Feliz was, but he is still an invaluable pitcher for the White Sox organization.
Dustin Ackley, Mariners Infielder
Between Michael Pineda and this guy, Dustin Ackley, the Mariners have reason to hope.
Ackley is a former UNC Tar Heel who has tremendous potential to be a great run-producing infielder. He has a short, crisp swing and keeps his bat level through the zone. He has some pop, but his main strength is being able to hit to all fields.
Defensively, Ackley is still a bit of a liability, but he projects to be a solid second baseman. No worries, though, as his great bat and quick feet should earn him lots of accolades moving forward. Offensively, he and Justin Smoak will be the cornerstones of the Mariners for years to come.
Jacob Turner, Tigers Pitcher
Excited about Justin Verlander? Just wait until you see Jacob Turner.
This young (he turns 20 on Saturday) righty has all the makings of a future ace. He has two plus-plus pitches in his fastball and curveball. His fastball can reach the mid-90s and will continue to hit that velocity more consistently as he fills out his 6'5" frame. He has a tremendous curveball, a deep 12-6 that has the potential to be great.
The only concerns about Turner are his efficiency and durability. He tends to have higher pitch counts, something to keep an eye on. But for the most part, he looks to be a future top-of-the-rotation stud for the Tigers, who would be absolutely moronic to move him.
Freddie Freeman, Braves First Baseman
With Freeman, the Braves have the man they want to complement Jason Heyward in the lineup for years to come.
Freddie Freeman is the complete package at first base—great power, good eye, and fantastic defensive ability. His power is primarily to right field, but he can shoot the ball into the gaps as well.
Though his few months in the majors have been somewhat of a struggle, Freeman still shows the ability to blossom into an All-Star caliber first baseman. He and Brandon Belt of the Giants are very comparable, with Freeman getting the edge because of his superior bat.
Desmond Jennings, Rays Outfielder
When the Rays lost Carl Crawford to free agency this offseason, many devout fans barely broke a sweat. Why?
Two words: Desmond Jennings.
The Rays seem to be elite at bringing up über-athletic outfielders, and Jennings may be the finest of the group so far (excluding Crawford). He is by no means a power hitter, but he has great balance at the plate and is made for wreaking havoc on the basepaths.
He's a top-of-the-order contact hitter who also possesses rare range in the outfield. He projects to be a terrific presence for the Rays out of the leadoff or second spot in the lineup. At least for seven or 10 years, Jennings is absolutely untouchable.
Dee Gordon, Dodgers Shortstop
One of the toughest spots to fill in baseball a top-flight leadoff hitter. There are only a few bona fide leadoff men in the league right now, and Dee Gordon has the potential to become another one.
He is the son of former MLB pitcher Tom Gordon (wasn't he just pitching a few years ago? Am I that old?), and certainly has the tools to become a successful baseball player.
He has plus-plus-plus speed, a good ability to get on base and a very nice defensive game. He still needs some polish added to his game, but once he does, he will become the Dodgers' everyday shortstop and leadoff man. For that reason, he is untouchable.
Mike Montgomery, Royals Pitcher
I know it's going to get tiring looking at all these Royals prospects, but it's one of those times where the team is just so loaded with talent that it would be a crime not to look at the top prospects.
As a consolation, the second-best Royals pitching prospect, John Lamb, is not on this list. Montgomery has a better track record and frankly, a higher ceiling than him.
Montgomery is a powerful, big lefty. As one would guess, he has a mid-90s fastball with great movement to go along with two quality breaking pitches, a curveball and a palmball.
He has had some elbow issues, but for the most part, there is little to nothing wrong with Montgomery. Scouts compare him to Brian Matusz.
Tyler Matzek, Rockies Pitcher
The Rockies really go under the radar in terms of player development. Right now, Jhoulys Chacin is making a splash on the major league level as a big-name prospect for them.
But Colorado's crown jewel right now is Tyler Matzek, a talented lefty who has the potential to be a top-of-the-rotation starter in Denver. He has a very good low-to-mid-90s fastball, complemented by a plus slider, good curve and a serviceable changeup.
Though his mechanics are somewhat choppy and he tends to hang breaking pitches, Matzek will probably turn out a step above Chacin and be a number one or two starter for the Rockies moving forward.
Matt Moore, Rays Pitcher
How do you know you've got good life on a fastball? Well, watch the end of this video. Matt Moore is the Rays' best prospect besides Jeremy Hellickson, but projects to be just as good of a pitcher.
He has a mid-90s fastball, plus curveball, and a plus changeup. He led the minors in strikeouts each of the past two seasons, and has never had a K/9 ratio below 12.75 in the pros.
There is very little downside to Moore. Once he is able to gain a little more command of his pitches, he projects to be an elite starter. He and Hellickson will be a tremendous combination at the top of the rotation for Tampa Bay.
Wil Myers, Royals Catcher/outfielder
They might as well just rename the MLB Futures game the Royals Showcase. This farm system is as strong as anyone's has ever been, and Wil Myers is just another one of the fantastic hitters waiting to burst onto the scene in Kansas City. Though his natural position is catcher, he has struggled behind the plate, especially with his release.
But that's not the point. Myers is an elite offensive catcher, in the same echelon as Mike Piazza or Javy Lopez.
He has a world-class swing with great speed through the zone. He hits the ball hard and he hits it far. Whether he becomes a catcher, outfielder, or DH at the major league level, Myers will be the third member of the Holy Trinity of Royals' offensive prospects.
Michael Pineda, Mariners Pitcher
When you think of the Seattle Mariners, the first player that should come to mind is Felix Hernandez. He is one of baseball's elite pitchers. But his future in Seattle is questioned, as big market teams such as the Yankees could come calling for him soon. But worry not, Mariners fans. Michael Pineda is here to save the day.
Pineda is a powerful right-handed future ace. Despite being only 22 years old, Pineda possesses a deadly fastball and a slider that left scouts salivating. He is perhaps the biggest reason why Felix Hernandez could be expendable.
Jameson Taillon, Pirates Pitcher
Taillon is the type of prospect that makes pro scouts absolutely drool. What isn't there to like?
He is 6'7", constituting a tremendous presence on the mound. Add that to a terrific package of pitches, from a high-90s fastball to good-but-developing curveball, slider, and changeup, and you have an elite pitching prospect.
Taillon is still very young (19 years old until November), but he is already looking like an ace.
The Pirates have a bad habit of trading away their top prospects, but something tells me that they're going to want to hold on to Taillon. His physical characteristics and makeup make Taillon almost a lock to anchor the Pirates' rotation for years.
Eric Hosmer, Royals First Baseman
Just listen to the reaction of the fans after Eric Hosmer blasts a home run in the video. He has some awe-inspiring power to go along with a terrific eye and beautiful swing. It is very hard not to be impressed by Hosmer's ability at the plate despite being all of 21 years old.
He is perhaps the crown jewel of an absolutely loaded Royals farm system.
Between Hosmer and Mike Moustakas, the Royals have the corners of their infield set for the next 10 years. Neither of them will be gone any time soon.
Jeremy Hellickson, Rays Pitcher
There may not be a farm system in baseball with pitching talent as deep as the Rays.
The crown jewel of this group of pitchers is Jeremy Hellickson, a talented righty who has already broken into the majors. He has not quite been dominant his rookie year, but he shows all the makings of a future ace. He has a low-to-mid 90s fastball, a great curveball and an elite changeup.
He will blossom soon enough, and at his peak compares to Roy Oswalt or Greg Maddux. Don't expect the Rays to even think about letting go of Hellboy.
Domonic Brown, Phillies Outfielder
One thing you'll notice about this list is that a lot of big-market teams are not on here. There are no Yankees or Red Sox prospects, for example.
This is because the large-market teams don't have to develop talent to be successful, so none of their prospects are really untouchable. But Philadelphia, being a big-market team, has a rare untouchable talent in outfielder Domonic Brown.
He is a true five-tool player, showing a fantastic ability to hit for contact and power, run the bases, and field. Not to mention that Brown has a world-class arm. He will be a cornerstone of Philly's offense for many, many years.
Mike Trout, Angels Outfielder
One of the hardest things to predict about a team years down the road is who will be the face of the franchise. But right now, there may not be a more sure bet in baseball than Mike Trout of the Angels. He won't turn 20 until August, but already, he is showing the ability to be a five-tool player at the major league level.
He's 6'1", 200 pounds, but runs the bases like a track star (see video). He's got tremendous bat speed, and shows a decent amount of pop. Though comparisons to Mickey Mantle are a bit far-fetched, Trout projects to be a perennial all-star in the outfield.
Mike Moustakas, Royals Third Baseman
The Royals really have an embarrassment of riches in their farm system, with Moustakas being arguably the best prospect of the group.
He is an offense force, having laid waste to minor league pitching last year (.322, 36 home runs, 124 RBI between AA and AAA). The only issues with Moose are his athleticism and range at third base.
But needless to say, he has the offensive tools to make him an elite prospect. Think Evan Longoria with a slightly better bat but not as good in the field. He will be starting at the hot corner in Kansas City for a very long time.
Julio Teheran, Braves Pitcher
As far as pitching prospects go, Teheran is about as nasty as they come. The right-handed Teheran is still very raw at 20 years old, but he has all the tools to be the Braves' ace of the future. He possesses a mid-90s fastball, a plus changeup, and an excellent curveball.
He has already been in Atlanta for a spot start, but his shaky outing should not in any way alarm Braves fans. He has Pedro Martinez stuff.
Bryce Harper, Nationals Outfielder
Has there been a more highly touted prospect in recent memory?
Take one look at Harper's swing and you will understand why that Nationals were salivating at the chance to take him in last year's draft. Right now, he is still fairly raw, and he won't be MLB-ready for another year or so.
But in terms of being untouchable, no one tops Bryce Harper.
Keep Reading