Tiger Woods: Is Golf's Former No. 1 the Next Ken Griffey Jr.?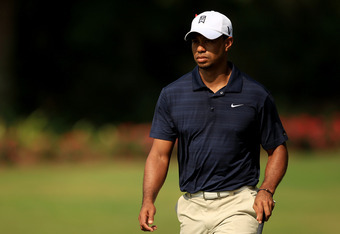 Tiger Woods May Never Win Another Major Championship Again
At 35-years old we still expect to see Tiger Woods back to his winning ways at some point.
Yet, as we see here this weekend, there is more going on with Woods at his age and health than we want to believe.
With 14 major championships Woods is only four away from Jack Nicklaus' record 18, but his knee does not want to cooperate.
The knee in question has undergone numerous surgeries in the past and now his actual potential to win, not only another major but a tournament in general, is very much in question.
One writer, Don Markus of the Baltimore Sun, brings up an interesting cross-sport comparison: Ken Griffey Jr.
Must Read: Top 20 Fictional Teams in Sports History
Markus writes:
Tiger and Junior have long been linked -- as phenoms who took over their respective sports at a very tender age, as friends who ran in the same circles down in Florida years back, and as athletes who fell just short of being proclaimed as the greatest ever because injuries derailed their respective careers.
Markus hits on some great points, although one thing is drastically different that will eternally set them apart: Woods has won.
Griffey was chasing numerous personal achievements as the potential greatest player of all-time in a team setting; Woods plays a solo sport defined by winning.
There is no denying the similarities between Griffey and Woods as two of the best young athletes ever to play their sports, but in terms of winning they are nowhere close.
Griffey has a tremendous amount of personal achievements, but he never won anything.
It is unfortunate because of what could have been with Griffey, but he'll never be considered anything more than another tremendous baseball player. It could have been different, but it wasn't.
Even if Woods never wins another major, or tournament for that matter, there is no denying that he is one of the three best to ever swing the club.
Despite the recent troubles, a strong case could be made for him as the greatest of all time.
Woods cannot be the next Ken Griffey Jr. in the sense that he is already beyond him in terms of overall success.
If Woods is in danger of any sort of Griffey Jr. similarity it will be in his fall from greatness.
Yet, when all is said and done, a case will still be made for Tiger Woods as the greatest golfer ever.
The same cannot be said of Ken Griffy Jr.
Most recent updates:
This article is
What is the duplicate article?
Why is this article offensive?
Where is this article plagiarized from?
Why is this article poorly edited?