WWE SmackDown Review May 13th, 2011 *SPOILERS*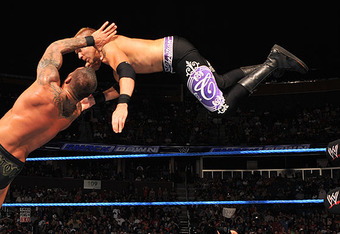 [WARNING: This article contains spoilers]
Christian, Sheamus, Mark Henry, and Randy Orton open the show
Christian comes out and says he wasn't 100 percent and he respects Orton then challenges him at Over The Limit.
Sheamus comes out and rags on Christian and then Henry does the same. They then attack Christian and Orton comes to the safe and they get rid of Mayonnaise and Sexual Chocolate.
Backstage segment with Christian, Orton, and Teddy Long
Long makes the main event Christian and Orton vs Henry and Sheamus. Shocker. Anyone else find it funny that Henry and Sheamus were like beefing not to long ago before WrestleMania.
Long also makes a world championship match at Over the Limit, Orton vs Christian. Christian says he knows he can beat Orton when hes 100 percent.
Sin Cara vs Daniel Bryan
An AMAZING match and definitely match of the night. Chavo Guerrero was on commentary again and he even ring-announced Cara.
Apparently Chavo is "mentoring" Cara now, so he says. This match was freaking fantastic guys. I seriously recommend you watch this if not anything.
Bryan goes to the top rope but Chavo gets up and pulls his leg and distracts him. Bryan kicks Chavo but Cara hits that finisher from the top rope and gets the win.
Cara celebrates but then sees the replay of Chavo helping him and he shoves Chavo and leaves. He looks very angry. Seriously almost to angry. I'm really looking forward to this feud though.
Who do you want to see turn heel?
Layla promo
Layla is in the ring in some very short, very tight, very hot shorts and she's quickly becoming my favorite diva—partly because she used to be a Miami Heat cheerleader. Go HEAT!
Layla talks about Michelle and says she injured her knee? I don't know if this is real or what but Michael Cole interupts and basically says all divas suck and how he'll beat Lawler at OTL. Kill me now. Then out comes.... you guessed it! KHARMA!!!!!
Layla tries to run but Cole trips her! Kharma gives her the implant buster then goes after Cole who locks himself in the lame glass box.
Wade Barrett vs Kane (Non-Title Match)
Eh not the best match but good back in forth action. The Corre interferes and it ends in a DQ. Shocker.
The "numbers game" gets the better of Kane and out comes.... no not Big Show, Kane's tag team partner, but Ezekial Jackson and he first gets the better of The Corre at first but then "THE NUMBERS GAME" gets the better of Jackson as well.
Backstage with Orton and Christian
A pretty corny segment to say the least....
Backstage with The Corre
The Corre says they are amazing and what not and then Wade challenges Zeke to a match at Over The Limit for the Intercontinental championship.
The Khali Kiss Cam
Khali..... well yeah..... Jinder Mahal comes out and smacks Khali twice and leaves. I'm looking forward to where this goes as well.
Cody Rhodes vs Ted DiBiase
I was very excited to see these two former Legacy members go head to head. But it wasn't really much more than a squash match. But it's kind of weird seeing Ted as a face.
By the way, where does Rhodes go after this? Who's he feuding with next? Come on WWE, were nine days away from the PPV and you haven't given this highly talented man a match? Seriously?
Christian and Randy Orton vs Sheamus and Mark Henry
To be honest I wasn't really impressed with this match. It was just a normal tag team match and it felt exactly like the match from two weeks ago with Orton and Christian vs Brodus Clay and Del Rio.
But I guess after last week being main-evented with a world title match I guess I should have expected it.
Overall I give this episode of SmackDown a 6/10 rating. By the way if you haven't watched this week's WWE Superstars suggest you do, it was great, in my opinion better than RAW.
This article is
What is the duplicate article?
Why is this article offensive?
Where is this article plagiarized from?
Why is this article poorly edited?