Harmon Killebrew: Twins Legend Reminds Us About the Fleeting Nature of Greatness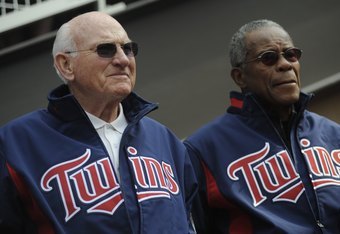 Harmon Killebrew reminds us of the glory of greatness
Harmon Killebrew has been moved into hospice care where he will live out the rest of his life. The loss, which is sadly inevitable now, will be felt first and foremost by his loving family. But to a lesser, but meaningful, extent by the throngs of baseball fans that can say with deep appreciation that they saw one of the all-time greats play.
It's a shame in sports that greatness seems so easily achieved, because it's just as easily forgotten or taken for granted. Perhaps in a world of mass consumption of sports, we, the masses, aren't satisfied by anything other than greatness. So we try invent it in players who don't quite hit the high water mark and once we find it we cast it aside and move on to the next great thing.
But Killebrew, who was one of the all-time home run kings and an MVP in 1969, will be remembered forever by those who got to see him play. In those days baseball wasn't available on demand. You had to go out to see greatness. You had to wait for it to arrive in your city or for your team to arrive there. Fans grew a deep appreciation for the athlete because they didn't want to think about missing out.
Killebrew should serve as the reminder that everything has it's time and it's important to soak it all in while we can. Someday that player, in any sport, will have to stop playing and no one wants their memories being created through re-told stories or highlight clips on YouTube.
Those that got to see Killebrew play must feel honored and no doubt take great pride in that. We must do the same for our modern athletes. We must cherish those athletes that are truly in a special class. They won't be here to entertain us forever. And someday when they have passed peacefully from the earth, all we'll have is those memories of the greatness of our heroes.
We might not know it now, but then we will be glad we made those memories.
Most recent updates:
This article is
What is the duplicate article?
Why is this article offensive?
Where is this article plagiarized from?
Why is this article poorly edited?