NBA Trade Rumors: Dwight Howard, Chris Paul, Steve Nash, Andrew Bynum and More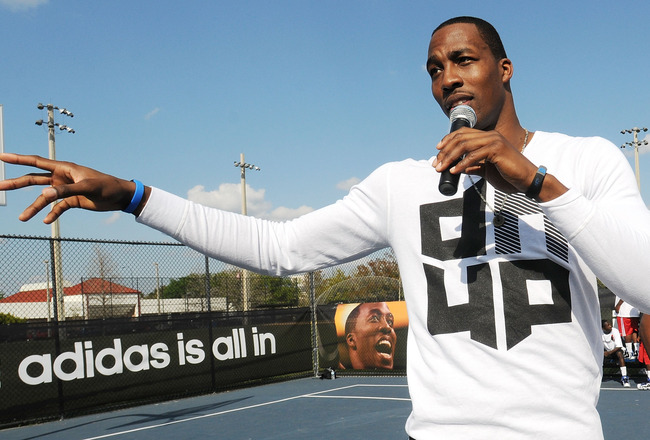 Gerardo Mora/Getty Images
Provided the league and players get a new CBA in place, we could see several huge NBA trades this offseason.
The Los Angeles Lakers could be making a big push for Dwight Howard and may be willing to give up two members of the Lamar Odom-Pau Gasol-Andrew Bynum trio in order to get Orlando's center.
The New York Knicks may look to use Landry Fields and Chauncey Billups' expiring contract to land either Chris Paul or Tony Parker.
Adding either one of those point guards to the core of Carmelo Anthony and Amar'e Stoudemire could turn the Knicks into real contenders.
The Golden State Warriors and Philadelphia 76ers may re-open old negotiations on a straight swap of Monta Ellis and Andre Iguodala.
Steve Nash's career is winding down, and the Suns desperately need to kick off a total rebuilding effort. Moving Nash would benefit the team and the player.
Those are just a few of the rumors we're already hearing.
Ray Allen, Andrea Bargnani, Antawn Jamison, Richard Hamilton, Danny Granger, Devin Harris, Raymond Felton, Rudy Gay and several others may be on the move as well.
You can follow Andy Bailey on Twitter @_Andy_Bailey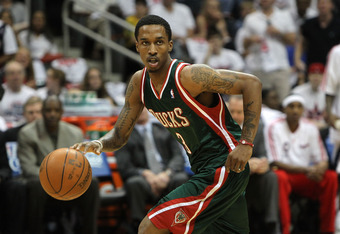 Milwaukee Bucks Looking to Trade Brandon Jennings, Targeting Jimmer Fredette?
Despite showing some promise in two years as Milwaukee's starting point guard, Brandon Jennings may be available this offseason.
At least that's what the Cleveland Plains Dealer's Mary Schmitt Boyer has reported. She said it was a rumor circulating among those attending this year's NBA Draft combine.
The Bucks were a pleasant surprise during Jennings' rookie season, but were one of the most disappointing teams in the league this past year.
Many thought they might take a step forward and become one of the top five or six teams in the east. Instead, they missed the playoffs altogether.
Jennings' shooting percentage has been a big issue during his two seasons in the NBA (38 percent from the field). However, if he's available, there would certainly be some interested teams.
Despite his poor shooting, he's shown promise by averaging around 16 points and five assists a game.
One team that I think would almost certainly be interested is the Los Angeles Lakers (among others). They desperately need an upgrade over Derek Fisher, and Jennings could be a building block for the future...
Read the Rest of this Story HERE
You can follow Andy Bailey on Twitter @_Andy_Bailey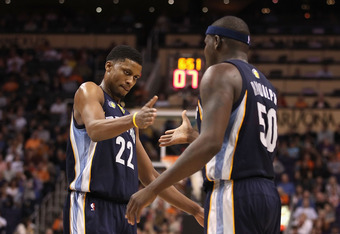 NBA Trade Rumors: Are the Memphis Grizzlies Going to Trade Rudy Gay?
As the Memphis Grizzlies prepare for their momentous Game 7 against the Oklahoma City Thunder, many are starting to wonder about the future of their once biggest star Rudy Gay.
Gay had been the team's premier perimeter player and scoring option for the last few years, but some feel the team actually improved after he went through season-ending shoulder surgery.
It's hard to argue with the results. Memphis played well at the end of the season to earn the eighth seed in the west, then knocked of the top-seeded Spurs and are now on the brink of eliminating the Thunder.
They're doing all this without Gay.
I, for one, don't think it would be wise for the team to trade him. When he was healthy, they used an entirely different rotation then they do now (one that didn't include Tony Allen, Grievis Vasquez or Shane Battier).
I think he can fit in this new rotation without taking too many shots away from new offensive focal point Marc Gasol and old standby Zach Randolph.
If the team does look to trade him, there would be plenty of interested teams--including the Los Angeles Lakers.
Other teams that might be interested include the Utah Jazz, Los Angeles Clippers and Dallas Mavericks (just to name a few).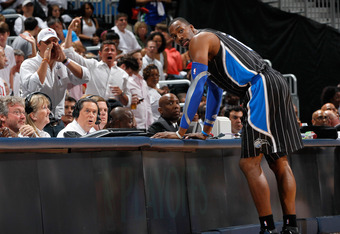 Dwight Howard Lakers: How Realistic Are LA's Chances of Landing Howard?
Pictures of Dwight Howard sporting a Los Angeles Lakers jersey are already popping up all over the internet. There is no doubt that millions of Lakers fans want to see him in purple and gold next year.
The question is: Do the Lakers have the kind of pieces Orlando would want in a trade for their franchise player? On the surface, the answer may be no.
Pau Gasol, Lamar Odom and Ron Artest could all be traded this offseason, but they don't seem like logical options for Orlando.
Losing Dwight Howard would inevitably lead to something of a rebuilding, and no one would want to rebuild around a player or players in their 30s who are already on huge contracts.
Andrew Bynum is a possibility. He may be injury-prone, but he has a great deal of potential and can be a franchise centerpiece.
The Lakers would likely have to give up an awful lot in addition to Bynum to get Howard. They'd probably also have to be willing to take back a bad contract or two.
Here is one deal that may work: Andrew Bynum, Lamar Odom, Ron Artest, Steve Blake, Devin Ebanks and Derrick Caracter for Dwight Howard and Gilbert Arenas.
There are several other possibilities that would likely have to include a third or even fourth team to make things work economically.
Leave a comment with your own ideas on how the Lakers can land Howard.
You can follow Andy Bailey on Twitter @_Andy_Bailey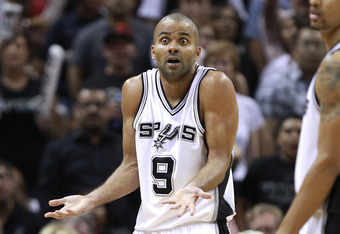 NBA Trade Rumors: Can the New York Knicks Acquire Tony Parker?
Plenty of New York Knicks fans are already banking on the addition of Chris Paul to their team. But San Antonio's Tony Parker is a more realistic target, and may even be a better fit too.
Just this past offseason, there were scores of rumors suggesting that the Knicks and Parker were mutually interested in joining forces.
As rumors often are, these were debunked. Parker obviously remained with the Spurs, and led them on an improbable run to the Western Conference's best record this year.
He's led the team in scoring at 17.5 points a game and assists at 6.6 a game. At 52 percent from the field and 36 percent from three-point range, he also shot well this year.
However, the Spurs fell short in the first round of the playoffs and could be in store for major changes. That has led some to believe that Parker may be available.
The two best trade chips the Knicks have are Chauncey Billups (who will be on an expiring contract next year) and Landry Fields. That may not be enough to coax New Orleans into giving up Chris Paul.
It may, however, be enough to get Tony Parker. If the Spurs do want a fresh start, swapping the four years that will be left on Parker's contract with Billups' expiring deal would help.
The real get for San Antonio would be Landry Fields. He has had a very solid rookie season, and would be a nice addition to a young core of George Hill, DeJuan Blair and Tiago Splitter.
With all that in place, they might be able to enjoy a fairly smooth transition into the post-Tim Duncan era.
In Mike D'Antoni's system, Parker could put up the best numbers of his career.
We've seen his uptempo style do wonders for Steve Nash and Raymond Felton, and management might be willing to give him one more year to see how he and Parker would co-exist.
Parker's speed, quickness and ability to get to the rim would be perfect for New York. He can draw defenders to the basket, which will lead to open kick-outs for Carmelo Anthony and Amare Stoudemire.
The physical tools he'd bring to New York would certainly be valuable, but his leadership qualities and championship pedigree could make the Knicks legitimate title contenders.
He's won three championships with the Spurs, and was named the Finals MVP in 2007.
A "big three" of Amare Stoudemire, Carmelo Anthony and Tony Parker would be extremely exciting. And they may be able to get that third piece by offering Chauncey Billups and Landry Fields.
It would still take them a couple years to rebuild depth behind the stars, but they'd have a foundation that would rival, and maybe even surpass, Miami's.
You can follow Andy Bailey on Twitter @_Andy_Bailey
NBA Trade Rumors: Can the Charlotte Bobcats Land Chris Paul and Dwight Howard?
In a recent interview with the Associated Press, Chris Paul recently said he wouldn't rule out the possibility of joining forces with Michael Jordan as a member of the Charlotte Bobcats.
If he does, Charlotte would suddenly have a shot at Dwight Howard.
It may be a long shot for an organization like this to be the next one to land multiple superstars. It makes sense for Miami, New York and Los Angeles. But Charlotte?
It all starts with Paul, who has a couple reasons to play in Charlotte. He grew up in North Carolina and has admitted to being enticed by the chance to play NBA basketball in his home state.
Michael Jordan is the majority owner of the Bobcats, and Chris Paul has said, "To have a personal relationship with him now and for him to be a mentor of mine, it's something when you're growing up as a kid in North Carolina you would never expect."
Later in the interview, he added, "I think guys do and will want to play for MJ. Who better to learn from?"
Paul (who has an endorsement contract with Jordan shoes and apparel) clearly has a lot of respect for MJ and it looks like he wouldn't mind playing for his mentor.
And if Charlotte does land CP3, it would make the team a much more attractive option for fellow 2012 free agent, Dwight Howard.
Between now and the 2012 free agency period, Charlotte could part ways with the hefty contracts of Joel Przybilla, Boris Diaw, Matt Carroll, DeSagana Diop and Eduardo Najera.
The departure of those players would give Charlotte nearly enough cap room to make max offers to both Paul and Howard.
Plus, the team has a lottery pick in this year's draft and could very well have another one next year.
They could use those picks to select a good wing like Alec Burks this year, or Harrison Barnes next year to play with two of the best the league has to offer.
Such a team could be instant contenders in the Eastern Conference.
And just imagine the pick-and-roll alley-oops from Paul to Howard, with Michael Jordan cheering from the front row.
You can follow Andy Bailey on Twitter @_Andy_Bailey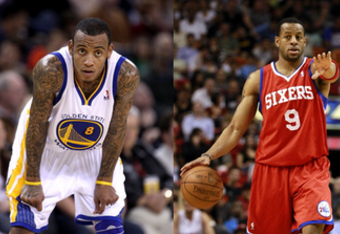 NBA Trade Rumors: Why Andre Iguodala for Monta Ellis Still Makes Sense
The Golden State Warriors need a bigger perimeter defender. The Philadelphia 76ers need a go-to guy on offense.
A straight swap of Monta Ellis and Andre Iguodala could be mutually beneficial.
The Warriors did improve this year, but were plagued by the same thing they've been dealing with for years. There defense is terrible.
The backcourt of Ellis and Stephen Curry is exciting to watch on offense. But their lack of size is painfully evident on defense.
The 76ers were competitive in their first round series with the Heat, but had several stretches where they seemed incapable of scoring.
Iguodala would be a huge upgrade for the Warriors defensively and Ellis would all but eliminate the 76ers' dry spells.
Click Here for a More Detailed Breakdown of this Potential Trade
You can follow Andy Bailey on Twitter @_Andy_Bailey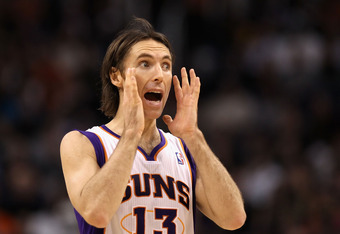 NBA Trade Rumors: Which Teams Might Try to Acquire Steve Nash This Offseason?
Some of the hottest rumors of this past season's trade deadline revolved around Phoenix Suns point guard Steve Nash.
Even at 37, he's still arguably the best offensive point guard in the league. He's had a lot of success with the Suns but it's become clear that he's not going to lead Phoenix to a title.
They had their best teams of the Nash era a few years ago, and even then fell short of being legitimate contenders. Phoenix's current roster is much worse than those squads.
They need to begin a full-scale rebuilding, and moving Steve Nash will be a critical part of that process.
He still has a lot to offer a contending team, and there will definitely be some organizations that won't mind giving up a few players for Nash.
Here are 10 Teams that might be Willing to Trade for Nash
You can follow Andy Bailey on Twitter @_Andy_Bailey