Just Saying, Is All...Brett Favre Just Says No to Retirement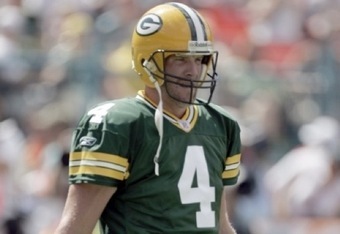 This isn't an opinion piece.
I, for the record, don't care whether
Brett Favre
plays professional football in 2007. It's not my business, frankly: not my business to judge the grizzled gunslinger's decision to spend one last season doddering around Lambeau Field; not my place to wish that the
Packers
legend would finally find the nerve—the moxie, the balls—to call it a career.
But it sure would be nice, wouldn't it?
Nice for Brett, I mean—not for me. Nice for Brett because it can't be easy, going out on an ever-deepening low note. Nice for Brett because it can't be fun, slip-sliding ever closer to George Blanda's career interception record.

Nice for Brett because Christ Bubba it can't be anywhere near fulfilling, chasing that one thing he ain't ever gonna catch.

We—Us, Sports Fans—have never quite managed to reach a consensus on the subject of aging athletes. Some of us see a case like Favre's and wax naive about legacy, or reputation. Others—Dylan Thomas fans, mostly—salute over-the-hill jocks for their burning and raving at the close of the day. And some of us, well—some of us take one look at a faded star and can't help but fixate on the only thought that's there for the thinking:

That poor bastard.

That poor bastard, Bubba, because imagine how it must feel, right?: Imagine what it must be like to find yourself so hooked on such a bummer, to have your ticket punched on a train that won't ever get you anywhere but down.

Imagine what it must be like to be Brett Favre, and to know that the choice isn't even it yours to make.

But maybe this is all a bit melodramatic. Maybe Favre's perverse sticktoitiveness is a symptom of nothing more than his love for the game. Maybe his unwillingness—inability—to retire is but a function of joy, and zeal, and that sort of inveterate passion known only to he who's discovered what it really means to be alive.

Or maybe Brett Favre is just a victim of evolution.

Natural selection's a bitch, when you really get down to it. Survival of the fittest, the propagation of the species: It's a win-or-go-home kind of game, Bubba, and we didn't get to where we are—top of the food chain, and all that—by going gentle into that good night. On the contrary, ours is an ever-harried state of being, an existential disposition colored above all else by need, and want, and a gnawing sense of dis-ease that obviates peace in just about all its forms—retirement press conferences included.

And so: That poor bastard.

Which is just about the rub here, I suppose, because like I said it's not my business to cast judgment, or to make wishes. All I know is that addiction is addiction, be it to pain killers or pigskin, and sure Bubba I could talk for days about how nice it would be if ol' Brett could hang 'em up, poor bastard that he is, because at least then he wouldn't remind us all of ourselves, and our Selves, and that stubbornly restive chemistry that makes Us that which We are—

But then again this isn't an opinion piece, and I, as usual, am only just saying is all...


This article is
What is the duplicate article?
Why is this article offensive?
Where is this article plagiarized from?
Why is this article poorly edited?

Green Bay Packers: Like this team?