Tiger Woods: Was Tiger using Performance Enhancing Drugs?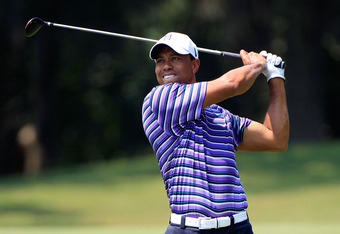 Tiger Woods News Update: Performance Enhancing Drugs Theory
First and foremost I want to state that the following update does not reflect my personal opinion, or the opinions of anybody at Bleacher Report.
I am merely reporting a recent article in the Orlando Sentinel from May 12, 2011.
When Tiger Woods withdrew from the Players Championship many just assumed that it was purely for that reason.
There are some that have the opinion that Tigers problems go deeper than just an injury though, and that they may be associated with performance enhancing drugs.
In 2009 Woods was associated with Dr. Anthony Galea, who is suspected of providing performance enhancing drugs to many athletes.
Mike Bianchi of the Orlando Sentinel expands on this idea in his recent article.
As Tiger hobbled around The Players Championship Thursday and withdrew after recording a horrific 6-over 42 after only nine holes, it was hard not to wonder if his golfing free fall has more to do with his much-publicized split from wife Elin or his less-publicized disassociation with Dr. Anthony Galea.

You remember Dr. Feelgood, right? He's the Canadian physician who was arrested and indicted for allegedly smuggling and unlawfully distributing HGH into the United States a couple of years ago. Galea is suspected of providing performance-enhancing drugs (PEDs) to many elite-level athletes. Woods was treated by Galea here in Orlando in 2009 despite the fact that Galea was reportedly not licensed to practice medicine in the United States. Woods says he used Galea not for HGH but for a technique known as "blood spinning" to help expedite Woods' recovery from knee surgery. Why Woods would choose a well-known HGH doctor from Canada to do this "blood-spinning" when many licensed American doctors also perform the technique has raised a mountain of suspicion.

Even though Woods has denied ever taking PEDs, many professional golfers are skeptical. Sports Illustrated polled 71 PGA Tour players last year and nearly a quarter of them said they believed Woods was dirty.

Is it fair to accuse Woods of once being a juicer? No it's not. But in this day and age when nearly every major sport has been touched by a drug scandal, it's certainly fair to wonder. Why shouldn't we? Especially with the way Tiger's body -- once the most invincible and physically fit in all of golf -- is breaking down like an '84 Chevette.
Once again I want to reiterate that the opinions of this article do not reflect my personal opinion nor any official opinion from Bleacher Report.
Follow Andrew on Twitter: @AKonSports
Most recent updates:
This article is
What is the duplicate article?
Why is this article offensive?
Where is this article plagiarized from?
Why is this article poorly edited?