Brock Lesnar: News, Backstory and Analysis on the Embattled UFC Fighter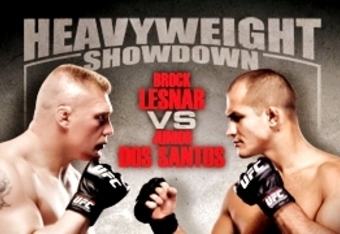 As it was reported on Thursday, Brock Lesnar was forced to pull out of his upcoming fight against Junior dos Santos due to another case of diverticulitis.
The bout was to take place at UFC 131 in Vancouver to determine who would be the No. 1 contender to Heavyweight Champion Cain Velasquez's throne.
In the days and weeks to come, there will be more and more news to surface regarding this situation. As it is released, you can bet that it will be updated here.
There's also no better time to take a look back at Brock's short, yet accomplished mixed martial arts career. How will this all affect his career moving forward? How will it affect the UFC moving forward?
While all these questions will be answered over time, we will take a look at what could happen.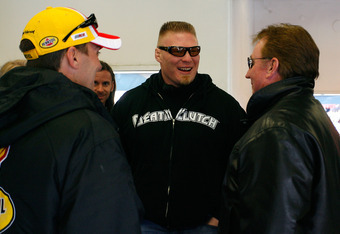 Pat Barry is not taking the criticize of Brock Lesnar kindly.
Fellow UFC heavyweight is obviously a little upset of the people that believe that Brock Lesnar is "ducking" Junior dos Santos.
Barry hit up his Twitter account to send this out to all the "haters."
"TOTALLY OUT OF CHARACTER FOR ME - BUT MY FRIEND HAD A RELAPSE OF SOMETHING THAT ALMOST KILLED HIM AND LEFT HIS WIFE A WIDOW AND KIDS FATHERLESS! AAAAAAANYBODY GOT SOMETHING S****Y TO SAY ABOUT HIM DUCKING A FIGHT OR BEING SCARED, COME FIND ME AND I'LL HEAR YOU OUT EYE TO EYE!!"
Barry went on to also say the following to a specific fan that started hating on Lesnar:
"ILL BE IN PHILLY IN A FEW WEEKS COUSIN, AND IF U GOT THE SAND WE'LL CHAT THERE, U HEAR ME!!!"
It is nice to see fellow fighters standing up for each other.
This article is
What is the duplicate article?
Why is this article offensive?
Where is this article plagiarized from?
Why is this article poorly edited?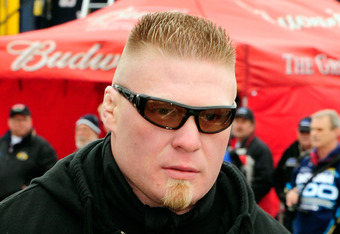 Upon his return to the Octagon, Brock will have to climb his way back to the top of the heavyweight division.
Brock Lesnar has been given many chances against the elite heavyweights in the UFC despite the fact he has only had a handful of fights in the promotion.
Why? The only logical answer is the fact that he has a big name coming from the WWE. He has been able to draw the attention of professional wrestling connoisseurs and attract their eyes to the wonderful world of mixed martial arts.
But when he returns to action, the UFC will have a difficult time fast tracking him back to the top of the heavyweight division.
There are die-hard fans out there that would get upset if Brock is put back against the top of the division, which is beginning to have more and more stars on the rise.
The only thing that would seem to make sense would for the UFC to put Lesnar in the Octagon against the new breed of heavyweights to prove that he deserves to be among the elite of the division once again.
Odds are that won't happen given the fact that nobody sells events like Lesnar, but how long can the UFC continue to push Brock straight to the top before the fans start to realize that it's all about the money?
I'd say it's going to happen sooner than later.
This article is
What is the duplicate article?
Why is this article offensive?
Where is this article plagiarized from?
Why is this article poorly edited?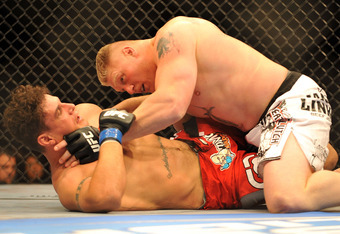 The injuries sustained by Brock Lesnar, Frankie Edgar, and Gray Maynard will hurt the UFC short term, but the effect shouldn't last long.
To put it frankly, the next two major UFC pay-per-views will be a huge disappointment for not only the fans, but the UFC brass as well.
At UFC 130, Frankie Edgar was set to square off against Gray Maynard for the third time. A majority of MMA fans were looking forward to the bout. Their last bout was an epic war in which we witnessed the incredible heart of the current UFC lightweight champion Frankie Edgar.
After being rocked—and nearly stopped—in the first round, Edgar was able to mount a comeback, and was able to fight his way to a draw.
Now with both Edgar and Maynard having to withdraw from their third bout, the fans are left with Rampage Jackson vs Matt Hamill as the main event for UFC 130. Needless to say, the stock of 130 fell dramatically.
Now in the latest case of a major star suffering an injury, Brock Lesnar was forced to withdraw from his bout against Junior dos Santos at UFC 131 due to another severe case of diverticulitis.
In his place, Shane Carwin will be stepping up to face dos Santos. That is not exactly a bout that the casual fans are eager to see.
MMA fans are very fickle. When they are looking forward to a match, and it gets canceled, they get pretty bummed out. In turn, they are not likely to purchase the pay-per-view.
Of course there are the hardcore fans that will buy anything the UFC feeds them, but it goes without saying that these cards will be severely affected by the newly added main events.
But the UFC shouldn't be too worried. With UFC 132, 133, and 134 all shaping up to be solid events—barring any injuries—this should only be a short lived drop in pay-per view buys.
As always, the UFC will figure out a way to come back better than ever.
This article is
What is the duplicate article?
Why is this article offensive?
Where is this article plagiarized from?
Why is this article poorly edited?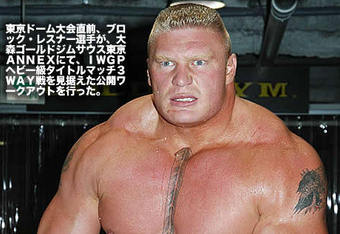 Brock Lesnar says this will not be the end of his fighting career.
During an open media call on Thursday, Brock addressed the two dilemmas he was facing—moving forward with his June 11 fight against Junior dos Santos, and the decision as to whether he would undergo surgery.
First, he addressed his decision to pull out of his scheduled match-up.
"The first thing that came to mind was, from today until June 11, I can't be well-enough prepared to step in the Octagon and face Junior dos Santos. It wouldn't be fair to myself or my family, or to the people I have to get in the Octagon and perform in front of, because I wouldn't have been 100-percent on June 11. It was a hard decision. I'm choked up about it."
He then went on to explain that his current battle with the illness isn't as bad as his first, but is would have put him in a position where he could not get a proper training camp in.
"It just didn't allow me to train the way I needed to train for a No. 1 contender's bout" Lesnar explained. "I only have three weeks to turn this thing around. We just didn't feel like I could do that."
Then Lesnar went on to explain his decision regarding whether or not to have surgery.
"Now I'm at another fork in the road to where now, what do I do? I gotta follow-up with my doctors and weigh the risks and rewards. I went down there yesterday to figure out the problem. We're waiting on a number of different tests to come back. I believe there's a solution to every problem. I just gotta find the right solution to fix this problem. This isn't the end of Brock Lesnar. This is a speed bump in the road. I've hit a lot of speed bumps in my career and this is one of them."
This article is
What is the duplicate article?
Why is this article offensive?
Where is this article plagiarized from?
Why is this article poorly edited?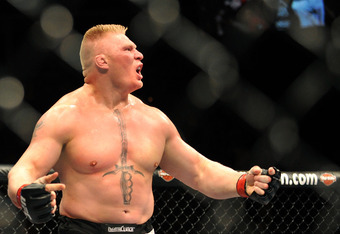 Before Brock Lesnar stepped in to the Octagon, he first signed a deal with K-1 Heros. He made is MMA debut on June 2, 2007 on the K-1 Dynamite!! USA show.
K-1 hoped to put together the largest North American MMA event in the sport's history, as they held the event at the Los Angeles Coliseum. They succeeded, selling approximately 44,000 tickets, but that record was later broken by UFC 129.
In his mixed martial arts debut, Lesnar was scheduled to take on Hong Man Choi. However, Choi was not issued a license to fight by the California State Athletic Commission, which left K-1 Heros without an opponent for their main event.
On short notice, Korean Min Soo Kim stepped in to face Lesnar. At the time, Kim was sporting a 2-5, which made him a great opponent to introduce Lesnar to mixed martial arts.
It didn't take long for Brock to assert his dominance against the over-matched Kim. It took Lesnar only 69 seconds to get a takedown, land a few punches that left Kim's face a mess, and earn the TKO victory.
After his impressive debut, he was signed by the UFC. The rest is history.
This article is
What is the duplicate article?
Why is this article offensive?
Where is this article plagiarized from?
Why is this article poorly edited?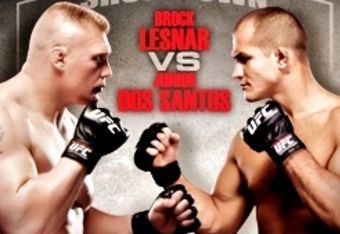 Without the king of UFC pay-per-view, UFC 131 won't reach 500k buys.
Even though he is no longer the UFC heavyweight champion, Brock Lesnar is the undisputed pound-for-pound champion when it comes to selling pay-per-views.
So far in his career, Lesnar has headlined three major events—UFC 100 and UFC 116, and UFC 121.
UFC 100 did over 1.6 million buys, UFC 116 did nearly 1.1 million buys, and UFC 121 drew in around 1.2 million buys.
The only other event to come close to that mark was UFC 114, which did somewhere between 950k and 1 million buys.
Now instead of Lesnar vs Junior dos Santos headlining, you have Shane Carwin vs dos Santos trying to bear the weight of UFC 131 on their shoulders.
For this pay-per-view to sell, it will really need some help from its supporting cast. To be frank, it just isn't there.
You have a few named fighters there like Kenny Florian, Demian Maia, and Mark Munoz on the pay-per-view portion of the card, but will that be enough to help this event out?
No way.
While there are some that are arguing that Carwin vs dos Santos is a better match, it sure isn't in the eyes of Dana White and the rest of Zuffa.
For nearly two months now, The Ultimate Fighter reality show has been getting whoever is watching it pumped up for Lesnar vs dos Santos. Now they have to settle for Carwin vs dos Santos.
With a let-down of a main event, combined with a relatively weak undercard, UFC 131 will be lucky to do half the buys it would have had Brock Lesnar still been headlining the card.
Do not be surprised at all if you see numbers for this event just slightly north of what UFC 130 does at the end of this month.
This article is
What is the duplicate article?
Why is this article offensive?
Where is this article plagiarized from?
Why is this article poorly edited?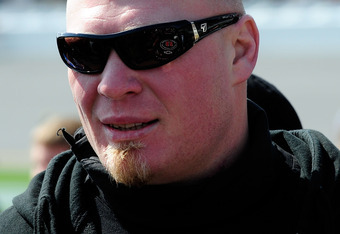 In Brock Lesnar's case, it's about as bad as it gets.
So with the report surfacing of Brock Lesnar's illness, many people was wondering "What is diverticulitis?"
Thanks to the help of MayoClinic.com, we are able to give a little more detail as to what is exactly ailing Brock Lesnar.
Diverticulitis occurs when one or more diverticula in your digestive tract become inflamed or infected. Diverticula are small, bulging pouches that can form anywhere in your digestive system, including your esophagus, stomach and small intestine. However, they're most commonly found in the large intestine.
They go on to explain that some of you reading this may have this, and may not even know it.
Diverticula are common, especially after age 40. When you have diverticula, the condition is known as diverticulosis. You may never even know you have these pouches because they seldom cause any problems, such as diverticulitis.
But in Lesnar's case, it seems like he has the worst case scenario described.
Sometimes, however, diverticulitis occurs, causing severe abdominal pain, fever, nausea and a marked change in your bowel habits. Mild cases of diverticulitis can be treated with rest, changes in your diet and antibiotics. But serious cases of diverticulitis may require surgery.
The last time Lesnar battled this illness, he tried to let his body heal itself. If it didn't work the first time, it may be time for him to get the surgery done so he can come back to the sport at 100 percent.
This article is
What is the duplicate article?
Why is this article offensive?
Where is this article plagiarized from?
Why is this article poorly edited?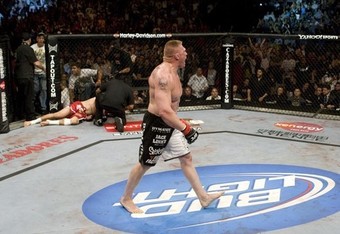 Despite not performing at 100 percent, he was still performing at a high enough level to wear UFC gold.
Brock Lesnar accomplished what very few accomplished in only their 5th professional fight in any combat sport—win a major championship.
The closest that comes to mind was when Leon Spinks, in his 8th professional fight, defeated the great Muhammad Ali for boxing's heavyweight title.
What makes Lesnar's accomplishment even more impressive is that he won the title when he was not firing on all cylinders.
After his being diagnosed with diverticulitis following his bout against Frank Mir at UFC 100 for the heavyweight title, the doctors treating Lesnar stated that with his illness, his body was only functioning at around 70 to 80 percent.
That is scary.
If Brock was able to do what he did while only performing at 80 percent of his natural physical ability, can you imagine what he would be capable of at 100 percent?
The only two losses in his career came against Frank Mir and Cain Velasquez.
In his loss to Mir, Lesnar was submitted with a knee bar. This was after he put a beating on Mir. Based on his follow-up performance against Heath Herring, it is safe to assume that he was healthy during that fight.
His loss against Velasquez came with the challenger to his title pounded his way to a TKO victory. The way Velasquez defeated Lesnar was not unlike the way Shane Carwin almost beat him.
The difference in the Velasquez fight was Brock did not display any sort of defense aside from putting his arms in front of his face. In the fight against Carwin, Lesnar did the same thing, only he utilized head movement to make a majority of Carwin's punches miss their mark.
With this news breaking of his illness, one has to wonder if it had any affect on Lesnar's performance against Velasquez. Everyone who saw that fight could notice there was something that just wasn't right about Lesnar that night.
As this story develops, answers to these questions may come to light.
This article is
What is the duplicate article?
Why is this article offensive?
Where is this article plagiarized from?
Why is this article poorly edited?