The 20 Best Knockouts in Sports History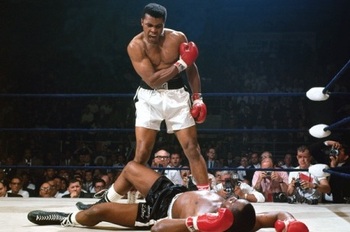 What makes a monster hit special?
Is it how loud the sound is from the collision? Is it how far the victim flies after he gets jacked up? Or is it who is getting hit (e.g., it's more fun to watch Reggie Bush get hammered than some no-name)?
Those three criteria all play a part, but when the person hit is actually knocked unconscious, it takes the act to another level—the lights are literately knocked out.
Here are the best knockouts in sports history.
20. Travis Fulton
Talk about the tables being turned.
One second you have the guy in a headlock, and the next, you're dreaming about falling through the sky.
19. Muay Thai
He should have just stayed down after the kick.
I'm just guessing the dude at the end laughing wasn't family or a friend of the guy who just broke his neck.
18. Rocky Marciano
(Fast-forward to 0:30)
"Hold up, he's not unconscious, he hanging on to the ropes."
The ref really needed to count him out...
17. Reggie Brown
The song in the background, "Down with the Sickness" by Disturbed, is appropriate for this video.
Reggie Brown was truly down with a sickness; he was out with a cold.
16. David Tua
The first ref had to count it out, and now this ref ends the fight too soon.
He's perfectly fine; he's sitting up.
15. Two-Second KO
I guarantee that fighter was thinking "flying knee" from the start.
How convenient was it that the other fighter ducked for him?
14. One-Second KO
Don't blink or you'll miss the elbow.
Is it sad the referee put up more of a fight than the fighter?
13. Faute Schumacher
Who says there's no contact in soccer?
It was a legal play; he didn't use his hands.
12. Dan Henderson
I'm no doctor, but I'm pretty sure he was knocked out after the first punch.
Can you dream and feel pain at the same time?
11. Manny Pacquiao
Just imagine how that hook would feel on the old jaw.
Dislocation? Shattered? Either way, I bet he was fed through a tube for a few months.
10. Ryan Clark
Then Willis McGahee woke up and wondered why he wasn't wearing a Miami Hurricanes jersey...
The Steelers defense needs a nickname; I'm feeling "The Headhunters."
9. DeSean Jackson
I think this hit gave Roger Goodell a headache more than DeSean Jackson and Dunta Robinson combined.
The New York Giants wished Robinson would've hit Jackson a little harder though.
8. Taekwondo
Daniel doesn't think that was good.
He must have drunk his milk for his head to not fly off his shoulders from that kick.
7. MMA KO
I think he was attempting the flying knee you saw earlier, but he took off a little late.
Again, I'm no doctor, but I don't think those last three punches had anything to do with him losing consciousness.
6. Taekwondo KO
(Fast-forward to 1:15)
And now you know what inspired the Chuck Norris roundhouse kick.
One fighter nods, tries to touch gloves, and the other fighter was just like, "Tell me how my foot tastes!"
5. Anquan Boldin
What happened to Anquan Boldin is no laughing matter, but if you were paying attention, you should be bawling your eyes out right now...The commentator in the beginning called the NFC West a competitive division!
4. No Kissing in Fighting
"He tried to kiss me on the lips like a homosexual. I'm not gay, I'm not gay."
He was then fined $100,000.
3. Never Surrender
Now, that's the definition of a warrior.
He's knocked out and he's still trying to win the match, with one arm no less.
2. Marcus Aurelio
Somebody watched Rush Hour too often.
I don't know why Jackie was still trying to attack him after the kick; he heard that thunder crack.
1. Double Kill
(Fast-forward to 0:30)
I believe the commentator thinks it's funny.
The ump wins—he's the last one standing.
David Daniels is an NFL Featured Columnist at Bleacher Report and a Syndicated Writer. Follow him and Bleacher Report Swagger on Twitter.
Keep Reading