Tiger Woods, Sean Avery, Chicago Bulls and Thursday's Late Sports Buzz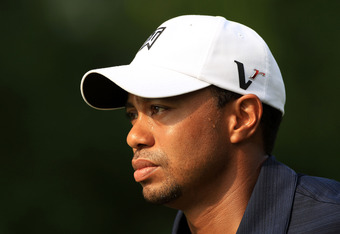 Streeter Lecka/Getty Images
Tiger Woods, Sean Avery and the Chicago Bulls are the top trends buzzing around the Web today.
Tiger Woods has just withdrawn from the 2011 Players Championships after the front-nine, telling media that his knee, Achilles and calf all just started "acting up" one right after the other.
Maybe he just needed an excuse to get the heck out of there after posting a miserable 6-over 42 at the course.
Whatever the case, we need to talk about Tiger and his game, or lack thereof.
Also, there's more news regarding the aftermath of the Sean Avery gay-marriage PSA—a Toronto broadcaster has reportedly been fired for chiming in on Avery's stance.
Then we have the Chicago Bulls. Derrick Rose and his team will likely face a big Game 6 against the Atlanta Hawks tonight. Chicago will need to win tonight to avoid a possible elimination bout in Game 7.
Those are just some of the big topics we'll be discussing today, there will be more sports, more talk and more news in the updates!
Bruce Bennett/Getty Images
Sean Avery Pro Gay-Marriage Talk Remains a Hot Topic in Sports
One of the biggest trash-talkers in the NHL, Sean Avery, recently took a very bold stance in support of same-sex marriage and filmed a public service announcement to make his statement. After getting wind of Avery's take on the subject, some people in the sporting world including Nashville Predators center Mike Fisher, sports agent Todd Reynolds and TV host Damian Goddard spoke up against him.
Goddard has reportedly been fired by his employer Rogers Sportsnet for voicing his opposition against Avery via Twitter.
MUST READ: The Chicago Black Sox and the Craziest Scandals in Sports
While discussion continues to take place even days after Avery's announcement, another easily recognized loud-mouth, Charles Barkley has spoken in support of the agitating NHL winger.
Barkley tells SiriusXM Radio via USAToday:
whether he can play or not. If somebody is gay, that's their own business. But it bothers me how people try to say that jocks are not going to like a gay. ... I think gay people should be allowed to get married and God bless them, that's their own business. Listen, if a guy can't play that's the only time we don't want to play with him. We don't care about all that extracurricular stuff.
Although Avery took a stance on gay-marriage, Barkley takes this talk to another level. The TNT NBA analyst makes the claim that other athletes won't care if they're playing with or against an openly gay teammate or opponent.
But as open-minded as his stance has been in the interview, Barkley is giving athletes way too much credit.
If the sporting world cannot even agree on whether or not gay-marriage should be allowed, the idea of dealing with openly gay athletes would certainly become another controversial topic.
Tim Hardaway once made some very shocking remarks against homosexuals when he heard that former NBA player John Amaechi came out of the closet. There are other guys in sports that may probably take a similar stance.
Although tolerance would be the ideal response, it just doesn't seem that realistic. But that doesn't mean it's impossible. A lot of work will need done.
This article is
What is the duplicate article?
Why is this article offensive?
Where is this article plagiarized from?
Why is this article poorly edited?
Ronald Martinez/Getty Images
Pau Gasol Trade Rumors Continue to Swirl as Lakers Face Uncertainty in Offseason
One of the biggest disappointments for the Los Angeles Lakers this postseason was the play of power forward Pau Gasol. It was Gasol's lack of fire, indecisiveness and inability to make plays in the post that ultimately left them at a large disadvantage against the Dallas Mavericks in the second round.
Shortly after the Lakers' season ended, Gasol admitted that he was "suffering" because his fiancee was suffering from hearing about all of the breakup rumors and criticism for his poor play. Effectively, he let all of the negative press get the best of him.
The Gasol we saw in this year's playoffs was a far cry from the talented and versatile big man that led the Lakers to the last three NBA FInals. Before, he was subject of talks that compared him as one of the best power forwards in the game. Today, he's a possible guy that could get moved, should the Lakers decide to break apart their core.
If the Magic do put Howard on the block this summer and somehow covet Gasol because he's a more proven commodity than Andrew Bynum (as Magic Johnson has hinted at), Gasol and Howard's salaries are close enough that a straight-up swap would work.
But it won't make much sense for the Lakers to do.
Bringing in Dwight Howard to work with Andrew Bynum on the inside may be a scary looking frontcourt. However, their games are too similar that they would have a hard time playing with one another.
Bynum and Howard do not have a dependable jump shot. Without a guy that can consistently drain a basket from mid-range and spread out the floor, there won't be enough room to operate inside.
Gasol and Bynum work because Gasol he can nail a 15-foot jumper and Bynum and bang inside.
The most ideal alternative for the Lakers would be to move Bynum for Howard. With Gasol at the four and Howard at the five, they get a very effective inside tandem with games that complement each others.
Now, if only the Magic can be convinced to make that deal.
This article is
What is the duplicate article?
Why is this article offensive?
Where is this article plagiarized from?
Why is this article poorly edited?
Jonathan Daniel/Getty Images
Chicago Bulls on Verge of Eastern Conference Finals Appearance
The Chicago Bulls are just one more win away from advancing to the Eastern Conference Finals. Should they dispatch the scrappy Atlanta Hawks on Thursday night, they will matchup against a very hot Miami Heat team who have just taken down a very experienced and veteran Boston Celtics squad.
No disrespect to the Atlanta Hawks, but the Bulls will be facing a much better basketball team.
As the Heat appear to be clicking on all the right cylinders, the Bulls are still a team dealing with some inconsistencies when it comes to their big men. Some games, Carlos Boozer is a force on offense and rebounding, other games, he's just not there.
Derrick Rose, has battled through some injuries and continues to play at a high-level. But matching up against Dwyane Wade could give him some problems if the Bulls and the Heat do meet up in the next round.
Rose has proven to be the difference-maker in the first two rounds for the Bulls. However, they'll need more contribution on offense and defense from Boozer and Joakim Noah. Otherwise, if the rest of the team doesn't step up, the Heat are on their way to the Finals.
This article is
What is the duplicate article?
Why is this article offensive?
Where is this article plagiarized from?
Why is this article poorly edited?
Harry How/Getty Images
Dwight Howard Lakers Union Is a Nightmare Scenario for Orlando Magic Fans
A potential deal that may see Dwight Howard get moved this summer to the Los Angeles Lakers is one of the most hotly debated trades that could happen this offseason. After a disappointing playoff run for both the Lakers and the Magic, there's nothing left but to discuss but what's next.
Magic fans may not want to hear it and Dwight Howard may not want to read about the possible trade scenarios but with his extension still unsigned and his future still up in the air, the chatter will be inevitable.
Sekou Smith of NBA.com writes:
As they head for summer vacation earlier than usual, to a man the Lakers have spoken about their mystique losing some of its luster. You don't get blown out the way they did by the Mavericks and not lose a little something...

...Howard in a Lakers jersey alongside Gasol, Kobe Bryant, Lamar Odom and Ron Artest would change that in a heartbeat.

So what if it's just a fantasy for Lakers' fans, and a nightmare for Magic fans, right now.
The nightmare scenario, where Howard heads to Hollywood is something that Orlando supporters already had to deal with when Shaq pulled the same stunt 15 years ago. That's why they're resolved to do everything they can to keep it from happening again, which explains the StayDwight.com campaign.
It's a valiant effort for the fans of Orlando to take out billboards and air out their plea that Howard stay with the Magic.
If there's anything that we've learned from LeBron and Shaq's defection as free agents, sometimes team loyalty just doesn't matter.
This article is
What is the duplicate article?
Why is this article offensive?
Where is this article plagiarized from?
Why is this article poorly edited?
Amy Sussman/Getty Images
Lenny Dykstra Confined to House Arrest
Lenny Dykstra, the man known as "Nails" from his playing days made an appearance in federal court on Wednesday where he struck a new agreement to reduce his $150,000 bail to $105,000 and allows him to serve his house arrest at a friend's home in West Hollywood, per the New York Daily News.
Outside of court, Dykstra—who was indicted on bankruptcy fraud and facing embezzlement charges—still expressed disappointment in the court's decision to put him in house arrest instead of something worse like a halfway house.
MUST READ: The Chicago Black Sox and the Craziest Scandals in Sports
Dykstra told the Daily News:
It's an egregious abuse of power. I have attempted to work with the trustee to pay the creditors, but they weren't interested...Everything I had was taken from me, ripped apart to line their pockets.
Clearly, the former World Series hero is trying to play it off like he's the guy that is being taken advantage here. But there's no such abuse taking place.
Dykstra is the product of his own greed and lack of business acumen. He's been accused of among other things, bouncing checks, not paying bills, credit card fraud, lying about his assets and most recently arrested on suspicion of trying to buy a stolen car by the L.A.P.D.
There's no one to blame here but Dykstra himself.
He's a living example for other athletes of how not to piss away their fortunes.
This article is
What is the duplicate article?
Why is this article offensive?
Where is this article plagiarized from?
Why is this article poorly edited?
Larry French/Getty Images
Serena Williams Bows Out of French Open
Bad news, folks. Serena Williams and that loud pink bodysuit won't be making a return to tennis just yet.
"Serena has not sufficiently recovered from her health problems," said a French tennis federation (FFT) statement via the AFP.
MUST READ: Venus Williams and Tennis' Most Outrageous Outfits
It's been a very tumultuous time of late for Serena, who required two operations for stepping on broken glass after winning last year's Wimbledon and then becoming hospitalized in February for a blood clot that nearly proved fatal.
She tweeted back in April that she was back on the court and looked geared to get back into competition form. However, there's still something holding her back.
We know that when completely healthy, the 13-time Grand Slam champion, can completely dominate her sport
It's probably a good decision to make sure she's 100 percent instead of going back on the tennis court prematurely. Given her history with freak injuries lately, it's much better to be safe than sorry.
Don't worry world, Serena and her crazy outfits will be back on the court soon enough.
This article is
What is the duplicate article?
Why is this article offensive?
Where is this article plagiarized from?
Why is this article poorly edited?
Bryan Bedder/Getty Images
Hayden Panetierre Confirms Breakup with Wladimir Klitschko
The unlikely romance between Hayden Panetierre, 21, and boxing heavyweight champion Wladimir Klitschko, 35, is now over. Panetierre, who stars in "Scream 4" told PEOPLE magazine about the end of her relationship:
Even though we've decided splitting up is best for both of us, we have an amazing amount of love and respect for each other and remain very close friends.
Interestingly, it wasn't the big age gap of 14 years and the dramatic height difference—Klitschko is listed at 6'5" and Panetierre is believed to be just over 5 feet tall—that was a problem in their romance.
MUST READ: The 25 Most Popular Sports Hotties on the Internet
It was, according to Klitschko the trouble of managing a long-distance relationship:
We had a great time together, but it's not that easy to manage a relationship between two continents I have a lot of respect for Hayden as a person and as a friend, and I believe we'll keep our friendship even after the separation.
In my opinion, it was already a big surprise that their love affair lasted for almost two years. Now the IBO, WBO and IBF champion can concentrate on his next bout. A summer matchup against Britian's David Haye.
This article is
What is the duplicate article?
Why is this article offensive?
Where is this article plagiarized from?
Why is this article poorly edited?
Streeter Lecka/Getty Images
Tiger Woods Leaves Players Championship Early Once Again
The injuries that have kept Tiger Woods off of the golf course since the Masters—Achilles injury and knee—are apparently still lingering for the former No. 1, now eight-ranked golfer in the world. Woods cited a flare up of his injuries as the reason for his withdrawal at TPC Sawgrass after putting up a horrendous 6-over in the front nine.
The knee acted up and then the Achilles followed after that and then the calf started cramping up. Everything started getting tight, so it's just a whole chain reaction.
Tiger fell just short of winning the Masters last month, making a late surge on the final day to possibly take the tournament. But redemption didn't come for Woods that day and it's looking more and more likely that it's not going to come anytime soon.
Now that his health is deteriorating and his mental approach is still not where it was once before, the Woods we once knew who dominated the game like no one else before him may be gone for good.
There's no doubting he's a broken man right now. Woods was seen visibly wincing and struggling on several of his tee shots at the Players on Wednesday morning, so the injuries are definitely an issue.
The problem here is he probably shouldn't have come back so soon. In this case, it was his desire to get back into competition right away that has to blamed.
That's right, Tiger can't do anything right anymore. It's all a big mess.
This article is
What is the duplicate article?
Why is this article offensive?
Where is this article plagiarized from?
Why is this article poorly edited?