Florida Panthers: Is Dale Tallon Finally Building a Team for the Playoffs?
July 10, 2011
Bruce Bennett/Getty Images
There have been big changes in Florida so far this offseason. Well there might be!
The Florida Panthers have missed the playoffs for the 10th season in a row. They finished last in the Eastern Conference and had the third worst record in the NHL behind Edmonton and Colorado.
Ownership finally seems to have realized that simply doing nothing with their asset does nothing to enhance its value. During last year's offseason they added recently fired general manager Dale Tallon and gave him leeway to make hockey decisions for the organization.  
Unfortunately for Panther fans, new GM Dale Talon seems to be in the middle of a complete rebuild.
During the season, the Panthers have lost Michael Frolik, Bryan Allen, Brian McCabe, Chris Higgins, Radek Dvorak, Steve Reinprecht, Cory Stillman, Alex Salak, Dennis Wideman and Nathan Horton. He even fired Coach Peter Deboer. 
For their trouble, the team picked up Sergei Samsonov, Niclas Bergfors, Jake Hauswirth, Jack Skille, Hugh Jessiman, Patrick Rissmiller and David Pacan.          
Many of those players are gone and forgotten already. 
Tallon has started adding his pieces. He has a second NHL entry draft under his belt, and the team is beginning to resemble the image he has for it.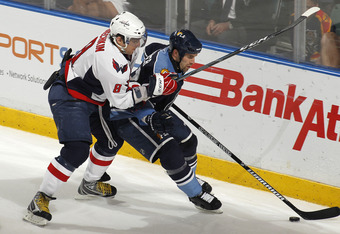 Joel Auerbach/Getty Images
Dale started last year by signing defensive specialists to deal with what was arguably the worst defensive team in the NHL kept afloat by one of the best goalies in the league, Tomas Vokoun.
Now here's a look at where the team sits now after the 2010 NHL entry draft and numerous trades and signings so far this offseason. 
Defensemen
Tallon signed defensive specialist Mike Weaver last year. It moved the the penalty kill from 23rd the year before last (79.4 percent) to sixth best (84.6 percent) in the league last season. The 33-year-old Weaver has carved a niche for himself as an undersized penalty kill specialist and able defensive defenseman.
If those skills can be taught he is in the perfect spot to help train Florida's young defensive core.
The Panthers have started to get a grip on their defensive game.
Last year the Panthers were no longer the worst defensive team in the league. They gave up only the 22nd most shots on goal against per game. The addition of a full dedicated checking line and another year of Mike Weaver's tutelage will hopefully lead to more improvement.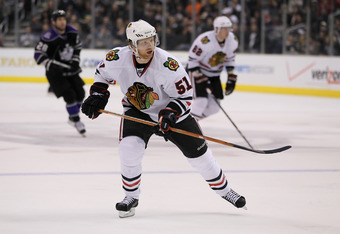 Jeff Gross/Getty Images
Defenseman Jason Garrison, 27, played his first full season in Florida last year. The strong skating point man appears ready to hold onto a roster spot on the big club.
A natural power-play quarterback, Garrison was in position to learn the defensive game from Mike Weaver last year. Now he can learn the intricacies of being an offensive defenseman from the Panthers latest acquisition, Brian Campbell.
Brian Campbell is a talented offensive defenseman, originally signed by Dale Tallon in Chicago. Tallon picked him up for underperforming former first round draft pick Rostislav Olesz.
Campbell helps the Panthers reach the NHL cap floor of $48 million and provides quality point work for the Panther power play, another team weakness (30th last year,13.1 percent success rate).  
Brian Campbell has been an half point a game offensive defensman his whole career. His 27 points in 65 regular season games for the Blackhawks last year does approach a career low.
Still, the 32-year-old should be able help the Panthers offensive game from the back end.  
The Panthers have also added another expensive veteran defenseman in Ed Jovanovski. At 35 years of age he has signed a contract that comes with a $4.1 million a year cap hit and a four-year duration.
Jovanovski is another veteran who has quarterbacked a power play and played a shut-down role. He appears to be in position like Campbell and Weaver to help mentor the up and coming Panther prospects on defense.
Dmitri Kulikov seems to have found himself a spot on the roster at age 20. He is a slick defender and confident. He managed to chip in with 26 points in 72 games last year. He should only get better.
The Panthers may be ready to give last years third overall draft pick Erik Gudbranson a chance to play next season.
The role that the offensively minded 19-year-old will be expected to fill will be very similar to the one Ed Jovanovski was given when he was taken first overall by the Florida Panthers back in 1994. No one could be better at helping Gudbranson make the NHL than Jovanovski. 
Youngsters Keaton Ellerby, Evan Oberg, and Colby Robak should all get a chance to make the team in training camp.
American Hockey League defenseman Keith Seabrook, younger brother of NHL star Brent, has been acquired to provide organizational depth if nothing else.  
Forwards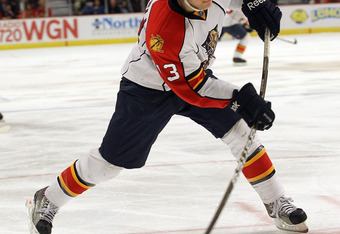 Bruce Bennett/Getty Images
The offense right now is in the hands of Panther veterans David Booth LW and Stephen Weiss C.
Weiss had a very disappointing 49-point season after two seasons in a row with 60 or more points. Still he was the Panthers' leading scorer and number one center.
His 21 goals and 49 points in 76 games were the lowest totals for any NHL team's leading scorer; except for the Edmonton Oilers, where Jordan Eberle lead the way with 43 points.
No one has been brought in or appears ready to displace him though his numbers suggest he is really a second line center or perhaps even a checker with some skills.
Booth is the other Florida Panther still on the roster who has at least looked like a top six NHL forward the last few years.
The Mike Richards concussion saw him miss 54 games during the 2009/10 season. His offensive production last year, 23 goals and 40 points, was a significant drop from 2008/09 when he scored 31 goals and 60 points.
The Panthers need both these players to at least approach 60 points and reassert their position as legitimate top six forwards. The addition of a power play quarterback will hopefully make it possible for the two to pick up a few more power play points.
Center Michael Santorelli was resigned for two years at $1.6 million a year. A pick-up from Nashville, Santorelli had a breakout third season in the NHL. He was second in team scoring with 20 goals and 41 points.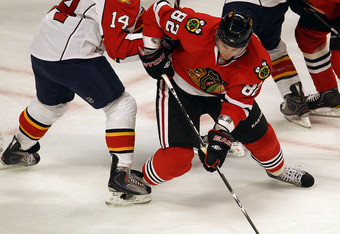 Jonathan Daniel/Getty Images
At 25, he is threatening to be a useful NHL player and has obviously earned himself a chance to prove he can be that in Florida.
Evgeny Dadonov is a smaller (5'10", 178 lbs) skilled Russian. He started quickly with the Panthers last year but injuries slowed him down. He picked it up later in the season after he had healed.
His talent, 17 points in 36 games and his $875,000 salary gives the 22-year-old winger another year to prove he can contribute in Florida.
Most NHL general managers spend their cap on extravagant salaries for top end offensive talents. Dale Tallon has been busy emptying the cupboard of old talent and prospects. The money he has spent (aside from picking up the Brian Campbell contract) has been on role players.
Dale Tallon is filling in his lineup from the back-end forward.
Tallon added three checking forwards in Tomas Kopecky, Marcel Goc and Sean Bergenheim and three offensively skilled depth players in Scott Upshall, Tomas Flesichmann and Kris Versteeg. All of these players are in the prime of their careers.
The youngest, Versteeg, is 25 while the oldest, Kopecky, is 29. The rest are 27 and likely to be as good as they ever will be, next season.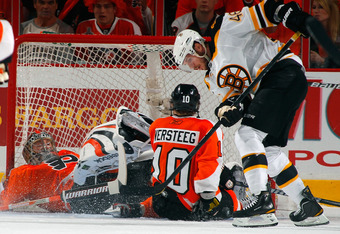 Paul Bereswill/Getty Images
Tallon is still assembling his defensive team. Marty Reasoner last season's checking center, has moved on. In his place find find veteran checking centers Tomas Kopecky ($3 million a year for fouryears), Marcel Goc ($1.7 million a year for three years) and winger Sean Bergenheim ($2.8 million a year for four years).
The Panthers should have a legitimate checking line this year. All three are in their prime (29,27 and 27).  Kopecky scored 15 goals and 42 points with Chicago last year, equivalent to what Reasoner provided.
Bergenheim was another checker with reasonable offensive numbers, 14 goals and half a point a game. He had a quality offensive playoff for the Lightning scoring nine goals last year. 
He has also been a league leader in takeaway to give-away differential for a couple years now. He was plus 21 last year to tie Nate Thompson for the team lead in Tampa Bay.
With the Lightning and the Islanders, he has been a good defensive forward and a good hitter.
Goc is an experienced checker though without any of the offensive upside the other two have shown.
Tomas Fleischmann is a talented former Capital, former Avalanche player, who had a terrible medical problem last year. He missed the second half of the season with a pulmonary embolism, a blockage of a main artery to the lung.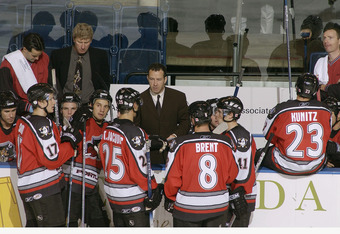 Lisa Meyer/Getty Images
Fleischmann is a quick talented winger who was a point a game player at the AHL level. He seemed to have become a useful secondary scorer in Washington when he had 23 goals and 51 points in 69 games during the 2009/10 season.
If healthy, Fleischmann can be a top six forward for the Panthers this year. How he does will determine whether he stays there or sinks back to be an offensively talented fourth or third line forward. He has been signed at the rather hefty cap cost of $4.5 million a year for four years. 
Kris Versteeg was a promising offensively talented winger in the Blackhawks organization when Tallon ran the show. He has scored more than 20 goals and 44 points or more in each of the last three seasons, and yet he hasn't been able to stick with Chicago, Toronto or Philadelphia.
He is in the last year of the contract he signed in Chicago. 
Versteeg is another quick scorer with good offensive touch. He is also in a position to compete for a top six role with the Panthers. He is playing for a new contract and so will be even more motivated. 
The last veteran offensive player to be added was 27-year-old Scottie Upshall. He scored 22 goals last year.
He has generally played a role as an energy player. He played 15:45 minutes a game with Columbus last seasons. Upshall is nicknamed the Tasmanian Devil for his energy and activity.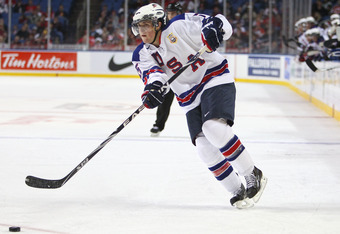 Tom Szczerbowski/Getty Images
He can and probably will play a top-six role in a rather thin Panther forward group. He is signed for four years and will be the most able of any of these players to perform in a useful fashion from the fourth line when called on to do so.
Steven Reinprecht was waived by the team in midseason and went off to Germany to play for the Mannheim Eagles.
The veteran (35) checking center could get another chance in Florida under new coach Kevin Dineen. He's scheduled to make $2.05 million next year. The addition of three other younger checkers makes this seem unlikely.
In his effort to completely remake the organization Dale Tallon swapped former 20th overall picks with the Winnipeg Jets. Kenndal McCardle, drafted in 2005 was traded for Angelo Esposito, himself taken 20th overall in 2007 by the Pittsburgh Penguins.
Neither player has lived up to his potential though McArdle has at least played in the NHL.
McArdle hasn't been able to score at the professional level, though he has made it to the NHL as a fourth line energy player.
Esposito was at one time a projected number one overall pick. How the mighty have fallen. Esposito was a talented junior player but two serious knee injuries and consistency issues have kept him far from the NHL.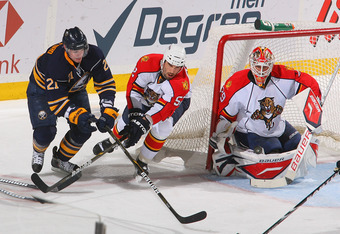 Rick Stewart/Getty Images
Michal Repik stands out on the Panthers as an existing prospect Tallon hasn't pushed out of town yet. He will get another chance to compete with the new second tier acquisitions.
If he can't beat them out he may be relegated to fourth line duty, or he may not be a Panther much longer.  
Jack Skille came over in the trade for former Panther prospect Michal Frolik. He has yet to be signed. The RFA seems like another young player who will get a chance to compete for a job in Florida. 
Shawn Matthias is a big restricted free agent center who like Repik and Skille finds himself fighting for a job with the Panthers. The addition of six veteran role players has made it impossible for youngsters in Florida to inherit a role as has happened in the past.
If they cannot contribute as well as say, a Kris Versteeg, they will play on the fourth line or not at all. 
There are a group of prospective Panther forwards like Nick Bjugstad, Quinton Howden, John McFarland, Drew Shore, AJ Jenks and even this year's first-round pick Jonathon Huberdeau who still seem a long distance from making the NHL club.
The Panthers are looking for these players to make the big club in the next three to four years and displace some the veterans currently holding roster spots.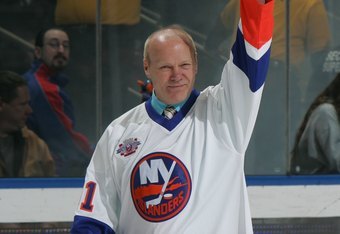 Bruce Bennett/Getty Images
Goalies
Tomas Vokoun had been the bulwark of several very bad Panther teams since coming over from Nashville in 2007. He almost got them into the playoffs in 2009. Vokoun has left to try to win a cup with the Washington Capitals.  
Dale Tallon has signed veteran goalie Jose Theodore to a two year $3 million a year contract. The veteran goalie was in the middle of the pack last season with a .916 save percentage. Having him in nets rather than Vokoun (.922 save percentage) will hurt the team as a whole.
They have veteran back-up Scott Clemmenson signed for another season.
Thus the team has positioned itself to bring in prime goaltending prospect Jacob Markstrom over the next two seasons. He played his first season in the AHL last year. He can expect to get a look in the NHL next year and perhaps be the backup to Theodore the year after that.
Markstrom is only 21 and if Tallon has his way he'll become the goalie on a Florida Panther team that is tight defensively and can score. He will have very opportunity to succeed on a team like that.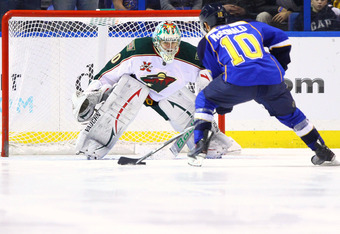 Dilip Vishwanat/Getty Images
Prognosis
The outlook for the Florida Panthers is good in the coming year but not great. Replacing Tomas Vokoun, perhaps the best goalie in the NHL since the lock-out, with the aging Theodore almost insures two more playoff free seasons.
Putting up with an even dozen years without the playoffs seems a lot to ask from a dwindling Panther fan base.
However Dale Tallon is back-filling his team. He has added bottom six forwards, mentoring defensemen and a caretaker goalie.
The Panthers are ready for the young draft picks they have now and will make, to work their way up the depth chart and fill those top roster spots. Tallon still has the cap space and flexibility left to address any gaps that are in the lineup after those players make the team.  
In three years Tallon has to hope his team will be a top tier player or two away from competing in the playoffs.
This is as interesting a job of team building as I've ever seen.
Any idiot can sign Brad Richards or Phil Kessel for too much money.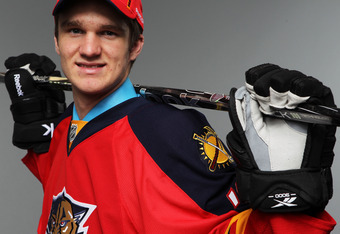 Nick Laham/Getty Images
Tallon knows his team isn't there yet. He has filled the role player spots and given the youngsters veterans to compete with and to learn from.
Think of Eddie Westfall putting the New York Islanders penalty kill to rights back before they were great.
Tallon will also be poised to fill the holes that his drafted talent can't fill through free agency. The core of his team should be drafted, developed Panthers, but he will be in a position to add quality when he has to.
Again I go back to the New York Islanders as my model. In the Islanders case that last player they needed was Butch Goring and they added him through a trade and went on to win four Stanley Cups in a row.
Who knows who that player will be in Florida?
Look for the Panthers to be better defensively next year. Look for the power play and the penalty kill to improve. Look for the goals against to go up because Theodore just isn't Vokoun.
Look for the goals for to improve because there is just more offensive depth on this team. Look for the Panthers to miss the playoffs again and hopefully draft high again.
I see the Panthers still being two years away from being in the playoffs and being competitive. I think though once this version makes the playoffs it will be a decade before they miss again.
If Jacob Markstrom works out look for them to be a dangerous force in the playoffs for years to come. They won't just make it there. They will be trouble.