NBA Draft Prospects: All You Need to Know About Kyrie Irving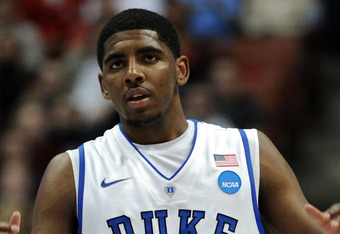 Is Kyrie Irving guaranteed to be the No. 1 pick?
Technically, there are 12 teams that could end up with the No. 1 pick (because of trades, the Utah Jazz and Cleveland Cavaliers both have two of the top 14 slots).
Here are the teams that would not take Irving if they end up in the No. 1 slot:
Washington Wizards- With John Wall already in place, the Wizards would likely go with Arizona's Derrick Williams.
Milwaukee Bucks- Same as the Wizards, just insert Brandon Jennings for John Wall.
Houston Rockets- If the Rockets land the No. 1 pick, the lottery system may finally be reconsidered. However, with Chuck Hayes and Goran Dragic in place and needs at the small forward position, the Rockets would also take Derrick Williams.
Golden State Warriors- They may be tempted to create a three-headed monster of Stephon Curry, Monta Ellis and Kyrie Irving and become the fastest team of all time, but in the end they would realize this would never actually work. Derrick Williams would be who the Warriors take.
Everyone else, would take Irving.
So How Good Is this Guy?
The difficulty about Irving, is we only have 11 games to judge him by at Duke. The good news, he played well in all of those.
What I like about Irving, is how well he played against talented competition. Against Kansas State, he had 17, against Michigan State, 31, Butler, 21, Arizona, 28. When judging how capable a player will be at the next level, you want to see their big games against the top college players and not against lowly mid-majors.
Irving's numbers in those games were similar to Derrick Rose's freshman numbers at Memphis and Russell Westbrook's sophomore numbers at UCLA. Yes, it's a limited sample size, but Irving proved he was a standout.
NBA Potential?
Irving will start right away in the NBA. The way I imagine him is Chris Duhon's point guard abilities, but with a lot of Derrick Rose and Russell Westbrook scoring and attacking ability tacked on.
He will not be as good of a distributor as Chris Paul or Steve Nash, and will not be as dominant of a scorer as Rose and Westbrook, but with the combination of both of these skills, Irving will make a name for himself in the NBA.

Most recent updates:
This article is
What is the duplicate article?
Why is this article offensive?
Where is this article plagiarized from?
Why is this article poorly edited?