NBA Draft Lottery: Why Being the Worst Team Is Not Always the Best Option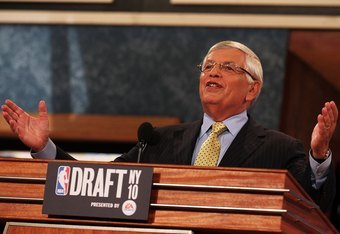 NBA Draft Lottery: Why Being the Worst Team Is Not Always the Best Option
In the NFL Draft, the process is simple and somewhat biblical; the last shall be first and the first shall be last.
In the NBA, the draft order comes down to an exciting lottery. Having the worst record only guarantees you more chances at getting the winning combination of ping pong balls, it does not guarantee the No. 1 pick.
Is it fair? Eh, not necessarily, but it does discourage teams from tanking the second half of the season if there is a LeBron James or Dwight Howard waiting for them at the No.1 pick.
Here's how the Draft Lottery works. There are 1,000 combinations that the ping pong balls can land in. The worst team has 250 of those combinations designated to their name. The second worst team has 178 chances, the third has 177. The rest looks like this:
Team 1: 250 Chances
Team 2: 178
Team 3: 177
Team 4: 119
Team 5: 76
Team 6: 75
Team 7: 43
Team 8: 28
Team 9: 17
Team 10: 10
Team 11: 9
Team 12: 7
Team 13: 6
Team 14: 5

Read more: http://www.insidehoops.com/nba_draft_lottery.shtml#ixzz1M9XvzvGK
What this means, is even the Houston Rockets, who finished three games behind the Memphis Grizzlies, have a chance (although it's a 0.5 percent chance) at landing the top prize.
Most recent updates:
This article is
What is the duplicate article?
Why is this article offensive?
Where is this article plagiarized from?
Why is this article poorly edited?