NBA Draft Lottery 2011: Order, Odds, Predictions and Updates on the Prospects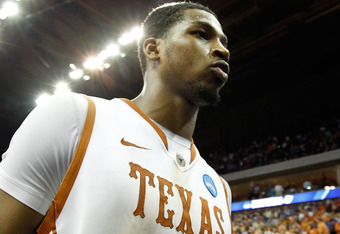 Tom Pennington/Getty Images
Every year, be it the NFL or NBA draft, we are overwhelmed with a list of names and descriptions that will suddenly make our favorite team 10 or 20 games better.
If you have spent time with any draft previews, mine included, you have seen things like, "he has great length, but badly needs to put on weight" or "great outside shooter, but undersized" so many times that you really don't know the difference between Donatas Motiejunas of Lithuania and Andrew Goudelock of Charleston.
Don't worry, you are definitely not alone.
This draft preview is intended to clear up the mystery behind the players in this year's draft. Will they be effective pros? What current pro athlete do they resemble? How many years will it take before they become starter ready?
At the end of this, I hope these names become much more tangible and you have a reason to hope your team drafts them.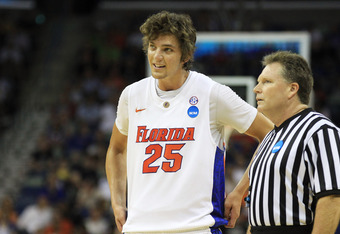 NBA Draft Order: Miami Heat May Find a Solid Piece at No. 31
Here's the scary part about the Miami Heat:
They are only going to get better.
As depressing of a thought as this may be, it is completely true. Look at it this way, the Heat have made it to the Eastern Conference Finals on basically LeBron James and Dwyane Wade with just a hint of Chris Bosh.
They have found an effective center in Joel Anthony and are eventually getting back another low post presence in Udonis Haslem. James Jones is their, "can't-leave-him-open" guy and Mario Chalmers is proving to be a decent point guard.
With the first pick in the second round, the Miami Heat will be able to draft a solid piece to add to their roster.
Draft a Younger, Actually Effective Version of Mike Miller
The Miami Heat invested way too much money in Mike Miller. He has given them next to nothing in the playoffs, but has a non-movable contract. With the No. 31 pick, they could bring in a cheaper version of Miller who might be able to hit the open threes that will always be there when James and Wade are on the floor.
Chandler Parsons, Kyle Singler or Nikola Mirotic would all fulfill this role and will most likely still be on the board.
Draft A Point Guard
Norris Cole from Cleveland State will still be on the board.
Take a Risk
Josh Selby might be the most talented player left in the second round. The Miami Heat would have nothing to lose in drafting him. If he doesn't pan out, no sweat, they have Dwyane Wade as their starter and James Jones off the bench. If Selby does turn out to be a great NBA talent, the Heat could use him off the bench or include him in a trade to make their starting five even more dominant.

This article is
What is the duplicate article?
Why is this article offensive?
Where is this article plagiarized from?
Why is this article poorly edited?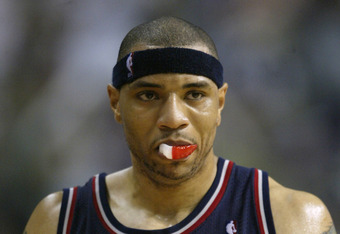 NBA Draft 2011: Is This the Worst Draft Since 2000?
Here are the players that were drafted in the 2000 NBA Draft who are still making somewhat of an impact in the NBA.
1. Kenyon Martin (No. 1 pick)
2. Jamal Crawford (No. 8 pick)
3. Hedo Turkoglu (No. 16 pick)
4. Mike Miller (No. 5 pick)
5. DeShawn Stevenson (No. 23 pick)
Other notable picks of this draft were Michael Redd, Eddie House and Mark Madsen.
The 2011 NBA Draft feels the same way to me. Kyrie Irving and Derrick Williams may equate to the same star power as Kenyon Martin and Jamal Crawford, one of the European prospects may be the next Hedo Turkoglu and there's a ton of forwards who will fill the roles of Mike Miller, Darius Miles and Stromile Swift.
Interestingly enough, a lot of the guys from the 2000 draft are 10-12th men on 2011 playoff teams. Not sure what this means, but expect to see a lot of the guys from 2011 hanging around at the end of contenders' benches in 2021.
This article is
What is the duplicate article?
Why is this article offensive?
Where is this article plagiarized from?
Why is this article poorly edited?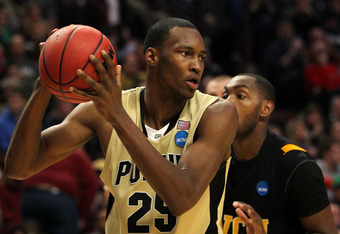 NBA Draft Order: What Can the Boston Celtics Get with Their First Round Pick
The Boston Celtics did not have that bad of a series against the Miami Heat. In Games 4 and 5, they let the games slip away in the last couple minutes. Honestly, if the Celtics would have closed out games the way they seemingly always do, they would be up 3-2 heading back to Boston.
This was all with a one armed Rajon Rondo...
Age is an issue, but it's not as big of a weakness as we all may have expected. This Big Three still has another year in them. The Celtics need a better bench so the starters don't have to carry as much of a load.
Delonte West and Jeff Green should stay, but Glen Davis and Nenad Krstic need to go.
The Celtics need to add a center through free agency and find either an athletic shooting guard or power forward in the draft.
Here's the best five picks that could still be available at No. 25.
1. JaJuan Johnson- A true power forward who can score. Perfect to bring in for Kevin Garnett.
2. Kenneth Faried- The defense and rebounding would be perfect for the Celtics. Problem is, he wouldn't give much of an offensive boost.
3. Jordan Williams- A big body coming off the bench.
4. Chandler Parsons- Think Kyle Korver.
5. Malcolm Lee- This UCLA shooting guard could come in and play aggressive defense on Dwyane Wade in next year's playoffs.
This article is
What is the duplicate article?
Why is this article offensive?
Where is this article plagiarized from?
Why is this article poorly edited?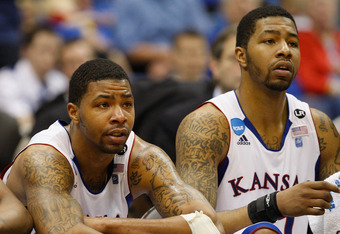 NBA Draft Prospects: Which Morris Twin to Take
How do you distinguish between two twins who have said themselves, "We are the exact same person."
They have the same face, same body, same tattoos and nearly the same reactions.
The difference between the two twins' games, is Markieff is a power forward whereas Marcus is more of a small forward. The risk with Markieff is that he may not be big enough to play power forward in the NBA. The risk with Marcus is he might not be quick enough to play small forward.
Marcus has developed his dribbling and off the dribble moves. I think he will be a Michael Beasley type player in the NBA.
Markieff is an effective rebounder and has a surprisingly effective outside shot. In a system like the Phoenix Suns I think Markieff would thrive.
Both Morris twins are tough defensive players who tend to have a lot of attitude. We don't know what they will be like without each other and it's doubtful that a team will trade to keep them together.
This article is
What is the duplicate article?
Why is this article offensive?
Where is this article plagiarized from?
Why is this article poorly edited?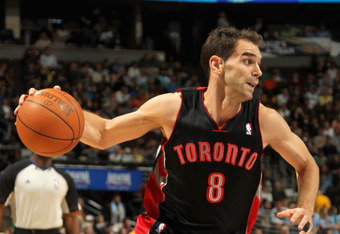 NBA Draft Order: What Each Spot in the Top 5 Would Mean for Toronto Raptors
The Cavaliers were 42 games worse this year without LeBron James. The Raptors only dropped 18 more games without Chris Bosh.
This is not a Cleveland situation. The Raptors are not going to have to wait a decade before they can reach as many wins as they did in the Bosh era.
Believe it or not, the Raptors actually have some good pieces in place. Andrea Bargnani is a dependable 20 ppg guy, DeMar DeRozan quietly had a very productive year and their point guard, Jose Calderon along with their role guys like Leandro Barbosa and Linas Kleiza are all good pieces.
Here's what they should do at each pick:
1. Kyrie Irving- If the Raptors land the No. 1 pick, they should go with Irving. Irving has a ton of pro potential and they would find teams who would want to make a trade for Calderon. One of those teams might be the Los Angeles Lakers.
2. Derrick Williams- Williams would give them more than James Johnson.
3. Enes Kanter- Kanter's size would allow Bargnani to move over to power forward rather than pretending to be a center.
4. Donatas Motiejunas- Same idea as Kanter, draft a true center.
5. Jan Vesely- Stick with European players in Toronto, they are less likely to bolt for the USA after their rookie contracts are over.
This article is
What is the duplicate article?
Why is this article offensive?
Where is this article plagiarized from?
Why is this article poorly edited?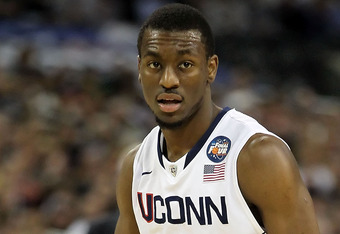 NBA Draft 2011: How Far Could Kemba Walker Fall
Kemba Walker shined all season long at Connecticut. He shined in the NCAA Tournament and he proved he was a winner by leading his average record Huskies to a Big East and National Championship.
From that description, this should be the type of player bad teams in the lottery are looking for.
The problem is, Walker's size and position are a tough selling point in the NBA. If you want a true point guard, you're going to draft Kyrie Irving, Brandon Knight or even Nolan Smith before Walker.
If teams want a shooting guard with a normal NBA, 6'6'' type body, they are going to draft Alec Burks, Klay Thompson or possibly Jordan Hamilton.
Lottery teams like the Golden State Warriors, Washington Wizards, Detroit Pistons and the Houston Rockets probably have no interest in adding another shooting guard to their roster.
Kemba Walker should not fall too far in this draft. The Charlotte Bobcats will likely pick him after Brandon Knight and Kyrie Irving are taken. However, if Walker does fall out of the lottery look for the Minnesota Timberwolves at No. 20, Boston at No. 25 or the New Jersey Nets at No. 27 to pounce on the bargain deal.
All in all, highest I think Walker goes is No. 5 to Sacramento and lowest would be No. 9 or 10 to the Charlotte Bocats.
This article is
What is the duplicate article?
Why is this article offensive?
Where is this article plagiarized from?
Why is this article poorly edited?
NBA Draft Prospects: Bismack Biyombo, the Growing Internet Sensation
Let me introduce you to Serge Ibaka version two-ish.
Bismack Biyombo's defensive side is already developed to an NBA level. He is an excellent shotblocker and has the mass to body up with the strongest power forwards in the league. Defensively, this is not a guy that needs a few years to strengthen up. He is ready to play defense in the NBA right now.
Offensively, there's still a lot of work to be done. He's not like Ibaka in the sense that the smooth midrange jumper is simply non-existant for Biyombo. In fact, Biyombo is really not polished offensively at all.
If you watched the video above, you can see that Biyombo is an active player on the glass and will get some rebound dunks, but until he develops some low post moves, it'll be like his team has six men on defense, but four on offense.
Not sure a lottery team will gamble on him, but this 7'7'' wingspan (yes, seven feet and seven inches) will not fall all the way down to the second round.
This article is
What is the duplicate article?
Why is this article offensive?
Where is this article plagiarized from?
Why is this article poorly edited?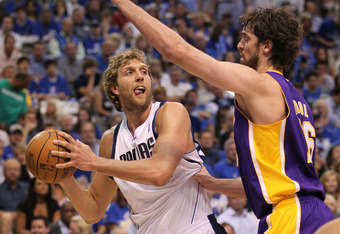 NBA Draft Prospects: It's All Foreign to Me. Clearing Up Who's Who of the Euros
The 2011 NBA Playoffs saw the rise (once again) of Dirk Nowitzki, but the fall (perhaps temporarily) of Pau Gasol.
These two large, European ballplayers are the reason you see names like Donatas Motiejunas, Jan Vesely and Nikola Mirotic in nearly every NBA Mock Draft.
So who is who of this year's European players?
Donatas Motiejunas- He's only 21 years old. Motiejunas is 7'0'' tall, but is only 224 pounds. He is stronger than he may appear and already has developed good back to the basket moves. Motiejunas is more Pau Gasol than Dirk Nowitzki, but does have the capabilities to step out and hit a three.
Jan Vesely- Jan Vesely's defensive side is more developed than his offense. At nearly the same size as Motiejunas, Vesely's game is small forward based rather than back to the basket, power forward. His length will bother small forwards, but unless he develops his offensive skills, he will find his opponents' stealing the ball away whenever he drives to the rim.
Jonas Valanciunas- Could end up being taken the highest of all the European players. Only 18 years old, think a slightly more athletic Nenad Krstic.
Nikola Mirotic- NBAdraft.net says his comparison is Zarko Carbakapa. When I haven't heard of you or your NBA comparison, it's probably not a good sign...
Robin Benzing- A near 7'0'' small forward from Germany with a spectacular shot. I can see the Dirk Nowitzki comparisons building already. However, Benzing is lacking in areas like strength, defense and quickness. The farther Nowitzki carries the Mavericks, the higher this second round prospect will rise.
This article is
What is the duplicate article?
Why is this article offensive?
Where is this article plagiarized from?
Why is this article poorly edited?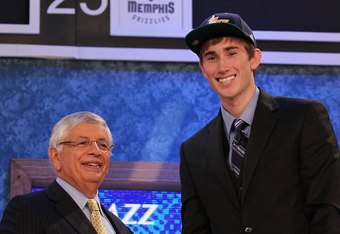 The Utah Jazz are my current favorite to end up with the best draft.
The Jazz have the New Jersey Nets first round pick and a lottery pick of their own. They also have Devin Harris, who may be a valuable trade piece, and Mehmet Okur's expiring contract.
The Jazz auditioned last year's first round pick, Gordon Hayward, toward the end of the season and he actually played pretty well. They have their starting frontcourt filled with Al Jefferson and Paul Milsap, but could use another post presence to come in with the improving Derrick Favors.
With their two picks, the Jazz should take a point guard/shooting guard and find a backup big man. Here's the top 5 fits for Utah.
1. Kyrie Irving- If they land the No. 1 spot, they should definitely take Irving. Start Irving and trade away Harris to get a backup big man and some money.
2. Enes Kanter- If the Jazz end up at No. 3, which is a realistic possibility, Kanter would give them one of the more dangerous four men frontcourts in the league.
3. Brandon Knight- Same idea as Irving. Knight takes precedence over Harris.
4. Donatas Motiejunas- I would love this pick for the Jazz. It's going to take a few years for the 7'0'' Motiejunas to click, but he wouldn't have to be an impact player immediately with Jefferson, Millsap and Favors in front of him.
5. Alec Burks- The Utah Jazz have not had a high level, scoring shooting guard since...Pete Maravich? In the Jerry Sloan years the Jazz always had great point guards and good post play, but shooting guard tended to be more defensive focused. Burks could be a new look for the Jazz.
The Jimmer Fredette issue
It is going to be hard for the Jazz to pass up on Jimmer Fredette. In the top 10 picks, it's way too high to draft Fredette. At pick No. 11 through No. 14, it may have to happen.
This article is
What is the duplicate article?
Why is this article offensive?
Where is this article plagiarized from?
Why is this article poorly edited?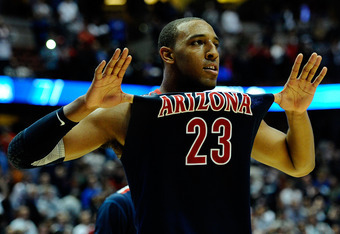 NBA Draft Prospects: Derrick Williams, Is He Over or Underrated?
I fully understand why teams would want to solidify their point guard position with a talent like Kyrie Irving. If you look at this year's playoffs, the Oklahoma City Thunder, Dallas Mavericks and Chicago Bulls all have strong point guard play. The Memphis Grizzlies and Atlanta Hawks have also gotten solid production out of Mike Conley and Jeff Teague. The Miami Heat, well they have LeBron James and Dwyane Wade to make up for their lack of point guard.
Likewise, the Los Angeles Lakers, Boston Celtics and even the New York Knicks found themselves bounced early due to either less than stellar point guard play (L.A) or injuries (Rajon Rondo and Chauncey Billups).
However, I think Derrick Williams has the most potential of anyone in this draft, and will make the team who ends up with the No. 2 pick happy.
Is this Michael Beasley, Carmelo Anthony, or Richard Jefferson?
The concern I had when watching Michael Beasley, and even Blake Griffin, in their college days was they played like power forwards, but their size, I thought, would only work as small forwards in the NBA.
Griffin proved me wrong and had a monster year playing in the low post, but Beasley ultimately became a small forward in Minnesota.
What I liked about Derrick Williams, at Arizona, was how he played like an NBA ready small forward. This is not someone who used his 6'8'', 245 lb size to dominate down low, but instead played out on the perimeter, hit threes and drove the ball to the basket.
The way he will be asked to play in the pros is the way he played in college.
Why I link Williams to Carmelo Anthony, rather than LeBron James, is Williams' outside shot. Unlike James, Williams is not as capable of running isolation plays and powering his way to the basket. Like Carmelo, or Kevin Durant, Williams shoots the three-ball extremely well. He can also post up when he needs to and does have Blake Griffin-like dunks in his arsenal.
Williams has potential to be a Carmelo Anthony, but I am not yet ready to put him in that category.
I think Richard Jefferson is a safe point for now. Recently, we've watched the San Antonio Spurs Jefferson and all of his struggles are fresh in our minds. We tend to forget just how productive Jefferson was in New Jersey.
The 18-22 ppg Jefferson is what I think Williams will be, but he will shoot the three-pointer better than Jefferson did early in his career.
This article is
What is the duplicate article?
Why is this article offensive?
Where is this article plagiarized from?
Why is this article poorly edited?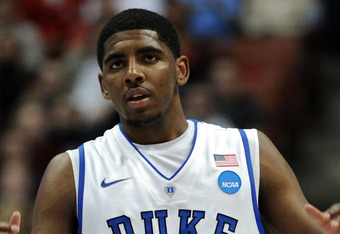 Is Kyrie Irving guaranteed to be the No. 1 pick?
Technically, there are 12 teams that could end up with the No. 1 pick (because of trades, the Utah Jazz and Cleveland Cavaliers both have two of the top 14 slots).
Here are the teams that would not take Irving if they end up in the No. 1 slot:
Washington Wizards- With John Wall already in place, the Wizards would likely go with Arizona's Derrick Williams.
Milwaukee Bucks- Same as the Wizards, just insert Brandon Jennings for John Wall.
Houston Rockets- If the Rockets land the No. 1 pick, the lottery system may finally be reconsidered. However, with Chuck Hayes and Goran Dragic in place and needs at the small forward position, the Rockets would also take Derrick Williams.
Golden State Warriors- They may be tempted to create a three-headed monster of Stephon Curry, Monta Ellis and Kyrie Irving and become the fastest team of all time, but in the end they would realize this would never actually work. Derrick Williams would be who the Warriors take.
Everyone else, would take Irving.
So How Good Is this Guy?
The difficulty about Irving, is we only have 11 games to judge him by at Duke. The good news, he played well in all of those.
What I like about Irving, is how well he played against talented competition. Against Kansas State, he had 17, against Michigan State, 31, Butler, 21, Arizona, 28. When judging how capable a player will be at the next level, you want to see their big games against the top college players and not against lowly mid-majors.
Irving's numbers in those games were similar to Derrick Rose's freshman numbers at Memphis and Russell Westbrook's sophomore numbers at UCLA. Yes, it's a limited sample size, but Irving proved he was a standout.
NBA Potential?
Irving will start right away in the NBA. The way I imagine him is Chris Duhon's point guard abilities, but with a lot of Derrick Rose and Russell Westbrook scoring and attacking ability tacked on.
He will not be as good of a distributor as Chris Paul or Steve Nash, and will not be as dominant of a scorer as Rose and Westbrook, but with the combination of both of these skills, Irving will make a name for himself in the NBA.

This article is
What is the duplicate article?
Why is this article offensive?
Where is this article plagiarized from?
Why is this article poorly edited?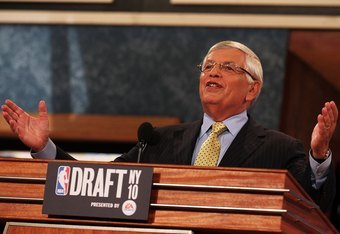 NBA Draft Lottery: Why Being the Worst Team Is Not Always the Best Option
In the NFL Draft, the process is simple and somewhat biblical; the last shall be first and the first shall be last.
In the NBA, the draft order comes down to an exciting lottery. Having the worst record only guarantees you more chances at getting the winning combination of ping pong balls, it does not guarantee the No. 1 pick.
Is it fair? Eh, not necessarily, but it does discourage teams from tanking the second half of the season if there is a LeBron James or Dwight Howard waiting for them at the No.1 pick.
Here's how the Draft Lottery works. There are 1,000 combinations that the ping pong balls can land in. The worst team has 250 of those combinations designated to their name. The second worst team has 178 chances, the third has 177. The rest looks like this:
Team 1: 250 Chances
Team 2: 178
Team 3: 177
Team 4: 119
Team 5: 76
Team 6: 75
Team 7: 43
Team 8: 28
Team 9: 17
Team 10: 10
Team 11: 9
Team 12: 7
Team 13: 6
Team 14: 5

Read more: http://www.insidehoops.com/nba_draft_lottery.shtml#ixzz1M9XvzvGK
What this means, is even the Houston Rockets, who finished three games behind the Memphis Grizzlies, have a chance (although it's a 0.5 percent chance) at landing the top prize.
This article is
What is the duplicate article?
Why is this article offensive?
Where is this article plagiarized from?
Why is this article poorly edited?