Fantasy Baseball: Thursday News and Notes (May 12, 2011)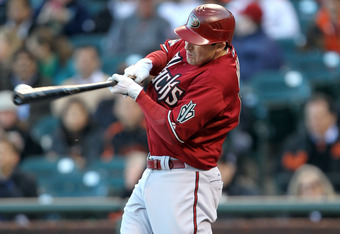 Ezra Shaw/Getty Images
Thursday Notes

Stephen Drew is your best bet against Matt Cain. Drew is 10-for-29 (.345) with three home runs against Cain. Xavier Nady and Justin Upton are both at .300 in 10 and 20 at-bats respectively. Otherwise, tough road ahead for Arizona. Kelly Johnson is 3-for-21, while Chris Young is at .167 in 24 trips to the plate against Cain.

Only Ian Desmond (.294 in 17 at-bats) and Jayson Werth (.280 in 25 at-bats) are hitting better than .233 against Derek Lowe. Adam LaRoche has had the most struggles, posting just one hit in 17 at-bats against Lowe. Avoid this situation where you can, as the numbers simply just do not add up to a good day for the Nationals.

Jaime Garcia has been white-hot, posting four wins in his first four decisions. He has allowed three or fewer earned runs in every start this season while completing six innings four times. Garcia's most recent outing was by far his best, and the Cubs have not seen much of him. Good matchup here and avoid your Cubs as a result.

Lyle Overbay is 7-for-19 with two home runs against Jon Garland, and he has the best numbers of the Pirates against him. Garrett Jones is the only other hitter with double-digit at-bats against Garland. Jones is 2-for-11 against him. Andrew McCutchen is 2-for-7 with Ryan Doumit at just 1-for-7.

B.J. Upton and Evan Longoria are the only Rays that have double-digit at-bats against Justin Masterson. Upton is 5-for-11 with a home run, while Longoria is 5-for-17 with a home run as well. Otherwise, not enough to go on here. Masterson has allowed two or fewer runs in six of his seven starts and just one home run in his 47 innings pitched overall.

Seven games, so limited notes.

Spot Starts: Charlie Morton, Zach Britton


Friday Notes

Clay Buchholz does not have good numbers against the Yankees. Robinson Cano leads the charge with a .529 mark in 17 at-bats. Mark Teixeira is 4-for-12 with two home runs, while Alex Rodriguez is 6-for-16 with a home run. Largely, only the 0-for-8 of Curtis Granderson sticks out as a bad start. Buchholz has given up 22 earned runs in his last 31.2 innings against the Yankees, posting a 1-3 record in those four starts.

Jon Jay is 4-for-10 against Bronson Arroyo, and Lance Berkman is a .292 hitter with five home runs in 48 at-bats. Albert Pujols is good as well, hitting .283 with three home runs and 12 RBI in 60 at-bats against the Cincinnati starter. Yadier Molina's .212 mark in 33 at-bats is the one to avoid in this matchup. Start your other Cardinals as you normally would here.

Kyle Lohse has allowed six earned runs in his last 30 innings over four starts. Five of those runs came in one outing against the Marlins. Only Edgar Renteria at 5-for-12 has solid numbers, but the rest simply have limited at-bats. Outside of Brandon Phillips, who is 3-for-13, and Jay Bruce at 3-for-12 with a home run, no one else has double-digit at-bats against the St. Louis pitcher. Worth a look in this one.

Another case of limited numbers for the bulk of your Royals against Justin Verlander. Good news is that the guys you are likely to play have samples worth talking about. Billy Butler is your best option. Butler is a .406 hitter with two home runs in 32 at-bats against him. Alex Gordon is just at .200 in 20 trips to the plate. The latest hot name, Melky Cabrera, is just 2-for-13.

Dan Uggla is now just a .179 hitter against Cole Hamels in 43 at-bats. Alex Gonzalez is the other trouble spot, as he is only 4-for-18 but does have two home runs against the lefty. Otherwise, your Braves should be good to go in this one, as all of them hit better than .270. Martin Prado at .297 and Chipper Jones at .300 are the best of the bunch. Hamels is 7-4 with a 3.41 ERA in his last 15 starts against Atlanta.
Mitch Moreland is 4-for-11 with two home runs against Jered Weaver, and Elvis Andrus checks in at .281 in 32 at-bats. Sadly, that's the best you are going to see from the Rangers against Weaver. Otherwise, look to avoid them here. Adrian Beltre, David Murphy, Chris Davis, Julio Borbon and Ian Kinsler are all at .208 or worse, while Michael Young checks in only at .250. All have at least 15 at-bats with Murphy, Kinsler and Young having many more.

Is there potential for a Casey Kotchman sighting? Kotchman is 8-for-17 (.471) against Baltimore starter Jeremy Guthrie. Ben Zobrist, Reid Brignac and B.J. Upton are all better than .300 as well. Johnny Damon is at just .186 in 43 at-bats, while Evan Longoria has struggled as well, hitting only .231 in 26 at-bats.

Only two numbers to draw from for the Diamondbacks against Clayton Kershaw. Stephen Drew is only 1-for-11, while Chris Young is just 2-for-14. Kershaw has worked into the seventh inning during each of his wins this season and has won his last two decisions. Good matchup for him here.

Ian Desmond is 11-for-18 against Chris Volstad, by far the best numbers of the Nationals. Jayson Werth is only 2-for-24 against him. Michael Morse and Adam LaRoche are at .300 and .400 respectively in 10 at-bats apiece. Volstad took the loss against Washington over the weekend, giving up three runs on eight hits in six innings. That knocked him to 5-2 in his last 10 starts against them.

Spot Starts: Kyle Lohse, Bud Norris, Fausto Carmona
This article is
What is the duplicate article?
Why is this article offensive?
Where is this article plagiarized from?
Why is this article poorly edited?