WWE: Why Is CM Punk Being Punk'd?
May 12, 2011
CM Punk is quite good, isn't he?
Scratch that.
CM Punk is probably the best wrestler in the world right now.
This is not just the view of a mark (no, not Jindrak). The general consensus amongst fans is that CM Punk is the most in-form, well-rounded performer currently active. Punk not only possesses in-ring skills that can go toe-to-toe with anyone else in WWE, Punk is a phenomenal mic worker.
CM Punk is a master of the subtleties and the nuances necessary to forge a connection with the audience; the fact that an entire crowd would chant his name when he was acting as a colour commentator proves this point.
The fans love CM Punk.
But why doesn't Vince McMahon?
Despite arguably being WWE's MVP thus far in 2011, Punk has been ballin' his way into obscurity since WrestleMania. Unfortunately, this is indicative of Punk's time in WWE since winning his first World Championship in 2008.
Although logic would suggest that CM Punk would be on a relatively smooth ascent to the top of the pile, WWE have failed to establish Punk as a main event talent time and time again.
The question must be asked, is Phil Brooks being Punk'd?
Since the draft a number of weeks ago, CM Punk has slid down the pecking order on the A-show. The likes of Alberto Del Rio, The Miz, R-Truth and Michael Cole all play more prominent roles on the flagship show than the straight edge saviour. (With Michael Cole being treated as a higher priority than him, I'm surprised CM Punk has not sought out Charlie Sheen for a lifestyle change. At least then he might actually start winning…or go on an ill-fated tour…or release a record with Snoop Dogg. I digress.)
Punk's sole purpose over the past couple of weeks has seemingly been to fulfill the role as a pawn in Batista's Mason Ryan's push. It is truly frustrating to watch. Since turning heel, CM Punk's game has gone from strength to strength.
Yet the sad fact is since defeating Jeff Hardy at SummerSlam 2009, CM Punk hasn't been established as a top guy. Despite putting in consistently brilliant performances in his programmes with The Undertaker, Mysterio, Big Show, Cena and Orton, he failed to come out on top in any of those feuds.
CM Punk is a tremendous talent, why is he being wasted?
The standard bearers of Internet journalism, affectionately labeled "the dirt sheets," have been buzzing with the news that Punk's contract runs out later this year and that there are currently a few roadblocks holding up negotiations.
It has been reported that Punk wants some time off, that he is unhappy with his current standing in the company and that Vince McMahon wants the rights to the CM Punk name.
Many are also saying Punk wants to travel to the Libya, usurp Colonel Gaddafi and establish a straight edge nation that John Cena won't squash in a month (or at least six weeks).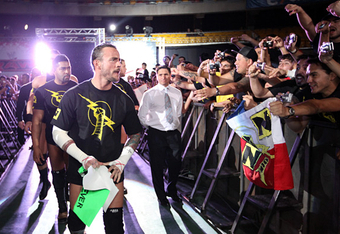 In the political quagmire that is WWE, this would explain why Punk has gone from the company's new top heel in January to Mason Ryan's care worker in May. The problem is that CM Punk does not come across as the type of guy to bow down to anyone. Watch an interview or follow the guy on Twitter—he's not afraid to speak his mind.
Hiding Punk in the proverbial shuffle is a dangerous game to play because Punk will just leave. Furthermore, the dirt sheets have been annoyingly accurate when reporting on talents who were unhappy and subsequently left, such as Batista, Chris Jericho and MVP.
CM Punk has everything necessary to be a main event star.
He has a unique look without looking like a big gimmick; he is a great wrestler and a great talker. If WWE let Punk leave or continue to waste him as a valet, they would be dropping the ball in a major way…again.
Vince McMahon knows full well that new stars are needed, yet he is overlooking arguably the most talented guy on the roster. Punk is far more than a "good hand."
CM Punk is only 32 years old and has many years ahead of him. But he could be a star now if allowed.
Is Phil Brooks being Punk'd? If an abuse of political clout and creative negligence counts, then yes, Phil Brooks is being Punk'd.
Yet if Vince McMahon lets CM Punk walk out the door, then McMahon is the punk.
Read more from Mat Terry here, and follow him on Twitter @MatJamesTerry