Carson Palmer, Kordell Stewart, Kevin Kolb and Thursday's NFL News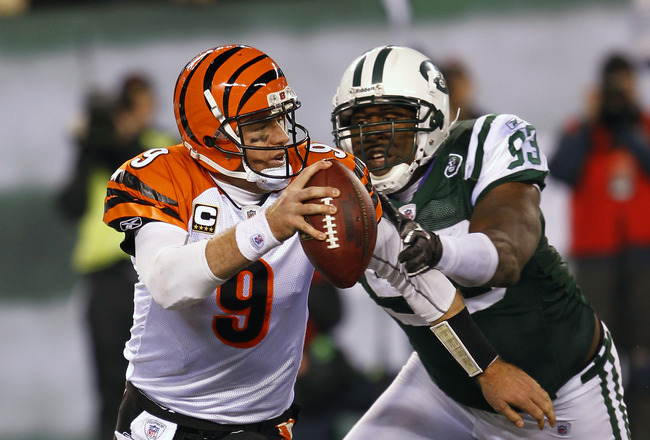 Chris Trotman/Getty Images
As the NFL continues to self-destruct in spectacular fashion, we the fans grind our teeth in frustration, watching a bunch of grown men act like idiots.
Cedric Benson thinks it is time for Carson Palmer to move on, and his reasoning is pretty sound. I doubt it will have any effect on how the front office handles things, but at least Benson was using logic, something the Bengals front office rarely does.
Kordell Stewart finds his way back into the public consciousness for an arrest, but it was not for anything truly serious—but since there is a lockout on, we'll talk about it anyway.
Who wants to give what to who for Kevin Kolb has become a bigger topic this week, and if the lockout is ever lifted, we will find out what his market value is.
Join me as I run through the day's headlines and quietly hope for a miracle out of the NFL labor situation.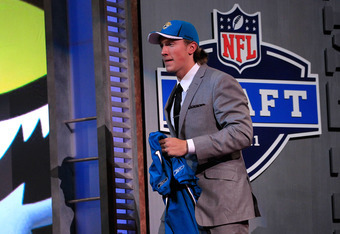 The Jacksonville Jaguars Are Thinking Ahead With Gabbert
The Jacksonville Jaguars decided to pull the trigger on a quarterback in this year's draft, something very few predicted they would do.
David Garrard has been okay, but it is clear the Jaguars organization does not believe he is the guy who can lead this team into the future. With Gabbert on board, it only is a matter of time before Garrard is wearing another uniform.
Taking advantage of the temporary lifting of the lockout, the Jaguars did get their playbook into Gabbert's hands after they drafted him.
"It's great to have it, and I've already gotten into it a lot," (Gabbert) said. The tentative expectation in Jacksonville is that David Garrard will start the opener, but Gabbert will probably see ample action before the season ends. It's all going to depend on how quickly Gabbert grasps the offense and learns to play fast. Getting a head start on the playbook can only help.
Garrard always has been inconsistent, so Gabbert most likely will be the starter sooner rather than later.
If Garrard starts the season off hot, as in 3-0 with good numbers, that could change things, but only for so long. A good start would hold Gabbert off until after midseason, but it only will take one bad game after that for Garrard to be shown the bench.
You do not see a team trade up to take a quarterback in the first round to watch him sit on the bench all that often.
At the end of the day, if Gabbert is as NFL-ready as the scouts believe he is, then there is no reason to keep him on the bench.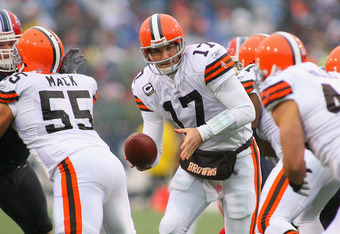 Browns Looking To Push Forward In 2011
The Cleveland Browns are as hurt by outside factors as they are by their own front office missteps. The last year has seen another turnover in the coaching staff, so getting on the practice field is a must.
With the lockout in full force, the players are forced to organize their own workouts to build team chemistry.
The Brown, who gave Colt McCoy a playbook prior to the lockout and probably gladly paid the $50,000 fine, now sit back and watch as their young quarterback takes the leadership role.
McCoy has been organizing workouts, and former starting quarterback Jake Delhomme now is participating in them.
From The Cleveland Plain Dealer:
Quarterback Jake Delhomme and rookie tight end Jordan Cameron were among the new faces at the Browns' second player-organized minicamp being held this week at Baldwin-Wallace College in Berea.

Rookie receiver Greg Little was invited but was unable to attend. Rookie fullback Owen Marecic was also believed to still be in classes at Stanford and unable to participate
Delhomme still is under contract for the 2011 season, and most likely is hoping to battle for the backup position at this point. Seneca Wallace also is under contract.
The Browns have had a revolving door at the quarterback position for the last several years, and there really never has been a franchise quarterback in place for the team since they came back in 1999.
Tim Couch held that designation briefly, but injuries and an emotional breakdown ended his career in Cleveland.
Since Couch, many quarterbacks have tried to be the savior for the Browns and none of them have had any real success.
Brady Quinn was drafted in the first round in 2007, but he was mismanaged and prone to injury. Team President Mike Holmgren and General Manager Tom Heckert traded Quinn to Denver for Peyton Hillis prior to last season.
It is safe to say the Browns got the better end of that deal.
Delhomme came in last year to be the starter but also fell victim to injuries. McCoy eventually became the starter and looked good in a limited amount of games after he became the third quarterback on the roster to suffer a high ankle sprain.
My feeling is McCoy will start, Wallace will be the backup, and the Browns will try and convince Delhomme to either take a paycut, or move him.
You do not pay a guy like Delhomme to be your third string quarterback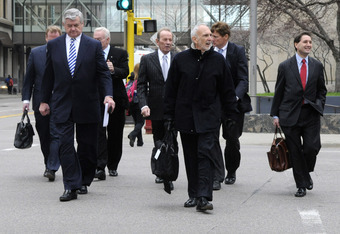 Mediation Not Expected To Bring Any Progress
Court-ordered mediation between the NFL and the players begins again on Monday. The players will have DeMaurice Smith at the table while the owners are sending four of their own to the talks.
The Pittsburgh Post-Gazette is reporting the Steelers' Art Rooney II, Panthers' Jerry Richardson, Bengals' Mike Brown and Giants' John Mara will represent the owners at the meeting.
Most of these names make sense, except for Brown, who could walk in and demand the players kiss a signet ring and swear fealty to him.
Richardson also is a bit of a question mark as there were reports Richardson was very rude to the players during talks prior to the lockout, but that report has been disputed.
Notable by his absence is Jerry Jones, who carries a lot of weight in the NFL and probably should be present for all of these negotiations.
What is important next week is that both sides take these talks seriously. But for that to happen, they have to throw the lawyers out of the room and just talk business. By letting the lawyers control the proceedings, both sides will be advised to not give anything up and wait for the court decisions.
The problem is, court decisions are arbitrary and most will have the effect of ruining the game as we know it.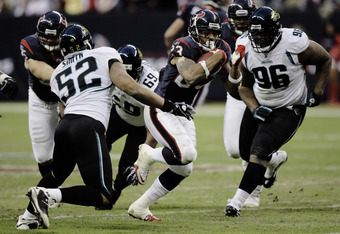 Arian Foster Sees Several Challenges In 2011
One of the biggest surprises of the 2010 season was the emergence of Arian Foster in Houston. Injuries gave Foster the opportunity he took full advantage of.
Running back Ben Tate was injured in the preseason, and Foster went on to have a Pro Bowl season. Tate will be back once the 2011 season gets underway, and he will be joined by Derrick Ward, who was signed just prior to the lockout going into effect.
"We're going to give [Tate] the ball a few times and see how he does," Texans offensive coordinator Rick Dennison said, per (HoustonTexans.com) in the second round. We'll take some turns. Obviously, Arian's (Foster) our number one guy, and then we'll go from there."
The Texans have a good problem with figuring out who to give the ball to. Foster can be the lead running back, but he also can get breaks if Tate and Ward workout.
While Fantasy Football fans shudder at the thought of Foster losing any carries, spreading out the workload will help extend his career.
The Texans will be an interesting team to watch this season because of new defensive coordinator Wade Phillips. The offense is good, now we will get to see if the defense can catch up to where the offense was in 2010.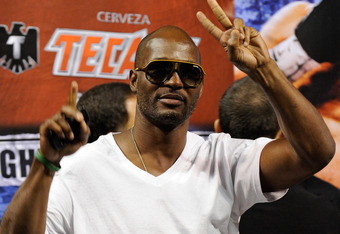 One Day Later, Still No Explanation Why Hopkins Blasted McNabb
Bernard Hopkins must have decided he needed to make a lot of headlines and drum up a lot of interest for his fight May 21 with Jean Pascal, because there really was no other reason for Hopkins to rip Donovan McNabb apart completely unsolicited.
Hopkins, an avid Eagles fan, had the press in to watch him workout in the lead-up to his fight, and just went off on McNabb, claiming he was not tough enough or black enough. To what end those comparisons would serve also is completely unknown.
You can read what Hopkins said on Yahoo! Sports.
The bigger issue at this point is what, if anything, McNabb does about it. His publicist said he would have no comment on the issue, which is to be expected, and just another example of McNabb taking the high road, something he is known for.
But that is not any fun. I want to see McNabb lose it, rip his shirt off and challenge Hopkins to a ladder match.
It does not matter McNabb is a football player and Hopkins is a boxer, a ladder match between the two would be one of the biggest draws in the history of sports entertainment, and you can bet Vince McMahon is sitting in his office right now trying to dream up a way of making it happen.
Hopkins can not challenge McNabb to a throw-off because McNabb would win. Likewise, McNabb is not going to get in the ring with Hopkins because Hopkins would destroy him in the first round.
So the only answer is a wrestling match complete with tables, ladders and chairs. Book it at Summer Slam, the NFL probably will be locked out anyway.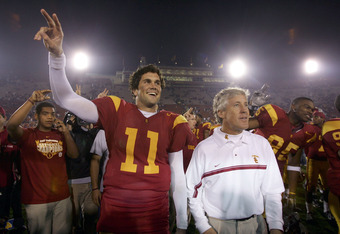 Leinart And Carroll Could Be Back Together In 2011
One thing that became immediately obvious about Pete Carroll when he took the Seattle Seahawks coaching job was that he was going to show zero favoritism toward his former USC players.
He did not favor them in the draft, and when Matt Leinart became available, Carroll showed no interest in signing him.
That could change in the 2011 season, but nothing is guaranteed. Carroll knows too well his job is to win games and that showing a soft spot for former players down on their luck could be a fast ticket back to the unemployment line.
From the Los Angeles Daily News Inside USC page:
We hear the Seahawks spoke to former USC quarterback Matt Leinart about joining the team next season.
This is pretty thin as far as rumors go because the Seahawks would not be allowed to speak to Leinart at the moment due to lockout restrictions.
That being said, we already know communication is happening through backdoor channels, so the report is not completely without merit.
Carroll needs more depth at quarterback, and bringing in Leinart is a way to add depth, and if Leinart works out, great. Leinart will not be offered any kind of huge contract, those days are over and Leinart will have to earn his way back to prominence.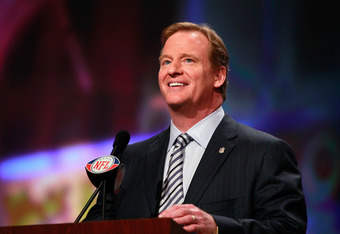 Total League Shutdown Rumor Began On Sunday
The rumors began on Sunday and grew throughout the week, the rumor the NFL would shut down completely if the Eighth Circuit Court of Appeal lifted the lockout.
I thought it was a brilliant move because it would force the players to come back to the negotiating table, something they are showing reluctance to do at this point in time, content to pursue a strategy of litigation and blame the owners for everything except the Kennedy Assassination.
Then today, ESPN's Chris Mortenson reported this rumor was false and that a shutdown will not happen.
From Chris Mortensons Twitter:
As prominent NFL man says, please ignore concept being floated that NFL could shut down business if lockout lifted. Not a chance, he says.

Stadium debt service, bonds, sponsorships, defaults.... corporate suicide, etc, in a shutdown. Not gonna happen.
This answers a lot of questions and should put this matter to bed. While I love the idea of a shutdown to force an end to the labor strife, the questions of the ramifications for other aspects of the NFL as a business were murky when this idea first was floated.
While the NFL definitely had to consider this, Mortenson's Tweets show shutting down is not a viable business option moving forward.
What the players have to realize is that by attacking everything that has made the NFL successful in order to get some short-term gain, they are going to kill the long-term health of the game and kill the sport they profess to love.
But since that kind of payday shortfall would be after most of these players have retired, what do they care?
It is the fans who are going to lose.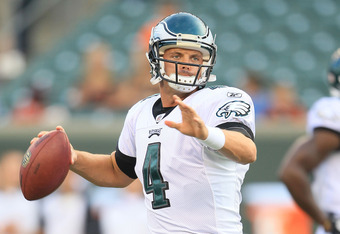 Two Second-Round Picks The Reported Offer For Kolb
Kevin Kolb is one of the hottest commodities in the NFL outside of a new collective bargaining agreement.
In absence of real NFL news, the trade rumors have been flying around with the Dolphins reportedly not interested in paying the Eagles' asking price, rumored to be a first-round pick.
On the heels of that report comes the rumor the Arizona Cardinals would be willing to offer the Eagles two second-round picks, which would be in line with past deals for a backup quarterback to Michael Vick.
So the Falcons sent Matt Schaub to Houston. The teams swapped first-round picks, with Atlanta going from 10th to eighth, and the Falcons received a second round selection that year (2007) and another in 2008.
That deal worked out pretty well for Houston as Schaub has gone on to have a good career. Even more interesting, Schaub's starting experience is similar to Kolb's at this point. In fact, Kolb's resume is slightly better.
The Cardinals will weigh their options, but they will have to make a decision fast because the Eagles will take the best offer, and if someone offers them a first-round pick for Kolb, the Cardinals will lose out and then have to hope Marc Bulger has not already signed elsewhere.
The Cardinals quarterback situation is not good. Derek Anderson and his Arm Of Doom will most likely be cut as soon as the league year begins and Jon Skelton and Max Hall just are not ready to be starting quarterbacks yet.
Whether Skelton or Hall ever develop is a different argument, but the Cardinals certainly would feel better if they did hot have to find out in Week One of the 2011 NFL Season.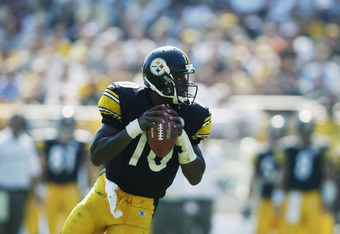 Stewart Brings Back Fond and Not-so-Fond Memories In Pittsburgh
Kordell Stewart was arrested in Georgia this week over a traffic matter, and Steelers fans were just happy it did not involve Ben Roethlisberger, transvestite prostitutes or anyone on the current roster.
Stewart won the hearts of Steelers fans early in his career with his "Slash" role, but defenses soon adapted to him as a quarterback, and many Steelers fans feel former Head Coach Bill Cowher stuck with Stewart long past when he should have been benched.
A source tells Channel 2's Mike Petchenik officers arrested Stewart on Windward Parkway and charged him with driving with a suspended license and failure to appear. He was booked into the Alpharetta City Jail. Stewart was a standout quarterback with the Pittsburgh Steelers and lives in Atlanta. Stewart also played in Chicago and Baltimore before turning to broadcasting.

A source tells Channel 2's Mike Petchenik officers arrested Stewart on Windward Parkway and charged him with driving with a suspended license and failure to appear. He was booked into the Alpharetta City Jail.
This all seems like a big deal over nothing, only making news because Stewart used to be a star NFL quarterback.
The stories that flew around Pittsburgh about Stewart's alleged off-field activities were far worse than this.
Stewart seemed poised to be the Steelers franchise quarterback for years to come when he just stopped being effective. Cowher believed in him and kept trying to put him in a position to win, but Stewart's production faded and Cowher eventually was left with no choice but to move on.
Stewart finished his career in Baltimore.
Palmer's Desire To Leave Should Be Honored, Benson Says
Carson Palmer has made his feelings clear about playing in Cincinnati, and Cedric Benson believes the Bengals should honor Palmer's request to leave.
The front office has made one good move, drafting Andy Dalton to be a potential replacement, but Palmer's future is unknown because Owner Mike Brown stubbornly is refusing to trade him in his public comments on the matter.
The complete idiocy of this stance would be lost on Brown, who regularly cuts off his nose to spite his face. The thought of getting something for Palmer rather than nothing by making him retire does not occur to Brown apparently.
But Benson believes even if the Bengals somehow talk Palmer into staying, it no longer would be in the best interest of the club.
"It wouldn't be healthy for the team to bring him back," Benson told Maurice Jones-Drew and Bryan McGovern of SiriusXM NFL Radio's Late Hits, via McGovern's Twitter page.

"To bring him back would be detrimental to the team," Benson said of Palmer. "If he's there [and] not happy he's not gonna give us his best."
Benson is using reason and logic here, something the Bengals front office fails to do on a regular basis.
The Bengals have not had consistent success in recent decades because Brown does not run his team with any kind of intelligent forethought, he runs it like a vengeful Mr. Burns, collecting players and then exacting his punishment on them when they cross him.
No thought is given to character when assembling players, which has come back to haunt the team more than once. While you can say character concerns are overblown, you have to do your due diligence because you do not get productivity out of a player who is suspended and/or sitting in jail.
Benson is thinking ahead here, which is something the Bengals front office needs to start doing. There is a trade market out there for Palmer's services and the Bengals would be wise to take advantage of it.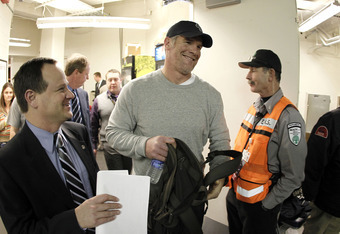 Favre Visits A Destroyed Wrangler Distribution Center
Brett Favre returned to the headlines this week for a good reason as he visited Hackleburg in Alabama, one of the towns destroyed by recent tornadoes throughout the South.
Hackleburg was home to a Wrangler distribution center which Favre, a spokesman for Wrangler, visited this week.
On Wednesday, former NFL quarterback Brett Favre came to see for himself the devastation left behind by the April 27th storms. The football legend spent the day vowing support and comfort to the storm victims.

"We were hit by a tornado in 2002, not nearly the size of this one," said Favre. "I know what it's like, you walk outside like where do I start?"
Favre signed autographs before leaving, and this is a nice story to remind people Favre, at heart, is a really nice guy. His dark side was on display this last year in Minnesota with the Jenn Sterger fiasco, but nobody is perfect.
Obviously Favre can not command the kind of support President Obama can when vowing to help out, but the people of Hackleburg need all the help they can get, no matter how small it is.
At least we are not talking about Favre coming out of retirement.