Boston Celtics: Tim Duncan and Top 10 Free Agent Forwards the Celtics Must Sign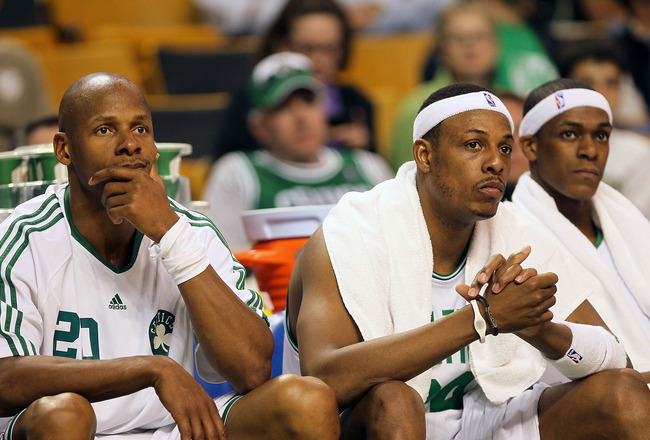 Jim Rogash/Getty Images
After fighting hard with the Miami Heat, the Boston Celtics were hit with one too many punches.
Game 5 would spell the end for the Celtics, as LeBron James would score 10 points in a 16-0 run by the Heat in the final four minutes of the 97-87 win.
An 87-81 advantage would gradually be torn away at by a talented, determined Miami Heat squad. With James and his Miami Heat moving on to the Eastern Conference Finals to face the winner of the Atlanta Hawks and Chicago Bulls match-up.
As Ray Allen and Kevin Garnett enter their final years of their contracts, President of Basketball operations Danny Ainge and the Boston Celtics front office will likely make a move to make another run at an NBA championship.
Join B/R and myself in ranking the top 10 free agent forwards that the Boston Celtics could potentially sign this offseason in hopes to help the Big Three another shot at an NBA championship.
10. Glen "Big Baby" Davis, Boston Celtics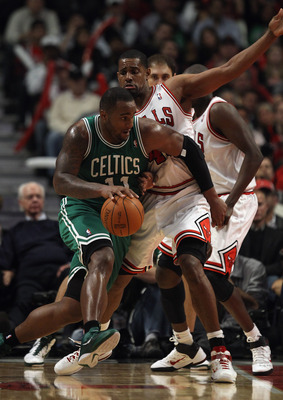 Jonathan Daniel/Getty Images
Despite a tough outing this postseason, Glen Davis is an important pick-up for the Boston Celtics next season.
Davis plays key minutes that help players like Kevin Garnett and both Jermaine and Shaquille O'Neal fresh minutes off the bench.
This season Davis 11.7 points and 5.4 rebounds in just 29 minutes of play per game. Keeping Davis is an important signing for the Celtics moving on into next season.
There are rumors recently released in regards to Glen Davis possibly wanting out in Boston, if the Celtics wish to keep depth on the bench, keeping Davis around is the right move.
9. Jeff Green, Boston Celtics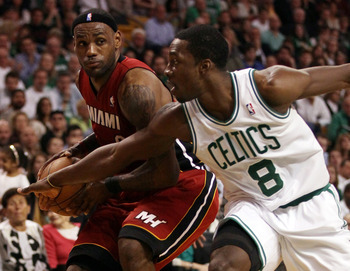 Elsa/Getty Images
Over the course of the NBA playoffs, Jeff Green proved he can be an important player for the Boston Celtics for years to come.
In the Celtics playoff run, Green averaged over seven points per game and shot 40 percent from distance in just 19 minutes a contest.
It's a fact most Celtics fans can't stand the thought of, but soon enough the Boston Celtics days of the Big Three will be all but over.
Jeff Green provides a versatile player at the small forward position that can help take the place of Paul Pierce when Pierce decides to hang it up.
Meanwhile, Green will be key in keeping Pierce fresh throughout the regular season, as he will likely see more minutes next season.
Playing defense against LeBron James and scoring the ball with more consistency as of late, Green has proven he is a player the Celtics have to consider resigning this off-season.
8. Caron Butler, Dallas Mavericks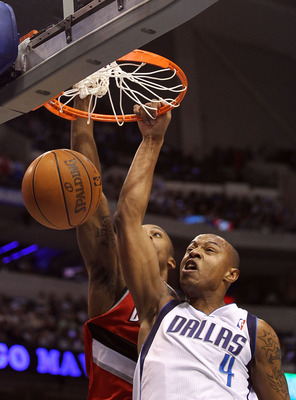 Ronald Martinez/Getty Images
Signing Dallas Mavericks free agent Caron Butler could prove to be arguably one of the more positive acquisitions the Boston Celtics could make this off-season.
With the Mavericks this 2010-2011 season, Butler averaged 15 points, shoots 45 percent from the field and 43 percent from distance, and grabs 4.1 rebounds a game.
What makes the numbers all the more impressive is that they come in just under 30 minutes a contest.
As the Mavericks have seen much success this postseason, including a sweep of Kobe Bryant and the Los Angeles Lakers, look for the Mavericks to possibly not put an offer on the table for an extension for Butler.
Picking up Butler would provide more firepower at the small forward position offensively and defensively, as he would likely come off the bench to replace Paul Pierce.
7. Peja Stojakovic, Dallas Mavericks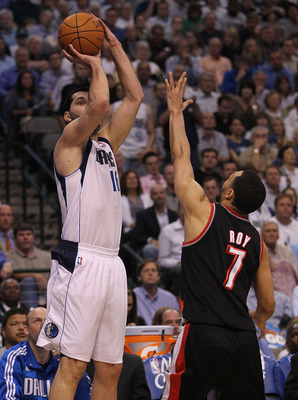 Ronald Martinez/Getty Images
Peja Stojakovic is known for his killer three-point shot, that has seemed to only improve over the last few seasons.
Just four seasons ago, Stojakovic was hitting just 37.8 and 37.5 percent of his three-point shots. In the last two seasons, he has hit 44 percent and 40 percent of his shots from long distance.
Since the days of James Posey in the Celtics championship run in 2008, the team has lacked a shooter that can dial in from distance off the bench.
The Oklahoma City Thunder acquisition, Jeff Green, looks to be growing more comfortable in the role but doesn't make his paychecks with his three-point shot.
Stojakovic would add an element to the Celtics offense that the team should highly consider adding going into next season.
6. Kenyon Martin, Denver Nuggets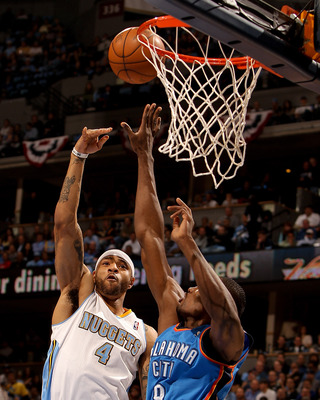 Justin Edmonds/Getty Images
Denver Nuggets forward Kenyon Martin is one of the more skilled power forwards in the 2011 NBA free agent market.
Martin averaged 8.6 points and 6.2 rebounds in just 25.7 minutes per game during the regular season for the Nuggets.
This postseason Martin showed improved play, putting up 11.8 points and 7.8 boards during the five games played against the Oklahoma City Thunder in the first round.
As a free agent acquisition, the Boston Celtics would be adding a force on the interior on defense and a solid offensive talent.
Martin has proved his worth in his 10-year career, and would add to a Celtics defense that looked depleted in the final stages against the Heat.
5. Thaddeus Young, Philadelphia 76ers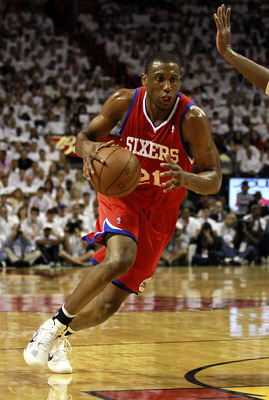 Marc Serota/Getty Images
The Philadelphia 76ers had a positive postseason outing, despite falling to the Miami Heat 4-1 in the first round of the 2011 NBA Playoffs.
The Philadelphia 76ers were able to keep pace with the Miami Heat, and lost two games by single-digits in the final stages.
Thaddeus Young was a player that had much to do with the 76ers success. The young talent is one of the better emerging talents in the league.
Just 22 years of age, Young is a big man that makes a living cleaning up the glass and playing tough interior defense.
A player like Young adds depths to the Celtics defensively more than offensively, which is precisely where the Celtics need to make adjustments.
Young averaged 5.3 rebounds a game in the regular season and 5.8 in the postseason series against the Heat.
He is a restricted free-agent, but is still a talent the Celtics should keep their eyes peeled for.
4. Leon Powe, Memphis Grizzlies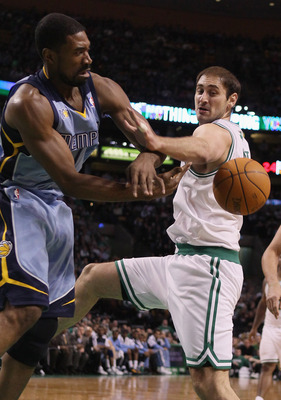 Elsa/Getty Images
Leon Powe could prove to be a key free agent pick-up for the Boston Celtics, given that he is familiar with the head coach Doc Rivers and the Boston Celtics style of play.
A member of the Boston Celtics during their championship season in 2007-2008, Powe is a player that understands his role and does all the little things a ball club needs to win games.
With the Memphis Grizzlies Powe has received substantially less playing time, yet is still just 27 years of age.
Despite his poor numbers this season, Rivers could optimize Powe's potential, as he played an integral role in the Celtics playoff run to a 17th championship just four seasons ago.
3. David West, New Orleans Hornets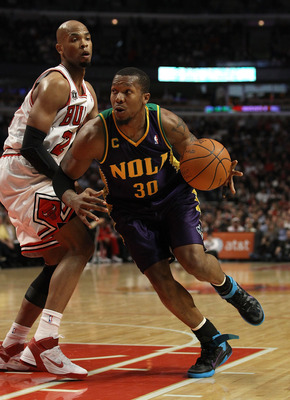 Jonathan Daniel/Getty Images
David West is as good a free agent that is available this off-season, proving himself as a top talent this past season.
West led the Hornets in scoring, averaging 18.9 points per game on 50.8 percent shooting from the field.
He also averaged the second highest rebounding average for the Hornets in the regular season, grabbing 7.6 a game.
West is 30 years old, and will likely sign a contract with a team he feels he has the best chance to win a championship with, considering he is yet to win one. J
oining a team like the Boston Celtics is a possibility as long as the Big Three and Rajon Rondo are still intact in Beantown.
The Celtics get an offensive talent that can stretch the floor with his jump-shot, while playing solid interior defense in the block.
2. Wilson Chandler, Denver Nuggets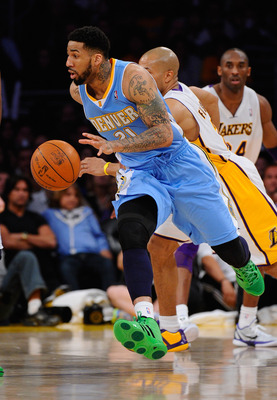 Kevork Djansezian/Getty Images
Wilson Chandler would arguably be the best pick-up for the Boston Celtics this off-season, as he is arguably the best up-and-coming talent at the forward position.
The 24-year-old has just three years under his belt, and seems to have a good feel for how to produce in the NBA.
Chandler is a scorer that can shoot the ball from distance, take the ball to the rack, and finish at the rim.
Before being traded to the Denver Nuggets in the epic, dramatic Carmelo Anthony trade, Chandler averaged 16.4 points per game with the New York Knicks.
Defensively Chandler is a proven player as well, racking up over five rebounds and 1.4 blocks a contest.
His athleticism is an advantage both on the perimeter and in the paint in the half-court set on defense.
The Celtics should highly consider the young talent in Wilson Chandler, as he played a significant role in the winning ways of the Denver Nuggets and New York Knicks this season.
1. Tim Duncan, San Antonio Spurs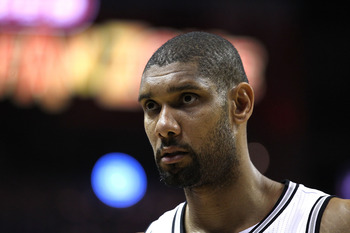 Jed Jacobsohn/Getty Images
Tim Duncan has proven his worth time and time again in this league, and has just enough left to help the Boston Celtics make a push at another NBA Championship.
Arguably the best player in San Antonio Spurs history, Duncan is an intelligent basketball player who knows a thing or two about helping teams win championships.
With four rings of his own, Duncan has the playoff experience and tough defensive mind set that Doc Rivers and company can use next season.
As he is an aging talent that needs a new contract, Duncan is likely to sign for less money than his previous contract. Taking a pay cut to win another championship is likely the route Duncan will take in his final seasons in the league.
This season Duncan averaged 13.9 points, 8.9 rebounds, and 1.9 blocks per game.
These numbers are not his 20-point, 10-rebound days of the past, but can surely fill gaps the Celtics have in their bench.
Look for Danny Ainge and the Boston Celtics front office to keep his eye on the future hall-of-famer over in San Antonio this off-season.
Luis Batlle is a junior and Journalism and Spanish major at Towson University, as well as a Boston Celtics featured columnist with Bleacher Report.
Keep Reading

Boston Celtics: Like this team?