Brock Lesnar vs. Junior dos Santos: TUF 13 Live Results and Analysis, Episode 7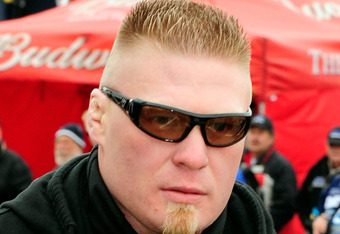 Sam Greenwood/Getty Images
The Ultimate Fighter: Team Lesnar vs. Team dos Santos has officially emerged from what is traditionally the reality-television portion of its season with surprisingly little reality-television fare.
For the strict MMA purist at heart, that's great news.
Less boorish nonsense in the house and gym means more blood, sweat and tears inside the cage. Of course, if you're a strict purist, what the hell are you doing watching the 13th season of TUF?
This is the UFC's offering to the brave new pop culture world and it's as much about the show outside of the Octagon as it is about the go inside it. From the non-purist perspective, it's been a tremendous letdown.
With arguably the sport's biggest star attached, in Brock Lesnar, we were supposed to be treated to a must-see phenomenon similar to the Forrest Griffin-Stephan Bonnar collision that thrust TUF into the mainstream. Instead, we've had weeks of bedroom-eye promos that got the pulse racing, only to be disappointed with a TUF peck on the cheek and a lonely drive home, as the flirtations have gone unfulfilled.
Oh well.
The second round of fights begins tonight, and that means the reality-television overtones usually become muted as the focus shifts and the last men standing get whittled down. That means more scrapping and less yapping as that six-figure contract on the horizon gets closer and closer.
So maybe the window for salacious scandal has closed, but the one for legitimate tussles just opened wider.
Check back at the top of the hour for reactions to this week's action.
Although the wild card is kind of a purgatory fight, I guess it's technically part of the first round so now we're officially on to Round 2 aka the quarterfinals. In the season's first small miracle, we've got four representatives from Team Lesnar and four from Team dos Santos so no breaking ranks quite yet.
Forgoing any pomp and circumstance, Dana White simply announces the matchups he (presumably) picked and they are as follows:
Team Lesnar vs. Team dos Santos
Clay Harvison vs. Ramsey Nijem
Chris Cope vs. Shamar Bailey
Chuck O'Neil vs. Zach Davis
Tony Ferguson vs. Ryan McGillivray
Some interesting pairings in there including the grudge match between Chris "Cock-a-Doodle-Do" Cope and Shamar "Sleeping Beauty" Bailey plus a rematch between O'Neil and Davis. Although that first contest might not be much of one considering this gem from Brock Lesnar: "Should be an interesting fight, a wrestler versus...Chris."
Meanwhile, the other two bouts might just feature the most dangerous fighters in the house. All in all, some quality material right there.
Tune in next week when we're back live for the first two quarterfinal clashes.
This article is
What is the duplicate article?
Why is this article offensive?
Where is this article plagiarized from?
Why is this article poorly edited?
Nothing spectacular to report from the weigh-ins other than some dudes in skimpy clothing so let's just breeze on by that.
Dana White doesn't have many nice things to say about Javier Torres based on the competitor's first fight and I can't say as I blame the UFC prez. He was dutifully impressed by Chuck O'Neil, though, so it's easy to see where he's going with this bout.
A back-and-forth first round establishes Torres as the more fluid and comfortable striker, and seemingly the stronger of the two fighters based on the ease with which he was able to fend of O'Neil's clinches/takedown attempts.
Nevertheless, it's Cold Steel who is the constant aggressor while Javier looks very pretty dancing and juking around, but is mustering little-to-no offense. Consequently, I'd give the first to Chuck, 10-9.
The second is far easier to score as Torres continues to get the better of the striking in the early going and then scores a nice trip. But he can't keep O'Neil on the ground and, as soon as he scrambles back to his feet, Team Lesnar's entrant (O'Neil) finally scores his own elusive takedown.
From there, it's clear Javier is a fish out of water—O'Neil sits in half guard and alternates between pounding on Javier's ribs, then working his left arm for a kimura. This goes on for a couple minutes until Torres finally thrashes free.
And rolls right into a fatal D'Arce choke that ends the bout.
Chuck O'Neil defeats Javier Torres by submission (D'Arce choke) at 4:30 of the second round.
This article is
What is the duplicate article?
Why is this article offensive?
Where is this article plagiarized from?
Why is this article poorly edited?
Fantastic slow play by Dana White there: "I'm not sure how many people know this, but..."
Yeah, we ALL know that Brock Lesnar tried out for the Minnesota Vikings. That's one of the first nuggets everyone learns about the Minnesota Mountain. It's part of his uber-athletic lore so it seems awfully convenient that the TUF producers choose his season for the football coaches challenge.
As Dana says, however, the football drills are more about agility than specialized coordination that would give Brock a decisive edge—unless he was trying out to be the Vikes' placekicker or quarterback. He'll should feel more comfortable, but that's about it.
And, sure enough, they both breeze through the agility portion before getting gummed up with the field goal.
You know the Brazilian Junior dos Santos played soccer at some point so it makes sense that he's the first to sneak the pigskin through the uprights. What doesn't make sense is how coordinated fighters both look so awkward trying to throw a football.
C'mon fellas!
JDS is the first to pierce the target and then starts hotdogging it down the field with a comfortable buffer between Lesnar and the $15,000 that's at stake. Considering ESPN just revealed that Brock is the highest paid mixed martial artist, I'd say that's a righteous outcome.
Especially when the man-child dos Santos reveals he gave money to Team Lesnar and acts the fool with his teammates.
I'll say it again, it's impossible not to like Junior dos Santos.
This article is
What is the duplicate article?
Why is this article offensive?
Where is this article plagiarized from?
Why is this article poorly edited?
Chuck O'Neil promises that play time is over and now we'll see the real Chuck O'Neil aka Cold Steel (which sounds substantially cooler than Ben Stiller's blue variety looks). To kickstart—or perhaps complete—the transition, he trims up his beard and looks like a new man.
And I must say he sounds like a different guy on camera. In fact, he even seems to address it differently; looking almost apologetic for being in the spotlight rather than lapping it up on previous occasions. I'm not sure that will have a determinant effect on his performance, but so far so good.
Meanwhile, Shamar Bailey and Chris Cope gives us a first (apparently) genuine beef of the season, and not a moment too soon.
Cope rubbed me the wrong way right off the bat, but has since grown on me. That said, if someone kept waking me up in the early morning...and by that, I mean any time before nine, I wouldn't be pleased. If the same chowderhead did it day after day after day and with something as productive as a "subconscious" woohoo?
I"m not a violent man, but I'm also NOT a morning person. If the two meet in a struggle, I promise my gentle nature loses in a landslide.
This article is
What is the duplicate article?
Why is this article offensive?
Where is this article plagiarized from?
Why is this article poorly edited?
Poor Len Bentley.
Perhaps that dude doesn't know that these Ultimate Fighter episodes are broadcast for all the world to see...including Brock Lesnar.
I'm guessing the Vanilla Gorilla ain't gonna take too kindly to Bentley's words of praise for the big fella. You know, like saying Brock is "selfish," saying he's "rude," calling him out on having fewer fights than Len, claiming Lesnar only coached for the cameras, saying everything out of his mouth was annoying, etc.
And all through a look of dismissive arrogance that's probably a lot easier to maintain when speaking into a lens rather than the man's face.
Of course, it's tough to take anything Len said seriously when he opened the salvo with a proclamation that he'd fight Brock Lesnar, that he wasn't scared.
Well, scared or not, that'd be a colossally stupid scrap to pick—Bentley isn't a world-beater based on what he's shown and Brock isn't some slow oaf at 265 pounds. It would make for some excellent unintentional comedy, though.
Oh, and it bears mentioning that Len didn't fire any of that tough talk up when staring the former champ in the grill.
Shocker.
This article is
What is the duplicate article?
Why is this article offensive?
Where is this article plagiarized from?
Why is this article poorly edited?
At first you kind of feel for Len Bentley because you can understand where he's coming from—if I were asked into that room, I'm not sure I'd wow Dana White and the coaches with my enthusiasm, either. Even if I really wanted the second chance, I'm just not that effusive a person.
Granted, you must believe Len watched a few of the previous TUF seasons and anyone who saw those knows Dana likes to hear and see that a defeated fighter wants that second swipe at the brass ring.
Either way, Bentley keeps wailing about how much better he was than everyone else and how much harder he fought and how he sincerely believes nobody deserved the wild card more than he and on and on. It's ENOUGH already.
As one castmate pointed out, those are Bentley's opinions and severely compromised ones at that considering his overwhelming bias toward the awesomeness that is Len Bentley.
The breaking point for me came when he told Chuck O'Neil that he didn't deserve the wild card even though Chuck was Len's "boy." Uh...sure about that Lenny? Because that requires reciprocation and I'm not sure Cold Steel is a fan.
This article is
What is the duplicate article?
Why is this article offensive?
Where is this article plagiarized from?
Why is this article poorly edited?
Ahem, so we've had a few technical difficulties—some might call it an all-meltdown—but we're back up and running. Unfortunately, the latest episodes is...oh, about five hours cold, which makes those live reactions I promised a bit tough to deliver.
You'll have to settle for just the standard, garden variety.
First and foremost, let's address Len Bentley.
His confidence in himself borders on delusion, which I guess can be a good thing from a certain angle. But he wasn't so vastly superior to wild cards Chuck O'Neil and Javier Torres (OK, maybe he had a point regarding Javier) and who holds another man's hand like that?
I get the editors might've exaggerated the duration for effect, but still, that embrace went well passed the point of decency.
And it's infinitely more questionable when the man is UFC President Dana White, a guy who essentially controls your future now that the UFC absorbed Strikeforce i.e. if you want to fight for a living and you're not crazy good, you better not bum out DW.
Toss on the fact that he implicitly assumed he'd be featured in the finale and that wasn't a good couple of minutes for Mr. Bentley.
This article is
What is the duplicate article?
Why is this article offensive?
Where is this article plagiarized from?
Why is this article poorly edited?