Sean Avery: Does Avery Deserve to Be Lauded for Gay Marriage Stance?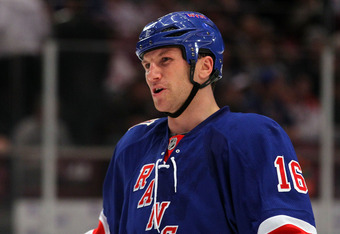 Sean Avery Gets More Headlines For Speaking His Mind
Sean Avery has been known to march to the beat of his own drummer during his career. He gets in the nerves of opposing goaltenders and players by being a pure pest on the ice. Off-the-ice he's also had a reputation for being a free spirit and doing as he pleases such as interning for "Vogue" in the offseason.
MUST READ: The Chicago Black Sox and the Craziest Scandals in Sports
In his latest head-line making maneuver, the agitating winger took part in public service announcement to promote gay-marriage, a move that has downright Avery-esque because of the shock factor.
Filip Bondy of the New York Daily News writes:
Sean Avery isn't exactly someone you'd expect to utter a politically correct, enlightened statement on gay marriage. He's stuck his skate boot in his mouth more than a few times in the past, and once was suspended six games for saying something truly nasty about a former girlfriend.

But you know what? When somebody does the right thing, he deserves a pat on the back of the jersey. And even though the Garden didn't back him up with a supportive statement, leaving Avery out there on his own, the fact that a hockey brawler would appear on a video in support of gay nuptials is a breakthrough of sorts.
The subject of gay-marriage is a very touchy one. Even those in his own sport, hockey agent Todd Reynolds and Nashville Predators center Mike Fisher have all expressed disappointment in Avery's stance to support same-sex marriage.
However, out of all the things that Avery has done and has has a long list of grievances this PSA has to have at least earned him the respect of some people for taking an open-minded stance on a very controversial issue.
Over the past few weeks when athletes have gotten heat for a homophobic slur like Kobe Bryant and anti-American remarks like Rashard Mendenhall, Avery gives us a much different take. His message was not hateful but one of complete tolerance.
And there's no reason to criticize him. He should be lauded and respected for simply being bold.
Most recent updates:
This article is
What is the duplicate article?
Why is this article offensive?
Where is this article plagiarized from?
Why is this article poorly edited?