England's Best: The 50 Greatest to Have Ever Worn the 'Three Lions'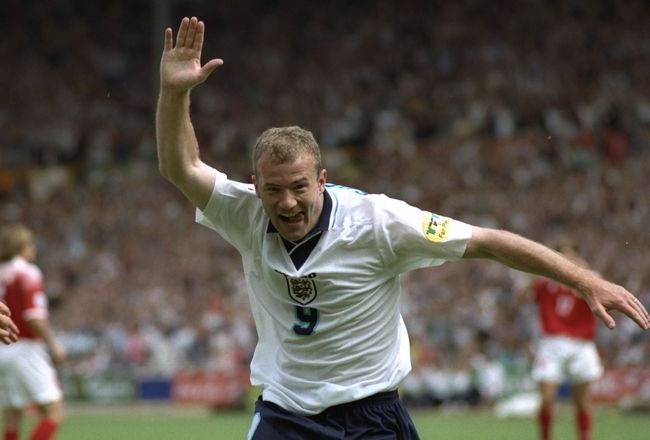 Alan Shearer was England's top scorer during Euro '96, where does he rate among his country's 50 best?
Shaun Botterill/Getty Images
It is probably no coincidence that England's one major tournament win, the 1966 World Cup, came from a team consisting of some of their best ever players.
Bobby Charlton, Bobby Moore, Gordon Banks and Alan Ball, to name but a few. The rest of the side wasn't bad either, and under the management of Alf Ramsey, it was the one time in the England national team's history that everything came together perfectly.
Unfortunately for England fans, the history of their national team prior to and since that victorious year has been one of glorious failures and abject disappointments.
While others players have never matched the success of Ramsey's "Wingless Wonders," there are several who have made their mark on international football and represented their country with distinction, if not ultimately success.
Here, then, are the 50 greatest players to have worn the famous "Three Lions" shirt.
50. Chris Waddle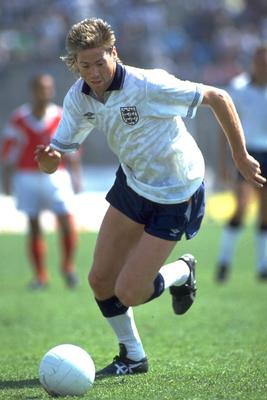 Ben Radford/Getty Images
Caps: 62 Goals: 6
Chris Waddle never quite rose to the heights for England that he did throughout his club career. Sadly, one of the defining images of him in an England shirt is his penalty miss in the semifinal against Germany at Italia '90.
Still, Waddle played his part in getting England to the final. One of the best wingers of the era, he was a concern for opposition full-backs who could not allow him the space to attack them.
Few England players of the modern era were able to run at defenders quite like Waddle, a sight to behold in his prime.
49. Mark Wright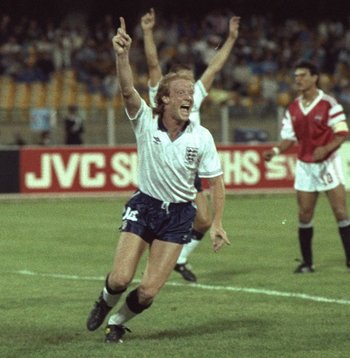 David Cannon/Getty Images
Caps: 45 Goals: 1
Mark Wright was one of England's lesser-known names prior to Italia '90, but his contributions earned him deserved plaudits.
Wright scored a vital winner in the 1-0 group game against Egypt while the decision by Bobby Robson to employ him as a sweeper would play dividends, as England began to play well after a slow start.
After the World Cup, Wright looked set to become a major part of England's plans for the future. Injuries denied him the opportunity to play at either of the next two European Championships when he might have otherwise been involved once more.
48. Ray Wilkins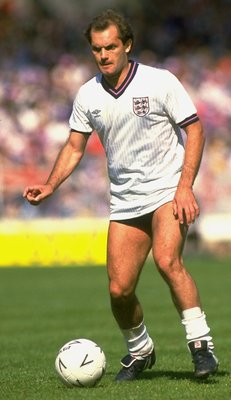 David Cannon/Getty Images
Caps: 84 Goals: 3
Ray Wilkins' international career came to an unfortunate end when he was sent off in Mexico '86 for accidentally hitting the ref after he threw the ball away in outrage at just being booked.
It was an uncharacteristic moment for Wilkins, known for his hard work and general reliability in an England shirt.
Wilkins was never far from the team, partnering the likes of Bryan Robson and Glenn Hoddle throughout the 1980s. The highlight of his time in an England shirt was a brilliant lobbed goal against Belgium in the 1980 European Championships
47. Gary Neville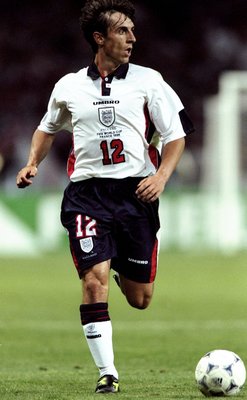 Ben Radford/Getty Images
Caps: 85
Gary Neville was the first of the talented crop of young Manchester United players in the mid-1990s to make it into the England team.
The right-back's assured displays for the club earned him an England call-up in 1995, and he played in each of England's games at Euro '96 before he was suspended for the semifinal loss to Germany.
Neville was the regular at right-back up until prior to the 2002 World Cup. He had been a model of consistency up to that point, but from there, injuries stopped him from any real run of games for England.
46. Ray Clemence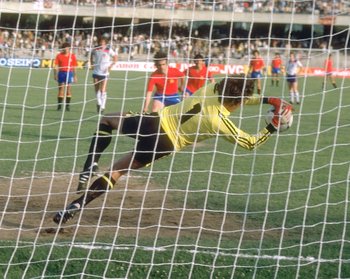 Steve Powell/Getty Images
Caps: 61
As goalkeeper of Liverpool from 1967 to 1981, Ray Clemence was among the best and most successful keepers in the world.
Unfortunately for his ambitions of being England's permanent No. 1, this came at a time when Peter Shilton was also at the top of his game.
The two battled it out for. After 12 years and a none too-shabby 61 caps, Clemence eventually lost out to Shilton in 1984. Still, he remains one of England's best ever goalkeepers.
45. Wayne Rooney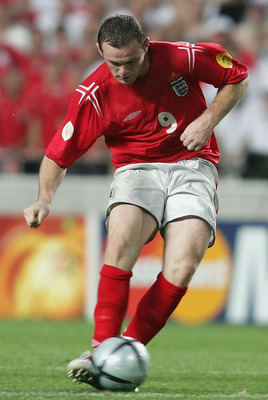 Ross Kinnaird/Getty Images
Caps: 70 Goals: 26
Wayne Rooney flattered to deceive in the World Cup in both 2006 and 2010. Injured before both, he struggled to impact games, and he will be remembered more in these tournaments for his bad temper.
It is easy to forget just how refreshing his emergence was in the build-up to and then during Euro 2004. Arguably the most exciting England player since Paul Gascoigne, he briefly lit up the tournament that year. Had he not been injured early in the quarterfinal with Portugal, he may have led England further.
With age still on his side, England fans will hope Rooney will, once more, be able to get it together at a major competition.
44. John Barnes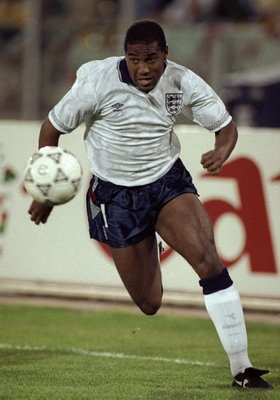 John Barnes, breaking barriers and the spirit of opposition defenders
David Cannon/Getty Images
Caps: 79 Goals: 10
For a variety of reasons, John Barnes never quite delivered consistently enough for England, but still for a good decade or so was one of the national team's biggest attacking threats.
He made the footballing world take notice with a tremendous goal in 1984 against Brazil in the Maracanã, a mazy run, bamboozling the Brazilians before he put it in the back of the net. A goal worthy of its environment.
Barnes did not figure in the 1986 World Cup until the quarterfinals, when England were 2-0 down to Argentina. Brought on after 74 minutes with the instruction to run at the Argentinians, he caused plenty of problems and crossed to set up a Gary Lineker headed goal. It proved a little too late.
At Italia '90, Barnes had some nice moments before injury stopped him from perhaps coming to full fruition that year.
43. Paul Ince
Shaun Botterill/Getty Images
Caps: 53 Goals: 2
Paul Ince was England's principal midfield ball-winner, post Italia '90. Making his debut under Graham Taylor, he did decently enough but became all the more valuable when Terry Venables took charge.
Ince was the defensive midfield rock of an attacking side at Euro '96, his work in winning the ball allowing the likes of Paul Gascoigne to be influence proceedings in the opposition half.
Under Glenn Hoddle, Ince continued to serve in a similar role and undertook more of a leadership role. He captained England in Rome in a memorably tense draw against Italy that saw them qualify for the 1998 World Cup.
42. Duncan Edwards

A tribute to the late Duncan Edwards

Caps: 18 Goals: 5
The Munich Air Tragedy robbed football of a player teammates, peers and journalists viewed as having unending potential.
Duncan Edwards was described as being the complete footballer—the man the England team would be built around for the next decade. Despite playing in a more defensive position, his talent allowed him to join in on attacks to great effect.
Edwards was quickly becoming a regular fixture in the England side and played in qualifiers for the 1958 World Cup, already showing the talent that made him so highly rated. Sadly it was a tournament he would not get to see.
41. Ashley Cole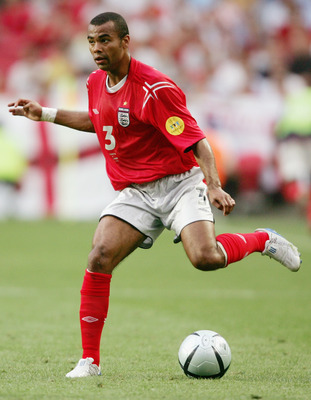 Ross Kinnaird/Getty Images
Caps: 88
For a variety of mostly off-the-field reasons, Ashley Cole has not been the most popular player with England supporters.
He has, however, been the most consistent England player of the past decade. Challenged by Wayne Bridge for the left-back position for a few years, Cole was first choice for each manager of the era and cemented the spot as Bridge's club form began to fall away.
Cole is a great athlete, capable of getting up and down the wing, while rarely leaving his flank exposed. His best experience on the international stage came at Euro 2004—his performances there earning him a spot in the squad of the tournament.
40. Steve McManaman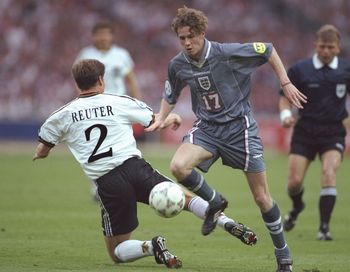 Simon Bruty/Getty Images
Caps: 37 Goals: 3
Steve McManaman's international career was somewhat fractured, but under Terry Venables and in particular at Euro '96, he showed why, on his day, he could be an absolute dazzling winger.
He and Darren Anderton both provided great width, finding crosses for the front pair of Alan Shearer and Teddy Sheringham. They were also lively threats cutting inside, with McManaman's mesmerising dribbling confusing opposition players while putting them on the back foot.
McManaman's performances earned him a spot in the team of the tournament.
39. Michael Owen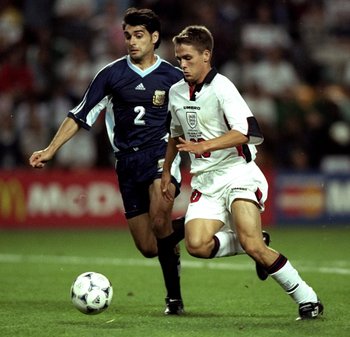 Doug Pensinger/Getty Images
Caps: 89 Goals 40
Injuries have blighted Michael Owen's career, both at club and international level. However, those first four years in his country's colours were among the best opening spells any international could hope for.
That performance, and in particular that goal against Argentina in France '98 was one of the most sensational introductions onto the world stage ever seen. Though Owen had already played in the tournament, the way he tore through the Argentinians was both shocking and brilliant.
Owen carried on from there and was one of the stars going into the 2002 World Cup. A hat-trick in the 5-1 qualifier against Germany was perhaps his best ever performance, but he carried his form into the tournament and there was a persistent threat, scoring the opener against Brazil before England eventually succumbed to defeat.
Injuries combined to damage his electric pace, but Owen, when fit, remained a great goalscorer who looked like he was on the road to breaking Bobby Charlton's scoring record. Unfortunately, at this stage, it looks as if he'll be stuck on 40.
38. Darren Anderton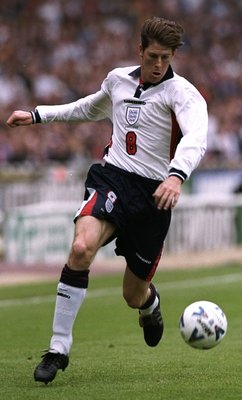 Shaun Botterill/Getty Images
Caps: 30 Goals: 7
Darren Anderton was part of an exciting duo of wingers, with Steve McManaman, that performed so well at Euro '96, alternating on either flank.
Playing under Terry Venables, the manager who signed him at Tottenham Hotspur, Anderton was given license to attack and link up with his forwards. Comfortable on the ball and a superb passer, he did just that, combining to great effect. The most memorable example being the pass he played to Paul Gascoigne for his goal against Scotland.
Anderton overcame injury problems to play well on the right side at France '98, scoring an excellent rifled effort against Colombia.
37. Teddy Sheringham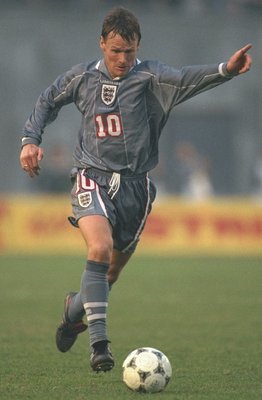 Clive Brunskill/Getty Images
Caps: 51 Goals: 11
Part of the international version of the SAS, Teddy Sheringham's partnership with Alan Shearer has a legitimate claim to being England's best ever.
The cultured Sheringham was the perfect conduit between the midfield and Shearer, capable of providing the creative spark to ignite an attack. At Euro '96, it all came together so well in the 4-1 win over Holland—the two of them scored twice each.
After the emergence of Michael Owen, the SAS partnership never quite got together again. Sheringham would remain around the England set-up for some time. Along with David Beckham, he played a pivotal role in ensuring England qualified for the 2002 World Cup with a super-sub appearance in the final qualifier versus Greece.
36. Johnny Haynes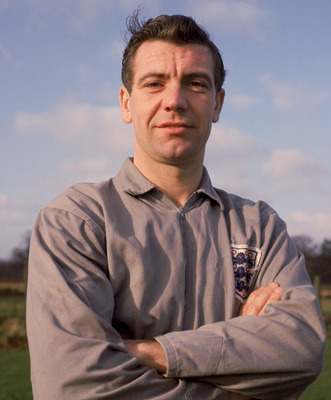 Don Morley/Getty Images
Caps: 56 Goals: 18
Players, from England teammate Jimmy Greaves to Pelé, were in awe of the tremendous passing ability of Johnny Haynes. Greaves was a direct benefactor of Haynes' vision and range, latching onto the perfect balls supplied for him to finish.
For a short while, England ran everything through Haynes, knowing what he was capable of doing the ball. While he was generally very effective, this reliance on him meant the opposition knew who they needed to mark to stop England playing.
A car accident following the 1962 World Cup effectively ended Haynes' international career. With Bobby Charlton and emerging talent like Alan Ball and Martin Peters, Alf Ramsey was in not so much need of the former pass-master who was never quite the same.
35. Des Walker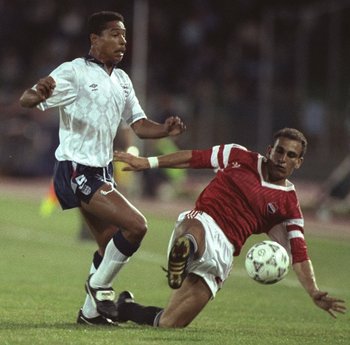 David Cannon/Getty Images
Caps: 59
A strong-tackling, reliable centre-back blessed with a very useful turn of pace, Des Walker played himself into contention for England and was an important part of the run to the semifinals at Italia '90.
His partnership with Terry Butcher, with Mark Wright as sweeper, ensured England were a tough prospect at the back. Walker's best game in the tournament coming against Holland, where he kept their tormentor from Euro '88, Marco Van Basten, quiet for the duration.
Walker remained a firm fixture in the side after Graham Taylor took over, playing well in the run-up to Euro '92. His performances began to suffer later on as he struggled to settle in Serie A.
34. David Seaman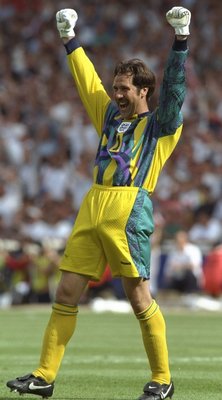 Shaun Botterill/Getty Images
Caps: 75
David Seaman's England career did not finish in the happiest of circumstances. After being caught out by a Ronaldinho free-kick in the 2002 World Cup, he then allowed an in-swinging corner to go over his head in a Euro 2004 qualifier against Macedonia.
This should not detract from the great service he gave his country in goal for over a decade. Seaman faced tough competition from Tim Flowers, Nigel Martyn and Ian Walker. While they were given the odd game, every England manager post-Robson stuck with the long-term Arsenal servant.
The highlight of his England career was Euro '96. His memorable penalty save against rivals Scotland made him a national hero, and he followed it up with another one against Spain. Seaman's overall displays got him into the team of the tournament.
33. David Beckham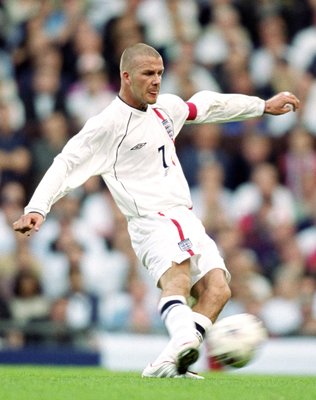 Gary M. Prior/Getty Images
Caps: 115 Goals: 17
David Beckham, post-Euro 2004, remained a guaranteed starter a lot longer than he should have. Up to that point, however, there is no denying the contribution he made to the England cause.
Despite his controversial sending off against Argentina in France '98, he had been one of the tournament's brightest young stars, contributing lively performances and one of the first of those famous free-kicks against Colombia.
Beckham fought back from criticism over his dismissal to become one of the country's most loved footballers, becoming his country's captain. His finest hour came in the 2002 World Cup qualifier against Greece. The midfielder ran himself into the ground and scored the equaliser with a brilliant free-kick.
In the tournament itself, he enjoyed a moment of redemption when he scored a penalty winner against Argentina in England's best performance of the tournament.
32. Jimmy Armfield

WPA Pool/Getty Images
Caps: 43
Jimmy Armfield was one of world football's best right backs for a time. As English football transitioned from the era of committee selection national teams to finally getting a head coach, he was a reliable and sturdy defensive performer.
After playing in the 1962 World Cup, it looked as though Armfield would keep his position going into the tournament being held in England four years later. Injury lost him his place in the side to George Cohen, and the senior player was unable to displace his younger, speedier rival.
He was still part of the squad that won the World Cup and was eventually awarded a winner's medal by FIFA after a campaign to give those who didn't play in final's their deserved recognition.
31. Peter Beardsley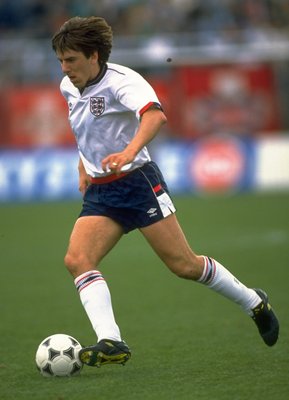 One of England's best attackers of the late 80s and early 90s, Peter Beardsley
Simon Bruty/Getty Images
Caps: 59 Goals: 9
Peter Beardsley was the ideal foil to Gary Lineker in the late 1980s and early 1990s, the two forming an effective relationship on the pitch that for its effectiveness was perhaps under-utilised overall.
Beardsley could score goals (in the 1986 World Cup he was the only Englishman to score other than Lineker) and had the ability to provide for his teammates too.
His good close-control and dribbling ability made him an elusive nuisance for opposition defenders while he could ably pick a pass capable of making a difference.
30. Ray Wilson

Paul Severn/Getty Images
Caps: 63
Ray Wilson was part of the England team prior to Alf Ramsey taking over, but as the country's best left-back, he was never likely to lose his spot under the new manager.
Cool-headed, he never lost his cool and that concentration served him well in England's defence. Wilson worked hard for his team and the game plan set out by Ramsey, vital qualities appreciated by his manager.
He was virtually flawless throughout the 1966 World Cup, his only mistake coming in the final when his weak header led to Helmut Haller's opening goal for West Germany.
29. Sol Campbell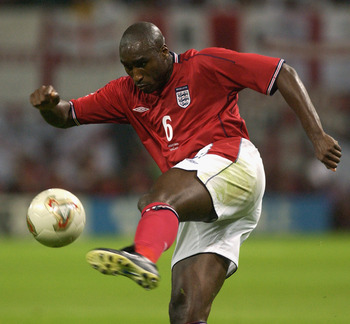 Stu Forster/Getty Images
Caps: 73 Goals: 1
Sol Campbell's career has petered out in recent years, but it was really not that long ago that he was one of the best all-round defenders in the world, a dominating presence in England's back line.
After being a squad member in Euro '96, Campbell worked his way into a starting spot and played in the World Cup in 1998. He controversially had a goal disallowed against Argentina in the second round, but fortunately, Campbell would get a chance to shine on the international stage again.
England disappointed at Euro 2000 but improved a great deal for the World Cup two years later. Campbell scored in the opening game against Sweden and formed one of the tournament's best defensive partnerships alongside Rio Ferdinand.
While Ferdinand would miss the European Championships in 2004 through suspension, Campbell remained a rock-like presence in England's defence. Alongside Ledley King and then John Terry, he was once more in superb form, England only going out on penalties.
28. Sir Tom Finney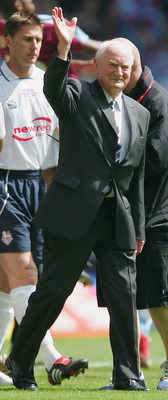 Mike Hewitt/Getty Images
Caps: 76 Goals: 30
Equally capable of setting up goals as scoring them, Sir Tom Finney was one of the finest talents of the English game in the immediate post-war years.
Finney played in all three World Cups during the 1950s and was a constant tormentor of the other Home Nation sides in the annual competition between the country.
Like Stanley Matthews, Finney was a skilful dribbler. It was not his only talent though, if a pass or a cross was a better option he had equally good distribution to make those count too.
27. Kenny Sansom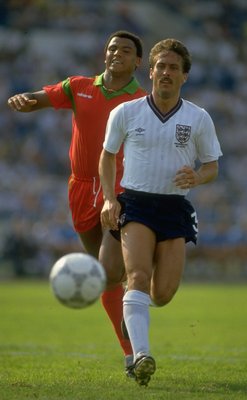 Kenny Sansom, one of England's best ever full-backs
Getty Images/Getty Images
Caps: 86 Goals: 1
Prior to Ashley Cole recently overtaking him, Kenny Sansom was England's most capped defender.
After debuting in 1979, the left-back was a near-permanent fixture in the England lineup throughout the 1980s, selected by Ron Greenwood and Bobby Robson in their respective spells in charge and playing in the 1982 and 1986 World Cups.
Sansom was a good reader of the game, strong in the tackle and quick enough to use this to his advantage. It took the passing of age and most notably the emerging Stuart Pearce to eventually usurp him.
26. David Platt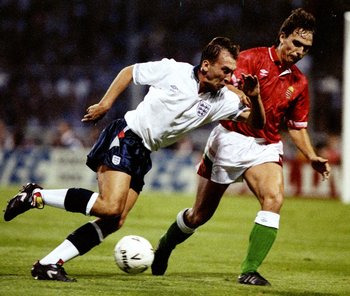 Dan Smith/Getty Images
Caps: 62 Goals: 27
David Platt's international career was built on taking chances. The midfielder was not a starter in Italia '90 but got his opportunity in the second round against Belgium, and he took it with some real class.
Paul Gascoigne floated the ball into the penalty area where he found Platt who turned and volleyed in the winner. The 24-year-old started and scored again against Cameroon in the quarterfinal.
His World Cup performances earned him a starting place from then on, becoming a regular scorer from midfield and shared the captaincy with Tony Adams throughout the early 90s. Other, young midfielders would come in to take his place but Platt was a bright presence in a dreary few years under Graham Taylor.
25. Tony Adams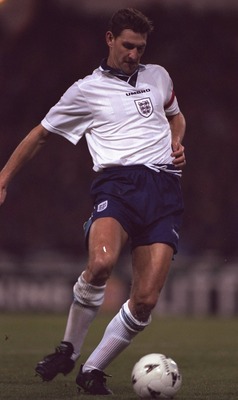 Clive Brunskill/Getty Images
Caps: 66 Goals: 5
Tony Adams never had it easy in his international career. The young defender struggled during his tournament bow at Euro '88 and then missed out on the World Cup two years later.
One of the best centre-backs of the 1990s, Adams' mettle matched his ability and he, soon enough, forced his way back into contention. At Euro '96, he was awarded the captaincy and led his country impeccably.
With Gareth Southgate and Gary Neville alongside him, Adams organised and stewarded his young teammates, while defending superbly as England shipped just two goals prior to the semifinals.
Though no longer captain at the World Cup two years later, Adams was again a reliable presence in defence.
24. Jimmy Greaves
WPA Pool/Getty Images
Caps: 57 Goals: 44
Probably the best English goalscorer of all time, Jimmy Greaves did not have luck on his side in his international career.
Greaves scored in the 1962 World Cup against Argentina and his goals per game ratio overall was superb. He didn't do too much else, but he scored goals and could do so in a variety of ways.
After starting the 1966 World Cup, he was injured before he could ever get his form quite together. Geoff Hurst came into the team, and impressed by his goalscoring and industry, Ramsey opted for him rather than return Greaves to the team.
23. Glenn Hoddle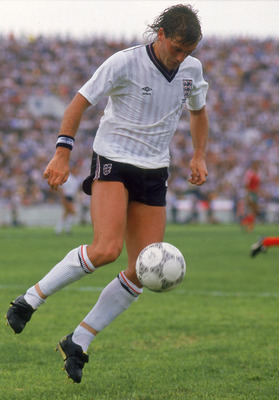 Exceedingly talented but unfulfilled international Glenn Hoddle
David Cannon/Getty Images
Caps: 53 Goals: 8
Michel Platini, a player of some ability himself, once said of Glenn Hoddle: "Had he been French, he would have won 150 caps."
It is something of a travesty that neither Ron Greenwood or Bobby Robson never fully embraced the talent of Hoddle, the most gifted and effective English passer of the era and a player capable of conjuring remarkable goals.
Still, Hoddle had his moments for England. His best spell coming during the 1986 World Cup, where he was the creative linchpin of the side, having a role in nearly every English attack of note.
22. Viv Anderson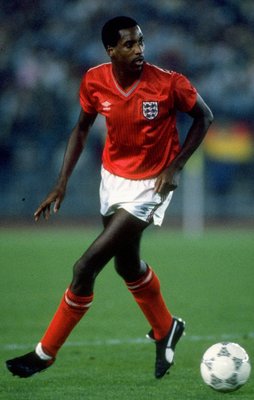 David Cannon/Getty Images
Caps: 30 Goals: 2
Considering the progress made in stadiums throughout England, it is easy to forget that just a few decades ago racism was a far more substantial problem on terraces throughout the country.
Viv Anderson made his debut in this climate against Czechoslovakia at Wembley in 1977, and in doing so became the first black player to represent his country. It was a landmark that paved the way for so many footballers who followed and was a firm riposte to those who though him not good enough.
With that said, his performances on the pitch more than did that for Anderson both at club and country. One of the best right-backs of the 1970s and 1980s, he was in the squad for the 1982 and 1986 World Cups but did not play. Many believe he was very unlucky not to earn more than 30 caps.
21. Terry Butcher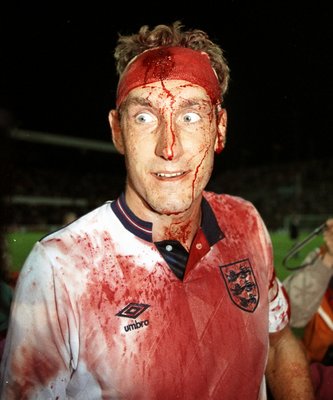 Terry Butcher, bloodied but not beaten
David Cannon/Getty Images
Caps: 77 Goals: 3
The rugged, uncompromising Terry Butcher was at the heart of the English defence for a decade. His ability at the back, coupled with his experience, made him invaluable over the years. When injury caused him to miss Euro '88, England struggled without their experienced centre-back.
Butcher was back for Italia '90 and after Bryan Robson was injured became captain for the duration of the tournament. It was his third and most successful World Cup, as England lost a heartbreaking semifinal to West Germany.
20. George Cohen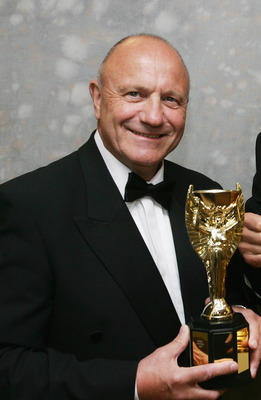 David Rogers/Getty Images
Caps: 37
Right-back in the World Cup winning side of 1966, few could beat George Cohen for pace.
Cohen might not have started in the tournament but for injuries to Jimmy Armfield, but the Fulham defender took his opportunity and never looked back.
There, his strength and speed combined to make it very difficult for any opposition wide-players looking to get beyond him. It is also allowed for him to get forward and overlap the midfield when they were positioned more centrally.
19. Nat Lofthouse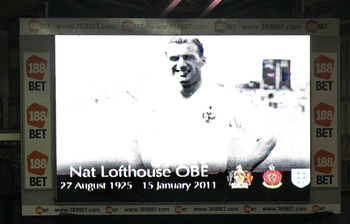 Alex Livesey/Getty Images
Caps: 33 Goals: 30
Nat Lofthouse's goals per game ratio stands as one of the best for an England international post-World War II. It could quite easily have been more had he not surprisingly been overlooked for the 1958 World Cup squad.
He was tough, powerful and a great finisher with either foot. Though Lofthouse missed out in 1958, he more than proved himself in the years previous, scoring three goals in the 1954 World Cup.
Lofthouse's most famous international moment came against Austria in 1952, in what at the time was billed as the unofficial "Championship of Europe" (prior to Hungary taking England down a notch).
Late in the second half with the game tied 2-2 and several Austrians forward for a corner, Lofthouse (having scored once already) took a ball from Tom Finney in his own half. He surged forward with the Austrians giving chase but unable to catch him. With the goalkeeper to beat and baring down fast, Lofthouse slotted it past him before they collided.
Knocked cold briefly, Lofthouse returned just before the match's end. He hereafter became known as 'The Lion of Vienna.'
18. Stuart Pearce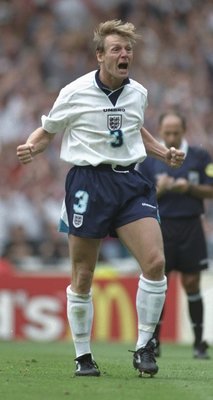 Ben Radford/Getty Images
Caps: 78 Goals: 5
Throughout his football career, Stuart Pearce made a habit of taking on challenges that came his way, both in his tackling and the difficulties he faced in getting to the top of English football.
He began his career in non-league football before he made a name for himself at Coventry and Nottingham Forest in the Football League. The tough-tackling left-back caught the eye of Bobby Robson, and he became a serious contender for the position held then by Kenny Sansom. After an injury caused Pearce to miss Euro '88 he soon made the spot his own afterwards.
Pearce played well at Italia '90. His ability on the ball having improved, and the sweeper system employed by Robson allowing him to push forward well. It ended negatively for Pearce when he missed a penalty in the semifinal against West Germany.
Some six years later, he was still first choice left-back for Euro '96. There, he gained some redemption by scoring a penalty against Spain, his celebration (see photo) uniting the nation in ecstasy with him.
17. Jack Charlton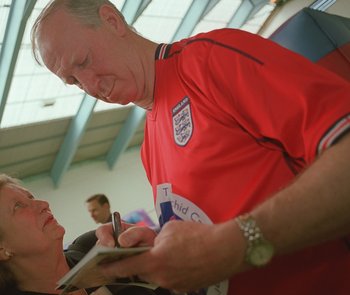 Warren Little/Getty Images
Caps: 35 Goals: 6
Jack Charlton has told the story of when he asked Alf Ramsey why he decided to call him up to the England squad. His manager replied that it wasn't just about the best players, but those who fit in best to make a team.
This example is not too demonstrate Charlton wasn't more than a role player, he was an accomplished and talented centre back. It is to demonstrate the thought process of Ramsey, and why the elder brother of the already established Bobby was so important to England.
At the 1966 World Cup, Charlton gelled perfectly with the more cultured defensive stylings of Bobby Moore. Offering a more physical presence, he was both a strong tackler and good in the air.
16. Kevin Keegan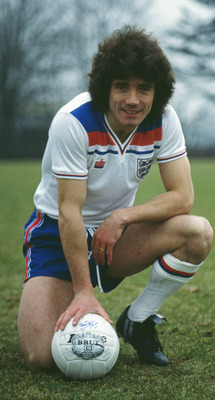 Star of the 1970s Kevin Keegan
Getty Images/Getty Images
Caps: 63 Goals: 21
Kevin Keegan was cruelly denied the sort of international career his talent deserved. England failed to qualify for the 1974 and 1978 World Cups, and injury restricted him to but one appearance in 1982.
Still, Keegan, then widely regarded as one of the best attacking players in Europe, was one of the few bright sparks in some gloomy years for the national team.
The future England manager captained his country and manager Ron Greenwood built his team around him. Had Keegan been fully fit in 1982 he may have been the x-factor England needed to progress further than they did.
15. Nobby Stiles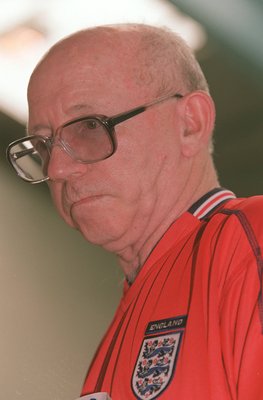 Warren Little/Getty Images
Caps: 28 Goals: 1
It is not a disservice to Nobby Stiles to say he thrived in the less attractive aspects of the game. He offered an additional line of defence for Alf Ramsey's England, tackling and closing down, fighting to restrict the opposition to as little space as possible.
It was a vital contribution in the 1966 World Cup, Stiles providing the bite that complemented the hustle of Alan Ball and the skill of Bobby Charlton in midfield.
Co-existing with Bobby Moore's calmer leadership style, Stiles was a vocal presence out on the pitch, keeping his teammates alert with not-so-subtle instructions that he expected just as much effort as he made.
In joyful contrast to this was the joyful sight of Stiles' celebratory jig on the Wembley pitch after the final, one of English football's most enduring images.
14. Billy Wright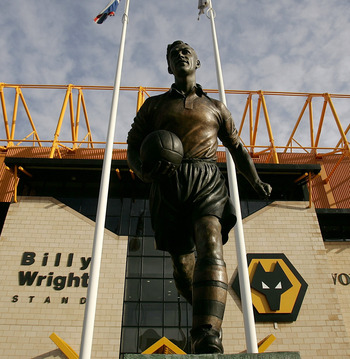 The statue of Billy Wright outside of the stand named after him at Wolves' Molineux stadium
Christopher Lee/Getty Images
Caps: 105 Goals: 3

While Stanley Matthews was the most glamorous of the post-war crop of English talent, few can claim to be as consistently reliable as Billy Wright in representing his country.
Ninety of Wright's 105 caps were as captain while he once played 70 consecutive appearances. He was a great example for some of the great English defenders that would follow, prioritising gaining possession and keeping it with simple passing to the creative players in the team.
Wright played in ever game of England's 1954 and 1958 World Cup campaigns.
13. Roger Hunt

Paul Severn/Getty Images
Caps: 34 Goals 18
Though some of his teammates might get more recognition for their feats later in the tournament, Roger Hunt played a big part in making sure England got off to the best possible start.
After a goalless draw with Uruguay in the first match of Group A, England got off to winning ways with a 2-0 win over Mexico, Hunt completing the win 15 minutes from time.
Hunt then ensured they went through top of the group with a goal either side of half time in the 2-0 win over France. He played in the remaining games of England's run, leading the line well alongside Geoff Hurst in the latter stages.
12. Bryan Robson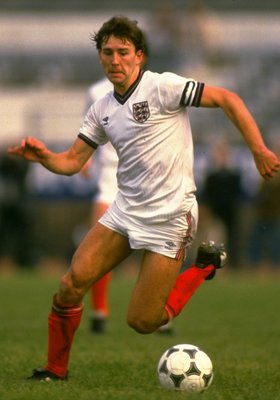 David Cannon/Getty Images
Caps: 90 Goals: 26
English football's "Captain Marvel," the bravery and commitment so characteristic and crucial to Bryan Robson's game also led to the injuries that stopped him playing even more for his country.
Even so, he still remains one of England's best ever midfielders. More than just a determined ball winner (albeit an exceptional one), Robson was also sensible and effective in his distribution, and was a genuine goal threat coming deep from midfield.
Against France in the 1982 World Cup, he scored from such a position (1-of-2), finding himself unmarked to score one of the competition's fastest ever goals.
Sadly, injuries would restrict the now captain's appearances in the competition in 1986 and 1990, but Robson's hardworking contributions when he did wear an England shirt will ensure he is never short of admirers
11. Sir Stanley Matthews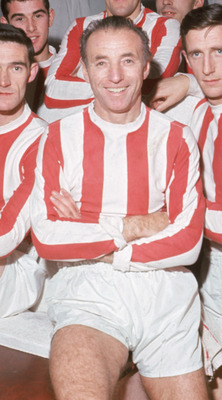 Sir Stanely Matthews, long time servant of Stoke, Blackpool and England
Don Morley/Getty Images
Caps: 54 Goals: 11
"The Wizard of the Dribble" and England's first football superstar, Sir Stanley Matthews was a testament to class and longevity.
Matthews made his debut for England in 1934 and represented his country for the last time in 1957, England's oldest ever representative aged 42.
In between those years, he wowed the world with his tremendous skill and dribbling, drawing admirers the world over with numerous star performances.
It was an era when the England team was still decided by selectors, an old-fashioned method that likely held back Matthews and his peers from enjoying the success they could have had. Matthews was part of the team that was so comprehensively destroyed for the first time on English soil by the trailblazing Hungary team of Ferenc Puskás and Nándor Hidegkuti in 1953.
Still, Matthews' impact on the history of the national team will forever be fondly remembered.
10. Peter Shilton
England's most capped player, Peter Shilton
David Cannon/Getty Images
Caps: 125
England's most capped player, Peter Shilton's career is unique in the English game having spanned three different eras.
Shilton made his debut in 1970 and quickly became the country's No. 2 goalkeeper behind Gordon Banks, taking his place a couple years later when the latter suffered an horrific eye injury in a car crash.
He would remain a regular fixture in the England squad for 20 years and would have amassed even more than his 125 caps but for the challenge posed by Ray Clemence.
The famous victim of Diego Maradona's handball in 1986, Shilton would compete in his third World Cup (after '82 and '86) in 1990. Now 40 years old, Shilton helped England to the semifinals but was unable to stop West Germany in a penalty shootout loss.
9. Martin Peters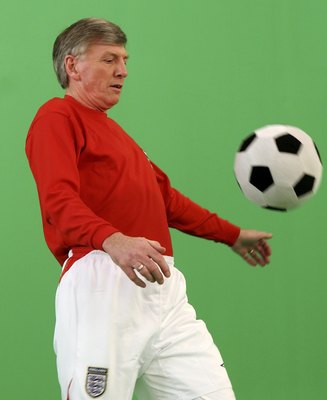 Martin Peters, one of England's heroes of '66
Claire Greenway/Getty Images
Caps: 67 Goals: 20
There can be few compliments higher for a footballer than being viewed by your manager as "10 years ahead of his time."
This was how Alf Ramsey famously described Martin Peters, a player known most for his goal in the 1966 World Cup final, but also so much more.
Often referred to as "The Ghost," Peters' timing and judgement made him a constant danger to opposition defences, popping up into critical positions when least expected. The best example of which being that final goal against West Germany.
He was an adept finisher and a talented, understated passer too, a vital component in Ramsey's sides during that era. Like Bobby Charlton, Peters was substituted while England held the lead over West Germany in the 1970 World Cup quarterfinal. Peters later said Ramsey admitted the decision to sub him was a mistake as the Germans went onto win.
Martin Peters was just that crucial.
8. Alan Shearer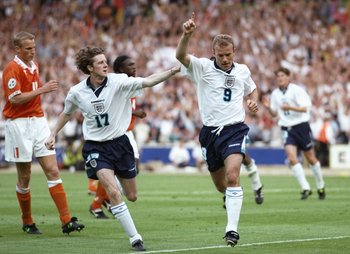 Alan Shearer was in superb form at Euro '96, scoring twice in a memorable 4-1 win over Holland
Shaun Botterill/Getty Images
Caps: 63 Goals: 30
Alan Shearer would go onto captain his country and play in a World Cup, but his finest moments in an England shirt came at Euro '96 when he finished the competition's top scorer.
Prolific in the Premier League, he had been suffering from a goal drought at international level prior to the tournament. However Shearer started as he meant to go on, scoring in the opening match in a 1-1 draw with Switzerland before following that up with another against Scotland.
With Teddy Sheringham alongside him, Shearer was the focal point of a balanced and creative attack. This was most memorably demonstrated in the 4-1 thrashing of Holland, where both scored twice each.
Shearer scored in the penalty shootout win versus Spain and proved he could come good when needed with a goal against Germany in the semifinal. He scored another in the shootout but England went out once more at the hands of the Germans.
It was a sad ending to such a joyful summer for English football fans, but Shearer's goals and characteristic determination will be forever remembered for their role in England's best European Championships performance.
7. Alan Ball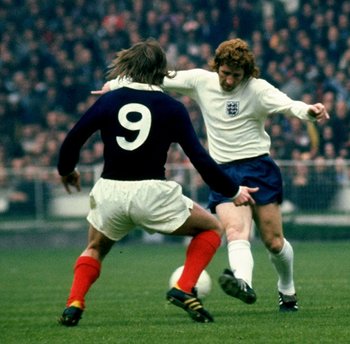 Alan Ball in action versus Scotland
Getty Images/Getty Images
Caps: 72 Goals: 8
The youngest of England's World Cup winning squad, Alan Ball was a vital component of manager Alf Ramsey's gameplan for the tournament in 1966.
The 21-year-old Ball's energy and work ethic, coupled with his versatility, meant he was able to deliver the sort of application Ramsey's midfield required. He was both a valuable defensive presence and could contribute when England attacked.
Ball went into the 1966 World Cup relatively inexperienced in comparison with the likes of Moore and Charlton, but he proved himself ready for the biggest stage.
As others grew tired, Ball was a bundle of energy throughout the final that went to extra-time. It was his greatest performance in an England shirt, it including the assist for the third goal, Geoff Hurst's controversial strike.
Ball would later go onto captain England.
6. Sir Geoff Hurst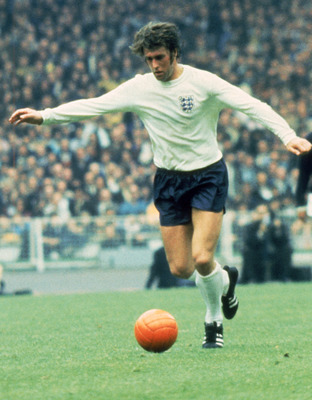 England's World Cup hat-trick hero Sir Geoff Hurst
Getty Images/Getty Images
Caps: 49 Goals: 24
There were players who scored more goals for England, but none had quite as much value as those scored by Sir Geoff Hurst in 1966.
Hurst did not start up front in the World Cup that year, but after Jimmy Greaves was injured he joined Roger Hunt up front and took his chance with some aplomb. In his first game, a volatile affair with Argentina, Hurst met Martin Peter's cross with an elegantly taken glancing header in what was the only goal. In the semifinal, he set up one of Bobby Charlton's against Portugal.
It would be in the final where he really cemented his place in English football folklore with it's most famous hat-trick. He cancelled out West Germany's opener and then, controversially, scored the goal that put England 3-2 up. Hurst completed his trio and the win with a goal smashed into the Wembley net as England fans rushed onto the pitch in premature celebration!
With that goal, Hurst's life would never be quite the same.
5. Gary Lineker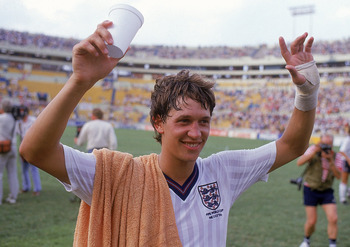 Gary Lineker was England's top goalscorer during the 1986 World Cup
Getty Images/Getty Images
Caps: 80 Goals: 48
England's second-leading scorer, Gary Lineker's goals were a key part of his country's best World Cup performances in recent years.
Awarded the Golden Boot for his six goals at Mexico '86, Lineker's hat-trick against Poland fired his country into the second round where he scored twice in a 3-0 defeat of Paraguay.His sixth came late-on in their quarterfinal tie with Argentina as England fought an ultimately futile comeback.
At Italia '90 Lineker once again led the line for his country. His two penalties proved ensured England fought back from a 2-1 deficit against Cameroon before he took the semifinal with West Germany to extra-time after his 80th minute strike. Lineker netted in the penalty shoot-out but England lost out.
4. Paul Gascoigne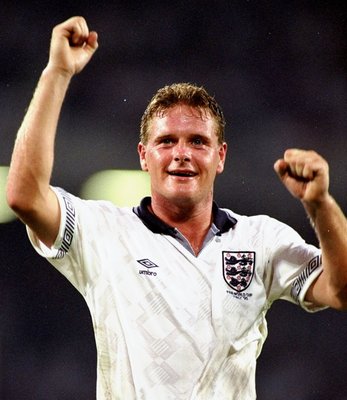 Paul Gascoigne was one of the stars of Italia '90
David Cannon/Getty Images
Caps: 57 Goals: 10
Outside of the "Boys of 1966," English football has not produced as gifted a footballer as Paul Gascoigne. At least not one who inspired as much success.
'Gazza' was not a shoe-in for the World Cup squad prior to Italia' 90. Manager Bobby Robson had reservations over how he would handle the pressures of a big tournament. The midfielder quickly dispelled his boss' doubts with a brilliant display in a warm-up game against Czechoslovakia, scoring once and having a hand in the other three goals in a 4-2 win.
Gascoigne was one of the stars of Italia '90. His skill and dribbling ability with the ball won the hearts of the fans, his vision and numerous assists were invaluable as England reached the semifinal.
It would end in tears for Gascoigne, a yellow card against West Germany meant he would miss the final should England have got there (they eventually lost on penalties). Despite the unfortunate ending, he had still inspired England to their best World Cup performance since 1966.
Though not quite the force he was in 1990, at Euro '96 Gazza once more played a big role in England's memorable run to the semifinals. He lit up Wembley with a brilliant goal against Scotland and was an integral part of the best England squad of the last 20 years. Gascoigne so nearly grabbed a golden-goal winner in the semis against Germany, but it was to end in penalty heartbreak once more.
3. Gordon Banks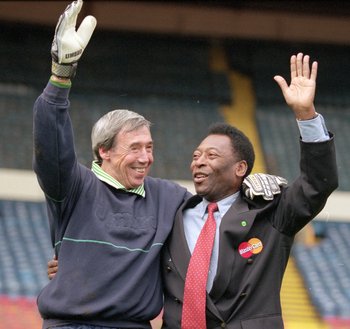 Gordon Banks with Pele, the man he saved so memorably from in the 1970 World Cup
Clive Mason/Getty Images
Caps: 73
With the greatest respect to his replacement Peter Bonetti, it is the widely held view that had Gordon Banks not fallen ill, England would not have lost to West Germany in their 1970 World Cup quarter-final.
Banks had been in superb form in the tournament, producing what many regard as the greatest save of all time when he leapt to his right and somehow hooked Pele's header over the bar.
England's greatest goalkeeper, he had been just as pivotal a presence four years earlier in helping his country to their only World Cup success.
2. Bobby Moore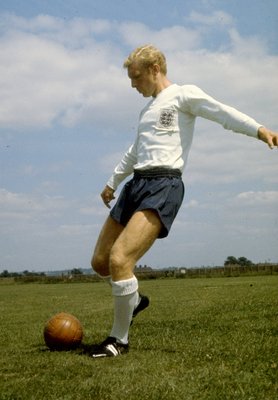 England's World Cup winning captain, the late Bobby Moore
Getty Images/Getty Images
Caps: 108 (90 as captain) Goals: 2

The late, great Bobby Moore narrowly misses out on the top spot, but he could just as easily be number one as the man who gets the spot.
Captain of the 1966 World Cup winning team, Moore's introduction to the England defence was one of the key factors in the process that led to this triumph.
One of football's most elegant ever defenders, he was equally comfortable on the ball as he was winning it in the first place. His reading of the game was exquisite.
This calm, this coolness translated to his leadership both on and off the pitch. In 1966 it was in his exemplary marshaling of a defence that did not concede a goal until the tournament's semi-final.
In 1970 it was tested more severely when prior to the World Cup he was wrongly accused of stealing jewellery. Though undoubtedly a frustrating situation, Moore kept his head and was ready for England's first game, barely missing a step. Days later he would engage with Pele and Brazil in one World Cup football's greatest defender versus forward battles.
1. Sir Bobby Charlton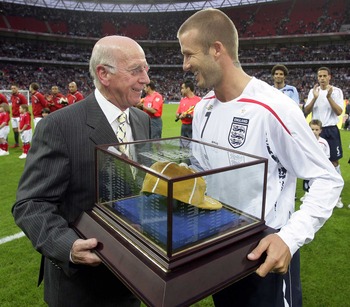 Sir Bobby Charlton is now after a long career the elder statesman of English football
Pool/Getty Images
Caps: 106 Goals: 49

In a recent BBC documentary on the life and career of Sir Bobby Charlton, Manchester United manager Sir Alex Ferguson declared him the greatest player of all time.
Accepting Ferguson is a little biased, it certainly cannot be disputed there is some merit to his argument. In terms of international careers, perhaps only Pele can stake a claim for representing his country with as much distinction, class and success as Charlton.
Battling back from the Munich Air Disaster, Charlton made a goalscoring international debut in a 4-0 win against Scotland in April 1958. An unused member of England's World Cup squad that year, it was not long before he was regularly starting. In 1962 he played in each of England's World Cup games.
As the last remnants of the old guard moved on post Chile '62, Charlton became an even more important part of the side new manager Alf Ramsey was fashioning together.
At the 1966 World Cup he scored in the 2-0 group win over Mexico and was in inspired form against Eusebio's Portugal in the semi-final, Charlton's memorable double knocking out one of the tournament's most fancied teams.
In the final Charlton took on the duty of marking West Germany's star man Franz Beckenbauer, stifling the German's most creative force. As if to underline the importance of Charlton's presence, four years later at Mexico '70, it was his substitution that perhaps aided the German fight-back that ended England's World Cup defence and Charlton's international career.
Charlton was blessed with superb shooting ability and tremendous creative skill, he was a player of great determination and responsibility. He is England's leading scorer and it's greatest player.
Keep Reading

England (National Football): Like this team?