2011 French Open Preview Starts in Rome: Roger Federer, Rafael Nadal in Action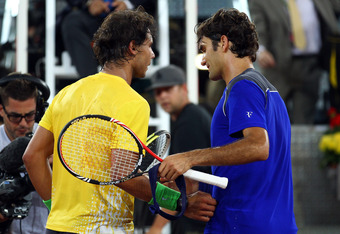 Julian Finney/Getty Images
As we head into the 2011 French Open, the men's battle for the No. 1 spot in the ATP rankings rages on in Rome. No one except Swiss Roger Federer and Majorcan Rafael Nadal has owned the No. 1 ranking since Federer seized it from Andy Roddick in February of 2004––over seven years ago.

Now the wily Serb Novak Djokovic is nipping at the clay master's heels, making Nadal uneasy as the top seeds head into action today. Currently leading Djokovic by 1,805 points, Djokovic could dethrone Nadal by winning in Rome IF Nadal fails to advance to the semifinals.

Today's major action pits the No. 1 seed Nadal against Paolo Lorenzi of Italy. The No. 2 seed Novak Djokovic must face qualifier Lukasz Kubot of Poland.

The toughest of the match-ups comes as the No. 3 seed Roger Federer must do battle with France's own Jo-Wilfried Tsonga. No picnic for the Swiss today.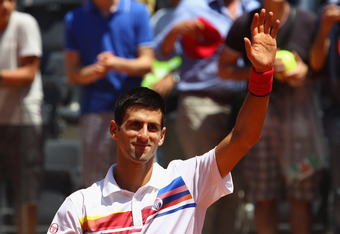 Rafael Nadal begins action on Court Centrale on Thursday as he faces countryman Feliciano Lopez at noon, Rome time. The two have met nine times in the past with Nadal winning seven.
Lopez upset Nadal on grass in 2010 at the Queen's Club tournament in London––the traditional warm-up event for Wimbledon. The Spaniard also defeated Nadal way back in 2003 in Basel on carpet.
Lopez came within an eyelash of upsetting Roger Federer during the 2011 Madrid quarterfinals last week. Will this be the time he finally holds on long enough to upset Nadal in the third round in Rome?
After an intervening ladies match, Roger Federer will face his second Frenchman in two days, Richard Gasquet on Court Centrale. Gasquet has managed to defeat Federer once in nine tries––that on clay In Monte Carlo in 2005.
Federer got by Jo-Wilfried Tsonga in a match in Rome concluded Wednesday evening. The Swiss will have to turn around quickly to be ready for another shot-maker with great potential.
Federer will be hoping to get through these early round matches without expending too much energy.
Novak Djokovic is scheduled to play the evening match against Swiss Stanislas Wawrinka. After breezing through his opener on Wednesday, Djokovic will find Wawrinka a bit more of a challenge.
The two have met ten times with Djokovic winning the last seven times. Wawrinka last defeated Djokovic in 2006 on clay during the Umag finals in Croatia and again in the round of 16 in Vienna on hard courts.
Wawrinka has been injured of late but is trying to return to form on the clay, his favorite surface. Djokovic will be looking to extend his match winning streak to 34 by defeating the Swiss.
Also in action tomorrow will be the No. 4 seed Scot Andy Murray who will face hometown favorite Italian Potito Starace on Court Pietrangeli.
Following that match the No. 5 seed Robin Soderling will face Spaniard Nicolas Almagro.
Thursday promises to be jam-packed with third round action on the men's side of the draw at the Italian Open in Rome.
This article is
What is the duplicate article?
Why is this article offensive?
Where is this article plagiarized from?
Why is this article poorly edited?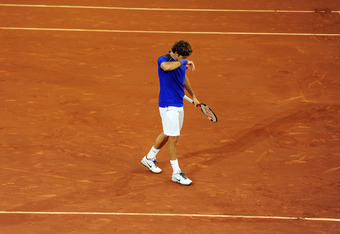 Earlier this year before the Italian Open, Roger Federer met the athletic Frenchman Jo-Wilfried Tsonga in Doha during the semifinals.
Federer won that contest in straight sets 6-3, 7-6. The always entertaining Tsonga can produce some breath-taking tennis but his lack of consistency usually dooms him against the top players.
Tonight's contest in Rome followed a similar pattern. The day's most anticipated match had some great moments but at no time did you sense Federer was under any pressure, although closing out the match seemed to produce a few tense moments for the Swiss.
Federer ended the match against Tsonga 6-4, 6-2 in an hour and a half. Managing to save seven of the seven break points he faced, Federer came up with clutch serves when necessary.
Federer broke Tsonga three times during the match.
While all the media focus seems to be on top seeds Rafael Nadal and Novak Djokovic , Federer feels confidant that he is in the running to capture the title in Rome––which has always eluded him in the past.
In round three Federer will face another Frenchman Richard Gasquet. The two have met nine times previously with Federer winning eight. The only time Federer lost to the Frenchman was in 2005 on clay in Monte Carlo during the quarterfinals. That, of course, was six years ago.
Having lost in this round a year ago, Federer must feel good to get by a very tricky opponent in his opening match tonight.
With the French Open looming on the horizon, Federer looks mighty comfortable on the red dirt.
This article is
What is the duplicate article?
Why is this article offensive?
Where is this article plagiarized from?
Why is this article poorly edited?
For a while it seemed we were witnessing the impossible as the feisty Italian, Paolo Lorenzi, took the opening set tie break from the tennis master himself––World No. 1 Rafael Nadal.
To continue to add to Nadal's consternation, Lorenzi hung with Nadal until 4-4 in the second set. Finally, giving one last push, Nadal broke the Italian's serve then held on to win the second set 6-4.
Lorenzi, ranked 148 in the world, should not have presented Nadal with so many problems. True, the Italian crowd was behind him; but, Nadal owns the clay. Not many have beaten the Majorcan on this surface.
Still, the week before Nadal lost to Novak Djokovic in the finals at Madrid. His confidence must be teetering as he sees the Serb creeping up from behind.
In the end, the Italian Lorenzi ran out of gas as Nadal established his dominance to win the final set 6-0 to send Lorenzi home––but with some very poignant memories of his match against the World No. 1.
Nadal's opponent in round three will be either his countryman Feliciano Lopez or German Phillipp Kohlschreiber.
You have to suspect that Nadal continues to feel the immense pressure of trying to hang onto his No. 1 ranking.
This article is
What is the duplicate article?
Why is this article offensive?
Where is this article plagiarized from?
Why is this article poorly edited?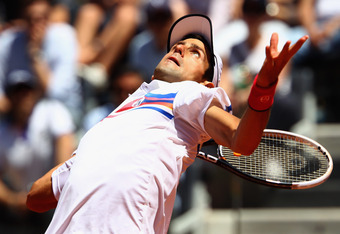 Novak Djokovic made short work of his opponent, Polish qualifier Lukasz Kubot, in the Serb's opening salvo at the Italian Open earlier today. He dispatched Kubot 6-0, 6-3 in just a little over an hour.
Djokovic was totally dominant never allowing his opponent into the match. The Serb dropped only nine points in total on his own serve in the first set and took the fight out of Kubot who went away quietly. Ranked world No. 141 this was the Pole's second appearance in the main draw at the Italian Open in Rome.
Next up for Djokovic in round three is Swiss Stanislas Wawrinka who should present the Serb with a few more problems than those he encountered today on Court Centrale.
Djokovic, who has not lost a match in 2011, states emphatically that his goal is to become the No. 1 player in the world. In order to accomplish that, he must win in Rome and Nadal must lose before making the Italian Open semifinals.
This article is
What is the duplicate article?
Why is this article offensive?
Where is this article plagiarized from?
Why is this article poorly edited?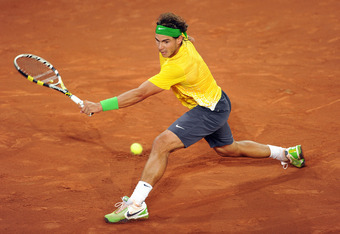 Novak Djokovic is up first on Court Centrale starting at twelve noon in Rome which is 6 am on the East Coast and way too early on the West Coast. You can expect Rafael Nadal's match to be well underway two hours later. Roger Federer's match is not scheduled to begin until 7:30 p.m. in Rome which should be about 1:30 Eastern daylight savings time.

Djokovic's opponent Lukasz Kubot of Poland is currently ranked 141 in the world. His ranking has been as high as 43 just last year. Kubot likes the slower surfaces, especially the clay and he has done better in doubles than in his singles career. Djokovic will make short work of the man from Poland.

Likewise, Nadal should have little difficulty with Italian Paolo Lorenzi of who qualified to make it into the field. Currently ranked No. 148 in the world, the Italian should not present many problems to Nadal who may still be reeling after his defeat in the final of Madrid.

Currently ranked No. 18, Jo-Wilfried Tsonga is whole different ball-game for the No. 3 seed Roger Federer who must be cursing his rotten luck in the draw. The two have met 4 times, with Federer winning three of them. They have, however, never met on clay. Tsonga looked mighty impressive in his first round win over Cypriot Marcus Baghdatis.
This article is
What is the duplicate article?
Why is this article offensive?
Where is this article plagiarized from?
Why is this article poorly edited?