WWE: What Bizarre Behavior Is the Ultimate Warrior Up to Now?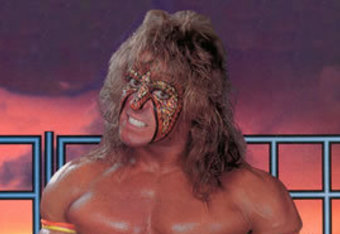 WWE Has Never Seen Anyone Quite Like the Ultimate Warrior, But What Is He Up To Now?
If you're old enough, you remember the Ultimate Warrior.
This was a guy who was quite possibly one of the least polished people ever to step foot in the WWE and reach the type of fame that he did.
We're talking about a guy who had no in-ring talent, yet had a great look and impressive strength, but once he got on the microphone, he started rambling about nonsensical drivel that would make your head spin.
We all know that he had a famous falling out with the company and went a little off the deep end since then, changing his last name to Warrior and going on very political rants in the public sphere. But now, he's getting involved in music.
Yep, music.
Per Rajah.com:
Former Guns N' Roses member Steven Adler is scheduled to hold a press conference next Tuesday where he will announce that his affiliation with former WWE Champion Ultimate Warrior regarding a new project. He will also announce details on a 'big television show and major record deal' at the conference.
Um, what?
I don't know what's more bizarre, the fact that the Ultimate Warrior is getting involved with a musician, or that someone with actual artistic integrity would align themselves with someone as out there as the Warrior.
I can't wait to hear about this project. It's probably going to be up there with Randy Savage's rap album in the pantheon of bad decisions but former wrestling stars. If it's anything like his promos during his career, we're in for a wild, wild ride.
MUST READ: Alberto Del Rio and the 20 Most Hated WWE Wrestlers of All Time
The only thing that makes sense is that someone tied those armbands a little too tight and in the ensuing haze, he decided to get into the music business.
Most recent updates:
This article is
What is the duplicate article?
Why is this article offensive?
Where is this article plagiarized from?
Why is this article poorly edited?