WWE: Will We Ever See MVP in a WWE Ring Again?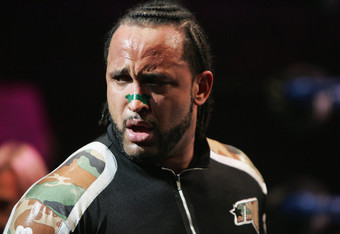 WWE Hasn't Seen MVP In Some Time, But Will He Ever Return to the Biggest Company in the World?
It's been awhile, but some of us haven't forgotten MVP.
This is a guy who had a very solid run in the company, winning a couple of titles before deciding that he wanted to move on to greener pastures and is now wrestling in Japan. Sometimes we forget about these stars, only to have them pop up in our consciousness.
When they do, we naturally want to know if we'll ever see them on WWE television, and MVP recently answered that question.
Per Rajah.com:
"I want to make this point first because it's very important…. I had about a year left on my deal and I asked the Vice President of Talent Relations to release me from my contract because I wanted to go wrestle in Japan.

"I left on good terms, the door is open for me to return if I should choose to. It's kinda like the WWE is that ex-girlfriend that you kinda grew apart from… we just kinda grew apart. I'm happy now, man, I'm happy.

"They honored my request, there's no animosity between us. Vince's view for his company is more of a Disney-type entertainment company and I always wanted to be a professional wrestler, and I love the fact that I'm in Japan wrestling professionally, and it's not a bad word.

"The door is open as they say. People ask me all the time on Twitter…..'Will you return to the WWE? When are you coming back?'…..never say never, but right now man, I'm happier than I've been in a very, very long time."
He may not say never, but I'll do it for him. We will never see MVP in a WWE ring again.
We're talking about a company that just banned wrestling as a word to be used...when the word is in their name. Vince McMahon has this grand plan for the future of the company, and none of it has anything to do with being a wrestling organization.
McMahon is focused on doing things like making movies and getting his stars into the public light, not dedicating himself to the industry and playing to the roots of the WWE and its fans.
It's a move that I think will eventually fail, forcing the company back to the mainstream fans, but as MVP said, he wants to be a wrestler.
MUST READ: Alberto Del Rio and the 20 Most Hated WWE Wrestlers of All Time
That's not what the WWE is about at this point, and why would he ever come back when he's doing exactly what he wants overseas?
It's a shame, because he's a hard worker and really got over with the crowd during his first run and the WWE could really use him at a time when the company is losing some of it's top draws to retirement and contract issues cloud the futures of others.
Most recent updates:
This article is
What is the duplicate article?
Why is this article offensive?
Where is this article plagiarized from?
Why is this article poorly edited?