NFL Lockout: The Miami Dolphins Cut Salaries for Front Office Employees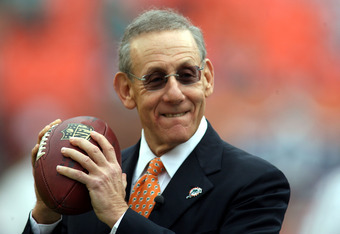 Citing The Lockout, Dolphins Employees Paychecks To Shrink
In a move that will be popular with no one, the Miami Dolphins told their front office employees on Tuesday their checks will be a little lighter, effective immediately.
There was no word on contracted employees, but all front office employees will see at least 10 percent cut from their paychecks.
Any member of the team making more than $75,000 will face a 20 percent pay cut. Those making below $75,000 face a 15 percent pay cut and anyone below the $50,000 will be hit with a 10 percent pay cut.

The employees were told their salaries would be reinstated to their previous levels after the lockout is lifted and players return to work, sources said.
This is one of the worst things the Dolphins could have done because there is no way the Dolphins can be losing that much money yet since none of the players have received a paycheck since the end of the season.
The article states season ticket sales are down and that is one of the factors, but the Dolphins now are punishing the wrong people and creating more "greedy owner" fodder for the players and media to exploit.
What is worse is Dolphins fans can expect a lot of turnover in that front office over the next year because nobody is going to want to continue to work for this franchise. This will have a trickle down affect on how the team performs in the next year or two.
The Dolphins front office has made a bunch of puzzling moves this past year, and this looks to be an organization headed for an extended period of losing because of short-sighted moves made by a clueless owner.
Most recent updates:
This article is
What is the duplicate article?
Why is this article offensive?
Where is this article plagiarized from?
Why is this article poorly edited?