Chad Ochocinco: Cincinnati Bengals Receiver Wants To Ride Bulls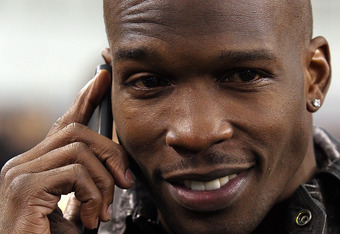 Michael Heiman/Getty Images
You can't help but realize that something is horribly wrong with the NFL when instead of receiving the latest news coming out of OTAs, we are enlightened with the news that Bengals wide receiver Chad Ochocinco intends to try his luck in yet another "sport." He's conquered dancing and soccer, so naturally the next step is...bull riding.
Before I continue, let's all take a moment to pray for the speedy resolution of league/player issues so we don't have to hear about the ridiculousness that is this story again for a long time to come.
Unsurprisingly, the latest development in the Ochocinco offseason saga started on Twitter, with Ochocinco's usual bravado and his very special brand of trash-talk aimed at Pro Bull Riding star Valdiron de Oliveira. Following Ochocinco's calls for a showdown between himself and Oliveira, Sean Gleason, the Chief Operating Officer of Pro Bull Riding, reached out to No. 85 and his agent Drew Rosenhaus with a challenge.
"PBR isn't soccer! Sign the waiver and post a big enough bond and we'll put you on an exhibition bull," Gleason wrote, to which Ochocinco provided a response that only he can:
"The real question is not how long I can last on the bull but how long the bull can last with me riding him or her #pause kind sir." - Ochocinco
So what's the incentive for The Ocho (aside from giving him an ego boost)? Well, Pro Bull Riding is offering up $10,000 to the NFL star to simply get on the bull, with the added bonus that if Ochocinco can stay on the bull for the necessary eight seconds, he will not only be able to name his noble stead whatever he may choose, but the nice people at Ford will hand Ocho the keys to an F-150.

Regardless of the incentive, Ochocinco's redeeming quality is that underneath the act, he's actually not a bad guy, here having pledged to give the truck to a Twitter follower. What he does with the money remains to be seen, but Ocho has proved to be very charitable in the past, most notably in his racing of a horse and donating the money to Feed the Children.
Gleason says Ochocinco is "a gifted athlete, but bull riding is a much different sport and climbing on the back of a bull in the chutes takes a little more than Twitter confidence, let alone calling for the gate (to open)."
The Lucas Oil Invitational takes place this weekend in the Atlanta area, and the PBR has promised to rename the bull No. 58 No Show Cinco if the Bengals star does not appear.
So what does this mean in terms of Ochocinco the football player? Well, it does nothing to deter accusations of his having little desire to play the game of football, with more concern for his celebrity life than his football career, and if you're a Bengals fan you better hope for free agency to come soon so the Bengals can trade The Ocho...before he ends up having his legs gored off by a bull.
Mr.Goodell, you see what happens when there's no football?! Make it stop!!
This article is
What is the duplicate article?
Why is this article offensive?
Where is this article plagiarized from?
Why is this article poorly edited?

Cincinnati Bengals: Like this team?