Minnesota Vikings Stadium: The Fight over Funding Continues in Minneapolis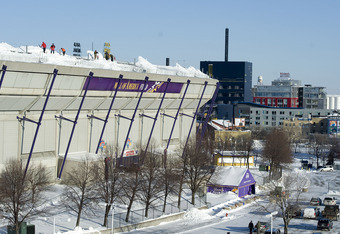 Two Municipalities Fighting Over New Stadium Site
The Metrodome is just one of the last of the "old" domes, built to be economical, it turned out to have a short lifespan and be more trouble than it is worth.
The problem now is funding the construction of a new stadium, expected to run in the hundreds of millions of dollars. The current argument, partially being waged in courtrooms, is the NFL is a multi billion dollar business and the owners should build their own stadiums.
The counter argument from owners always has been the stadiums are too expensive to be built entirely with private money and that they serve a public function which brings in a lot of tax dollars and tax payers should share the burden.
The owners are not wrong about the public aspect of things, but the money issue is unavoidable. The owners should be paying for the construction of their own stadiums.
The plan, in part, from The Minneapolis Star-Tribune:
The plan includes a bevy of new or expanded taxes: admission taxes on stadium events, higher street parking fees on game days and extension of a downtown hotel, liquor and restaurant tax citywide. It also would institute a 0.15 percent sales tax, similar to one that Hennepin County imposed to help build Target Field.

The proposal, introduced by Mayor R.T. Rybak at a State Capitol news conference, would have the Vikings paying 45 percent -- $400 million -- of an $895 million roofed stadium on the Dome site.

The team reacted coolly.
The team can react coolly, but the fact is, $400 million in contribution is chump change in the overall scheme of things to the Vikings, and everyone knows it. With the profits the NFL brings in year after year, the Vikings can easily finance this and be out of debt in a relatively short amount of time.
MUST READ: 2012 NFL Mock Draft, An Early Look At Team Needs
It is understandable for the Vikings to try and get out of paying as much as they can, but once you start accepting tax payer monies, you have to be a little more civic-minded.
This is different from the labor dispute, which is an argument over how much money players get, because tax payer money does not fund player salaries except in the most abstract, forced manner possible by people trying to be argumentative.
This situation is very fluid, but I expect the Vikings to remain in Minnesota when the dust settles and the checks clear.
Most recent updates:
This article is
What is the duplicate article?
Why is this article offensive?
Where is this article plagiarized from?
Why is this article poorly edited?