NFL Lockout: The NHL Files Brief in Support of the NFL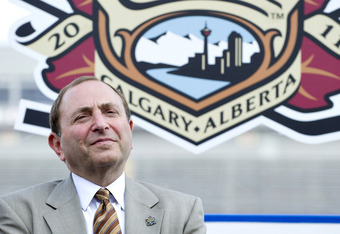 The NHL Had A Season Wiped Out By A Lockout
The NFL and the trade association formerly known as the NFLPA are busy trying to ruin the sport in court, so the NHL, a sport who has had a season wiped out because of a labor dispute, filed a brief in support of the NFL's cause.
The NFL is appealing the decision to lift the lockout with the Eighth Circuit, saying the league will suffer irreparable harm if the lockout is permanently lifted. The players are arguing a continuation of the lockout likewise will harm them.
The NHL is focusing on principles of federal law that, from the naturally skewed perspective of a sports league, prevent a union when faced with a lockout from shutting down the union and filing an antitrust lawsuit.
Here is where I disagree with Mike Florio. The "naturally skewed" perspective is part of having an argument. The players have their own "naturally skewed" perspective.
The NHL believes if the courts keep ruling against the NFL it not only will destroy the business model that allowed it to thrive in recent decades, but destroy the other major sports as well.
MUST READ: 2012 NFL Mock Draft, An Early Look At Team Needs
The NHL is absolutely right about this. I have always believed professional sports deserve their antitrust exemptions, and not because of any capitalist-type thinking but because of the business model they run.
It may be a bunch of individual teams run by different owners, but it is one sport. Trying to apply antitrust laws to a sport is self-defeating and none of these sports would have thrived like they have if they were held to the antitrust laws.
It would be chaos followed by collapse. In order for a sport to survive as a business, it has to operate and be treated as one entity, not 32 separate ones, as could be the case with football.
If football fans want football to continue the way it has, they better pray the players lose, or it is all over.
Most recent updates:
This article is
What is the duplicate article?
Why is this article offensive?
Where is this article plagiarized from?
Why is this article poorly edited?