Cleveland Indians: Is Fausto Carmona's 2008 Injury to Blame for His Struggles?
July 12, 2011
Jared Wickerham/Getty Images
Who would have thought at this time four years ago, Cleveland Indians fans would be calling for Tribe ownership to not only oust starting pitcher Fausto Carmona from the rotation, but in some cases, to simply cut him from the team?
We're talking about a guy who absolutely stunned the opposition when he burst onto the scene as a starter in 2007, finishing the season second in the American League in both wins (19) and earned run average (3.06).
What happened to the Carmona we witnessed during that magical 2007 season, from his success in the regular season, to his dominance in the postseason, to single-handedly taking on and defeating both the midges and the New York Yankees in Game 2 of the 2007 American League Divisional Series?
The real question now becomes whether we will ever see that same Carmona straddle the pitching rubber ever again, and if not, has the final chapter been written the 27-year-old's big league career?
Nowadays, many Tribe fans have become adapt to the unknown that comes nearly every time the right-hander is slated to start a game. All we as fans can do is simply shake our heads, wondering if and when Indians ownership will finally move on and transition to life after Carmona. For Carmona and Indians fans alike, no words can describe the season the Tribe's one time named ace is having in 2011.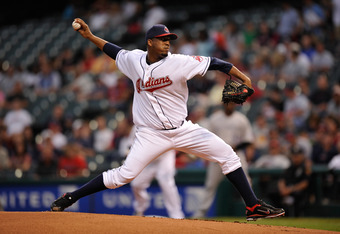 Jamie Sabau/Getty Images
That part you know.
But just how bad has it been for the Tribe and Carmona? Sure any normal fan could tell you about his 4-10 record, his 5.78 ERA (second to last among American League starters), and how he has given up 15 home runs in 104.1 innings just reaching the halfway point of the regular season.
What many fans and Indians ownership fail to see though is just how bad the former Cy Young candidate has been since his magical 2007 breakout season.
Let's dig a little deeper on this short-lived "ace" of the Indians rotation.
Many Indians fans have speculated that he hasn't been the same since that '07 season, but actually he did start out pitching fairly well out of the gate in 2008. In Carmona's first nine starts in '08, the right-hander went 4-1 with a 2.25 ERA in 56 innings pitched, walking 35 while striking out 22.
Then came May 23, 2008.
While it may have just been a normal regular season game at the outset (Indians vs Texas Rangers), it would turn into an absolute nightmare for Cleveland fans everywhere, with still no light at the end of the tunnel.
This was the game Carmona strained his left hip covering first base early in the ballgame. What was originally stated as an injury where the Tribe right-hander would miss four weeks, like it was first reported in this 2008 ESPN article, Carmona ended up missing the next two months of the season.
Over Carmona's next 88 starts after returning from the hip injury (spanning from May 23, 2008 to July 2, 2011) Fausto's stats are as followed:

26-42, 5.42 ERA, 504.2 IP, 304 ER, 210 BB,  301 K.
Take some time to digest this stat line for a while—but hopefully you don't take as long as Indians ownership to figure out that something must be done with Carmona if Cleveland has any shot at playing in October.
The Indians have four starting pitchers in Triple-A that, judging by their minor league success, look to be all squared away as possible replacements for the struggling Carmona in the rotation sometime very soon.
The bottom line is he must be replaced.
Pitchers Jeanmar Gomez (9-3  2.40 ERA), Zach McAllister (8-3  2.97 ERA), Scott Barnes (7-4  3.68 ERA) or even David Huff (8-2  3.70 ERA) are all waiting for their chance to contribute and maintain the Indians success into the second half of the season.
McAllister made a spot start in place of Carmona last week when Fausto had to be placed on the disabled list after straining his quad muscle. While he is scheduled to return to the Indians rotation later this week, something tells me his next start will be his last if Carmona's struggles continue.
There's no need to move him to the bullpen, let's face it his state line doesn't lie. It is simply time for both ownership and Carmona to part ways and hopefully both move onto bigger and better things.
No one will ever know what really happened to that 2007 Carmona, or if the hip injury he sustained in '08 has any ties to his continued pitching struggles.
Opportunity only knocks so many times and with the Indians still in the thick of playoff contention, one of the four minor league starters could be the key to not only continued success, but maybe even the gateway to the Fall Classic.