NBA Draft 2011: Biggest Strength of Jimmer Fredette and Top 25 Prospects
Kevin C. Cox/Getty Images
When June 23rd rolls around, 60 players will immediately turn into professionals as they are selected by teams in the NBA Draft.
The majority of the NBA Draft is focused on the first round. With there only being two rounds in the draft, each team's first round pick is vital to whether a team was successful or not on draft night.
Derrick Williams and Kyrie Irving highlight this year's class, but this year is rather deep in terms of potential NBA starters.
Here is a list of the top 25 prospects, according to Chad Ford, and each of their biggest strengths.
25. Trey Thompkins, F Georgia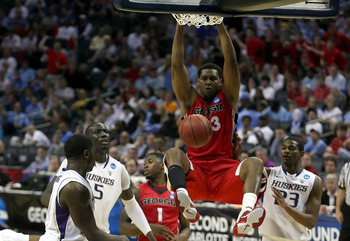 Streeter Lecka/Getty Images
Biggest strength: Versatility
When you look at Trey Thompkins, you do not see an athletic big man who can step out and shoot the three.
However, at 6'10" and almost 250 pounds, Thompkins can do just that.
He is a big body that is athletic enough to beat you from the inside or the outside.
24. Darius Morris, G Michigan
Streeter Lecka/Getty Images
Biggest strength: Physical size
Darius Morris entered the Draft after his breakout sophomore year at Michigan. After averaging 4.4 PPG and 2.6 APG as a freshman, Morris had 15 PPG and 6.7 APG in his second year.
Morris was one of the most improved players in all of the college basketball last season. His height allows him to see the floor well and control an offense.
Morris needs to development some more fundamental skills, but his raw size at the PG position is what will intrigue teams.
23. Tyler Honeycutt, F UCLA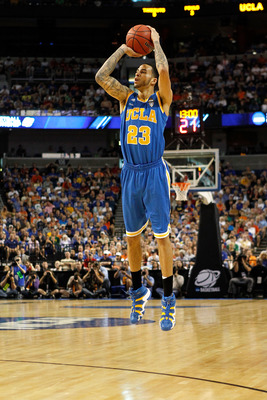 J. Meric/Getty Images
Biggest strength: Basketball IQ
Tyler Honeycutt is another sophomore who had a breakout second year in college. Honeycutt enters the draft after averaging almost 13 points and 7.2 rebounds per night at UCLA.
Honeycutt is one of the smartest young players in this year's draft.
He has great knowledge about the game of basketball and always keeps his teammates involved.
22. Chris Singleton, F Florida State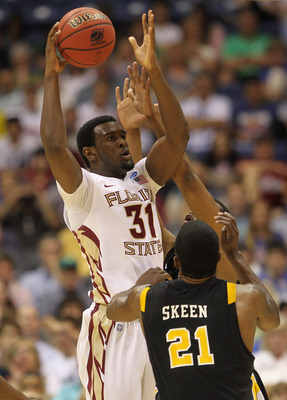 Jamie Squire/Getty Images
Biggest strength: Defense
At 6'9" Chris Singleton has great speed and athleticism to be a good SF at the next level. His greatest asset though is his defensive capabilities.
Singleton can be a lock down defender and may be the best one-on-one defender in this year's class.
He averaged over two steals and 1.5 blocks per game last season for the Seminoles.
21. Kenneth Faried, F Morehead State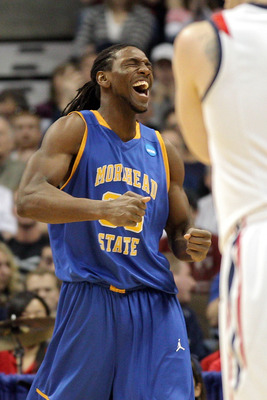 Justin Edmonds/Getty Images
Biggest strength: Rebounding
If you did not hear of Kenneth Faried before the NCAA Tournament, you sure heard it after his team's upset of Louisville in the first round.
Faried was dominant all season long on the glass for Morehead State.
He averaged 14.5 RPG, which led the country. He reminds me of a smaller Reggie Evans.
20. Nikola Mirotic, F Montenegro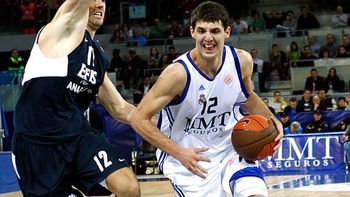 espn.com
Biggest strength: Shooting
At 6'10" Nikola Mirotic is a European prospect that should continue to rise up draft boards.
He has plenty of potential thanks to his combination of size and ability.
Mirotic is a great shooter who can spot up from anywhere on the floor. He is very smart with the basketball and finds open teammates very well.
19. Reggie Jackson, G Boston College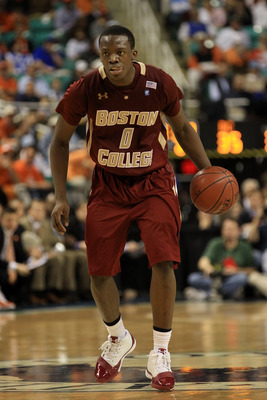 Streeter Lecka/Getty Images
Biggest strength: Explosiveness
Reggie Jackson is a bit of a "tweener" so scouts are worried at whether he will play the one or the two in the NBA.
One thing that they know for sure is that Jackson is a freak of an athlete. At only 6'3" Jackson has a seven foot wingspan and could leap out of the building if he wanted to.
Jackson is an intriguing prospect who improved every year in college and is just a pure athlete.
18. Jimmer Fredette, G Brigham Young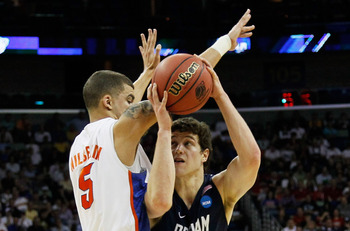 Kevin C. Cox/Getty Images
Biggest strength: Shooting
As the recipient of the National Player of the Year Award, Jimmer Fredette solidified himself as the best college basketball player in America.
As we have seen before, some college players just are not fit for the next level and Fredette might be one of those guys.
Jimmer will be more of a J.J. Redick-type player in the NBA. He can shoot the lights out, but is limited athletically.
17. Klay Thompson, G Washington State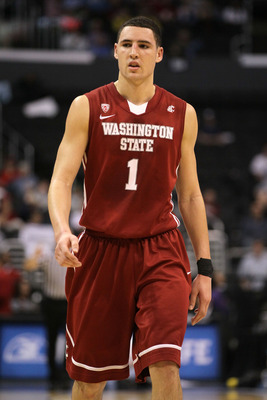 Jeff Gross/Getty Images
Biggest strength: Shooting
There seems to be a lot of shooters on this list so far. Thus far, Klay Thompson is the best one.
He averaged almost 22 PPG in his last season at Washington State and shot over 43 percent from the field.
Thompson will need to be more consistent against better competition and will need to bulk up. If he does, he can be a great two guard that has excellent size and smarts.
16. Markieff Morris, F Kansas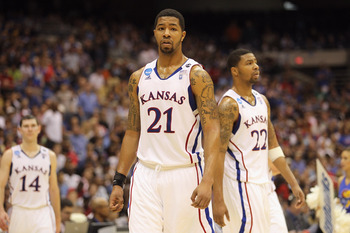 Ronald Martinez/Getty Images
Biggest strength: Defense
Markieef Morris is the less versatile of the Morris twins, but that does not mean he is not athletic.
Morris is an athletic big man who has both a solid offensive and defensive game.
He excels on the defensive end of the floor by attacking the boards and swatting shots.
15. Tobias Harris, F Tennessee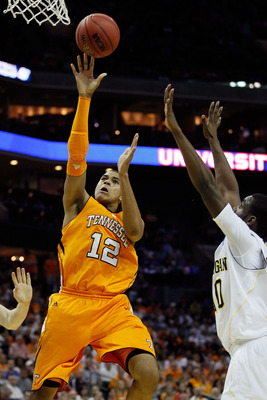 Kevin C. Cox/Getty Images
Biggest strength: Ball handling
For a 6'8" PF, Tobias Harris is quite the ball handler. He becomes an immediate matchup problem at the four position because of his ability to drive and handle the ball.
As a freshman at Tennessee, Harris impressed by averaging 15.3 PPG, 7.3 RPG and 1.3 APG.
Harris is very unselfish, but how will he fare against the bigger PF in the NBA?
14. Donatas Motiejunas, F Lithuania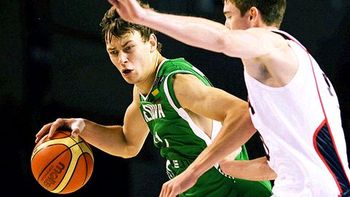 espn.com
Biggest strength: Scoring
Donatas Motiejunas has the ability to become one of the best European prospects out of this draft. He has all the physical tools to become a great player.
He excels at scoring the basketball because he can do so in many different ways.
If he adds some weight and muscle, Motiejunas could turn into a huge matchup problems for smaller PF.
13. Jordan Hamilton, G/F Texas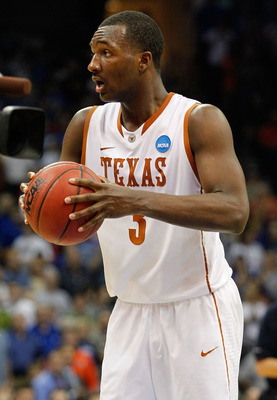 Tom Pennington/Getty Images
Biggest strength: Scoring
Jordan Hamilton may be one of the best pure scorers in this draft.
He has great size for his position and uses his big body to his advantage.
He has great range that should translate into a good slasher/scorer type in the NBA.
12. Marcus Morris, F Kansas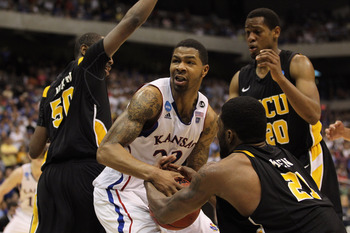 Ronald Martinez/Getty Images
Biggest strength: Versatility
Marcus Morris is the more versatile of the Morris twins. He can play either the three or the four positions.
He has enough size to play PF and enough quickness and athletic skills to play the three. Morris is a great scorer who has great touch outside the paint.
He has a relentless motor that will never stop running.
11. Tristan Thompson, F Texas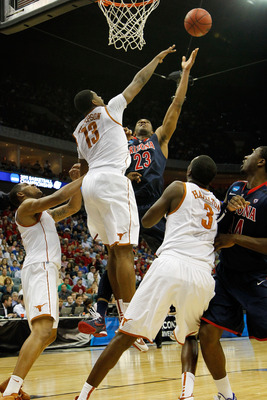 Tom Pennington/Getty Images
Biggest strength: Shot blocking
After a great freshman season, Tristan Thompson just declared officially for the Draft.
It was a good move because he will be a Lottery Pick and possibly sneak into the top 10.
Thompson has a 7'2" wingspan that enables him to make up for his under-sized frame. He is a great rebounder and shot blocker. He averaged 2.4 BPG.
10. Kawhi Leonard, F San Diego State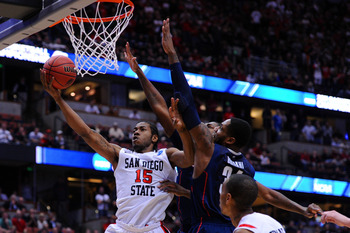 Harry How/Getty Images
Biggest strength: Motor
Kawhi Leonard is on of the best SF prospects in this year's draft.
He comes from San Diego State which had a tremendous season making it to the Elite Eight.
Leonard has a never-quitting motor and is always ready to battle on every single play on either end of the court. For a SF, he is also an above-average rebounder.
9. Alec Burks, G Colorado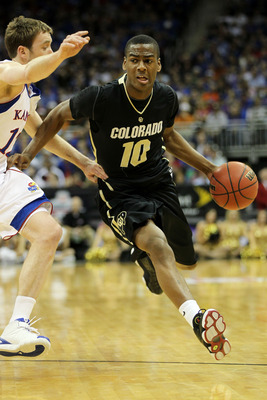 Jamie Squire/Getty Images
Biggest strength: Penetration
Alec Burks is one of the most unheralded scorers in college basketball.
His Colorado team was snubbed from the NCAA Tournament which did not help him prove himself on the national stage.
Burks averaged over 20 points per game and can score in multiple ways. He can drive down the lane and finish at the hoop and also likes finding open teammates.
If he becomes a more consistent shooter, Burks could turn into one of the best guards in the draft.
8. Jonas Valanciunas, F Lithuania
espn.com
Biggest strength: Rebounding
Jonas Valanciunas is another PF prospect coming out of Lithuania.
He is 6'10" and more of a true PF than someone like Donatas Motiejunas.
He camps under the basket and piles up the stat sheet. Playing in only 14 minutes, he averaged over seven points and over five rebounds per game in Europe.
With some added weight, Valanciunas could be a great big man.
7. Bismack Biyombo, F Congo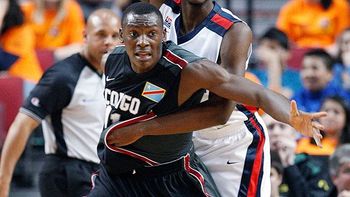 espn.com
Biggest strength: Defense
Bismack Biyombo is a very raw prospect who has good size for either the PF or C position in the NBA.
He plays much taller than his 6'9" frame would suggest because of his long wingspan.
With that size, Biyombo is able to block shots and rebound the basketball with relative ease.
A great defender now, Biyombo could turn into a steal if he rounds out the rest of his game.
6. Jan Vesely, F Czech Republic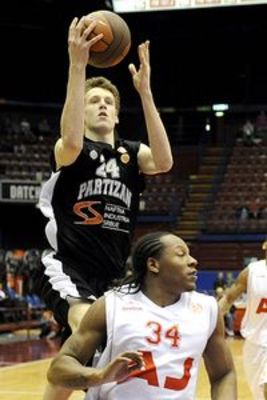 espn.com
Biggest strength: Athleticism
Jan Vesely is a 6'10" big man who can do it all. He can turn into a Dirk Nowitzki type of player.
He has the ability to play on the perimeter and handle the ball and also the strength to battle inside and get position.
Vesely is an excellent shooter who could create numerous mismatches along the perimeter.
5. Brandon Knight, G Kentucky
Streeter Lecka/Getty Images
Biggest strength: Quickness
Brandon Knight has a lot of strengths and not many weaknesses. It is no wonder he left school after only one year at Kentucky.
Knight is a very quick and athletic combo guard who can score the ball at will. He is a good finisher inside and can knock down the outside shot consistently.
One of his most important abilities is his ability to defend his position.
4. Kemba Walker, G UCONN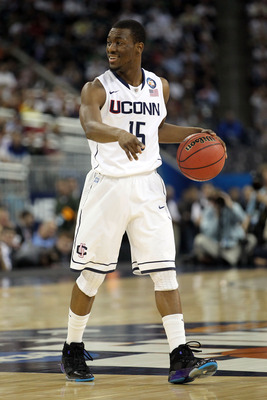 Ronald Martinez/Getty Images
Biggest strength: Scoring
Kemba Walker was one of the top players in the country last season and probably was the MVP of the NCAA Tournament in which he led his team to a national title.
Walker's draft stock rose higher than anybody's during his great postseason run.
If you fall asleep on Walker, he will make you pay. If you try to double him, he is good at finding the open man.
3. Enes Kanter, C Kentucky
Biggest strength: Toughness
Enes Kanter is one of the lone true C in this year's draft. He also may be one of the best C prospects to come into the NBA since Greg Oden.
Kanter missed all of last season due to NCAA violations, but scouts loved how he played overseas. He is a tough player who uses all of his 6'10" 255-pound frame.
He is a true triple threat in the post, being able to score, dribble and pass.
2. Derrick Williams, F Arizona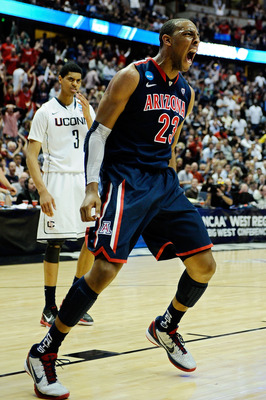 Kevork Djansezian/Getty Images
Biggest strength: Versatility
Derrick Williams exploded onto the national stage in the NCAA Tournament where his Arizona team advanced to the Elite Eight and lost to the eventual champion Huskies.
Williams was always one of the better scorers in 2010, but his team got limited publicity because they were on the West Coast.
Williams is a "tweener" that will project to either a PF or SF in the NBA. Either position is a good fit for him because of his versatile skill set.
1. Kyrie Irving, G Duke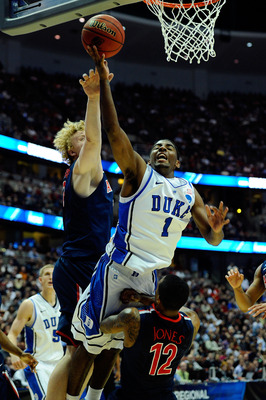 Kevork Djansezian/Getty Images
Biggest strength: Penetration
It is looking more and more likely that Kyrie Irving will be the top pick in this year's draft. Irving is the best overall prospect and a PG that a team can build a franchise around.
Irving played a limited amount of college games so that is a concern.
However, even after coming back from his toe injury, Irving showed glimpses of greatness and glimpses of what he could do at the next level.
He is a great all-around player who can be a star on both ends of the court.
Keep Reading