Pau Gasol Breakup: Did Off-Court Issues Cost Lakers Shot at Title?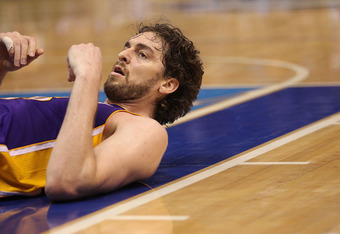 Pau Gasol's Breakup Was Big Reason Lakers Were Bounced from Postseason
A year ago, no NBA team could match the twin towers the Los Angeles Lakers presented in their frontcourt. A year later, not much changed as far as personnel.
The Lakers signed a couple of role players in Matt Barnes and Steve Blake that checked out some time in April, but the center and forward that dominated last season were still suited up in purple and gold.
What a difference a break-up makes.
Pau Gasol was the difference this postseason. His awful play just cost the Lakers a season. I knew it was getting bad when I actually day dreamed that the Lakers had Kwame Brown in the low post, and a smile brushed across my face.
MUST READ: The 25 Hottest Women of Sports We Should Be Watching
There is no way to slice it, Pau Gasol left the team a little over a month ago. He is yet to return. For the last couple of weeks, he just roamed the court like a zombie that forgot how to finish at the rim.
His coached punched him in the chest in an attempt to spark some life. Instead he just stood there with the same blank stare that I had when I saw Donnie Darko. He was unaffected by anything that took place on the floor, and ineffective with anything he tried to accomplish.
Well I am a man that has loved, and I know exactly what Pau Gasol was feeling. Multiple media outlets provide that Pau Gasol broke up with his girlfriend recently. It was a note that may, or may not be, tied to Vanessa Bryant, Kobe's wife.
What is clear is that something outside the basketball sphere took Pau's heart and passion and flushed it down the toilet. We all know what that feels like. He muttered this little nugget after the game.
I have to learn from this. I have to learn that when something happens off the court, you have to keep it off the court.
The supposed break-up has taken the bounce from his step, and the Lakers were much worse for it. The dominating duo of Gasol and Andrew Bynum down low was reduced to Bynum and some dude with a scant beard, and befuddled look on his face.
I would say the Lakers should trade Gasol, but I am not quite sure he would be able to find the airport in his condition. He has proved to me that he cannot be a leader for this team, not when he takes a sabbatical right when the team needed him most.
Most recent updates:
This article is
What is the duplicate article?
Why is this article offensive?
Where is this article plagiarized from?
Why is this article poorly edited?