Jerry West: Lakers Legend Expresses Disappointment in Team's Lack of Class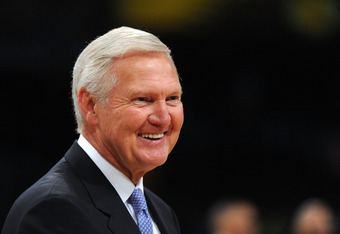 Jerry West Reflects on Lakers Actions During Interview
Former Lakers great, Jerry West, who has had a long history with the franchise as a player, coach and general manager shared his thoughts on the Lakers failed season in a radio appearance with Dan Patrick on "The Dan Patrick Show."
One of the biggest points that he expressed was how disappointed to see the Lakers lack of sportsmanship during the series.
West told Dan Patrick on his radio show:
Obviously very surprised, but, again, I think people don't realize that Dallas had the exact same record as the Lakers did this year. And they had a terrific road record, they were capable. It's a completely different looking Dallas team than I'd seen before. When I watched the Lakers play they looked dispirited. Some of the things that I saw out there, really frankly, were pretty classless. The Lakers have won with class and they've lost with class and [Sunday], as someone who worked there and is pretty proud of my years with the Lakers, I was a little bit embarrassed — not with the loss, but some of the things I saw on the floor which I thought were really just not something that a person that wears a Laker uniform should do.
Well said, Jerry. There's really no excuse for the frustration that was displayed by Artest, Bynum and Odom as they were swept out of the postseason by the Mavericks. If only they used that energy on actually elevating their play as a team then things might have been different for the former champions.
But they were exposed the Mavericks for being slow defensively on the perimeter and just unable to pound the ball inside with ease like they used to.
West added these thoughts on how the Lakers could improve in the offseason:
First of all they need athletes. This is the least athletic Laker team as I've seen in a long time. … I think [Pau Gasol and Andrew Bynum] have to be used differently. Putting Pau Gasol and having him guard Dirk Nowitzki, there was no way that was going to happen. There's just no way.
The only way the Lakers can bring in athletes is by trade since they are completely capped out. But with a lack of pieces that could intrigue other suitors, Bynum remains their most coveted asset.
And judging from their reluctance to trade away Bynum for Carmelo Anthony during the season, they're not likely to part with him that easily, unless of course Dwight Howard is the other guy involved in the discussions.
Unless someone like Andrei Kirilenko is willing to come in for the mid-level exception to become a Nowitzki stopper with his long arms and shot-blocking prowess, the Lakers are limited with their options and this roster is more than likely to stay as is.
As much as the Lakers could use an injection of athletes, it's just probably not in the cards for them next year. Size will continue to be what defines them as a basketball team.
Interestingly though, another one of Jerry's old teams, the Memphis Grizzlies, are winning in this postseason with bigs pounding the ball in the low post in Marc Gasol and Zach Randolph, despite a lack of true superstars on the roster.
So this big man thing that the Lakers have going may not need to be re-thought after all.
Most recent updates:
This article is
What is the duplicate article?
Why is this article offensive?
Where is this article plagiarized from?
Why is this article poorly edited?

Los Angeles Lakers: Like this team?