L.A. Lakers: Latest News, Trade Rumors and Fallout from Epic Collapse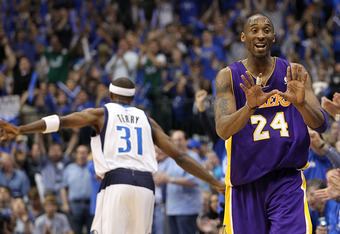 Ronald Martinez/Getty Images
LA Lakers End Three-Peat Hopes on a Sour Note
The Los Angeles Lakers are done. After three straight NBA Finals appearances and two NBA titles, the team with Hall of Fame head coach Phil Jackson and one of the greatest players in the NBA in Kobe Bryant was swept from the postseason by the Dallas Mavericks.
Los Angeles was simply outplayed by the Mavs in their second-round series and the mismatch was evident in Game 4 when Dallas made a jaw-dropping 20 of 32 three-pointers. A majority of those threes were uncontested and exposed the Lakers as a slow and aging team unable to rotate defensively and react to the Mavericks' excellent ball movement.
Age is now a factor for the Lakers, who will face an offseason of uncertainty this summer. With Phil Jackson likely to remain retired and the Lakers boasting a league-high $91 million payroll, it will be interesting to see how this team can address its deficiencies and disappointments from this postseason.
We're talking Lakers today and what happens next will be in the updates.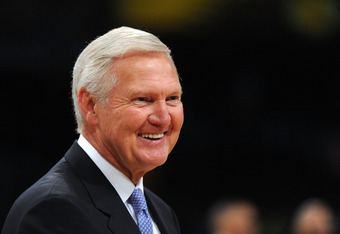 Jerry West Reflects on Lakers Actions During Interview
Former Lakers great, Jerry West, who has had a long history with the franchise as a player, coach and general manager shared his thoughts on the Lakers failed season in a radio appearance with Dan Patrick on "The Dan Patrick Show."
One of the biggest points that he expressed was how disappointed to see the Lakers lack of sportsmanship during the series.
West told Dan Patrick on his radio show:
Obviously very surprised, but, again, I think people don't realize that Dallas had the exact same record as the Lakers did this year. And they had a terrific road record, they were capable. It's a completely different looking Dallas team than I'd seen before. When I watched the Lakers play they looked dispirited. Some of the things that I saw out there, really frankly, were pretty classless. The Lakers have won with class and they've lost with class and [Sunday], as someone who worked there and is pretty proud of my years with the Lakers, I was a little bit embarrassed — not with the loss, but some of the things I saw on the floor which I thought were really just not something that a person that wears a Laker uniform should do.
Well said, Jerry. There's really no excuse for the frustration that was displayed by Artest, Bynum and Odom as they were swept out of the postseason by the Mavericks. If only they used that energy on actually elevating their play as a team then things might have been different for the former champions.
But they were exposed the Mavericks for being slow defensively on the perimeter and just unable to pound the ball inside with ease like they used to.
West added these thoughts on how the Lakers could improve in the offseason:
First of all they need athletes. This is the least athletic Laker team as I've seen in a long time. … I think [Pau Gasol and Andrew Bynum] have to be used differently. Putting Pau Gasol and having him guard Dirk Nowitzki, there was no way that was going to happen. There's just no way.
The only way the Lakers can bring in athletes is by trade since they are completely capped out. But with a lack of pieces that could intrigue other suitors, Bynum remains their most coveted asset.
And judging from their reluctance to trade away Bynum for Carmelo Anthony during the season, they're not likely to part with him that easily, unless of course Dwight Howard is the other guy involved in the discussions.
Unless someone like Andrei Kirilenko is willing to come in for the mid-level exception to become a Nowitzki stopper with his long arms and shot-blocking prowess, the Lakers are limited with their options and this roster is more than likely to stay as is.
As much as the Lakers could use an injection of athletes, it's just probably not in the cards for them next year. Size will continue to be what defines them as a basketball team.
Interestingly though, another one of Jerry's old teams, the Memphis Grizzlies, are winning in this postseason with bigs pounding the ball in the low post in Marc Gasol and Zach Randolph, despite a lack of true superstars on the roster.
So this big man thing that the Lakers have going may not need to be re-thought after all.
This article is
What is the duplicate article?
Why is this article offensive?
Where is this article plagiarized from?
Why is this article poorly edited?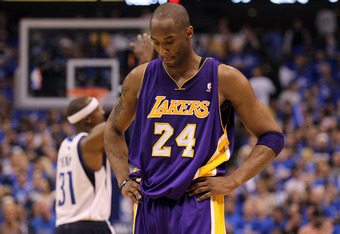 Kobe Bryant Now Dealing with Repercussions of Failed Season
The Lakers have been, hands-down, the most successful team in the NBA from the past decade. They were dominant during the Shaq-Kobe era and just as impressive with Kobe-Gasol.
During that time, Kobe made his mark in the game as a future Hall of Famer and has proven to be one of best to have ever played by winning five NBA titles, including several other awards and accolades.
Best ever? Not yet, but close. Michael Jordan owns that uncanny distinction.

Clubhouse cancer? Not even close.
There's just no way you can associate one the best players in the game with becoming a clubhouse cancer.
When you think a cancer, it's a guy that has a detrimental impact on his team, so much so that his antics are considered a distraction because they hold back their respective squads. Think Milton Bradley, Terrell Owens and Allen Iverson.
Bryant is not a cancer. If there's anything he has learned from his failed relationship with Shaq it's that nothing is ever guaranteed and a blossoming dynasty can go away in a heartbeat. He would never sabotage his own Lakers basketball team.
The rumor mill is saying that Bryant's wife may have been responsible for Pau Gasol's poor performance in the postseason because she told his fiancee to end their relationship. True or not, this has nothing to do with Kobe, nor should it reflect how much he values winning over everything else.
If Kobe is guilty of anything, it's always wanting to get his teammates to continuously elevate their play and get the most out of them on the basketball court.
If we're going to blame anyone for the Lakers disappointing season, it has to be Gasol purely because he didn't play up to the standards that he set in the last three postseasons. That's it, nothing else.
This article is
What is the duplicate article?
Why is this article offensive?
Where is this article plagiarized from?
Why is this article poorly edited?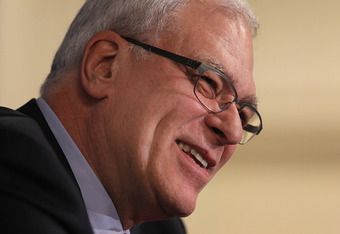 Phil Jackson Rides Off Into Third Retirement
It wasn't supposed to happen this way, Phil Jackson was supposed to call it a quits after winning another three straight NBA titles, to complete an unprecedented four sets of three-peats in his coaching career. But it just wasn't meant to be.
Now that the all-time greatest coach in NBA history is out of the picture, finding a successor is not going to be an easy decision to make for the Lakers.
At this point there's a whole lot of uncertainty in Laker land. Although there's really no other guy more suited to help this group of Lakers to succeed than Jackson himself, a replacement must be hired.
As luck would have it, there are no other coaches with a ring for each finger available on the market. Some possibilities include:
Rick Adelman: former Houston Rockets and Sacramento Kings coacc
Jeff Van Gundy: analyst and former Houston Rockets and New York Knicks coach
Doc Rivers: Celtics head coach on the last year of his contract
Kurt Rambis: Timberwolves head coach and former Lakers assistant and fan-favorite
Byron Scott: Cavaliers head coach and Showtime favorite
Taking on the job as head coach of these Lakers, is no simple task. Jackson had an aura and a sense of invisibility about him that no one on that list has.
Between Kobe Bryant's ego, Lamar Odom's reality show lifestyle, Ron Artest's head, Pau Gasol's fragile psyche and Derek Fisher's lack of athleticism, there's a lot that the next coach will have to juggle on top of actually coaching.
Brian Shaw told ESPN's J.A. Adande about the possibility of replacing Jackson:
I would relish that opportunity. I know right now they have to take a deep breath and kind of process our roster. I think that there are some other things that take precedence over that decision. I'm not going to consume myself with whether that happens or not, right now.
Given all the possibilities, Shaw just makes the most sense for the Lakers. Assuming they keep their core of big men Gasol and Andrew Bynum, finding someone that can run Jackson's triangle offense in his absence is just the most ideal scenario.
However, Shaw is still flawed in that he has had zero head coaching experience.
Truth is, no one can replace Jackson and no one can be as successful as he was in Los Angeles—11 seasons, 7 NBA Finals appearances, 5 championships.
But the Lakers will need to start again somewhere and Shaw has the best chance to succeed.
This article is
What is the duplicate article?
Why is this article offensive?
Where is this article plagiarized from?
Why is this article poorly edited?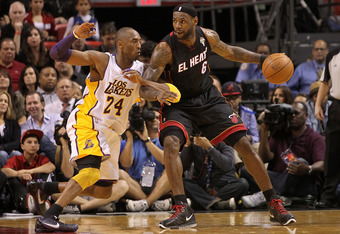 Kobe Bryant Ready to Pass the Torch to LeBron James?
As I am writing this, it will be the first time since 2007 that LeBron James has outlasted Kobe Bryant in the postseason.
While Bryant's Lakers were just swept out of the postseason by the Dallas Mavericks, James and his band of super friends have taken a commanding 3-1 series lead against a very tough defensive team in the Boston Celtics.
As expected, now that Bryant is out of the postseason and the Celtics are on the brink of a similar second-round meltdown, the league is looking to find itself a new postseason darling. Lo and behold the man that's now garnering consideration for that label is James.
Does this impressive Miami Heat postseason showing mean that James has finally eclipsed Bryant as a player? If he finally better than him?
I have news for you: James still has a long way to go.
I refuse to crown James the King of nothing when he realistically hasn't gotten anything done. Until he starts winning championships with ease and consistency, then that's when I will buy into the hype.
You know it was the same hype machine that was spinning around uncontrollably when LeBron James first made the NBA Finals in 2007 as a 22-year-old putting up averages of 25.1 points, 8.0 assists and 8.1 rebounds per game.
Don't get me wrong, those numbers were amazing. But he just never put it together in the Finals, in terms of delivering a championship. In the three seasons since that first Finals appearance, James has led his team to one postseason disappointment after another, while Bryant has added two more titles to his collection.
There's been no question the talents and tools have all been there for James. In fact, I must concede that LeBron is and has always been a much better athlete than Bryant.
But being the better athlete simply doesn't make you better than Kobe.
Athletically and production-wise LeBron has been making the case for being the better than Kobe since he came into the league. Yet what makes Kobe better than anyone else in the league is his winner's mentality and killer instinct.
Bryant has a long history of made clutch-baskets, a reputation for playing through pain with bum knees, broken fingers, sprained ankles and a laundry list of other ailments. More importantly, he has that competitive desire to constantly find a way to improve his game and be a better player.
Then there's that whole thing about championship rings where Kobe leads by a landslide: Kobe 5, LeBron 0
Maybe LeBron has all of those traits and characteristics that could turn him into a champion and it's finally going to click and come to together this season. LeBron's title chances are looking more promising than ever with Dwyane Wade and Chris Bosh at his side.
But until he wins six titles, Kobe will always be better.
There's no comparison.
This article is
What is the duplicate article?
Why is this article offensive?
Where is this article plagiarized from?
Why is this article poorly edited?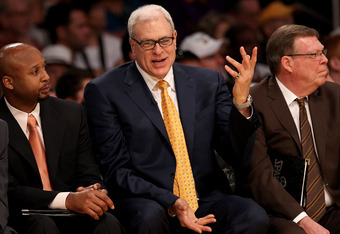 LA Lakers Win Five NBA Titles with Phil Jackson as Head Coach
As disappointing of an ending for the LA Lakers as it was during the weekend—when they were swept out of the postseason by the Dallas Mavericks—marking the end of Phil Jackson's tenure as head coach, there's no refuting all of his success with the team.
After 11 seasons with the team, Jackson led them to five NBA titles and seven total appearances in the NBA Finals. That's the mark of a very successful head coach.
Now the Lakers will have to face the tough task of finding someone else to keep the Lakers competitive and on the path to keep winning more titles in the future.
A source described the Lakers' coaching search as "wide open." He said the decision-making chain was executive vice president of player personnel Jim Buss, owner Jerry Buss, then Kupchak -- "in that order."

Current assistant coach Brian Shaw is considered a top candidate to replace Jackson.
But the sad demise of the Lakers in the second round of the playoffs makes a case to break the continuity with Shaw as head coach. However, there's really a shortage of candidates with a winning resume to take over the reins.
Jeff Van Gundy could step down from his broadcasting job to give coaching another run. Or, Rick Adelman the former coach of the Sacramento Kings and Houston Rockets could make the Lakers a running team with his Princeton offense.
That said, it makes very little sense to make a decision on a head coach until owner Jerry Buss and general manager Mitch Kupchak decide what direction they want to take with this roster and if a Dwight Howard trade could even become a reality.
My money is on Shaw, this is not built to run as we witnessed in this postseason. If they can bring in a key piece like Howard then the triangle offense will continue to live on in Los Angeles, well after Phil Jackson.
This article is
What is the duplicate article?
Why is this article offensive?
Where is this article plagiarized from?
Why is this article poorly edited?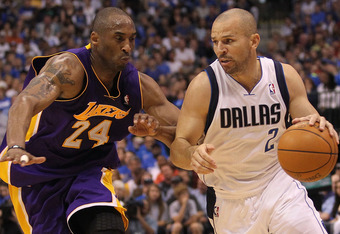 Kobe Bryant Ties NBA Ninth-Record All-NBA Defensive First Team Selection
Kobe Bryant may be out of the NBA playoffs after his Los Angeles Lakers were swept out of the postseason by the Dallas Maverick but he does get one small consolation prize from this year: A ninth career All-NBA Defensive First Team selection.
Here's the list of the All-NBA Defensive First Team winners:
Dwight Howard, Orlando Magic: 56 points
Rajon Rondo, Boston Celtics: 39 points
LeBron James, Miami Heat: 38 points
Kobe Bryant, Los Angeles Lakers: 33 points
Keving Garnett, Boston Celtics: 33 points
This year's voting ties Kevin Garnett and Bryant for the all-time league high with nine selections. Others on the list include Michael Jordan and Gary Payton.
However, there's a little bit of doubt cast upon Bryant's most recent selection. Mark Medina of the Los Angeles Times writes:
There's no doubt Bryant was once a great defender, has a strong defensive awareness and helps with pointing out where teammates need to rotate, but his responsibility playing the centerfield position hardly warrants him having stronger consideration than even some of his teammates.
If there was a year to snub Bryant from the All NBA Defensive first team, it had to have been this season. A year when he was averaging less minutes and clearly not giving his all on the defensive end because of injuries and various ailments.
One notable omission is Dwyane Wade who failed to make the first or second team and can make an argument that he played much defense than Bryant did all season long.
But instead he gets the nod, perhaps it's because of his reputation for being able to become a stopper whenever needed.
That said, Kobe would probably be willing to trade this selection for a redo against the Mavericks in their second round series.
This article is
What is the duplicate article?
Why is this article offensive?
Where is this article plagiarized from?
Why is this article poorly edited?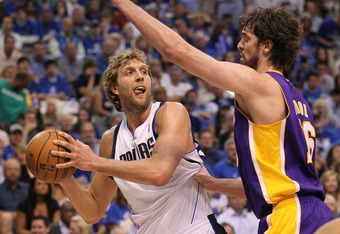 Pau Gasol Trade Rumors Heating Up After Lakers Gets Swept out of Playoffs
Pau Gasol just confirmed to everyone why he had a miserable showing this postseason: His mind and heart just wasn't in it.
Gasol told the LA Times after the Dallas Mavericks swept the Lakers out of the playoffs:
I have to learn from this. I have to learn that when something happens off the court, you have to keep it off the court.
The Lakers All-Star power forward finally confessed that a breakup with his fiancee Sylvia Lopez Castro has been hurting his game because he's been trying to recover from a broken heart. Defensively, Gasol couldn't react fast enough to the moves of Dirk Nowitzki and offensively, he was apprehensive, confused and only a shadow of his former self.
Now he's rumored to be trade bait.
According to Mark Medina of the Los Angeles Times:
...Lakers Hall of Famer Magic Johnson is suggesting Gasol, who's owed $57 million over the next three years, would be a good candidate for the Lakers to trade in a deal involving Magic center Dwight Howard, rapper Snoop Dogg is questioning his manhood via Twitter and Lakers fans alike are left wondering his value to the team.
Sad to say that in this "What have you done for me lately?" society, fans—especially Lakers fans—can turn on anyone on the roster.
The blame for this failed season in Los Angeles falls upon Gasol and the Laker hopefuls are having visions of Dwight Howard.
But the problem with a Gasol-for-Howard swap, doesn't really make sense for the Magic when they could ask for young 23-year-old center Andrew Bynum instead. Gasol will be 31-years-old soon and is not a guy that the Magic would covet if they were to commit to rebuilding.
Moreover, as he has proven in his career, he's not a guy that's suited to be the top player on his basketball team. He's an ideal No. 2 that can only go so far without any other great players by his side.
Although Gasol is the designated scapegoat now, it's hard to ignore the fact that he's been the perfect big to set up next to Kobe in the three previous seasons when the Lakers made it to the NBA Finals each time.
Before Lakers Nation decides to send him packing right away, it may be a good idea to be reminded that he helped the Lakers go the distance three out of the last four seasons and that's been pretty remarkable.
This article is
What is the duplicate article?
Why is this article offensive?
Where is this article plagiarized from?
Why is this article poorly edited?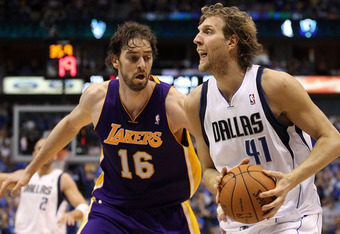 LA Lakers Suffer from Postseason Sweep Against Mavs as Gasol Remains Ineffective
The Los Angeles Lakers literally became unglued in the final game of their season as the Dallas Mavericks completed a four-game sweep of the two-time defending champions. The Lakers looked old, slow and completely frustrated as the Mavs outran, outshot and outperformed the entire Los Angeles roster.
Andrew Bynum and Lamar Odom were both ejected from the game and Phil Jackson coached for what he claims to be the last time in the NBA. It was a sad and disappointing end for the Lakers who had three-peat aspirations all season long.
Los Angeles was exposed during this series, for rotating poorly and lacking the quickness to defend on the perimeter and for their inability to consistently follow the gameplan of running their offense through the post.
But there's more, apparently there are trust issues between teammates and an evident lack of competitive desire from one of their All-Star players. Bill Plaschke of the Los Angeles Times says:
Perhaps more than anything, the notion that Pau Gasol can be this team's next great leader was swept away. His sudden and odd postseason disappearance was the most obvious reason for the Lakers' troubles, his fall completed Sunday when he scored 10 points while being pushed around by everyone but his coach, who thankfully refrained from hitting him for a second consecutive game.
At the end of the Lakers postseason, Gasol finally acknowledged that his head and heart just wasn't in the postseason.
"I have to learn from this," Gasol told the LA Times. ''I have to learn that when something happens off the court, you have to keep it off the court."
In other words, Gasol just wasn't in the series mentally because he just went through what we can imagine to be a tough emotional time when his fiancee reportedly dumped him and called off their wedding.
Gasol just proved how fragile his pysche is and why he couldn't win in Memphis alone. He doesn't have that fiery disposition and competitive nature of a guy that values winning over anything else.
The fans in Los Angeles expect more out of him than to act like a heartbroken sap thinking about a misbegotten romance with a cheerleader. They want strong playoff runs and championships.
This article is
What is the duplicate article?
Why is this article offensive?
Where is this article plagiarized from?
Why is this article poorly edited?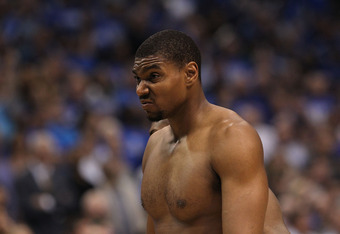 Andrew Bynum Could Finally Get Moved in the Offseason
Aside from still being one of the youngest players on the Lakers' roster full of older veterans, 23-year-old center Andrew Bynum still remains one of their most valuable trading assets.
If the Lakers plan on finding a way to improve in the offseason, then Bynum may have to be the piece that gets moved. Bynum has all the tools and the size to dominate at his position and even after five years in the league, the sky is remains the limit for this big man.
Bill Plaschke of L.A. Times writes:
In the end, nobody should have been more embarrassed than Andrew Bynum, who threw a dangerous right elbow into a flying Jose Barea moments after Odom's cheap shot, knocking the little guard to the ground and resulting in another ejection. Bynum further shamed himself and the franchise by tearing off his jersey before he left the court, and I have just one question.

Are you sure the Lakers were better off not trading him? I have been ridiculed for this stance by folks who are suddenly very quiet about it now. I'm not wavering. I believe that if the Lakers want to win a championship while Bryant is still mobile and Gasol is still young, they need the kind of top point guard or scorer that Bynum can bring in a deal.
Yes, Bynum's actions were uncalled for in the final game of the Lakers' disappointing season. But he was just taking his cues from the veterans on the roster.
Ron Artest gave J.J. Barea a similar cheap shot in Game 2 and Lamar Odom threw down Dirk Nowitzki just moments before Bynum took it upon himself to hit Barea.
Bynum needs to be held responsible for his actions and he needs to get an earful from the Lakers coaching staff and be given a lesson on how to lose with class. But he shouldn't be exiled from Los Angeles for that ejection.
The Lakers believed in him enough not to trade him away for Carmelo Anthony this year and they should keep him on board for the simple fact that he's the only guy on the roster that has a tremendous upside.
The only player that the Lakers should trade away Bynum for is Dwight Howard. Size for size.
Forget about netting Chris Paul for Bynum. Superstar point guards have a hard time winning championships in this league.
This article is
What is the duplicate article?
Why is this article offensive?
Where is this article plagiarized from?
Why is this article poorly edited?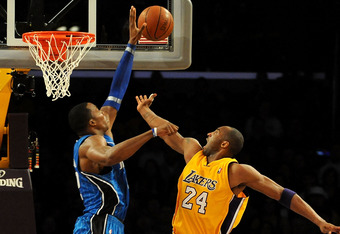 Dwight Howard Lakers Trade May Happen as Soon as This Summer
As much as the Orlando Magic have gone out of their way to please Dwight Howard with roster moves and trades to try and improve their team, they have failed miserably.
Now they are cap-strapped well over the salary cap and face the daunting reality that they could lose their prized center as a free agent in the summer of 2012.
Unlike 2009 when the Magic had All-Star players surrounding Howard for their NBA Finals run, this current Magic roster is flooded with overpaid former All-Stars that are unlikely to regain their form as star players in this league.
That's why it's obvious why Howard is thinking about leaving Orlando. A source close to Dwight Howard told CBSports.com:
Everybody knows that Dwight Howard wants to be a Laker. They're going to lose Dwight Howard for nothing. He's not staying there. Dwight Howard is going to be in the same mode as LeBron James.
Howard is the best big man in the league today and there is no one of equal value that the Magic could possible get back in return for him. But anything is better than losing him for nothing and the Lakers are a team could give them a player that teams have been coveting years: 23-year-old center Andrew Bynum.
Bynum was the proposed centerpiece of a trade that would have netted the Lakers Carmelo Anthony during the midseason. But Los Angeles was simply too reluctant to trade away his size for a wing player.
However, a Bynum-for-Howard swap makes the most sense for both parties. Howard goes Hollywood and pairs up with a superstar in Kobe Bryant and the Magic can get a young center with high upside to mold as Howard's replacement.
Of course, what would make this deal more enticing for the Magic if if they could get rid of the ugly contracts of Hedo Turkoglu and/or Gilbert Arenas along with Howard. If the Lakers add Sixth Man of the Year Lamar Odom into the mix and take back a guy that can spread the floor like Turkoglu may not be such a bad idea considering how poorly their three-point shooting hurt their chances against the Mavericks this year.
Another West Coast team like the Clippers could make the Magic an enticing offer that includes Rookie of the Year Blake Griffin, the expiring contract of Chris Kaman and some draft picks. But it's too bold of a move that the cheapskate Clippers would be too reluctant to complete.
Howard knows that in order for him to get back to the NBA Finals is to leave the Magic and team up with another star player. With the Eastern Conference flooded with talented squads like the Boston Celtics, Miami Heat, Chicago Bulls and even the New York Knicks, going to the West just makes a lot of sense.
This article is
What is the duplicate article?
Why is this article offensive?
Where is this article plagiarized from?
Why is this article poorly edited?

Los Angeles Lakers: Like this team?