NFL Lockout: Roger Goodell Calls Colts Fan, Says the Same Old Thing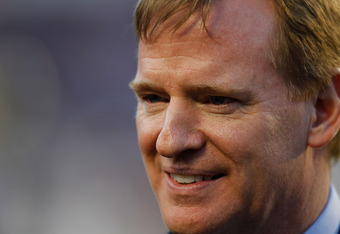 Disgruntled Season Ticket Holder Gets A Call From The Commissioner
Roger Goodell tried to do a bit of good PR work this week by reaching out to a disgruntled fan with a personal phone call.
The fan, a season ticket holder with the Indianapolis Colts, also runs a Colts blog and blasted the commissioner for giving blah answers to questions during a recent conference call that did not do much to shed light on anything.
I asked Mr. Goodell if there was any aspect of the NFL's conduct during the negotiations that he regretted, if there was anything he would have done differently, if there was any culpability to be shared by the league for the current state of affairs," (Nate) Dunlevy writes. "He responded that no, while obviously he has given considerable thought as to what could be done to get a a deal accomplished, he felt the NFL had behaved appropriately. He said that one always runs back over such negotiations searching for what could have been done differently, but that he did not believe there was anything that could have been changed. He then expressed frustration at the fact that the discussions were taking place in a courtroom rather than in mediated settlement talks."
I have taken the owners' side on many things in this dispute for reasons that should be obvious to anyone who works a real job and understands how things like "raises" and "not be entitled to anything but what we give you" means.
However, this comment by Goodell is complete garbage. The owners, and Goodell by extension, seemed to be tripping all over themselves in the weeks leading up to the lockout to see who could be more rude and tone deaf when it came to the negotiations.
The caveat is the players seemed to have already agreed they were going to decertify and sue the owners by the end of November, but the owners had a chance to take the high road and they chose not to take it.
So to tell anyone there are no "regrets" about how things were handled would be a complete lie. Goodell is fixated on not saying anything that could come back and haunt him and the owners in court. That is the truth and that is why it is pointless to take anything Goodell says seriously at this point.
That does not mean the players are not fibbing either, they just have been doing a much poorer job of it.
Most recent updates:
This article is
What is the duplicate article?
Why is this article offensive?
Where is this article plagiarized from?
Why is this article poorly edited?