WWE: Which Former WWE Star Criticized Christian's Booking on SmackDown?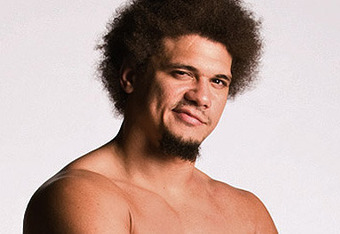 WWE Is Buzzing After Christian Lost His Championship As Other Workers React
When Christian won and then promptly lost the World Title to Randy Orton on SmackDown, there was a giant outrage about how the whole situation was handled and booked.
The situation deserved to be mocked because it was such a slap in the face to Christian and to the fans, who were so excited about the fact that one of the hardest workers in the business finally got to the mountaintop.
It was only a matter of time before former WWE employees came out of the woodwork to rip this awful booking.
Per Rajah.com:
Carlito criticized WWE's decision to have Christian quickly drop the World Heavyweight Championship.

"I was going to send my congrats to Christian, then I found out they had him drop the title after a couple of days," he wrote on Twitter. "Christian has been busting his a$$ for years and thats the thanks he gets? In the biz u can bust yo a$$ but if ur on that list of people that the company dont believe in, ur f#d! Thats why I wasnt happy and wanted to leave for years. I felt that I was on that list of guys they didnt believe in."

"I aint mad though. It's not my company and they have every right to run the company how ever they want."
While Carlito may have it a bit twisted about why the company didn't push him, he's right about the WWE having a list of people it didn't believe in.
The reality is that there is a list of people that the creative team simply has no faith in it. Shelton Benjamin was a famous example. Benjamin was someone who was a fan-favorite, but he never got to the highest levels of the company, despite his amazing talents in the ring.
MUST READ: WWE Divas: Kharma and the 25 Best Wrestling Divas of All Time
Christian is another guy on that list. He's a great worker, he's a fan-favorite and someone who has done everything you could possibly ask of a guy in his situation and yet, only held the title for a couple of days before dropping it to Orton.
It's not fair to him and it's indicative of how the company has been booking for years. Something has to change at some point.
Join me on the TNT Boys Sports Radio Show tonight at 7 pm EST on Blog Talk Radio at http://tobtr.com/s/1856497. Be part of the show by calling (714) 364-4325.
Most recent updates:
This article is
What is the duplicate article?
Why is this article offensive?
Where is this article plagiarized from?
Why is this article poorly edited?