WWE: Which SmackDown Star Is Scheduled for a Major Heel Turn? [Spoiler Alert]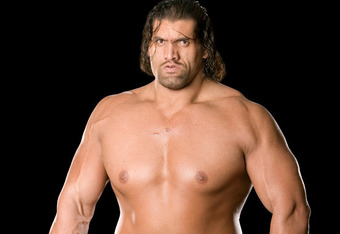 WWE Has Decided It's Time For a Heel Turn For One Of SmackDown's Stars
Remember when The Great Khali was a giant, intimidating presence.
That was a long, long time ago and now, the creative team has turned him into nothing more than a joke, someone who is nothing more than a laughingstock to the serious fans of the WWE. It was pathetic and now, hopefully, the company is going to take Khali back to his roots.
Per Rajah.com:
The Great Khali and Ranjin Singh encountered Jinder Mahal last night in a backstage segment on SmackDown, with the newcomer once again saying that things will be a lot better due to him. Khali walked off and Singh said while it's nice to see Mahal, Khali is his brother and he's got his career on track. Mahal mentioned Khali wearing a tutu on Monday's episode of Raw. Singh tried to defend Khali on the matter, but Mahal interrupted and said he wasn't condemning him, just making a comment. He then patted Singh on the back and walked off.

The angle is scheduled to result in Khali turning heel since many people within WWE feel he's become too soft as a babyface and no longer portrays a monster type character. This will result in Khali and Mahal working together as a heel tag team with Mahal carrying most of the work.
While I think this is awesome for Khali, I worry that the creative team has already done too much damage to his career for this to ever work out for the big man.
It's clear that his in-ring abilities are all but gone and they've already weakened him so much, that I wonder if this heel turn can be taken seriously after all that we've seen from Khali since they turned him into this lovable giant.
MUST READ: WWE Divas: Kharma and the 25 Best Wrestling Divas of All Time
He should have never gone face and become this kissing, dancing joke of a wrestler. Hopefully the creative team has something great planned for him, because if not, this whole thing could backfire in a big way.
I really hope I'm wrong on this one.
Join me on the TNT Boys Sports Radio Show tonight at 7 pm EST on Blog Talk Radio at http://tobtr.com/s/1856497. Be part of the show by calling (714) 364-4325.
Most recent updates:
This article is
What is the duplicate article?
Why is this article offensive?
Where is this article plagiarized from?
Why is this article poorly edited?