MLB Trade Rumors: Latest Buzz for the Deadline's Biggest Names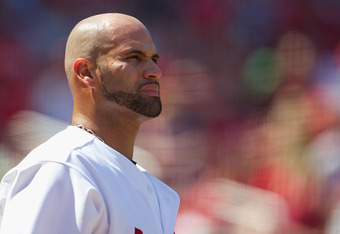 Dilip Vishwanat/Getty Images
The MLB trading deadline is still more than two months away, but teams are already looking for that quick fix that will keep them in contention as players recover from major injuries.
So who's buying and who's selling?
Here's a look at the biggest names on the trading block and where and when they may be headed.
Hannah Foslien/Getty Images
Liriano has been all over the place this season. He may have thrown a no-hitter, but he was also nearly pushed out of the rotation by Kevin Slowey. Just imagine what his 6.61 ERA would look like if it wasn't for his nine shutout innings last week.
But despite the inconsistencies, Liriano still has some of the best stuff in the game when he's on. He's signed through this season for just $4.3 million and there's little reason for the Twins to hold on to him if this tailspin continues.
The Yankees have long been rumored to be after the 27-year-old lefty, and New York has the resources to take a chance and wash their hands afterward if it doesn't work out. The Rangers are in a similar situation, and might even have a spot for Liriano in the bullpen.
In the NL, St. Louis, Milwaukee, Colorado and Atlanta could all potentially go after Liriano, especially if he proves he can pitch consistently.
The Twins are going to hold on to him as long as they can, hoping that the former All-Star can turn his season around. If he does, the price for him could skyrocket with few other impact arms expected to be available this year.
This article is
What is the duplicate article?
Why is this article offensive?
Where is this article plagiarized from?
Why is this article poorly edited?
Bob Levey/Getty Images
The Cardinals would be crazy to let the best hitter on the planet play somewhere else, but until a contract extension is signed speculation about Pujols' future will continue.
It seems like a given at this point that Pujols will, in fact, become a free agent at the end of this season. However, what happens after that is anybody's guess.
There are only a handful of teams that could even afford to sign Pujols to a probably $300 million contract and two of them, the Yankees and Red Sox, already have long-term solutions at first base. The Angels could conceivably find enough cash to throw at Pujols and so could the Rangers if they can get rid of Michael Young and his $16 million/season.
In the NL the Cubs would be a good fit with money to spend and a big hole at first base. The Mets are in a similar boat with Carlos Beltran and Jose Reyes coming off the books next year (combined $31 million), but they seem to like the young Ike Davis at first base.
So are the Cardinals actually the best fit then? St. Louis has less than $50 million in committed salaries next season and could entice Pujols to come back by resigning the smoking hot Lance Berkman for another year or two.
If not, that just leaves the trade market. No team is going to acquire Pujols unless they're guaranteed that they can sign him long-term (i.e. Adrian Gonzalez in Boston). There's no chance the Cardinals trade Pujols within the division and keeping him in the same league is unlikely, so that leaves just Anaheim as the lone suitor.
Would a package built around superstar prospect Mike Trout and first basemen Kendrys Morales get the Cardinals to even listen? And would the Angels even be willing to have nearly $60 million a season wrapped in just two players (the second being Vernon Wells)?
Lots of questions and no apparent answers. But if the Cardinals can't keep their lead atop the NL Central then trade discussions will heat up at lightning speed. Stay tuned.
This article is
What is the duplicate article?
Why is this article offensive?
Where is this article plagiarized from?
Why is this article poorly edited?
Rob Carr/Getty Images
The Brewers made a lot of noise by acquiring Zack Greinke and Shaun Marcum during the offseason, seemingly as part of a push to go for a World Series while the core players are still in uniform.
A big part of that core is slugger Prince Fielder, who at 27 is one of the best young players in the game. He's having another strong season with a .282/.365/.534 line, but perhaps the most impressive part is that he's struck out just 19 times in 131 at-bats. As always, he's among the league leaders in home runs with seven bombs to date.
So why would the Brewers trade him?
Well for starters, Fielder will be a free agent after this season and is almost guaranteed to follow in the path of Adrian Gonzalez by signing a long-term deal with a big market club. Milwaukee would love to keep him, but with Scott Boras as his agent that's probably a pipe dream.
There are two scenarios to consider here. First, Milwaukee falls out of the playoff race and is pressured to trade Fielder to get some return before he hits free agency. The Brewers are currently at 15-20 and have really struggled this season, but there's no team in the NL Central that's good enough to pull away. Plus, if the Brewers can just make it to the playoffs their postseason rotation of Greinke, Marcum and Yovani Gollardo should be good enough to make a deep run.
Second, Milwaukee could stay in the race and trade Fielder anyway to get bullpen or rotation help. The offense won't have any trouble scoring runs as long as Ryan Braun and Rickie Weeks are in the lineup, so the Brewers might be better served by beefing up their team in other areas.
Anything is possible at this point, but if Fielder is put on the trade market then the two teams that will make the most noise trying to get him are the Athletics and Angels. Both teams need a big bat to complement their strong pitching, and they have the prospects and quality arms to get a deal done.
Also, don't rule out the Cardinals depending on how the Albert Pujols situation works out.
This article is
What is the duplicate article?
Why is this article offensive?
Where is this article plagiarized from?
Why is this article poorly edited?
Jared Wickerham/Getty Images
Buehrle has been the White Sox ace almost his entire career, compiling 150 wins in 11-plus seasons. He struggled last year giving up a league-high 246 hits on top of a 4.28 ERA, and he hasn't been much better this year.
In eight starts he has a 4.05 ERA and 1.37 WHIP, surrendering exactly 10 H/9 IP. The strikeouts are down too and it's a fair question to ask whether the 32-year-old lefty is running out of gas after more than 2,300 career innings.
Buehrle is in the last year of a four-year, $56 million contract he signed in 2008 and has an option for 2012. However, there's a catch. The $15 million vesting option only goes into effect if Buehrle is traded.
He likely wouldn't make that much money as a free agent, so it would be in Buehrle's best interest to accept a trade if the White Sox do indeed decide to go in that direction. However, reports indicate that he would only accept a trade to the Cardinals.
If he agrees to be more flexible, then expect the Yankees to join the conversation. They could use an upgrade over the Ivan Nova/Bartolo Colon/Freddy Garcia trio that is currently manning the back of the their rotation, and Buehrle certainly qualifies.
This article is
What is the duplicate article?
Why is this article offensive?
Where is this article plagiarized from?
Why is this article poorly edited?
J. Meric/Getty Images
The White Sox are off to a disastrous 14-22 start and sit 9.5 games out of first place in the AL Central. A once popular pick to win the division, the White Sox are struggling to put runs on the board and are batting just .244 a team.
The lone bright spot has been the starting pitching. Even with ace Jake Peavy still on the disabled list, the White Sox have five capable starters.
Edwin Jackson, 27, is having another solid season after being acquired by Chicago at the trade deadline last year. He's 3-4 in eight starts with a 4.29 ERA and 39 strikeouts in 50.1 innings.
There have been rumblings that Jackson would be the first man out if the White Sox don't get back into the race soon. Even if they do, Chicago might be better off putting Peavy in the rotation and trading away Jackson for a bat.
The right-hander has played for four different teams in the last three years, so another trade wouldn't be a surprise. He'll be a free agent after this season and is only due $8.35 million in 2011.
Jackson would be a good fit for any team looking for a back-of-the-rotation starter. The Marlins could definitely lead the bidding after disastrous starts for Javier Vazquez (6.88 ERA) and Chris Volstad (5.73 ERA). The Cardinals are in a similar predicament without Adam Wainwright, forced to rely on the on the arm of Jake Westbrook and his 6.14 ERA.
In the AL the Rangers would figure to lead the bidding, even if they do get a few quality starts out of Brandon Webb. Colby Lewis and Derek Holland have only three quality starts apiece and ERA's over 5.00, and Jackson would push either one of them to the bullpen.
This article is
What is the duplicate article?
Why is this article offensive?
Where is this article plagiarized from?
Why is this article poorly edited?
Jim McIsaac/Getty Images
The biggest rumor on the hot stove has the San Francisco Giants seriously considering a deal for Mets shortstop Jose Reyes.
The 27-year-old is one of the most dynamic players in the game when healthy, and it appears whatever injuries he had the past two seasons are gone. Reyes is back to punishing opposing pitchers both at the plate and on the base paths. He leads the NL in hits (49) and triples (six), while hitting a svelte .331/.379/.507. The 12 stolen bases and outstanding defense are just a bonus.
Reyes is in the final year of his contract and it doesn't look like the Mets will have the resources or the pieces around him to keep him long-term. That means a trade is not just possible, it's incredibly likely.
The Giants are rumored to be the hottest suitors after Reyes after the Pablo Sandoval injury left their infield depth incredibly bare. Miguel Tejada is doing his best to hold the forth, but the 36-year-old is seriously struggling with just one home run in 118 at-bats and a hideous .195 batting average. The Giants have enough frontline starters to entice the Mets into making a deal (Bumgarner?) and the resources to keep him in San Francisco long-term.
The Red Sox have been in the Reyes discussion for a few years now and, even though they have their shortstop of the future in Jose Iglesias, they may not pass up a chance to acquire a five-tool talent at a premium position. Would a package of Iglesias and top prospect Anthony Ranuado get the Mets to bite?
The Cardinals, Reds and Angels are all possible destinations as well.
This article is
What is the duplicate article?
Why is this article offensive?
Where is this article plagiarized from?
Why is this article poorly edited?
Nick Laham/Getty Images
Wright may be the only Met on the trade market who doesn't come with serious baggage. The superstar is only 28 years old, is signed to a reasonable $45 million over the next three seasons and can still rake with the best of them.
He's off to a slow start hitting just .240/.349/.419, but the power (five home runs) and speed (eight stolen bases) are definitely still there. He's also incredibly durable and has not missed more than 20 games in his entire career.
So why would the Mets trade him?
Simply put, if the Mets are serious about rebuilding the team then Wright is their best asset. He's worth at least two elite prospects and maybe more. Wright says he wants to stay in New York, but the Mets might be a better team with him elsewhere.
At the top of that list is the Detroit Tigers, who need another bat to offset the slow start (.551 OPS) by current third baseman Brandon Inge. The Angels would also be a good fit regardless of how good Alberto Callaspo (.750 OPS) has been this season. Both teams have the prospects to get a deal done, though don't expect the Angles to move Mike Trout for anybody.
Another team that could get involved is the Oakland Athletics. Kevin Kouzmanoff (.605 OPS) isn't getting the job done and Wright would instantly become Oakland's best hitter. The Athletics have a strong enough rotation to make a deep run in the playoffs, so a move for a high-profile slugger isn't completely out of the question.
A long-term extension with the Mets seems as likely as a trade at this point, so stay tuned. If the Mets can't move Beltran or Rodriguez (or both) then there will be that much more pressure to get rid of Wright and actually rebuild the team.
This article is
What is the duplicate article?
Why is this article offensive?
Where is this article plagiarized from?
Why is this article poorly edited?
Al Bello/Getty Images
Carlos Beltran played in 145 games combined over the last two seasons after playing in at least that many in each of his first four seasons as a New York Met. Many critics had written off the 34-year-old switch-hitter, but none of them expected this kind of performance.
Beltran is having an outstanding season with five home runs and 11 doubles already (more than he had in all of last season in twice as many games). He's hitting .295/.380/.536, a line which easily eclipses his career average of .282/.359/.495. Beltran is in the final season of his seven-year contract with the Mets and is due $18.5 million in 2011.
The Mets are willing to eat a chunk of that to make a deal, and they won't find any shortage of teams looking for a dynamic offensive player to put in their lineup.
The Rockies could use a rightfielder who isn't named Seth Smith, and Beltran would Colorado perhaps the best outfield in the majors with Carlos Gonzalez and Dexter Fowler manning the two other spots. The Giants are in the same boat, with Cody Ross seemingly just keeping the spot warm until prospect Brandon Belt pushes Aubrey Huff into the outfield.
Beltran would be a better fit in the AL, regardless of whether agent Scott Boras still thinks he can play centerfield. The Rangers could be a potential fit with Josh Hamilton still out.
Don't count the Red Sox or Yankees either. The Red Sox were after Beltran in the offseason and still need more right-handed bats, but they don't have a spot for him until one of JD Drew or David Ortiz hits the DL. The Yankees, meanwhile, would happily bench current designated hitter Jorge Posada to steal a player from their cross-town rivals.
The Mets need to make a deal while Beltran is still performing, so look for talks to really heat up over the next month. Beltran won't be in a Mets uniform by July.
This article is
What is the duplicate article?
Why is this article offensive?
Where is this article plagiarized from?
Why is this article poorly edited?
Jim McIsaac/Getty Images
Unlike the case with Heath Bell, the Mets have to practically beg teams to take K-Rod off their hands. The saves record-holder (62 in 2008) has been a big disappointment in New York, posting a career-high 3.71 ERA in his first season as a Met and then missing a chunk of time last season with a broken hand that he got by punching a wall.
More worrisome, however, is the contract. Rodriguez is due to make $11.5 million this season and has a vesting $17.5 million option for next season that goes into effect if he finishes 55 games. That's a ton of money for anyone, let alone a declining closer.
Rodriguez has rebounded this season to have a strong start. In 15 games he has a 1.17 ERA and a nine saves. His stuff is still unhittable as evidenced by the 11.2 SO/9 IP, but he's also already walked 16 batters in just 15.1 innings.
The Mets don't want a big package in return for Rodriguez (nor would they get one), but the challenge is going to be finding a team to pay that salary. The same teams after Bell (Rangers, Phillies) could potentially also make a bid on K-Rod, but the Mets would find a bigger trade market if they commit to pay a significant chunk of Rodriguez's salary.
The cash-strapped Rays and Marlins would come calling for the right price. The Boston Red Sox could also join the conversation if the Bobby Jenks experiment doesn't work out.
This article is
What is the duplicate article?
Why is this article offensive?
Where is this article plagiarized from?
Why is this article poorly edited?
Bob Levey/Getty Images
The Padres were adamant about keeping Bell after they traded superstar Adrian Gonzalez to the Boston Red Sox, essentially blowing up the team. Bell even said he wanted to stay in San Diego, and there were reports of talks about an extension. But the 33-year-old right-hander might not get his wish.
The Padres at 14-20 are sitting in dead last in the NL West and have the second worst record in the entire league. But pitching hasn't been the problem—hitting has. San Diego is 30th in baseball in batting average, 28th in on-base percentage and 30th in slugging percentage. The Padres average just over three runs a game and desperately need another hitter to put around Nick Hundley and Ryan Ludwick.
Bell could get them that hitter. The two-time All-Star is having another terrific season with a 1.29 ERA through 14 games. He's also on pace to have his third consecutive season of at least 40 saves, and will be a free agent at the end of the 2011 season.
The Rangers seem to be the best fit for Bell's services. They have Neftali Feliz as the closer, but with Alexi Ogando in the rotation there's no depth in the bullpen. Bell would be the best set-up man in baseball.
The Cardinals could make a bid, considering they have three different relievers tied for the team lead in saves with three apiece. They also have enough bats to get a deal done.
Other teams that could potentially get involved in trade talks are the Phillies, who may need insurance with closer Brad Lidge on the DL right now, and the Marlins, who could cement their place in the playoff race by making another addition to their bullpen.
This trade seems too likely not to happen, but it will likely take some time for Padres GM Jed Hoyer to sort through the offers. Don't expect anything until at most a couple of weeks before the trading deadline.
This article is
What is the duplicate article?
Why is this article offensive?
Where is this article plagiarized from?
Why is this article poorly edited?